By TDD Contributing Writer


I've been serious about my skin-care routine for years now. I've learned that an important part of that is having some tools in your skin-care arsenal. Trust me: The right beauty tools can help enhance the effectiveness of your skin-care products, lift your face, and even reduce puffiness. Some of these tools even have research-backed benefits, particularly ancient Chinese practices. This includes the ever-popular gua sha—which can relieve tension in the face and reduce inflammation. 
That said, many folks don't know what it is, when to use gua skin in your skincare routine, or that it can help relieve tension in your facial muscles. To those folks I say: Welcome! Keep reading to learn those points, as well as the best time to use gua sha, and get the best results from your gua sha treatment.


When To Use Gua Sha In Your Skincare Routine
Simply being aware of a trend or routine doesn't actually mean you know when to use it. For instance, you know that you should use a retinoid if you're going for an anti-aging routine. But, you'd be very disappointed (and maybe even peeling) if you used it during the day—because that's a product you're supposed to only use at night.
Similarly, it's crucial to know the best time of day to incorporate a gua sha tool into your regimen. But before you even get to that, it may be a good idea to familiarize yourself with what gua sha is, how it works, and whether or not it's compatible with acne-prone skin. So let's get into it!


What Is Gua Sha?
Gua sha (pronounced gwa-shah) is a traditional Chinese facial massage that uses a smooth-edged facial tool (kind of looks like a heart, tbh) to apply gentle pressure throughout your entire face. In Traditional Chinese Medicine, experts used a gua sha tool to help with blood circulation and relieve congestion. Fun fact: gua sha literally means to "scrape away illness." While that was its intended use, people also claim that it works wonders on your skin. In fact, to date, it's one of the most popular beauty tools we've had.
In addition to the myriad skin-care benefits I mentioned previously, the side effects of gua sha expand to reducing fine lines. I'm all behind practicing this Chinese medicine several times a week. Moreover, gua sha tools can be made of a lot of different materials, like rose quartz or jade. And there isn't one that's better than the other. As with all other things skincare, it really just depends on what feels good on your skin type. In my case, I have acne-prone, sensitive skin, so I chose a jade gua sha tool because it feels refreshing as soon as I touch it to my face and neck.
Importantly, a gua sha tool is different from face rollers (whether that's jade or ice) because of their intended use. A jade roller, for example, promotes lymphatic drainage. A gua sha is meant to release fibrous tissue, like the inner layer of the skin, and is known for improving circulation.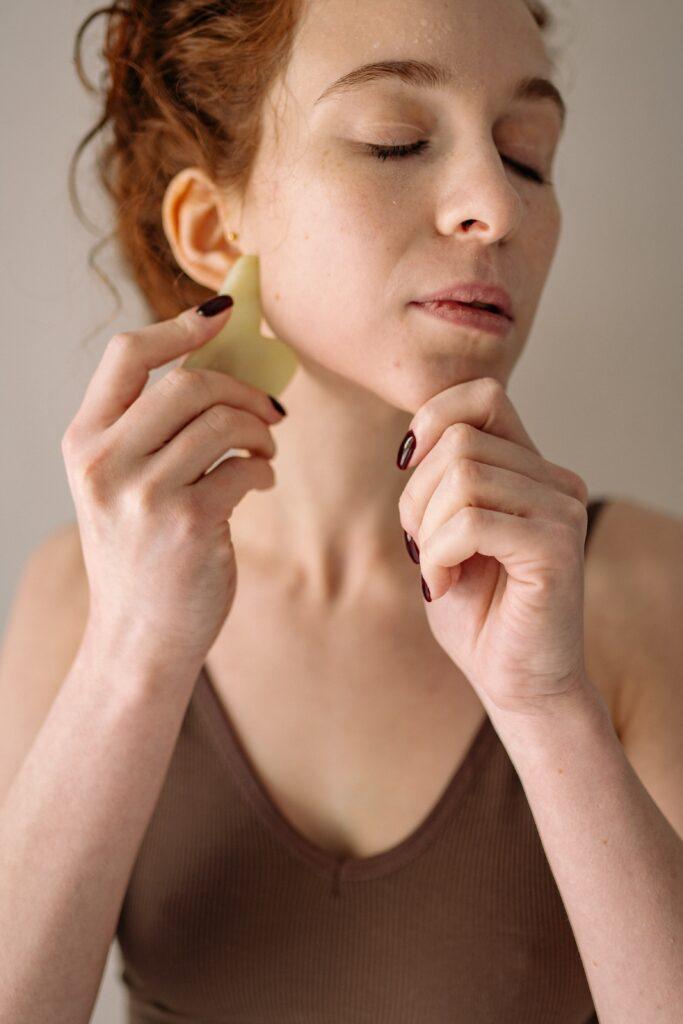 Is Gua Sha Good for Acne?
The answer to that question is: Yes! I've been treating my acne for a long part of my life, so I know first-hand how scary it can be to try new trends on that type of skin. Luckily, this is one social media beauty hack that I can seriously get behind since it comes with a multitude of benefits for acne-prone skin:


Reduce the appearance of acne
Since the treatment helps with blood circulation in the face, a gua sha facial can also minimize the redness and size of pimples. It does this by moving the "gunk," if you will, and letting your skin purge it out, basically.


Battle acne scars as well as fine lines and wrinkles
Again, because this is helping the blood flow in your face, a proper gua sha treatment will likely bring new blood to the surface of your skin. This aids in reducing the appearance of acne scars.


Minimize puffiness
There are a lot of things that are impressive about lymphatic drainage as it relates to acne. In addition to the two things mentioned above, it can also bring down the overall puffiness of your skin—which can give you a different type of glow.  
If you have active breakouts or ruptured skin, though, dermatologists strongly recommend waiting to get a gua sha treatment until your skin has healed.


When Is the Best Time to Use Gua Sha?
From what I've read and experimented with, there isn't a set time that you need to be practicing your gua sha. Like, you don't have to do it at night as you would a retinoid. I find that it's better for me to use my gua sha at night, though, because it helps me unwind after a long day. I also have a bit more time during my nighttime routine than I do in the a.m. Considering that properly doing this treatment is a little tedious, I find I'm more likely to stick to it if I do it once a day before bed.
I'd be remiss not to mention that whenever you decide to practice this method, you'd want to use the tool after each skincare step. Let's say you apply a toner, a serum, a moisturizer, an eye cream, and a facial oil. You'd use the gua sha tool five times total: once after you spray your toner, a second time post-serum application, then again after your moisturizer, once more post-eye cream, and the last time after applying afacial oil. (Pro-tip: I love using a gua sha when I'm on a flight because it gives me something to do and helps prevent the recycled air from messing with my skin. It's truly become one of my beauty travel essentials).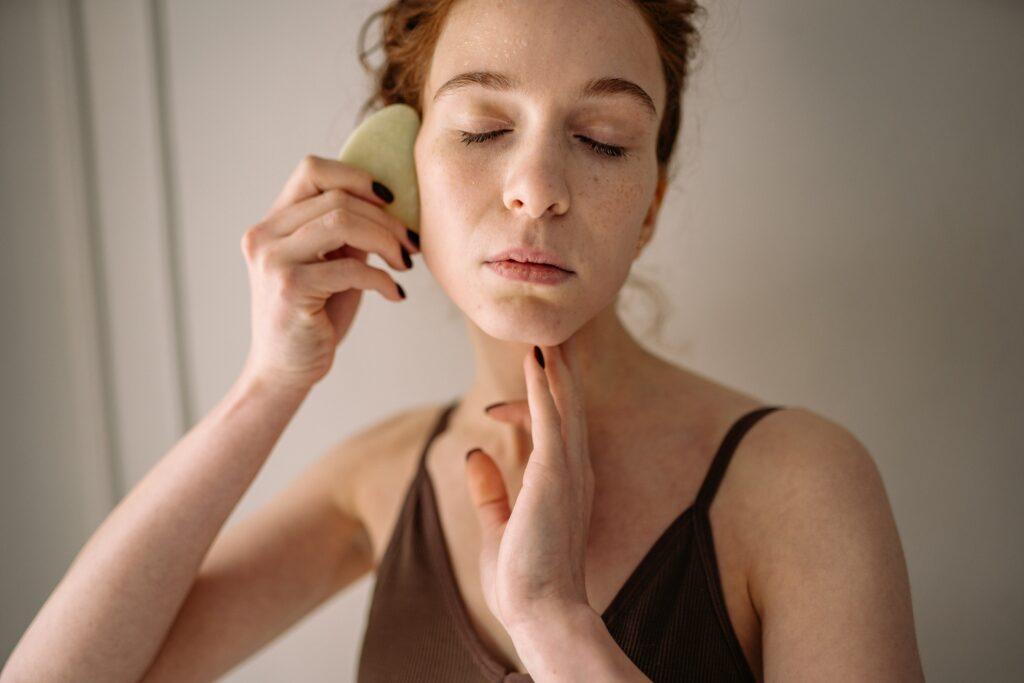 How To Use Gua Sha
The first thing you need to know about how to use this tool effectively is that you should always pair it with a facial oil for gua sha. Ideally, you want to opt for something that has grapeseed oil, jojoba oil, or sweet almond oil and something that's rich in vitamins. Your skin will thank you because these ingredients are jam-packed with anti-aging properties. From there, just follow these easy steps:


Make sure you're washing your face first
Since the gua sha tool will move stuff around on your face, you want to ensure that you get the day's products and bacteria off before you start massaging your face. You don't want to inadvertently give yourself more acne while you're trying to reduce it, right?


Reach for the product(s) you'll be using
In the next section, I'll offer 10 facial oils that work great with a gua sha massage, but don't forget that you want to use the gua sha tool after each step in your skin-care routine. You don't want to skip the products because that could cause friction on your skin.


Keep the gua sha tool flat on your face, using light pressure
Another thing that could unnecessarily cause friction is using the tool while not keeping it flat on your face. In order to remedy this, experts suggest keeping the tool at a 15-degree angle to your face. Moreover, dermatologists caution against using too much pressure. Yes, you're trying to get some drainage, but you don't want to shock your skin.


Start at your neck, working upwards and outwards
It might be helpful to take this tip if you're a beginner. If this is one of your first times giving yourself this type of facial massage, you can start at your neck to see what's good pressure-wise. You also want to work upwards and outwards because the goal is to move gunk out of your skin, not into it.


What Oil To Use With Gua Sha For Acne-Prone Skin
I know how time-consuming shopping for beauty products can be—especially when you're looking for a specific product to use with a specific tool on acne-prone skin. Below, find the 10 best face oils for gua sha and acne-prone skin.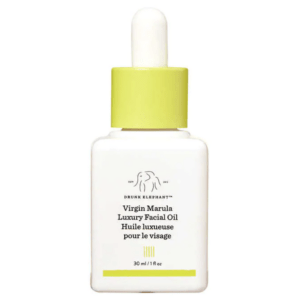 Drunk Elephant Virgin Marula Luxury Facial Oil
If you're concerned about the price point for one fluid ounce, you're certainly not alone. I find this a little steep for my liking, but it really is worth every penny. In addition to Drunk Elephant being a top-tier brand, this facial oil also comes with marula oil, which is a wonderful antioxidant.
Available at Ulta ($38) | Also available at Kohl's and Sephora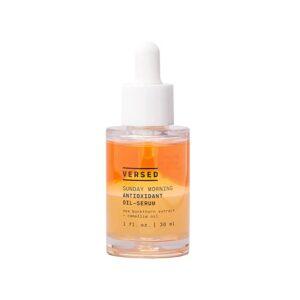 Versed Sunday Morning Antioxidant Oil-Serum
This might just be the best facial oil to use with a gua sha tool if you're acne-prone. As its name indicates, this is a hybrid of facial oil and a serum. For that reason, it's super-light and not really that oily. It's also cool that this has camellia oil, which locks in moisture while also calming inflammation.
Available at Amazon ($20) | Also available at Versed and Revolve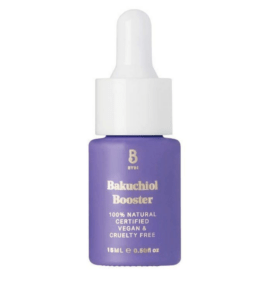 BYBI Bakuchiol Booster
Think of bakuchiol as a natural alternative to retinols and retinoids. Once you have that concept in mind, it's not hard to see why this oil would be good for acne-prone skin. Moreover, it contains a squalane that's going to give you a really easy glide.
Available at Target ($10) | Also available at BYBI



The Ordinary 100% Organic Cold-Pressed Rose Hip Seed Oil
To me, The Ordinary is one of those amazing and affordable brands that can almost do no wrong. I mean, check out the price point! This is also a vegan facial oil, in case that's something that you're looking for in a product.
Available at Ulta ($11) | Also available at Sephora and Target



Biossance 100% Sugarcane Squalane Oil
Sometimes, it's worth it to spend a lot of money on a skincare product. In my humble opinion, this is one of those times. Bionssance's squalane oil brightens, firms, and hydrates all while offering a healthy dose of Vitamin C.
Available at Amazon ($34) | Also available at Kohl's and Sephora



Kiehl's Cannabis Sativa Seed Oil Concentrate
According to the Sephora product website, this oil is good for acne and for reducing redness, which land high on my list of concerns. The cannabis sativa oil aims to improve your skin barrier and relieve discomfort from any blemishes you may have.
Available at Kohl's ($55) | Also available at Sephora and Kiehl's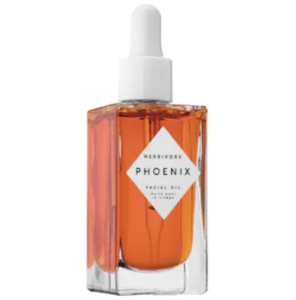 Herbivore Phoenix Rosehip Anti-Aging Face Oil
Let's say you wanted to hit two beauty birds with one stone. I'd highly recommend Herbivore's facial oil because it's anti-aging and also comes with superstar ingredients like CoQ10, which shields our skin from environmental stressors.
Available at Amazon ($88) | Also available at Sephora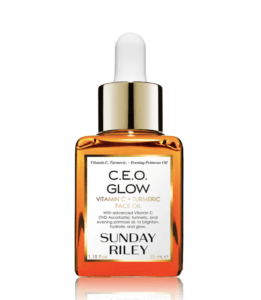 Sunday Riley C.E.O. Glow Vitamin C + Turmeric Face Oil
One thing I realized about this facial oil is that it does have a little bit of a distinct scent due to the turmeric in its composition. However, if you can get past that, you're likely to find that the Vitamin C in this leaves you as glowy and dewy as ever.
Available at Ulta ($40) | Also available at Nordstrom and Kohl's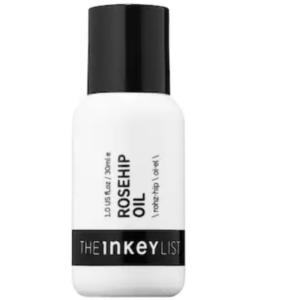 The Inkey List Rosehip Nourishing Night Oil
Another wonderful and affordable brand is The Inkey List. Their rosehip oil would be great to use with a gua sha treatment because it's formulated to battle acne and blemishes. The rosehip oil also makes it an antioxidant-rich product, which could help with acne scarring.
Available at Amazon ($12) | Also available at Sephora and The INKEY List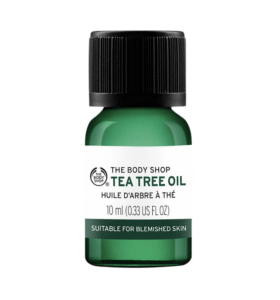 The Body Shop Tea Tree Oil
As you can glean from its name, this facial oil from The Body Shop contains mostly tea tree oil, which is a powerful agent against acne and dark spots. Per their product site, The Body Shop says this is a great oil for acne-prone skin and it is "so refreshing you can smell it." If you are going to use this oil to gua sha your skin, make sure you use one part tea tree oil with two parts a carrier oil (such as jojoba oil or rosehip oil). Tea tree oil is too harsh to use on its own.
Available at Ulta ($13) | Also available at Amazon 

*This post contains affiliate links, so I may earn a small commission when you make a purchase through the links on my site at no additional cost to you. Thank you so much for supporting my small business by shopping through my affiliate links—I am so appreciative!