By Natalie Arroyo Camacho, Contributing Writer

I've been menstruating since I was 10. For a long time, I was just too young to wear tampons. However, once I turned 17, my mom felt it was (finally!) age appropriate. And, honestly, thank goodness. As much as I was grateful for pads, there's no denying that tampons are so much more convenient. That said, not all tampons are created equal. That's precisely why organic tampons — which are typically free from dyes, fragrances, and bleach — are getting more attention. And one of the main brands in the spotlight is Cora. For that reason, I wanted to share the Cora tampons ingredients list.
Recently, I had the worst cramps that I've ever experienced in my life. I couldn't do anything except groan and cry from the pain. My roommate was kind enough to give me her heating pad, some ibuprofen, and a cup of tea to relax my muscles. I remember her telling me, though, that she'd switched to organic tampons and that seemed to keep her cramps at bay. 
While she recommended the L. tampons, I've also been very curious about the Cora tampons we'll be exploring.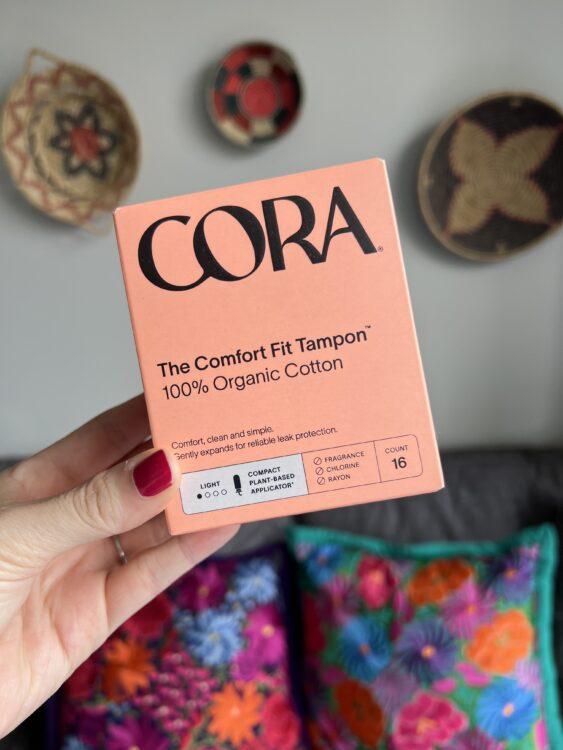 Cora the Comfort Fit Tampon Multipack (not pictured)
Available on Amazon ($17) | Also available on Target


Cora Tampons Ingredients
The main ingredients list, which we access through the Cora website, contains only two items: 100 percent organic cotton (used for the tampon and the string) as well as 92 percent plant-based plastic (used for the applicator).

100 percent organic cotton
With this being the first of two ingredients on the list, you can be comfortable about what you put in your body during the most sensitive time of the month. According to the product page, Cora tampons are made in Germany with certified organic cotton. Plus, because this is an organic cotton tampon, it's extra absorbent—which makes it great as far as leak prevention.


92 percent plant-based plastic
Without question, what you put into your body matters. In addition to the organic cotton tampon core, Cora tampons feature a BPA-free plastic applicator. The compact applicator makes it extremely easy to insert the tampon as the plastic is very smooth. While you might think that the tampon applicator is inconvenient, it expands to fit on the exterior of your vagina and applies like other tampons.


Are Cora Tampons Safe
It's true that the cotton tampon core and string are both made of 100 percent organic cotton, but that doesn't necessarily reduce the risk of TSS, also known as toxic shock syndrome. However, the fact that it's free of fragrances, pesticides, dioxin, and bleach. For that reason, I'd consider this organic tampon safe.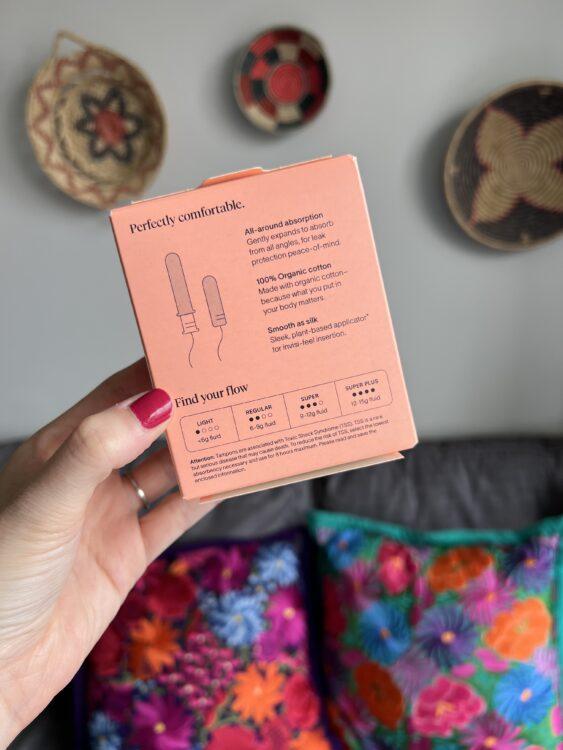 How To Use Cora Tampons
1. Open the tampon.
You'll do this as you do it with any other tampon — by pulling the top corner towards you until you're able to pull the tampon out.


2. Pull the applicator until you hear a click.
One of the coolest features of the Cora tampon is that they're super compact, because the applicator retracts inside itself—regardless of absorbency levels. However, this can also be a little tricky when it comes to application. Luckily, it's pretty easy to do once you know how. All you have to do is pull out the bottom part of the plastic applicator until you hear a click.


3. Insert the tampon into your vagina.
This step is pretty self-explanatory. You'll need to insert it with the cotton core facing up. If this is your first time applying a tampon, make sure not to do anything else until you read step four.


4. Use the bottom half of the applicator to push up the cotton tampon.
I'm right-handed, so these instructions will be written from that perspective. I usually use my left hand to hold the base of the top of the applicator and my right hand to push the bottom of the applicator. This movement will slide the tampon out of the plastic and into your vagina.


Natalie Arroyo Camacho is a first-gen Mexican American writer from the San Fernando Valley. She's written for Byrdie, Refinery29, Teen Vogue, and Well+Good. She's also the founding editor of Viva the Valley.