By Natalie Arroyo Camacho, TDD Contributing Writer

Thanksgiving is a fun-filled celebration with loads of eating and drinking. But the "drinking" part doesn't mean that you're limited to sippin' on alcoholic Thanksgiving drinks. In fact, you can absolutely prepare non-alcoholic beverage options during the day of gratitude. And, for the record, serving up mocktails is a great way to make everyone feel included in the celebration.
(In case you're asking yourself, "What is a mocktail?" we wrote a quick explainer answering that question.)
Often times it's also cheaper to craft non-alcoholic cocktails because you're leaving out the most expensive ingredient: booze. Plus, mocktail recipes make for great family-friendly beverages. From a Thanksgiving punch mocktail to a spiceful apple cider, we're bringing all the fall flavors.
Below, you'll find our round-up of the 10 most delicious mocktails that can bring good energy to any turkey day party.

The 10 Best Thanksgiving Mocktails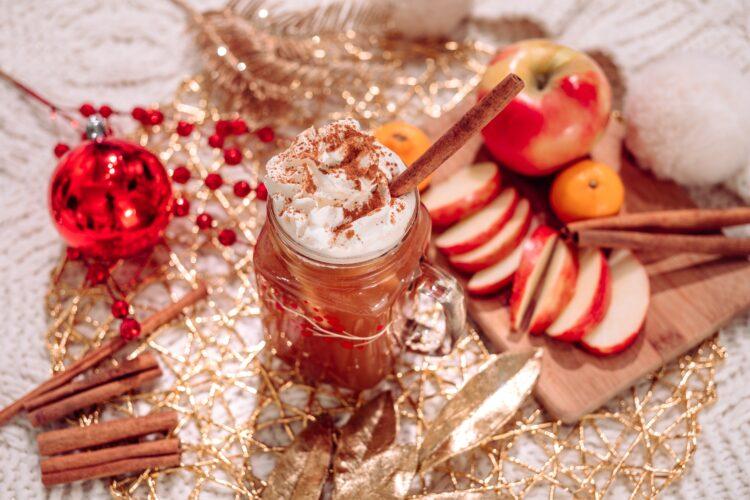 Mulled apple cider
As far as non-alcoholic Thanksgiving cocktails go, it doesn't get more classic than a mulled apple cider. Per a recipe by The Pioneer Woman, you'll need cinnamon sticks, ground cloves, allspice berries, an orange peel, a lemon peel, half a cup of maple syrup, six cups of unfiltered apple juice, and apple slices and orange twists as a garnish.
This beverage is meant to be served hot so that it can keep you warm and toasty. As such, you should put it in a teapot or leave it simmering over a low flame. That said, don't fret if you let your cider cool down. You can always reheat it!


Thanksgiving punch mocktail
Modern Glam's non-alcoholic spicy pear Thanksgiving punch is sure to be a big hit at any and all Thanksgiving festivities—especially if you put it in a punch bowl. Even better, you only need four ingredients to make it: pear nectar, ginger beer, the juice of one lemon, and a garnish.
According to Modern Glam, said garnish can be rosemary, cranberries, pear slices, cinnamon sticks, and/or nutmeg. I usually like to stick pretty strictly to the recipe, but something in my gut is telling me to add a splash of cranberry juice for more of a fall color pop. Do with that information what you will.


Pomegranate-cherry juice
Clearly, the main ingredients in this non-alcoholic Thanksgiving drink are pomegranate juice and cherry juice. You may even add some cranberries as a garnish in order to make it even more festive—but you certainly don't have to. More good news: This is probably one of the simplest recipes on this list. Like, there are only two steps. Essentially, you'll want to add all your ingredients to a pitcher and stir them together so they're properly mixed.
Which ingredients, you ask? Well, the ones that culinary dietitian Sarah Haas recommends on her blog! Like we said above, you'll need pomegranate and cherry juices, but you'll also want to pick up actual cherries, oranges, ginger, and club soda. Check Hass's recipe for measurements.


Hot spiced tea
When I think of fall, I think of all things spiced—and that now includes this hot spiced tea. In fact, AllRecipes has a hot spiced tea recipe specifically for the holidays. In it, you'll find classic spices like cinnamon and whole cloves. You'll also see more summery ingredients, like pineapple juice and lemon juice—which add a nice tang to the drink.
This is also a two-step recipe, in which you basically just mix all the ingredients together and bring them to a boil before serving. The good news about making this hot spiced tea is that you can easily make it an iced tea. Just add a couple of ice cubes!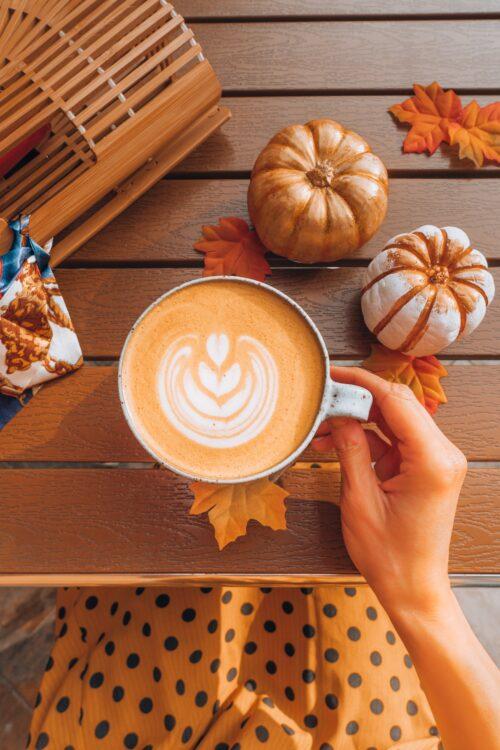 Pumpkin spice latte
My friends and I—along with all of America, probably—consider the official start of fall whenever Starbucks starts selling its famous pumpkin spiced latte. As such, it would make sense for people to serve it as a booze-free drink at any turkey day gatherings. A homemade pumpkin spice latte, like this one from Feel Good Foodie, is also assuredly going to impress your friends. 
You'll need pumpkin purée, coffee, pumpkin pie mix, milk (dairy or otherwise), vanilla extract, and sweetener (sugar or otherwise). The recipe above only takes about five minutes, and a blender, to make. You can top it with whipped cream, ground cinnamon, star anise, and a cinnamon stick. This would honestly be great as a post-Thanksgiving dinner drink.


Zero-proof apple pie punch mocktail
This mocktail punch is similar to the Thanksgiving punch mocktail from above, but it uses apples instead of pears and is a much lighter consistency. Per the Love to Know recipe, you'll need apple cider, sparkling apple and pear cider, ginger ale, ice, and sliced apples, cinnamon sticks, and star anise to use as a garnish.


Eggnog
The cool thing about eggnog is that you can make it or buy it if being in the kitchen isn't exactly your forte. In case you want to try your luck whipping it up, we recommend using this recipe from the Food Network. It calls for egg yolks, egg whites, sugar, whole milk, heavy cream, and freshly grated nutmeg. The Food Network also provides a video, which is easy to follow along as you're making the eggnog.


Thanksgiving margarita mocktail
A booze-free margarita is definitely on our list of the best non-alcoholic Mexican drinks. It's probably no surprise, then, that we had to make space for a Thanksgiving margarita mocktail. Per the Love to Know recipe, this calls for a lemon wedge and sugar for the rim, apple cider, pear juice or pear nectar, freshly squeezed lemon juice, and an apple slice and cinnamon stick to use as a garnish. Honestly, I'd probably also drop in a star anise for an extra fall touch.


Martinelli's apple cider
This is one of my all-time favorite drinks for Thanksgiving. It likely has a lot to do with nostalgia, considering that my family would always serve this to the kiddos. Even though I quite enjoy drinking alcohol, I'll always ask a friend to bring Martinelli's to a Thanksgiving function so that we have at least one non-alcoholic drink so that sober folks feel included.
I love that it's tasty and easy to access, as it's available at grocery stores and pharmacies nationwide. Also, it's pretty darn simple as far as serving goes. All you have to do is open the bottle and pur some of that sweet sparking cider.


Moscow mule sangria
Apple butter. Non-alcoholic white wine. Non-alcoholic prosecco. Cinnamon sticks. Star anise. Sliced seasonal fruit, like fresh apples and persimmons. That's all you'll really need to make a Moscow mule sangria. Actually, you'll also need to get ginger beer to really make it a Moscow mule. This recipe from The Social Sipper is sure to be a crowd-pleaser.
A note: The recipe above does call for alcohol, but you can definitely moderate it to make it non-alcoholic. Also, The Social Sipper says that this drink tastes better when you let it rest for about a half hour. That's because this allows the flavors to really blend together.