By TDD Contributor

A mocktail; a virgin drink; a cocktail without the alcohol; or an alcohol-free refreshment. Whatever you call it, there's no denying that mocktails are having a moment right now. To be frank, I'm quite happy about that. With more bars and party hosts serving up booze-free beverages for their sober friends, more folks feel welcome at gatherings. In my book, the #MocktailMoment is a very good thing. And that's precisely why I've rounded up a list of the best mocktails. We'll also answer the question: What is a mocktail?
Before we get to that, however, let's go through some of the benefits of cutting alcohol consumption. Let's say you're having one alcoholic drink a day, maybe a glass of wine before bed. Scientists recently found that there are actually no benefits to drinking alcohol. In fact, when you stop drinking it altogether, you can become more alert, get better sleep, and have more focus.


What is a mocktail?
Put simply, a mocktail is a non-alcoholic drink that has the essence, feeling, and vibe of a traditional cocktail (fun fact: mocktail is short-hand for a mock cocktail). Importantly, they're usually made with several different ingredients. For example, you could encounter a paloma mocktail containing grapefruit juice, lime juice maple syrup, and sparkling water. But don't worry—we're giving you the recipe for that below!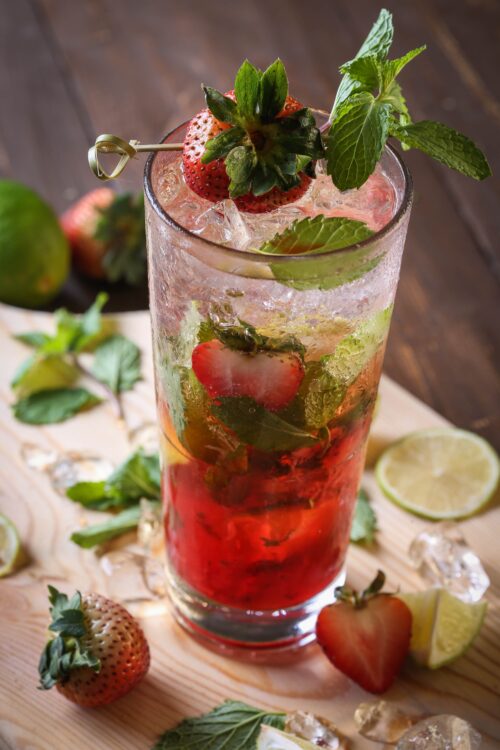 That said, I think the essence of mocktails is to embody the motion of drinking without having to actually ingest alcohol. Having had a few mocktails myself (sometimes I just don't feel like drinking), I have to say: It's pretty incredible how close it is to the real thing. Of course, it doesn't taste exactly the same, but it honestly feels like the next best thing.


What is a mocktail made of?
As I mentioned in the previous section, a mocktail recipe usually features three or more ingredients. For the most part, you can expect mocktails to contain juice, herbs, and soda water—to name a few. You may also find variations of syrups and granular spices (like salt or Tajín) in some other recipes.
I realize we've established that mocktails do not contain alcohol, but I believe it bears repeating. If you're out on the town and see that a mocktail you want has tequila, vodka, rum, or any other liquor in it, it's not a mocktail. If you're a sober soul or sober curious, make sure to ask so you can be sure you're not drinking alcohol.


Different types of mocktails
If you search "different types of mocktails" on the internet, you'll likely just find a list of recipes to make virgin beverages at home. It's unlikely, though, that you'll come across an explainer of what to expect. Taking our experience as lifestyle journalists and editors, we've tried to provide a brief breakdown of the different types of mocktails.


Mocktails with non-alcoholic spirits
I've had several mocktails throughout my adulthood and the elixirs don't usually taste like their alcoholic counterparts—meaning they're not quite as bitter. Some people prefer that, though, so they add a "shot" of their favorite non-alcoholic spirit to their cocktail shaker. (For the record, we fully believe cocktail shakers can still be used without alcohol).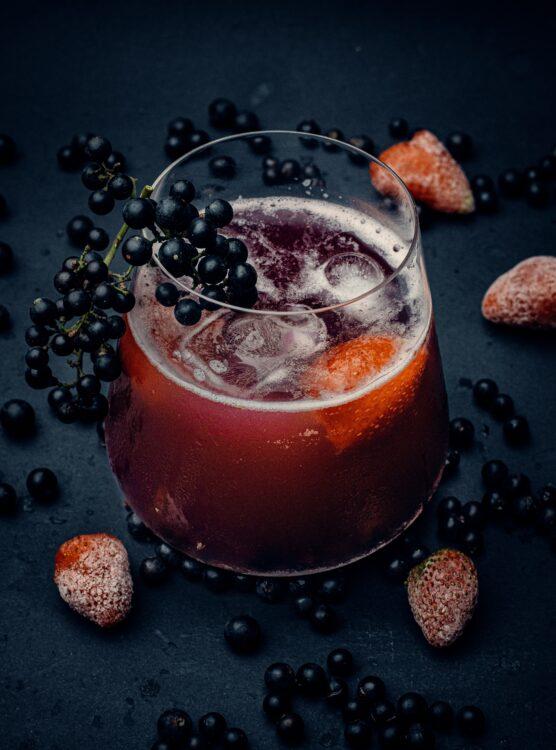 Mocktails without non-alcoholic spirits
Just as some people crave the bitterness of alcohol, others would rather steer absolutely clear of anything that's reminiscent of the substance. Considering that taste is closely linked to our emotions, that's probably a winning strategy. In this mocktail category, you'll find drinks that contain juices and club soda instead of non-alcoholic spirits.


Mocktails for sleep
In April 2023, the #SleepyGirlMocktail took over TikTok and then the internet at large. It contained sleep-inducing ingredients like magnesium, tart cherry juice, and a splash of soda. While this Shirley Temple-reminiscent tonic might be the most popular mocktail for sleep, it's far from the only one. In fact, below we'll be sharing recipes for this and three other bedtime beverages.


Best Mocktails
Sparkling apple cider mocktail
When I was younger, at Thanksgiving and Christmas, I used to pretend I was drinking sparkling wine when I was actually drinking apple cider. Now, as an adult, I can just make myself this apple cider mocktail and lean into my sober curious lifestyle. I love this recipe because it's perfect year-round and it looks so beautiful.
Recipe for sparkling apple cider mocktail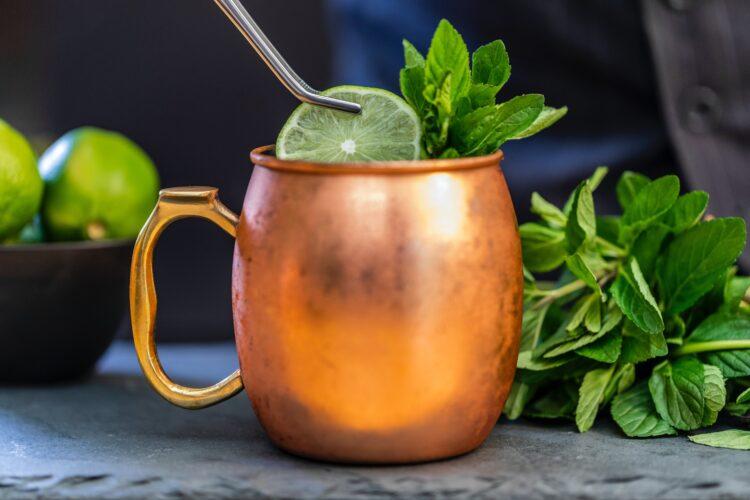 Non-alcoholic Moscow mule
During the summer days, you can't get me away from a Moscow mule. Between the fresh mint, lime juice, and ginger beer, it's truly such a refreshing cocktail. The non-alcoholic version, in my humble opinion, is just as tasty. It's a refreshing mocktail, if you will.
Recipe for non-alcoholic Moscow mule


Lime soda
When I need to take the edge off but don't feel like taking a tequila shot, I start to assemble a faux tequila soda—aka club soda with a salt rim and a splash of lime. I'll take my favorite sparkling water (a toss-up between LaCroix and Topo Chico), grab a cocktail glass, rim it with salt, and add a lime splash plus garnish. The lime juice adds a crisp acidity that's sure to make your taste buds dance.
Shirley Temple
The other day, I went to dinner with some friends and one of them ordered a Sprite with some cherry grenadine. The server, squinting their eyes, asked, "So, a Shirley Temple?" Our table roared with laughter. In case you, like my friend, are unfamiliar with this drink, now you know what it is. If you want to feel a little fancier, you could always add a maraschino cherry garnish.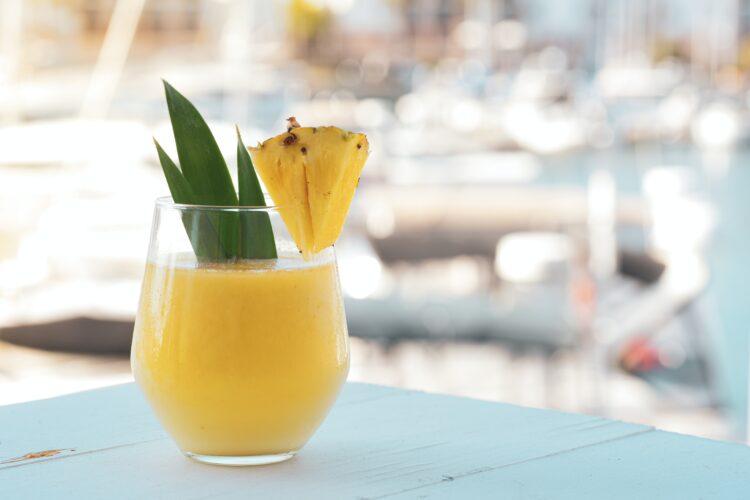 Virgin piña colada
This drink made it onto our list of the best non-alcoholic summer drinks because it's sweet, refreshing, and makes us feel like we're on a tropical vacation. If that isn't a delicious mocktail, I don't know what is. I will say, though: Piña coladas are a bit tedious to make, but the reward is definitely worth the effort.
Paloma mocktail
One of my favorite things about being Mexican (and there are a whole lot) is that we have myriad non-alcoholic drinks on which to sip. While the paloma is traditionally a tasty tequila libation, the mocktail version is also a refreshing drink. You can make it with lime, agave, salt, club soda, and grapefruit juice.
Recipe for non-alcoholic paloma


Virgin tequila sunrise
Whether you ask for a virgin tequila sunrise, a sweet sunrise, or a sunrise mocktail, you're asking for the same drink. That is, an orange juice base and a bit of grenadine garnished with an orange and a maraschino cherry. This drink is on the sweeter side, so keep that in mind if you're looking for something more refreshing.
Recipe for virgin tequila sunrise


Sleepy Girl Mocktail
As we pointed out, this drink went viral on TikTok in April 2023, but we think it should stay popular because it really is good for catching zzzs. Not only that, but it's super simple to make—you'll need just three ingredients. Run to the store and get yourself some pure tart cherry juice, magnesium powder, and lime-flavored sparkling water. Seriously—it's that simple.
Recipe for Sleepy Girl Mocktail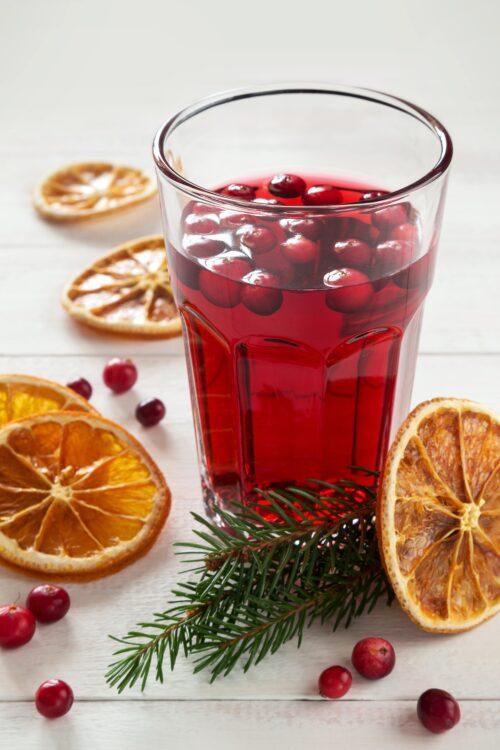 Orange-cranberry smash
Another non-alcoholic mixed drink that can promote better sleep? The orange-cranberry smash! Because the recipe calls for coconut water, which is rich in magnesium and potassium, it'll actually help relax your muscles and make transitioning to sleep a much easier process.
Recipe for orange-cranberry smash


Sparkling chamomile-lemon tea
If I ever need to go to sleep fast and I'm all out of melatonin, I boil some water, pour it into my favorite mug, and add a chamomile tea bag. Studies have shown that chamomile helps calm your body and the herbal tea is often recommended for sleep. The lime helps to elevate this cocktail because of its acidic twist. However, the key here is to put the mixture in a glass that captures the essence of a mocktail.
Recipe for sparkling chamomile-lemon tea


Mull Yourself to Sleep
This drink comes straight from goop's list of mocktail recipes that are beneficial for sleep, so you know it's going to be good. It calls for apple cider, maple syrup, Mexican cinnamon, star anise, and ginger for garnish. Honestly, it's giving hot toddy energy—and I'm not mad at it. The only thing is that putting together this drink definitely requires some hard work.
Recipe for Mull Yourself to Sleep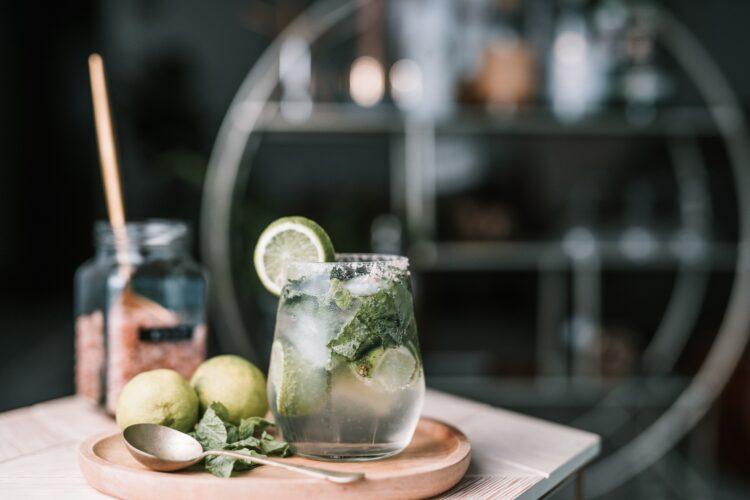 Non-alcoholic mojito
I honestly love me some Latine cocktails—probably because I'm Latina and find that the classic flavors remind me of home. Even though I hardly ever get a mojito when I go out (remember: I'm a spicy marg girl), I sometimes get a very strong craving for the Cuban-born cocktail. If I ever want to make it at home, I love adding a splash of non-alcoholic rum to the mix.
Recipe for non-alcoholic mojito


Non-alcoholic cucumber jalapeño margarita
One of my favorite drinks ever—whether it has actual alcohol or not—is a cucumber jalapeño margarita. I'm Mexican, so my tolerance for spice is a bit higher than other folks' might be. That said, this recipe mostly relies on the sweet and sour mix along with non-alcoholic tequila. The jalapeño serves mainly as a garnish.
Recipe for non-alcoholic cucumber jalapeño margarita


Non-alcoholic gin and juice
Gin and juice is a classic cocktail—probably because a lot of the greats, from Queen Elizabeth II to Michelle Obama, have an affinity for gin. For those of us who used to drink gin and now prefer to lead a sober life, I present the non-alcoholic gin and juice. The recipe below contains non-alcoholic gin as well as orange juice and pineapple juice. That's a pretty sweet mixed drink if you ask me.
Recipe for non-alcoholic gin and juice


Non-alcoholic screwdriver
Margaritas are to tequila what screwdrivers are to vodka. What I most love about the screwdriver is its simplicity. After all, it doesn't need to get complex in order to be delicious. The recipe below only calls for two ingredients: orange juice and Claytons Kola Tonic, which is intended to replace the vodka. I, however, might consider adding some non-alcoholic vodka to balance the sweetness of the orange juice.