My bachelorette party in Puerto Rico was an absolute dream. I encourage anyone who is able to travel there to consider a Puerto Rico bachelorette!
Puerto Rico is a Caribbean island that's located close to the Dominican Republic and Cuba. It's about a 2.5-3 hour flight from New York City. Puerto Rico is a U.S. territory, and you don't need a passport to be able to visit there if you are coming from the United States.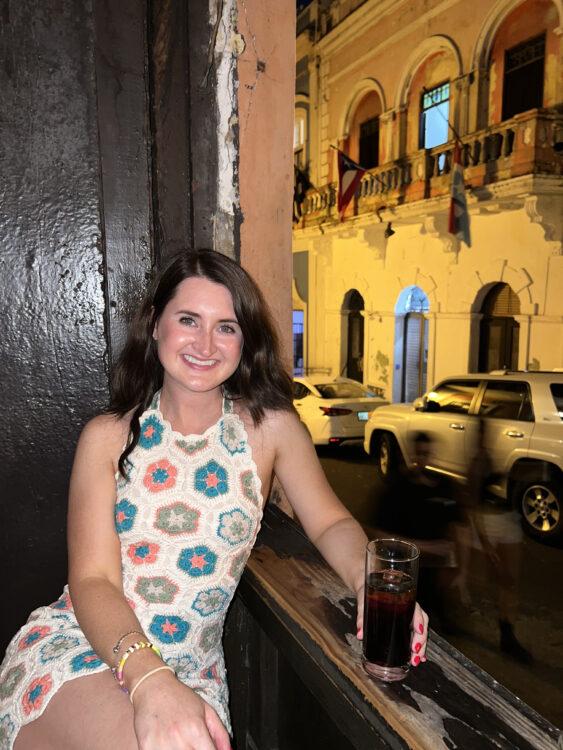 There are so many reasons why I think Puerto Rico is a perfect destination for bachelor parties or a bachelorette. The island has a little bit of everything. Think beautiful rainforests, clear blue waters on the beach, and a fun nightlife scene. Plus, there are outdoor adventures and great restaurants and dining experiences, too. 
This post will be all about my experience with my bridesmaids. You can also find tips on how you can plan the most exciting bachelorette party in Puerto Rico.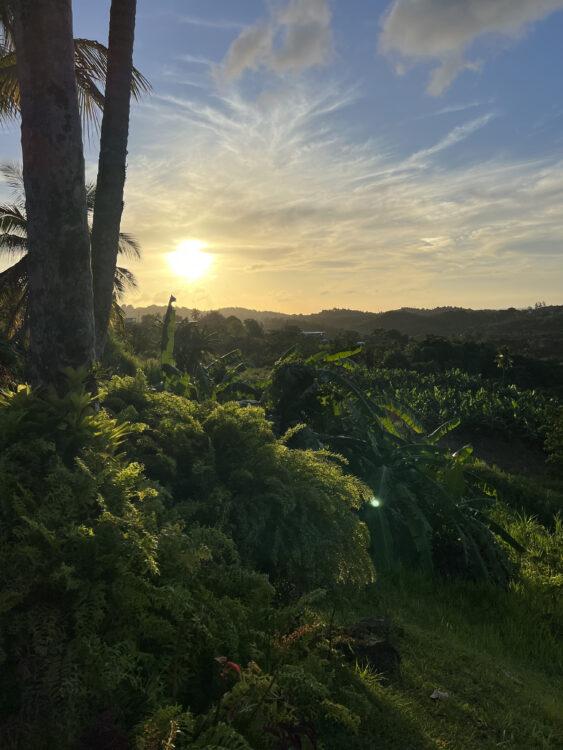 Bachelorette Party Puerto Rico
What I love about a bachelorette party in Puerto Rico is that it's pretty easy to get to (depending on where you are located), and it's also easy to get into (if you're a U.S. citizen). Because Puerto Rico is a U.S. territory, we didn't need to go through any sort of customs to enter the country. Additionally, we didn't need to go through customs on our way back to New York City, which was awesome. The only thing you will need to bring is your Real ID.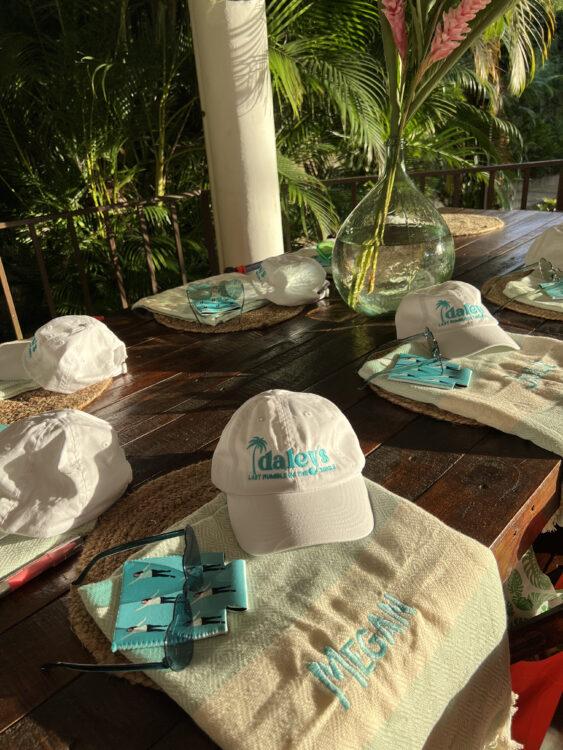 Sometimes when I visit another country, there are people bombarding me at the airport when I land. They are usually asking me if I need a ride somewhere. We did not experience this, and found that it was very easy to get an Uber around the island. Everyone in Puerto Rico was really friendly and made our time super enjoyable and relaxing.  
Things To Do In Puerto Rico For Bachelorette Party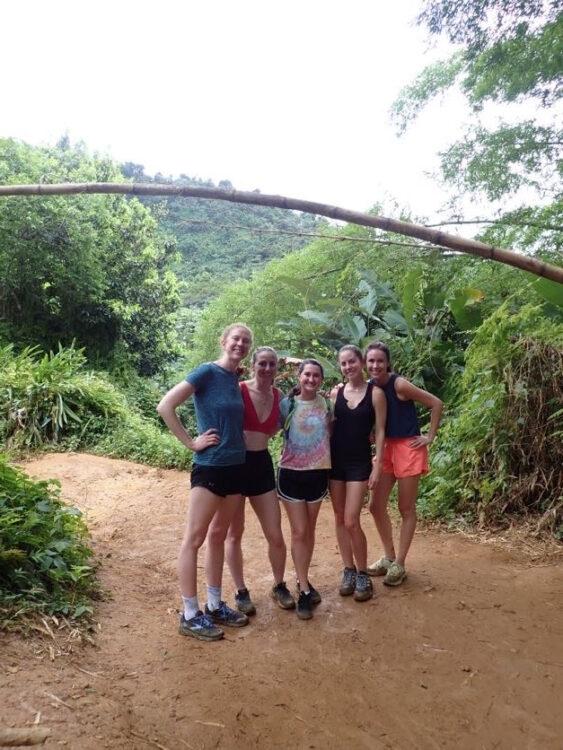 Go on a jungle excursion
One of the big activities we did while in Puerto Rico was experience a jungle excursion adventure. We went with this tour group and spent about four hours hiking through mud, swimming under waterfalls, rope swinging from cliffs, and enjoying fresh fruit, too. I loved that we got to see some of the Puerto Rican nature in the El Yunque National Forest. I think it's a great activity for a Puerto Rico bachelor party or bachelorette party group who loves a bit of adventure and isn't afraid to get muddy.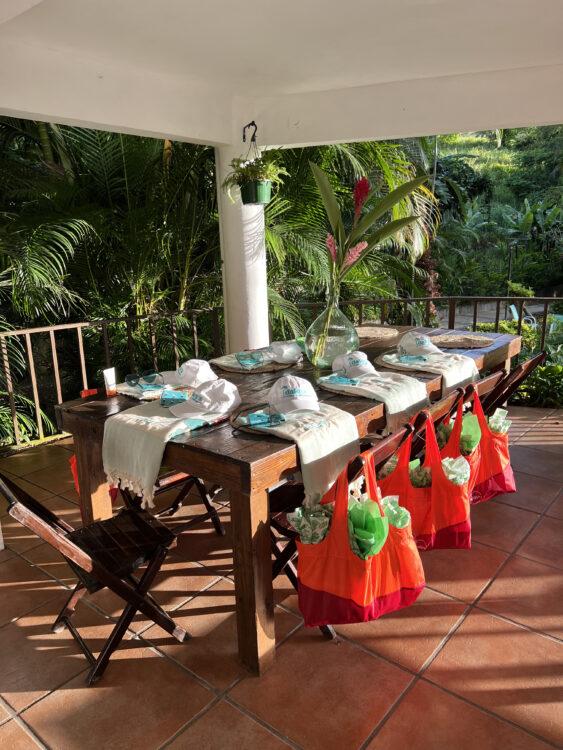 Plan a group meditation
One of the highlights of my bachelorette party in Puerto Rico was the Bridal Blessing. We did it via Zoom with Amy from Healing Haus. Essentially, my bridesmaids were paired up and instructed to gaze into each other's eyes for a few minutes. They were to speak to each other about what they experienced while gazing into each other's eyes. Then, they were instructed to write down something that they love about me (the bride) that will also serve me well in my marriage.
Everyone wrote down their message and they could either give it to me or say it out loud. Everyone decided to say theirs out loud and there were a lot of joyful tears throughout the blessing. It was so incredible and such a wonderful way to bond with my bridesmaids. I got to hear what they love about me that might help me in my upcoming marriage.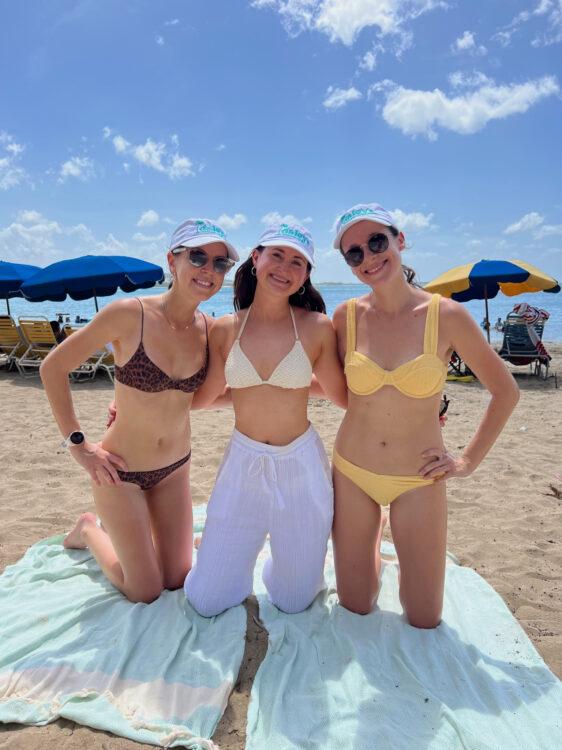 Venture out for a beach day
One of the days we were in Puerto Rico, we went to the Luquillo beach. It was super hot, but we were able to rent three umbrellas for our group. The beach was pretty clean and the water was crystal clear. We were able to nab some virgin pina coladas and they also had food at a stand nearby, too. It was really nice to hear the waves and soak up a bit of sun.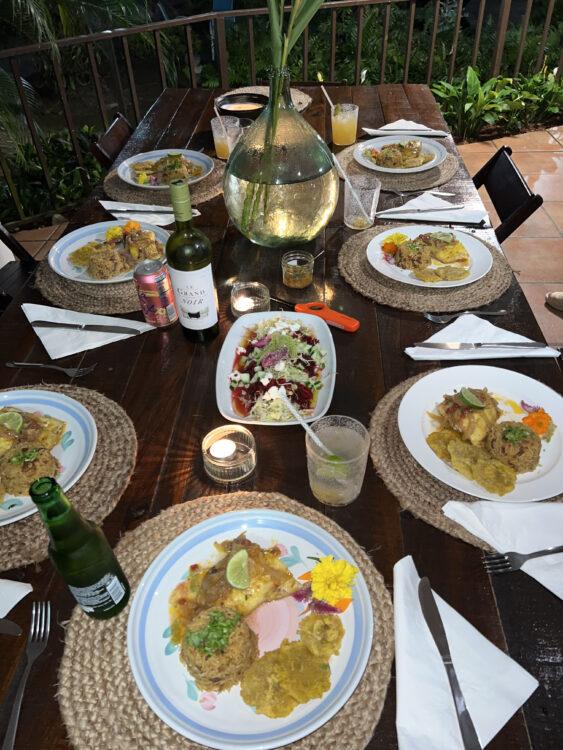 Hire a private chef
Another highlight of our trip was the private chef that my Maid-of-Honor hired for a night. She made us an absolutely delicious feast of Puerto Rican food. We had appetizers (a ceviche with plantain chips to dip) and a main course of fresh fish, rice and beans, and a salad. She also made a bunch of sauces for the meal, too. After we had been making our own meals, it was really nice to be waited on and treated in this way! If you don't want to hire a private chef to experience Puerto Rican food, another fun option for your group might be to go on a food tour.
Rent a beautiful house
One of the best parts, if not the best part, of our trip was our Airbnb. I was shocked when we toured the premises and realized that this property would be all ours for the next four days. It had a koi fish pond, a small hot tub, a relaxing wading pool, and absolutely spectacular views. It was the perfect, remote house for a super relaxing time away.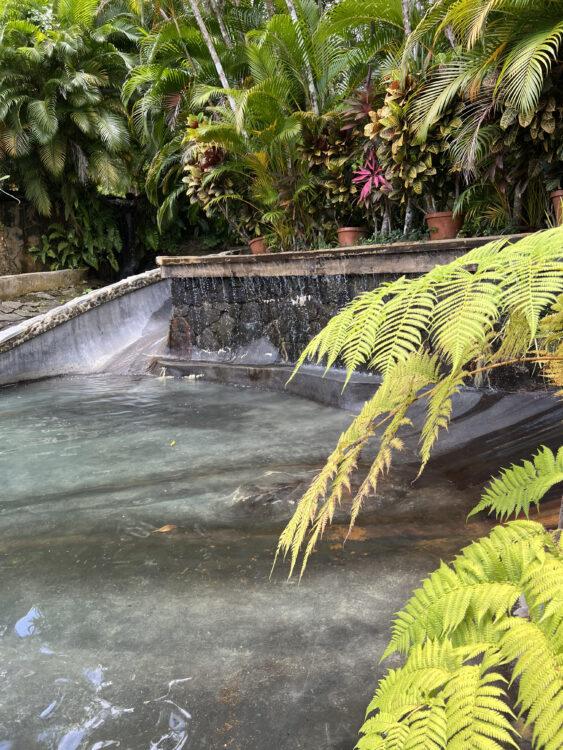 This house was a 30-minute drive outside of Old San Juan. So, if you are looking to go out a lot in Old San Juan while you're in Puerto Rico, I probably wouldn't recommend it. But, if you are planning a more tranquil, low-key bachelorette, I would definitely recommend you book this Airbnb if you can. We ended up renting a big van to drive everyone around, but there were Ubers available everywhere we went.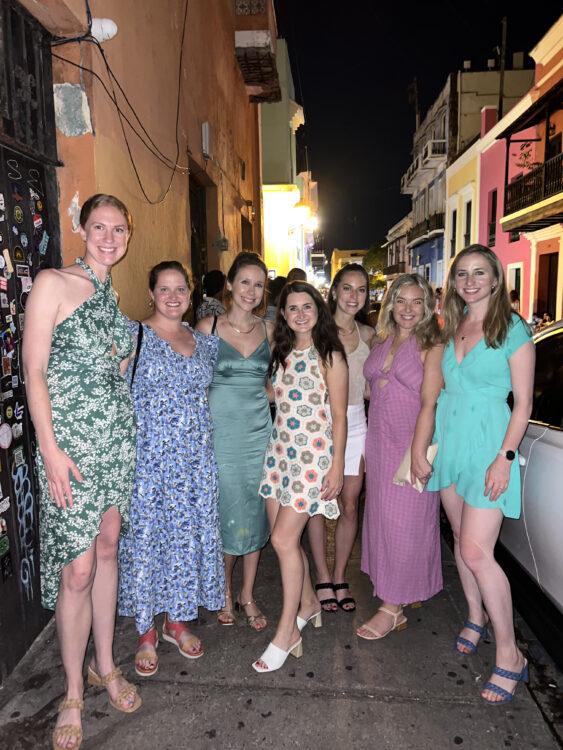 Go out on the town in Old San Juan
On our last night in San Juan, Puerto Rico, we ventured out into Old San Juan to go bar hopping and dance with the locals. We hit up La Factoria (it's one of the popular bars and party destinations in Old San Juan) and a few other local bars throughout the night. You might want to consider visiting La Marqueta or Club Brava if you're really into the nightlife scene. I don't drink anymore, and we didn't visit either of these spots, but I have heard good things!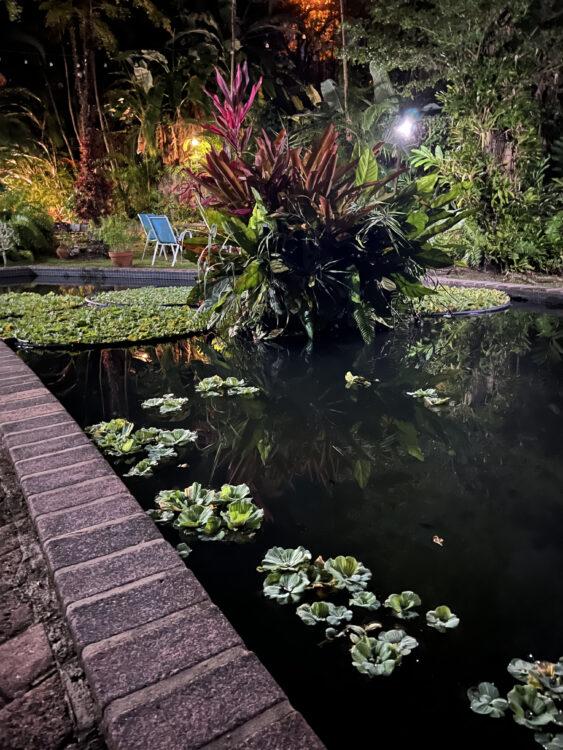 Visit the spa
Because I don't drink alcohol anymore, I wanted my bachelorette party to be more of a relaxing weekend, rather than a rager (here are my thoughts on how to enjoy life sober, in case you were wondering why I would ever do a bachelorette sober). Our group considered doing a spa day (specifically at Condado Vanderbilt), but we ultimately decided that it would cost too much and we'd rather spend money on something else.
That being said, if your group has some extra funds to spend, you should consider planning a group spa day with relaxing massages or facials.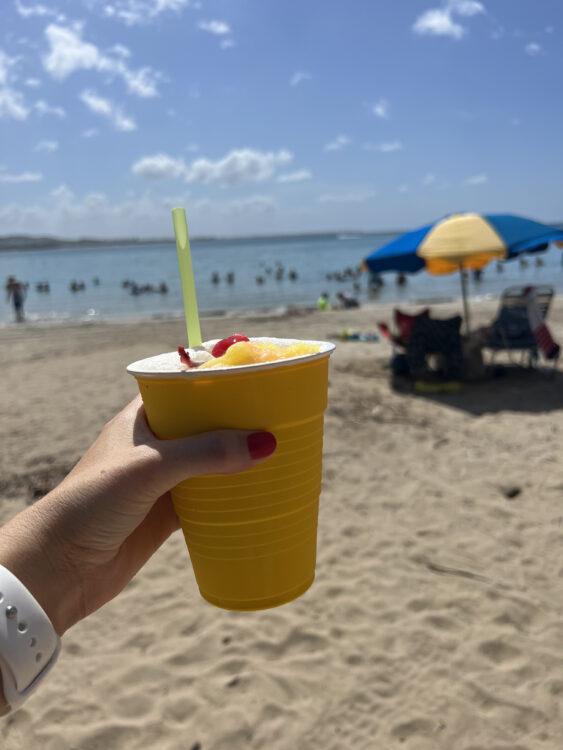 Visit the bioluminescent bay
This was another activity that I considered doing with the group. However, we figured that the logistics would be a little bit tricky. Plus, I didn't know if everyone would actually be comfortable going out in kayaks on the water at night. I think this a great bachelor party idea or bachelorette party idea for folks who love nature and aren't afraid of the dark!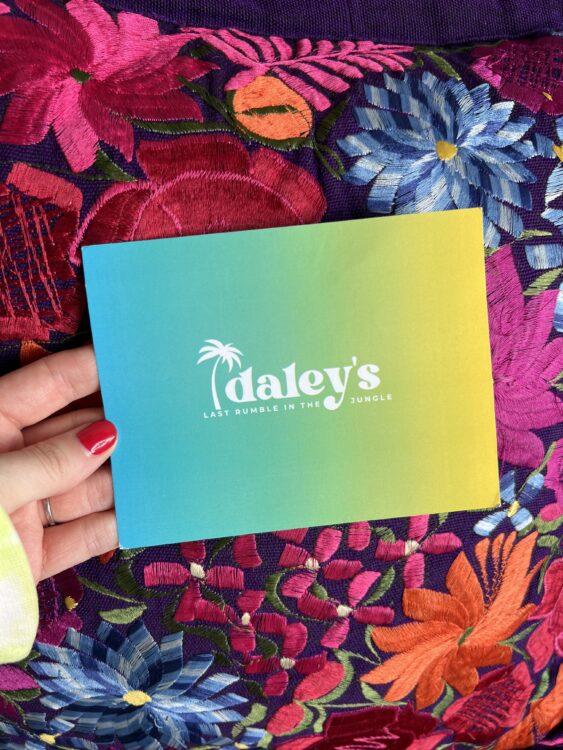 Puerto Rico Bachelorette Party Itinerary
Here are some pictures of the super cute itinerary that my Maid-of-Honor made for the trip! You can easily create your own using Canva.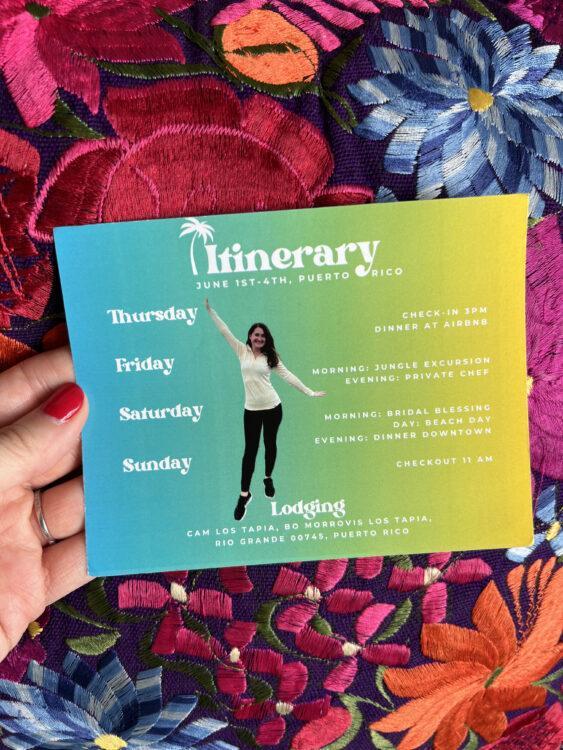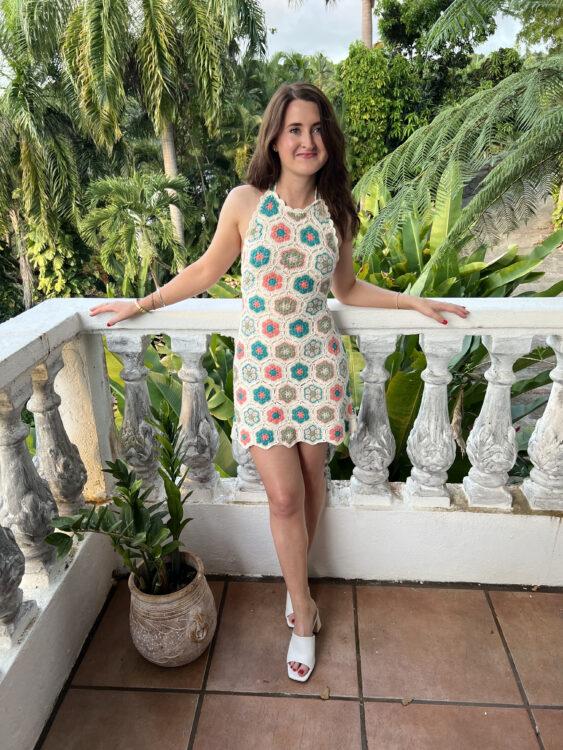 My Final Thoughts
If you are planning a bachelorette trip, I highly recommend a stay in Puerto Rico. My "last rumble in the jungle" was one of the best weekends of my life! Puerto Rico is easy to get to, easy to get into, everyone is so nice and accommodating, and the scenery and activities to do are amazing. I had such a fantastic time and I bet you will, too!
Let me know if you are considering a bachelorette party in Puerto Rico or if you have any questions!