I went on a press trip to Nantucket in late June. I was two months sober and excited to head to the bougie island of Lily Pulitzer, lobster rolls, and loaded summer vacationers. It was one of many press trips I'd been on in my eight years as an editor. But was the first time I'd publicly cried on a business trip.
The PR agency that invited me was hosting one of their incredible seasonal press trips. Basically, the agency rents a gorgeous house in a fancy location and invites a bunch of editors to stay. They introduce the editors to the many brands the agency represents through various activations throughout the stay.


The First Day: In Over My Head
There were about ten or so editors staying at the house for two nights. Upon arrival, we toured the stunning house and grounds and settled into our rooms. I was paired with a roommate, and we bonded over the fact that she was an editor at an outlet I used to write for.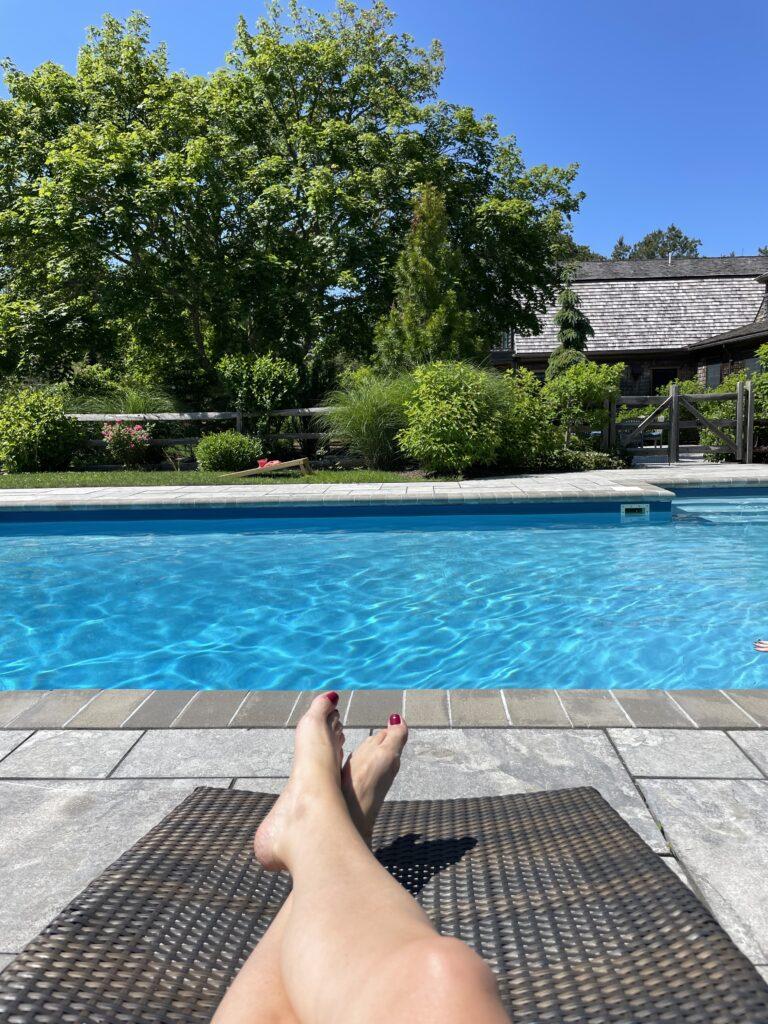 After we settled in, we made our way downstairs to the kitchen for a meet and greet. I'll never forget the slight dread in my stomach after opening the refrigerator. I found three million hard seltzers (one of the hosting brands) jam-packed into the shelves. I closed the door, looked to my left, and saw bottles of my favorite wine brand lined up along the kitchen counter. That wine brand was the last thing I drank before going to the hospital for a hangover in mid-April. It was at this moment that I realized, "oh shit, I'm in trouble."
It's important for me to mention that I hadn't told anyone at the PR agency prior to arrival that I was newly sober. They had emailed editors about a month or so beforehand to ask us if we had any "dietary restrictions." I had said no. Either I wasn't sober at that time, wasn't comfortable telling them I was sober, or I just forgot and didn't realize I should have shared that information. Additionally, I hadn't looked thoroughly enough at the list of brands who would be hosting us for the next few days. Obviously, I'd seen who the beauty and fashion brands were (because that's my beat). But I didn't even think twice about all the alcoholic brands on the list.
After seeing the amount of alcohol in the house, and realizing we were about to do a strawberry daiquiri taste test with one of the brand's new blenders, I casually mentioned to one of the publicists that I was two months sober. She must have told the other publicist at the house, because they both sprang into action to whip up a delicious virgin daiquiri for me.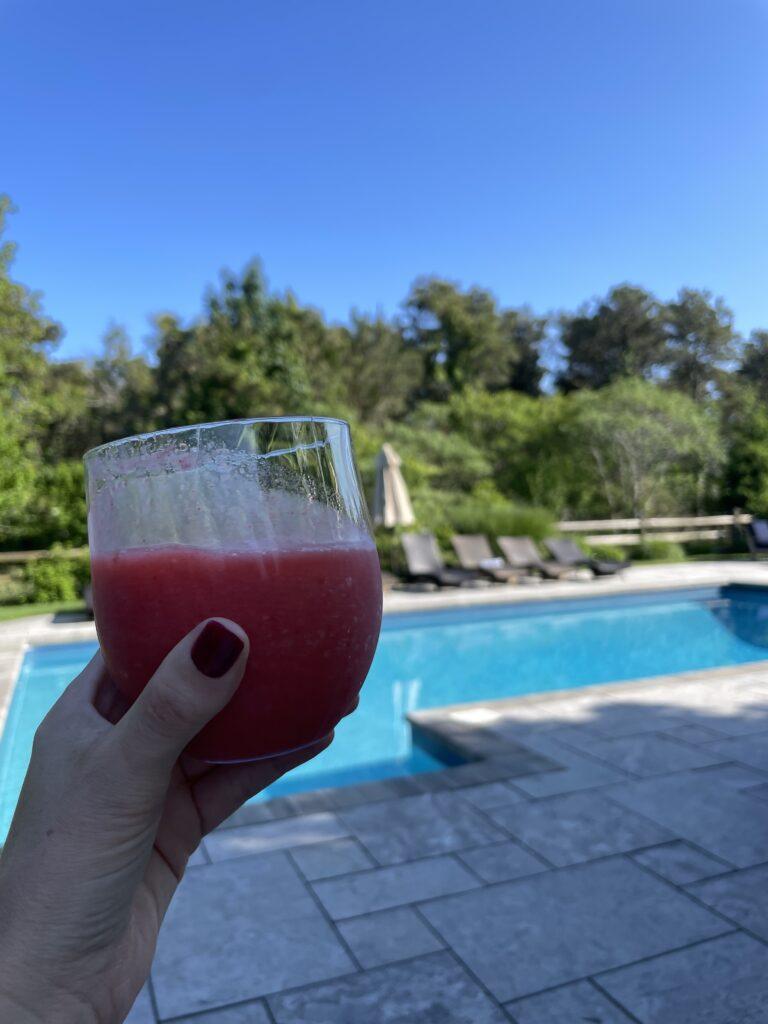 The taste testing felt a little bit awkward, but I brushed it off. Afterward, we lounged by the pool and then got ready for our dinner. I was carrying around my virgin daiquiri, unsure if others knew I wasn't drinking alcohol. I was in that weird place where I didn't know if I should tell other editors that I was sober and this was a virgin daiquiri. The other option was to just keep the info to myself.
Obviously, no one cared what I was drinking. But anyone who is newly sober knows that urge to over-explain yourself and your sobriety. You want to be in control of your own narrative. I chose to keep my mouth shut—a true rarity for me.
After we ate, our group gathered by the firepit to roast marshmallows and get to know each other more. We chatted for about an hour before heading to bed. I crawled into my bunk, put my headphones in, and quietly tuned into a late-night virtual TLC sobriety meeting before falling asleep.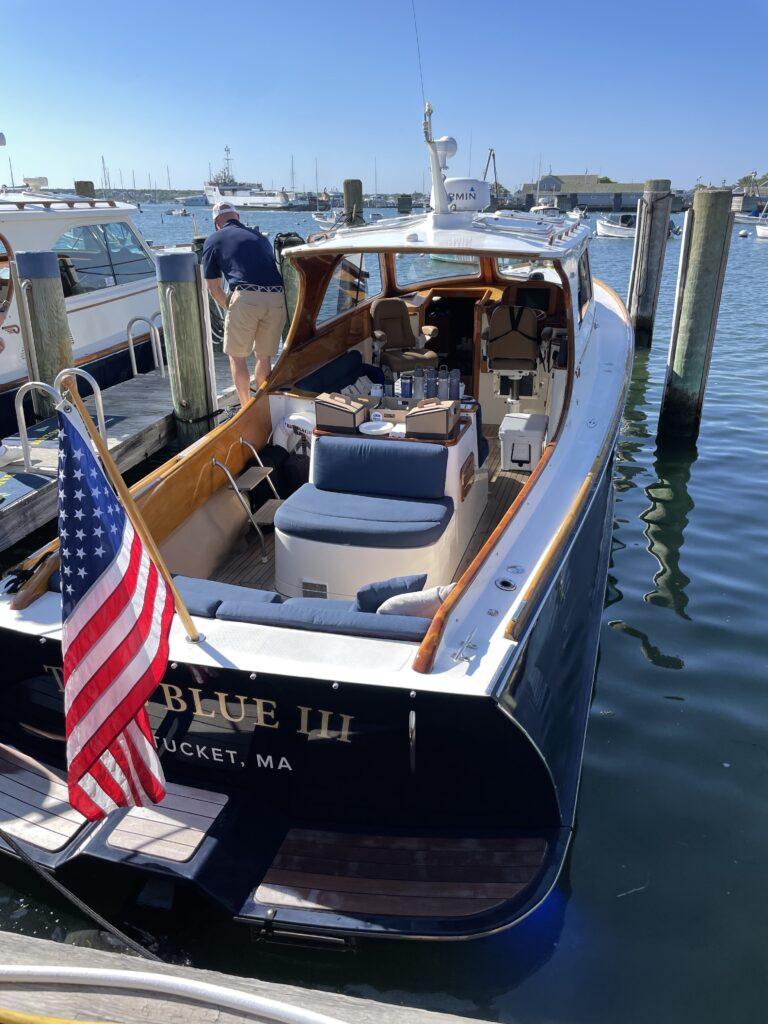 The Second Day: Tastings and Testing My Limits
The next morning we had breakfast on a beautiful boat cruise around the harbor with one of the hosting brands. We drank coffee, feasted on small pastries and fruit, and enjoyed the bright, sun-shiny morning on our swanky ride. After the cruise, we walked around town a bit, bought some Nantucket sweatshirts, and then headed to our next activation: a local brewery.
The PR team had a lemonade tasting ready for me, while the rest of our group walked through the beer and chocolate tasting. One of the team members from the chocolate company was seated at our table. She was explaining each chocolate and why it paired so well with each beer. It felt awkward to be drinking lemonade while everyone was drinking their pairings and talking about which ones they loved. But again, I just brushed it off. I told myself, "this awkwardness is a part of sobriety, so you better get used to it."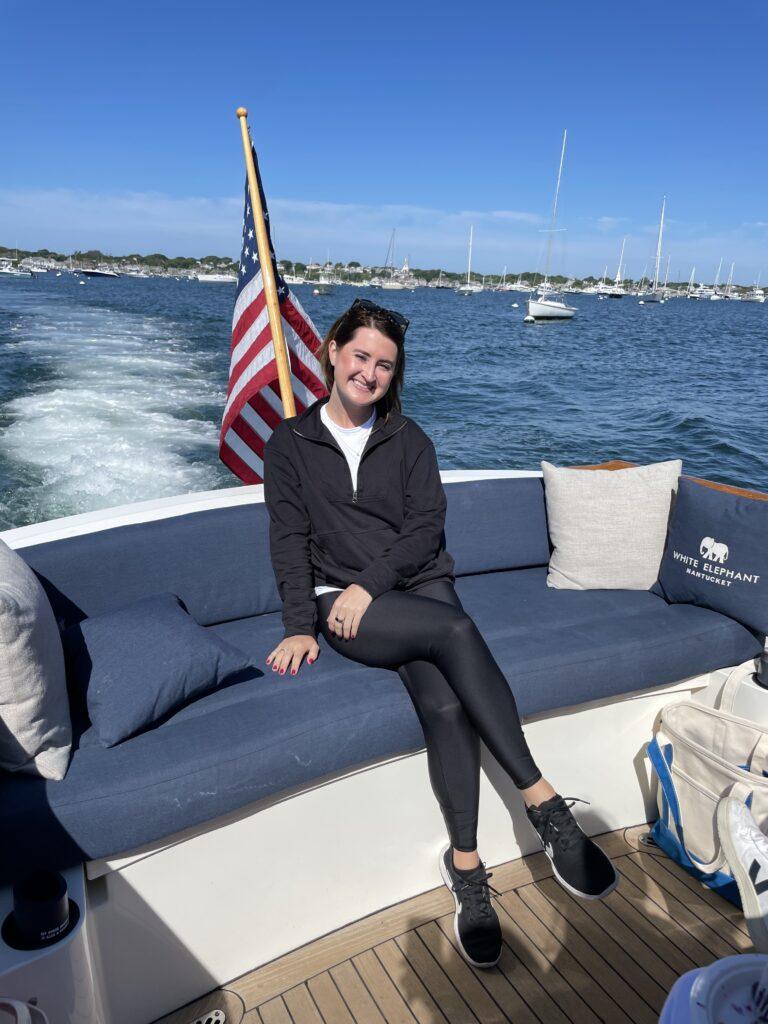 I couldn't indulge in the beer, but I felt lucky enough to nosh on a scrumptious lobster roll before heading back to the house. On arrival, we were met with our next activation: cocktail hour and lawn games with one of the brands. It was then that I took one of the publicists aside (someone I actually consider a friend), and asked him to do me a huge favor. I needed him to go pick up a six-pack of non-alcoholic beer for me at the liquor store. Even though they were in the middle of an activation and were clearly really busy, he hopped in the car and raced to the store to get me NA drinks.
I drank my NA beer while the rest of the group moved on to the next activity. It was a taste test with the hard seltzer brand that was packed in the fridge. It was another awkward moment where editors were commenting on how great each seltzer tasted. I spent the time uncomfortably pouring my NA beer into each flight glass and playfully pretended to do my own taste testing.
We had a wonderful dinner that night, with fancy Waygu beef steaks, seasonal veggies, and plenty of wine flowing. At this point, I was basically pounding my NA beers to try and feel some sort of normalcy amongst the group. After dinner ended, we headed up to our bedrooms and started packing to head out the next day.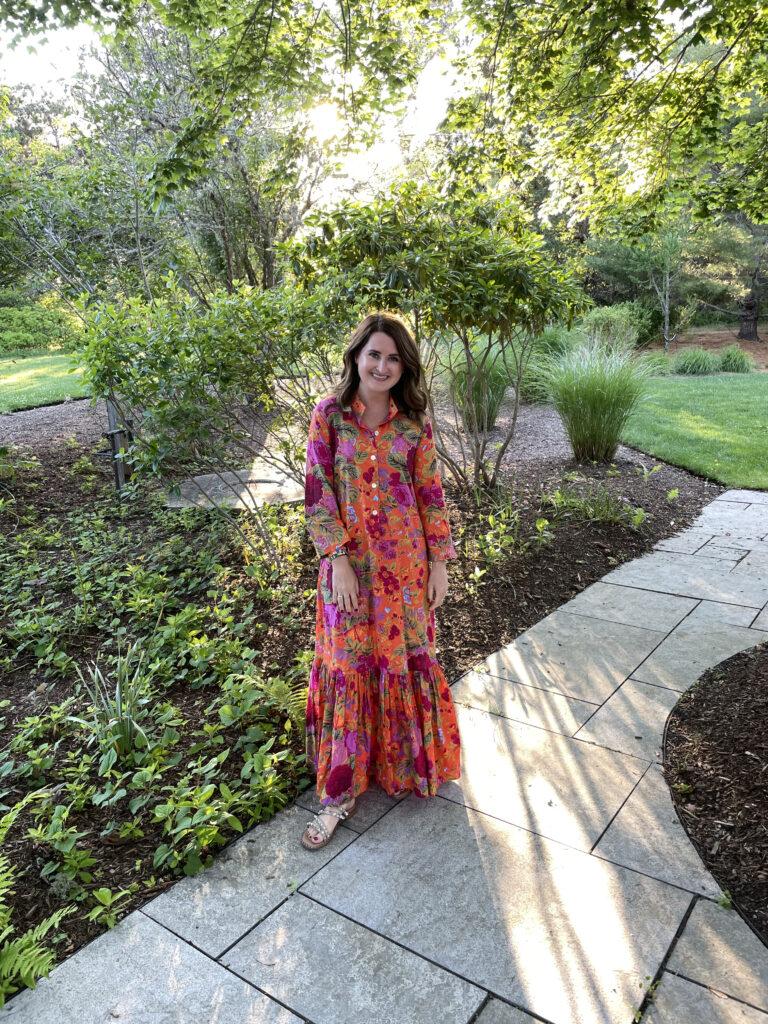 The Third Day: The Breakdown
The final morning of our trip included a serene beach yoga session, followed by a healthy breakfast featuring one of the hosting brands. My flight was in the afternoon, along with a handful of other editors on the trip.
We went to the airport about an hour or so early. We checked our giant bags filled with stuff gifted to us on our trip and waited. And waited. And waited. We were there for hours, waiting for our delayed plane to arrive at the Nantucket airport. After multiple rounds of flight status changes, we were told our flight was about to start boarding and we needed to get in line. Then, after waiting in line for about 15 minutes, we were told that our flight was completely canceled. The next flight out that night was completely booked, and we were to be rescheduled to fly out at the same time the next day.
Once our flight was canceled, everyone ran over to the ticket counter. Folks were yelling at the ticket agents and demanding they get out of here ASAP. Some editors said that they needed to be home quickly. They decided to rebook themselves on new flights with a new airline for early the next morning. Others decided to just stick it out and stay on the flight we were rebooked on.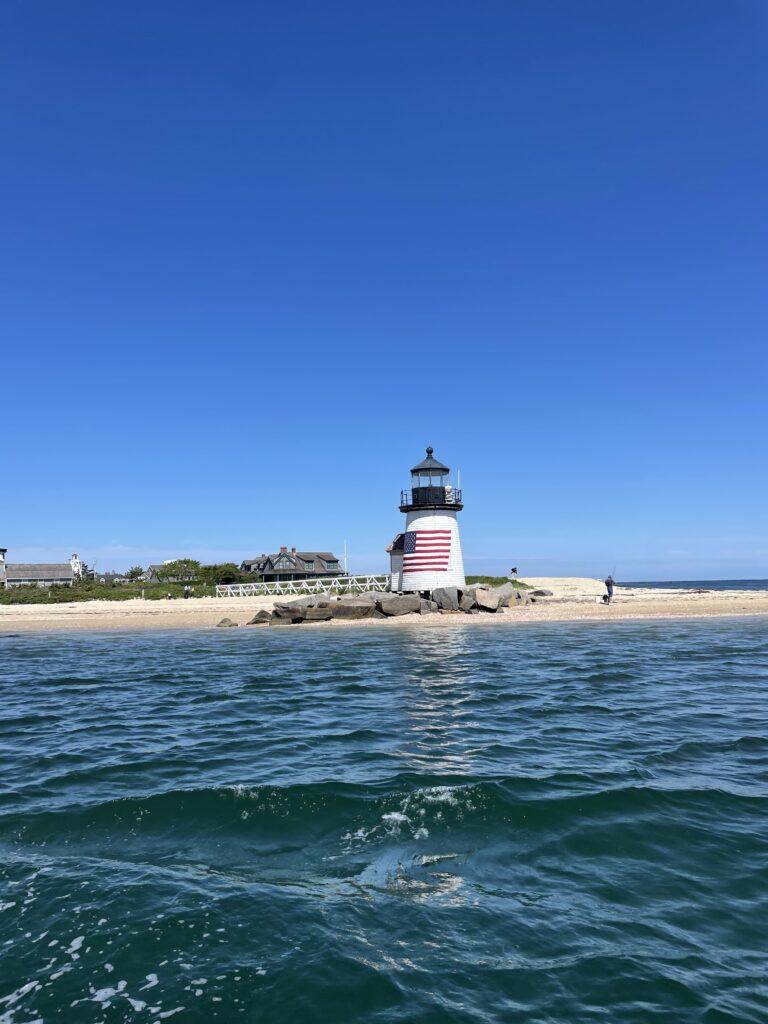 I didn't have the energy or gumption to fight with the ticket agent or rebook myself with another airline. When I realized I would be stuck in Nantucket for another night, I felt a wave of defeat and fatigue wash over me. I was fighting back tears in the airport while we asked to get our checked bags back from the ticket counter.
We were lucky that the PR agency had rented out the Nantucket house for another night. Everyone who was stranded in Nantucket would have a place to sleep. After we retrieved our bags, we split up into two Uber rides and made our way back to the house. It was in the car, in front of three other editors I barely knew, where I had my breakdown.
After we had all been complaining about the turn of events, I said, "guys, I am so upset that I am legit about to cry." Then the tears came, and I explained to them that I was upset about much more than our canceled flight.
I told them that I was newly (two months) sober. And that this alcohol-filled press trip had been much harder than I imagined. Our canceled flight was the straw that finally broke the camel's back. Thankfully, the three girls were very understanding. They were not judgemental and they had no idea that I hadn't been drinking (and struggling) the last two days.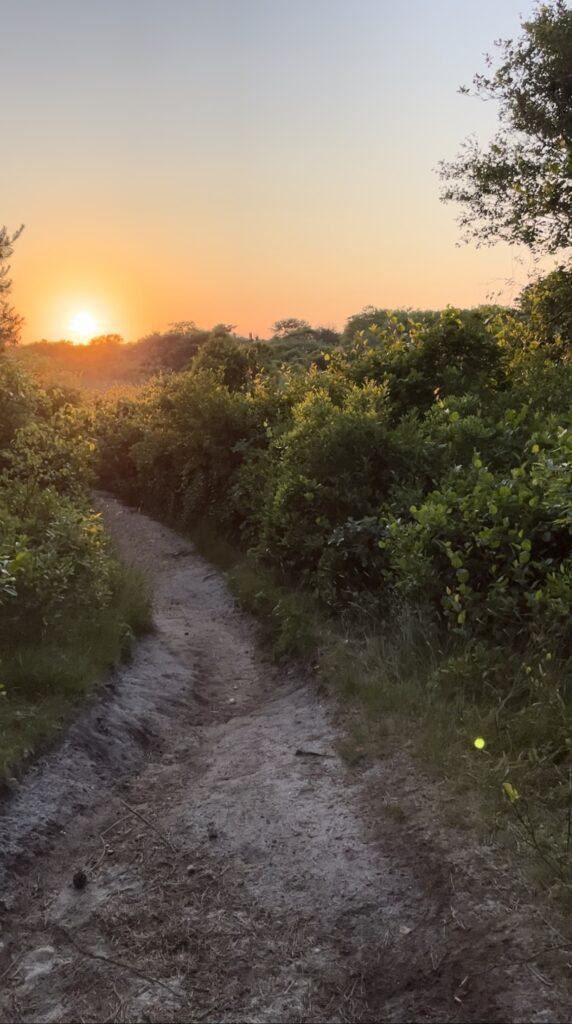 When we got back to the house, I decided to go on a short walk by myself to cool down and cry some more. My short walk turned into an hour-long adventure. During that time, I discovered a breathtakingly beautiful Nantucket oasis—the Lost Farm Wildlife Sanctuary. It was sundown and the crickets and frogs were singing that sweet summer melody you only ever hear outside of NYC. I felt at peace, incredibly proud of myself, and impressed with my own willpower.


The Fourth Day: Learning Lessons
We all made our way back to NYC the next day. When I got home, I was greeted with three floral bouquets, chocolates, Spindrift seltzers, and a big hug from my boyfriend.
The press trip to Nantucket was one of the biggest learning lessons I've had in my sobriety journey. I learned that I need to mentally prepare myself for tricky situations—like turning down alcohol on business trips. I learned that it's crucial that I tell the PR team about my "dietary restriction" to avoid temptation and awkwardness. I learned to ask for what I want, and to protect my sobriety at all costs.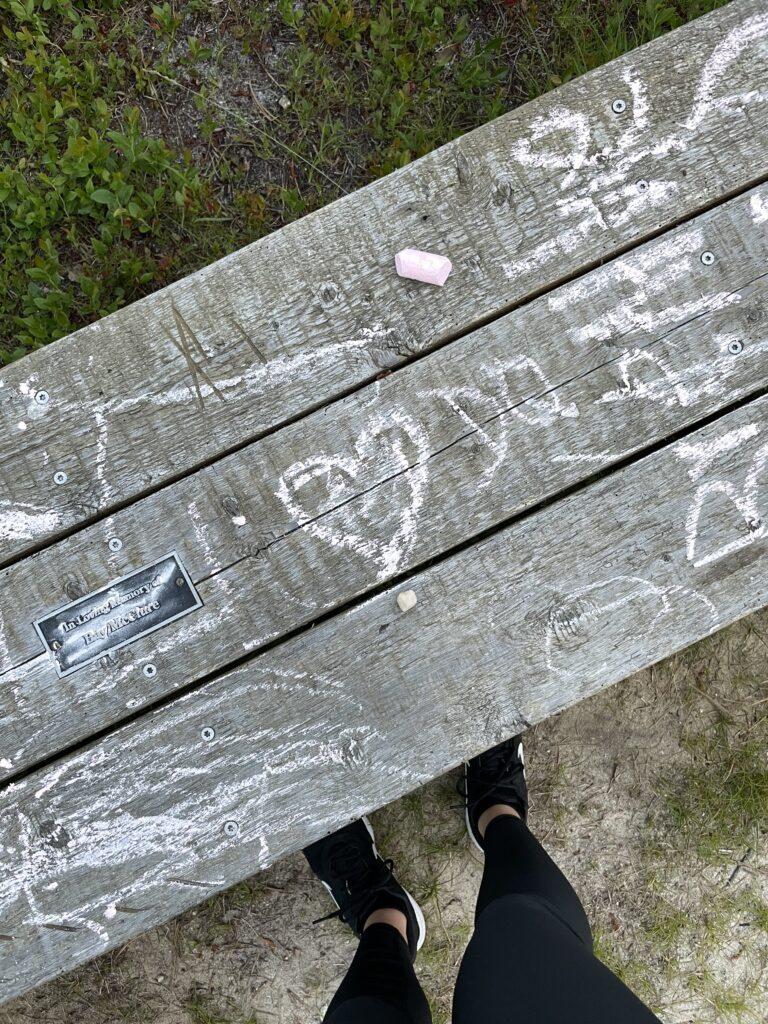 I learned how understanding and supportive most people can be when it comes to sobriety. I learned that the first few months of being sober can be brutal. Looking back on it, I could have filled buckets with the amount of tears I shed during the month of June. It was only my second month of living alcohol-free.

Most importantly, I learned that I'm a badass. I learned that my willpower is fierce, resilient, and unrelenting. I learned that sometimes, you just have to cry it out to get through the hard parts of life—and to not be surprised when you find beauty, peace, and joy on the other side. Just down the road. Just a few months later.