It's not often that I would ever title an article or a blog post with such a click-baity-sounding headline. The Sofie Pavitt Face Mandelic Clearing Serum, however, absolutely has changed my skin for the better and deserves recognition. I am shook by how different my skin feels after trying this mandelic serum for the last month. 
Let me start by saying that I'm a beauty editor who has worked in the media industry for the last ten years. I've tried a million and one beauty products (some worth the splurge, others definitely not). However, I've never really been one to use chemical (or physical) exfoliants on my very sensitive skin. I find that a lot of chemical exfoliants that claim to be "gentle enough for sensitive skin" actually aren't. They leave my skin feeling hella dry with flakes for days. 
I got an amazing facial with Sofie over a month ago, and she gifted me her newest product from her eponymous skincare line. This mandelic serum may or may not be my latest holy grail product. Read on to find out why I'm obsessed with this pick and why I know you will be, too.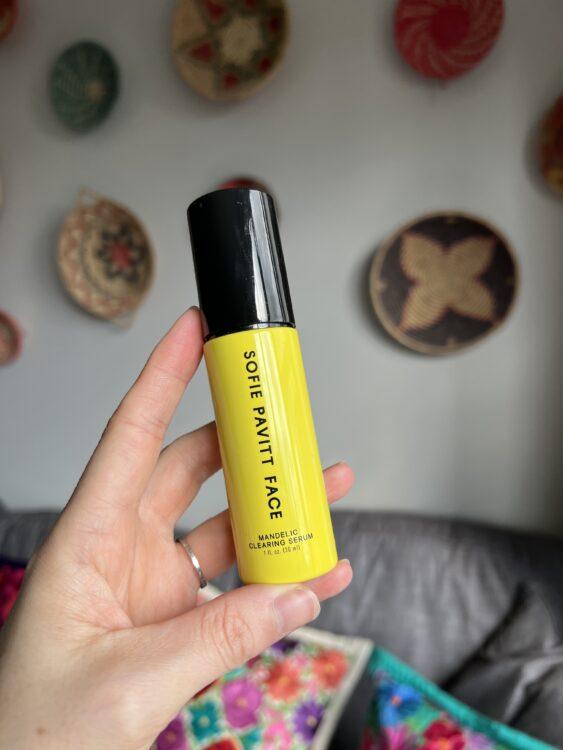 Why You Need Mandelic Serum In Your Life
What is mandelic acid?
Mandelic acid is one of the lesser-known acids used in skincare. It is an alpha-hydroxy acid (AHA) that is derived from bitter almonds. Unlike other, more commonly-known AHAs (think lactic acid and glycolic acid), mandelic acid has a larger molecule size. When an ingredient has a larger molecule size, it doesn't penetrate into the skin as quickly as an ingredient with a smaller molecule size. This means that a mandelic serum will penetrate your skin at a slower rate, lessening the irritation it might otherwise cause if it were a smaller molecule size. It's such a great acid for folks with sensitive skin who still want to take advantage of exfoliating benefits, without stripping the hell out of their skin after each use.


How does mandelic acid benefit the skin?
Mandelic acid does about a million and one things to benefit the skin. First of all, it has antibacterial properties that will target acne-causing bacteria. Additionally, it gently exfoliates your skin with each use.
Why would you want to exfoliate your skin, you ask? When I had a facial appointment with Sofie, she explained that I am, what she calls, an "over-shedder." In order to promote cell turnover, my skin wants and needs exfoliation. Sebum, dirt, and oil will get trapped underneath your skin and can cause breakouts when your skin isn't shedding the excess skin at a proper rate. If you help your skin promote more turnover, you are less likely to get anything trapped in your skin and cause a pimple to pop up.
Mandelic serum won't just treat acne. With continued use, you'll notice that your dull skin will appear more luminous and glowy, your texture will appear more even, hyperpigmentation will fade, and you might even notice less fine lines and wrinkles, too.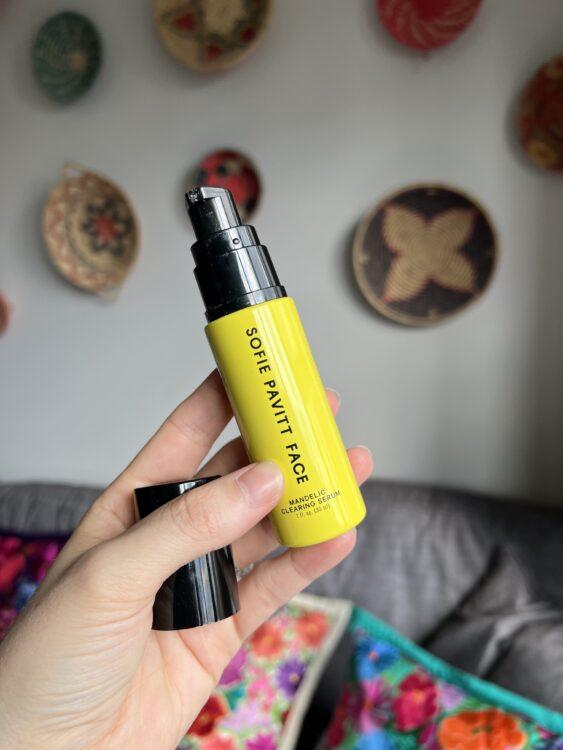 My Sofie Pavitt Face Mandelic Clearing Serum Review
Ingredients in This Mandelic Serum
The main heroes in this formula are mandelic acid, hyaluronic acid, and panthenol. We've already learned what mandelic acid can do for the skin, but what about hyaluronic acid and panthenol? Well, hyaluronic acid helps to hydrate your skin while the mandelic is lightly exfoliating your face. Additionally, panthenol soothes the skin and reduces redness. It can help build your skin barrier, too.
The biggest competitor to the Sofie Pavitt Face Mandelic Clearing Serum is probably going to be the Face Reality 8% Mandelic Serum. I'm not sure the exact percentage of mandelic acid in the Sofie Pavitt Face mandelic serum. But, she did mention to me that her serum contained a smaller amount of mandelic acid than other options on the market. She said that a lower percentage will allow folks with sensitive skin to use this mandelic serum without irritation. 
She also mentioned that other mandelic acid serums on the market don't contain hyaluronic acid or panthenol like hers does. These two ingredients can counteract the drying or irritating effects that mandelic acid can sometimes have.


Texture of the Mandelic Serum
I really like how light the texture is in this mandelic serum. It's very watery. I would say it feels closer to a toner than a serum, and not even as thick as an essence. Because it is so watery, it soaks into my skin super fast, and doesn't leave any uncomfortable residue on my face.
Because the texture is so light, I wouldn't rely on this mandelic serum to act as a main hydrator. You will want to layer a moisturizer on top of it to get that dewiness that you're looking for.


How Often I Use This Mandelic Serum
I like to use the Sofie Pavitt Face mandelic serum once a day, usually at night. It wouldn't harm my skin if I used it twice a day, but I would prefer to slowly and gently exfoliate my skin over a long period of time.
I'll usually pump 2-3 squirts in my hand and apply directly to my face. I think this mandelic serum is such gold, that I would never even think to apply it to a cotton round. I think I would lose a lot of product if I were to use a cotton round and then swipe it on my skin. Please note that, because this mandelic serum is so watery, you will really want to cup your hands tightly when you pump it into your hand, because it could fall through any cracks in between your fingers if you're not careful.


The Results
It took about a full week for me to really see amazing results with this product. After about two days, I started to notice that my skin was very slightly flaking. But it wasn't so much that I was like embarrassed to go outside or be seen in public. It kinda just looked like I had dry skin from the wintertime.
I definitely noticed smoother skin on about day three. The flakiness was completely gone after a full week. Plus, my skin felt smoother than it's ever felt before. It wasn't until I started using this mandelic acid serum that I realized that this is how smooth my skin is actually supposed to feel!
I notice that my skin looks dewier and glowier, which is something I never really was able to achieve.
Of course, I've been able to achieve clear skin with no breakouts. But I've never been able to nail that "glass skin, lit-from-within" glow that you sometimes see others rocking. This mandelic serum allows me to get that glow. 
Something else I changed up, per Sofie's recommendation, was to opt for a water-based moisturizer. Because I felt like my skin was always so sensitive and dry over the years, I used thicker moisturizers that provided hydration. Now, I use this mandelic serum and also opt for the Neutrogena Hydro Boost Face Moisturizer (fragrance-free) or the Shani Darden Weightless Oil-Free Moisturizer.  
Another thing I've noticed since using this mandelic serum is that the redness in my face has toned down significantly. I have rosacea and have suffered with red skin basically my whole life. The panthenol in this product really targets the redness in my cheeks and chin (the spot I break out the most).
I have definitely noticed a lot less breakouts since using this mandelic serum. I'm excited to see even better results as I continue to use this over the next few months.


Where to Purchase
Unfortunately, there is only one place you can purchase this mandelic serum right now—on Sofie's website. Hopefully, as the mandelic serum gains more traction, it will be available at more retailers. The serum costs $54 for 1 fluid ounce. It's certainly not the cheapest serum out there, but I plan to continue purchasing this serum (with my own cash) whenever I run out because it's that good. I'm hoping that Sofie will offer this mandelic serum in a larger bottle so that I don't run out so quickly!