By TDD Contributing Writer, Natalie Arroyo Camacho


These days, you can find your favorite alcoholic products without the booze. In my opinion, there are few things more relaxing than getting home at the end of a long day and pouring yourself a glass of red wine. But on week nights, or days when I don't want to wake up a little hungover, I have to reach for non-alcoholic wine.
In case you're unfamiliar, non-alcoholic wines are wines that have been filtered to remove the alcohol in them. (Read: they're essentially alcohol-free wine, though there is a trace amount of alcohol—so, no, they're not just "grape juice.")
They're differentiated from regular wine because they don't get you drunk. Like I said, I love to drink these concoctions to relax—but one might also consider them to celebrate or simply to elevate the flavor of your favorite dishes. Truly, there are plenty of reasons why people nowadays opt for non-alcoholic wines.
That said, they may not be readily available despite their increasing consumer demands. Considering that we love to offer solutions at The Daley Dose, we're sharing a roundup of places where y'all can buy non-alcoholic wines in different varieties.


Where to Buy Non-Alcoholic Wine

BevMo!
In case you didn't know, "BevMo" is short for "beverages and more." And we'd certainly say that non-alcoholic wine counts as a beverage. The cool thing about BevMo! Is that it's a nationwide chain, so you can use the BevMo! store locator to find a physical shop near you.
Here are some of the non-alcoholic wines that the national retailer carries (and that we recommend): for red wine, we suggest trying the Ariel Cabernet Sauvignon, which comes in at 0.5 alcohol for each serving. If you're looking for a sparkling wine, Sutter Home FRE Alcohol-Removed Sparkling Brut ($22) is a good option.
Amazon
It's extremely convenient to buy wine online, and no one does a better job of a speedy delivery than Amazon. Since you can buy alcoholic wine on the online retailer, it's not shocking to find out that you can also purchase NA wine there.
You can basically buy any type of alcohol-free wine on Amazon. That said, we're big fans of white wines, and one of our favorites is the Gruvi Non-Alcoholic Dry Secco ($37). It's great that this wine comes as a pack of eight, individually packaged bottles. It makes it really easy to evenly split with friends.
Spirited Away
In the middle of Manhattan exists "America's first booze-free bottle shop, which is called Spirited Away. That's right—all the bottles in this shop have zero alcohol. Since their ethos is all about abstinence, you can find tons of non-alcoholic wine on their shelves.
Additionally, you'll get spirits, beers, and cocktails. The easiest (and best) way to shop at Spirited Away is, well, to shop at Spirited Away. That said,  you can also get delivery if you live in downtown Manhattan. The store is open seven days a week, from noon to 8 p.m. ET. (Bonus: this store also carries non-alcoholic IPAs.)
77 Mott St., New York, New York 10012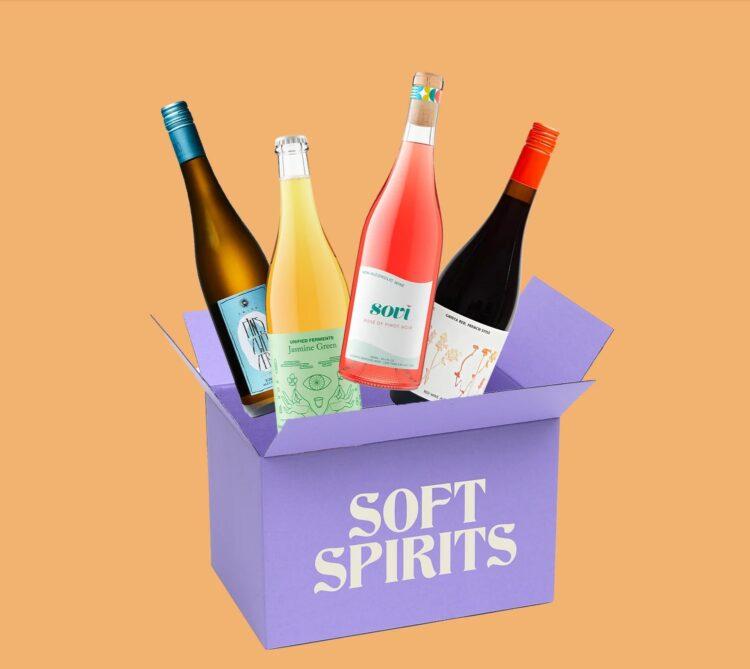 Soft Spirits
Spirited Away may be America's first non-alcoholic bottle shop, but Soft Spirits is the first one to plant that flag in Los Angeles. (Seriously, this sobriety thing is big all across the country.) At Soft Spirits, you'll find non-alcoholic beers, non-alcoholic wines, non-alcoholic cocktails, and non-alcoholic spirits.
One very unique thing about this shop is that Soft Spirits has a subscription service. When you're a member, you can get a monthly delivery of non-alcoholic wine (either two or four bottles)—delivered right to your door. For two bottles, the monthly charge is $55. That goes up to $105 if you want four bottles.
3208 1/2 W Sunset Blvd., Los Angeles, CA 90026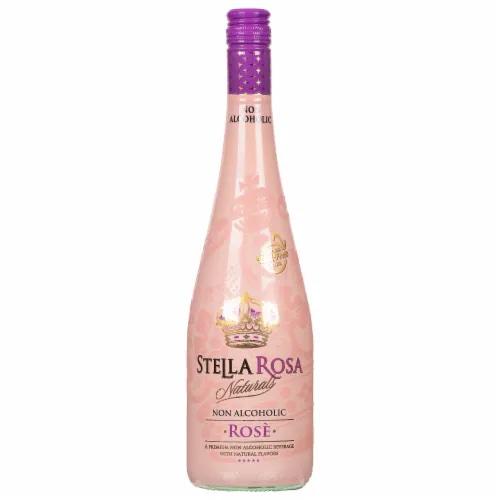 Liquor World
Alcoholic beverages have almost become synonymous with Las Vegas—but, as we know, you don't have to drink to have a good time. Also, don't let this store's name fool you. It may be called Liquor World, but rest assured that you can buy liquor-free beverages here. If you find yourself in Las Vegas, stop by this shop and grab yourself a Stella Rosa Rosé.