Alima Pure Foundation has been my holy grail makeup product for almost a decade. I first discovered Alima Pure Satin Matte Foundation when I worked with the folks over at skinSALVATION acne clinic in San Francisco. They recommended this loose mineral foundation because it has buildable coverage, few ingredients, and most importantly, doesn't irritate your skin.
This is the one foundation I've found that never, under any circumstances, breaks me out. There are so many foundation formulas on the market that irritate the heck out of my sensitive, eczema-prone, acne-prone skin. I can always count on the Alima Pure foundation to cover up my breakouts and redness, without further breaking me out.
The leading loose mineral foundation brand on the market (I'm sure you know the one) irritates my skin like no other. I don't know what is in it. But I do notice that when I apply that loose foundation onto my face, my skin starts to tingle a little. It gets slightly red, and I can almost feel my skin barrier breaking down while wearing that foundation. That feeling never occurs when I wear Alima Pure foundation!
I love Alima Pure because it's a woman-owned business. I also love that it uses clean, non-toxic ingredients that I can trust won't be harmful to my skin. Below, I'm dedicating this review to my obsession with the Alima Pure foundation and how I think it's a great product for every skin type and tone.


My Honest Alima Pure Foundation Review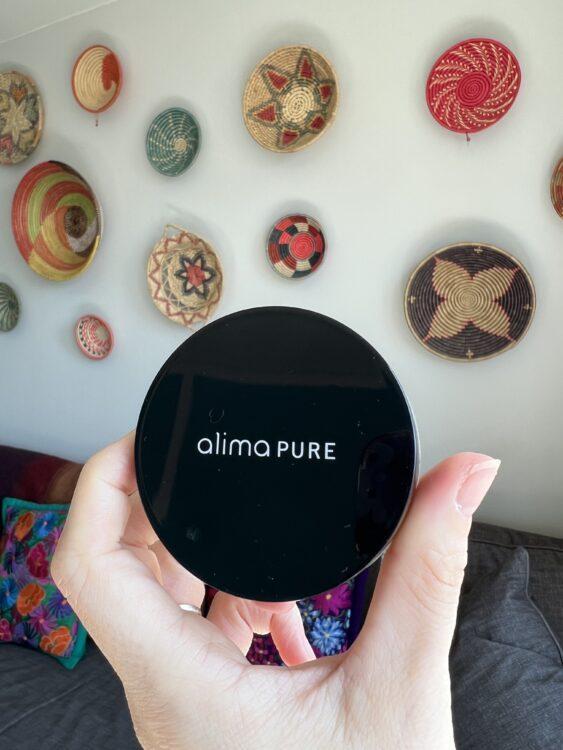 Coverage
There are two types of people in this world: The ones who basically pour a bottle of foundation on their face every day, and the ones who prefer minimal coverage and less makeup in general. I used to be a member of the former group, but I'm now part of the latter squad. There's nothing worse than applying too much foundation and looking like I'm trying hard to cover something up. I avoid a lot of liquid foundations for multiple reasons. The biggest one is that I feel like most of them don't look anywhere near natural on my skin.
Obviously, this isn't the case with Alima Pure foundation. This pick is pretty sheer and won't look heavy on the skin. When I do have blemishes that I need covered up, I will layer the powder more to camouflage the redness and pimples. But sometimes, I don't mind if some of my breakouts are showing through.
I find that the more you try to hide a raised pimple underneath a heavy, liquid foundation, the more obvious the pimple is. People are more likely to focus in on your clearly covered pimple than if you just let it breathe. As I get older, I'm learning that the more you try to cover something up about yourself, people will notice and will find your lack of confidence unattractive. I think that can be said about covering acne too.
Anyways, if you fall in the former group and prefer a lot of coverage, I would probably opt for something different. However, I'm able to get good coverage from adding layers of this foundation when I feel like I need it. But, I would not consider it a fuller coverage foundation by any means.  


Application
Does anyone remember the phrase, "swirl, tap, and buff?" Well, this is exactly how I apply my Alima Pure foundation. I love that the product comes with a big lid for me to really swirl my brush in. I like to use a small, round concealer brush to buff the foundation onto any blemishes or redness I have. Then once I'm done, I will use more to buff a light layer onto the rest of my face. I usually add no more than two layers onto my face when applying this foundation. Personally, I think it blends beautifully and is easy to apply to my skin every day.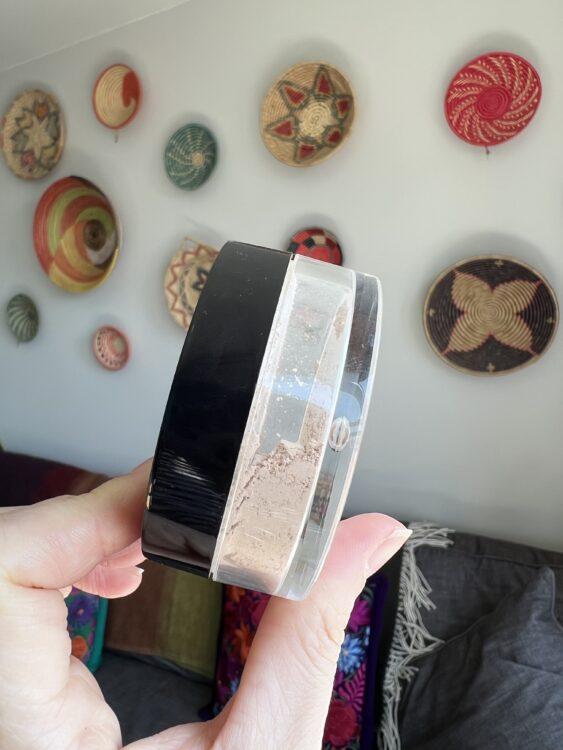 Finish
What I love about this foundation is that the finish can really change, based on what you put underneath it. The name suggests that it is matte, but I've been able to manipulate it to look matte or glowy, depending on what I'm feeling that day. If you use a basic moisturizer that doesn't have an added "glow" effect to it, you will notice that this foundation looks matte on the skin.
I've been using the Skinfix Triple Lipid Peptide Cream on my face for a couple of months now. I'm amazed by how great my Alima Pure foundation looks on top of this moisturizer. It adds a beautiful, natural-looking glow without breaking down the foundation fast.
That's another thing I love about the Alima Pure foundation: It lasts all day without really getting cakey or breaking down. Yes, there are times when I need to wash some of it off and reapply it on the second half of the day. But, it lasts way longer than any of the sheer liquid foundations that I've tried over the years. And yes, I've tried a ton.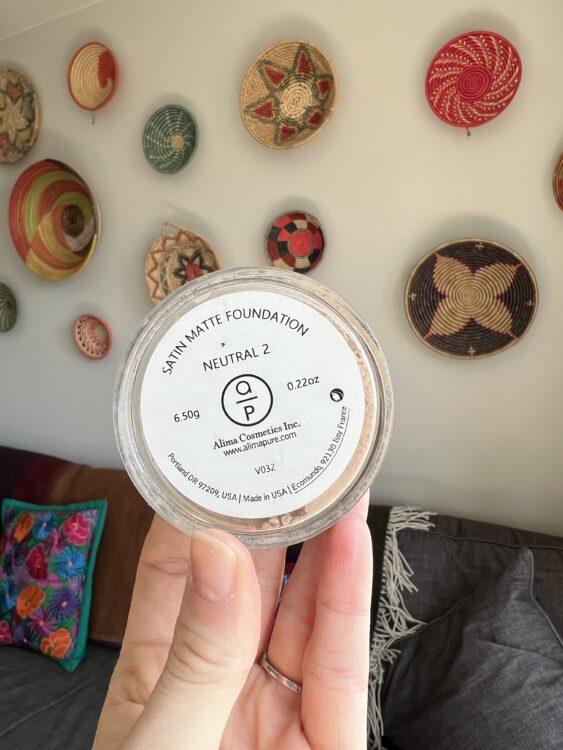 Acne-safe
Not only do I love that this foundation is acne-safe, but I also love the way it covers my acne. I don't know if my description will do it justice, but I find that this foundation really gets into the crevices of my pimples (no matter what stage they are in in their healing cycle).
Through my experimentation, I've found that liquid silk foundation formulas really accentuate my acne. They don't sit well on my skin, and they almost always exaggerate the dryness of each of my pimples. I'm always having to remove the liquid foundation and reapply my Alima Pure foundation on top. The liquid pick just makes things way too obvious.
It's strange because, when you have dry patches on your skin, you'd think that you would want to opt for a liquid, hydrating foundation. I have found that it usually just accentuates my dryness even more. While the Alima Pure foundation doesn't necessarily make your skin appear more hydrated than it actually is, it also doesn't accentuate dry spots and blemishes, either.
Finally, this foundation never causes any irritation for me, which is a godsend. Sometimes I will use a fancier liquid foundation for special events (if my skin is looking good). But most of the time I use my Alima Pure foundation because it gets the job done. Plus, it won't bother me during the day.
Alima Pure Foundation Ingredients
Mica (CI 77019)
Titanium Dioxide (CI 77891)
Zinc Oxide (CI 77947)
Iron Oxides (CI 77491, CI 77492, CI 77499)
Alima Pure Foundation Swatches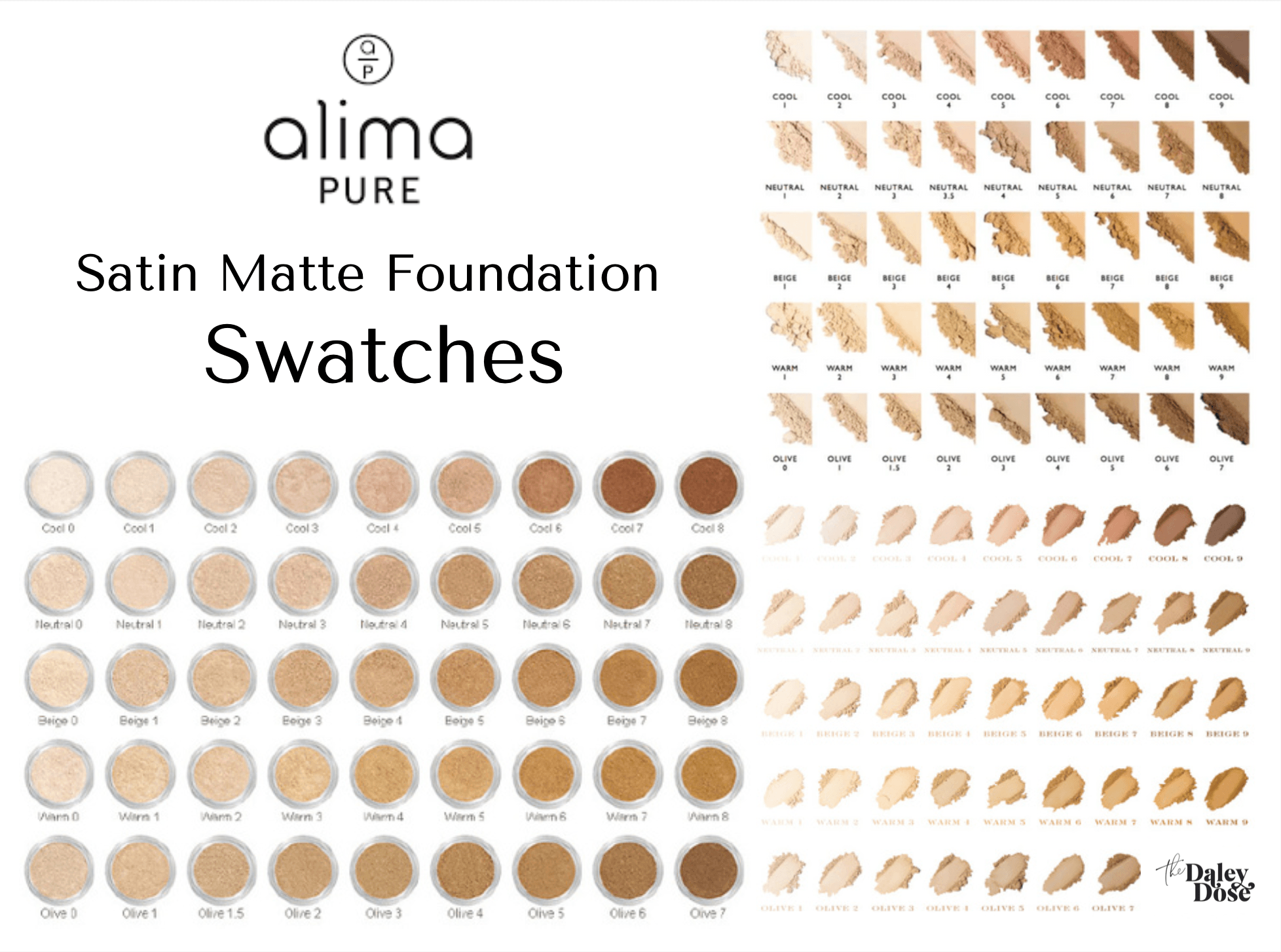 How To Apply Alima Pure Foundation
Tap the powder into the bottom of the cap 
You don't want to tap too much powder into the cap. But, you also don't want to pour too little either. I rarely end up pouring excess powder back into the jar. Make sure you are pouring in the right amount.
Sometimes it's easier to slide the dispensing mechanism (on the jar) to close and then reopen it again when you need more product. If you don't close it, you could end up with too much powder in the jar, and you'll end up pouring too much into the cap when it's time to apply.


Swirl with powder onto your brush
The next step is to swirl the powder in the cap using a makeup brush. I like to do this in two ways. The first is to use a round concealer brush to apply the product to any blemishes and specific red areas I have on my face. I love the 300 Deluxe Crease Brush from Real Techniques in this set (amazon.com, $19). The brush is meant for eyeshadow, but it works perfectly for concealing pimples, too.
Once I've finished with concealing my blemishes, I will do sheer layers of coverage on the rest of my face. I like to use the largest foundation brush from this Ecotools Set (amazon.com, $10) to apply the powder on my face. You could also use a flat top brush to apply this product, like the Alima Pure Flat Top Brush (amazon.com, $42).


Buff the powder into your skin
All you have to do is make sure that you are distributing the powder evenly to both sides of your face. Make sure you blend outward. Buff it into your skin and watch it seamlessly blend in! I love that I never have to use a finishing powder or a cream concealer when using the Alima Pure foundation!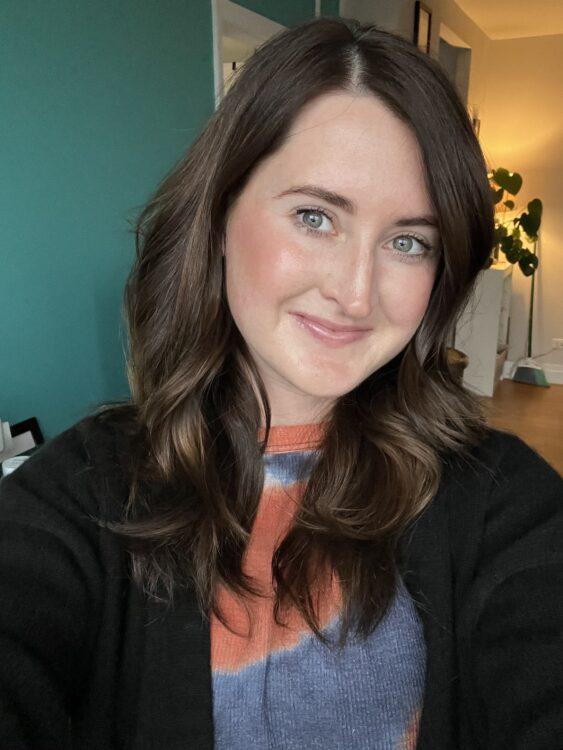 Where To Buy Alima Pure Satin Matte Foundation
There are multiple places you can purchase Alima Pure Satin Matte Foundation:
Amazon, $32
Alima Pure, $32
Grove, $28
Verishop, $32

Also, if you aren't quite sure what your exact foundation match would be, consider purchasing a few of the testers from the Alima Pure website to get a better idea of your ideal match. They have 45 shades with yellow undertones, cool undertones, and neutral undertones, too—something for all skin tones. They cost $2 per sample. 

Looking for other mineral makeup brands? Don't forget to check out my Magic Minerals Airbrush Foundation review!


*This post contains affiliate links. I may earn a small commission when you make a purchase through the links on my site at no additional cost to you. Thank you so much for supporting my small business by shopping through my affiliate links—I am so appreciative!