By TDD Contributing Writer

Whether you're sober curious or fully committed to living life alcohol-free, the big city has myriad pastimes that don't require drinking to have fun. Here are a few ideas I tried for myself and strongly encourage you to, too.
5 Sober Activities in NYC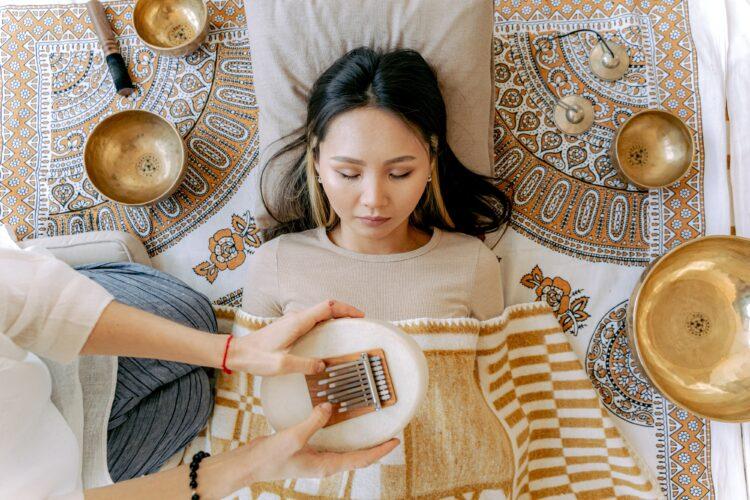 Trying a sound bath at The OHM Center
New York City's Upper East Side has loads of activities for sober folks. This includes well-being experiences like a sound bath at the OHM Center. In Sanskrit, the native language of yoga, "ohm" means "primal sound," aka one sound to rule them all. It tracks, then, that a wellness and meditation studio offering sound baths would use this in their name. At the OHM Center, you can take your pick of mindfulness practices like taking a sound or gong bath, doing a meditation, or doing a guided group healing.
1143 1st Ave., New York, NY 10065



Playing laser tag at Area 53
Part of what I love about being sober is that you get a chance to fully be in the present. And one of my favorite things to do while I'm immersed in the moment is engage with my inner child. Cue: laser tag! I grew up playing this with my friends and it's just as cool to do so as an adult. It's one of my top five favorite sober activities in NYC. Unlike paintballing, which can be pretty painful, laser tag gives you the opportunity to practice your aim and military prowess in a low-stakes way. If you go to Area 53, a single game of laser tag will be $15 per person Monday through Friday and $17 on Saturday and Sunday.
53 Bridge St., Brooklyn, NY, 11201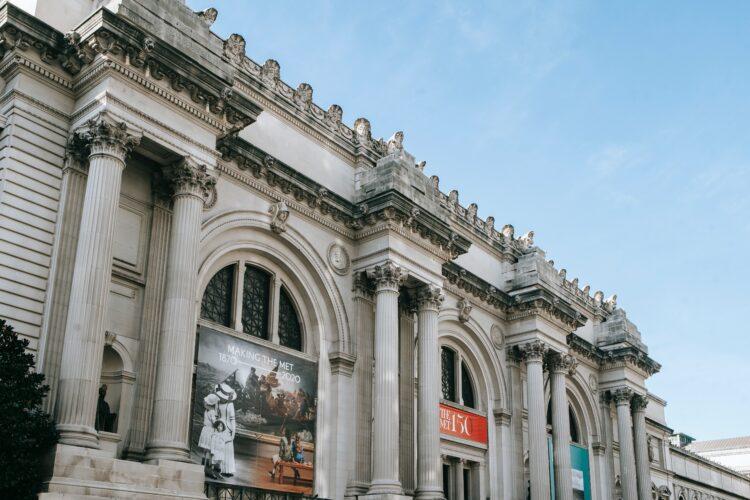 Visiting The Metropolitan Museum of Art
Based simply on the fact that the Met Gala takes place here, there's no denying that The Met is one of the places to be in the big city. In fact, it's the largest art museum in all of the Americas and it has a whopping 17 different departments. Honestly, you spend a whole day at The Met and still feel like you haven't seen every corner of the palace-like art shrine. Which is a good thing if you're looking to fill a day with a sober activity!
1000 5th Ave., New York, NY, 10028



Having a picnic at Prospect Park
Prospect Park is one of those New York gems that doubles as a christening for people who might be new to the city. When I have friends in from out of town, I'll grab a blanket and basket for us to have a cute little picnic. I'll always be sure to bring a board game so we have some post-picnic entertainment. At Prospect Park, you can also get a two-hour guided walking tour, grab a bite, and even play some tennis, which I'd say makes for a pretty fantastic afternoon.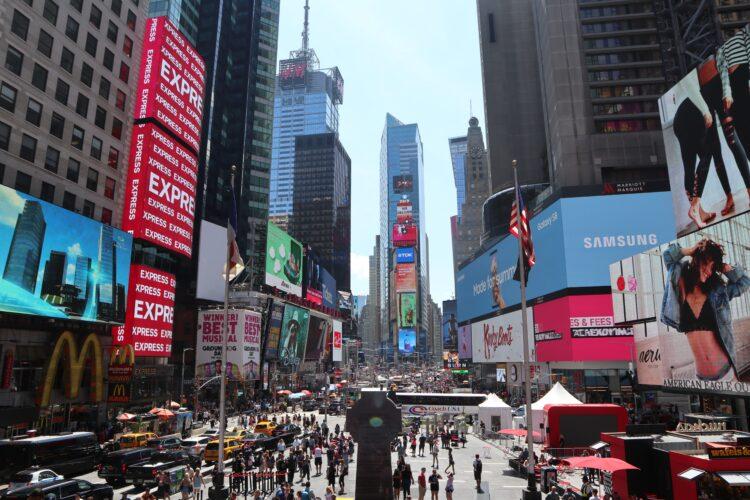 Walking around Times Square


It's true that some New Yorkers loathe going to Times Square because it's (admittedly) a tourist trap. Who wants to be walking streets with little wiggle room, where people are frequently stopping to take pictures of everything? Well, I have to confess: There's something about Times Square that brings me to life. It's one of those sober activities in NYC that I truly enjoy. Maybe it's the excitement of being surrounded by people from all around the world. Or maybe it's the fact that I have to be present enough not to bump into strangers. If you're ever feeling lonely, I think Times Square may just take that away.


7 Sober Bars in NYC


Sèchey
In the West Village, you'll find a plant-covered boutique serving only non-alcoholic wine, spirits, and cocktails. Sèchey describes itself as an "alternative bottle shop and tasting lounge." It has two locations: Charleston, South Carolina, and New York City. Their official motto is "Drink less, live more." Since I'm on my own sobriety journey, that's definitely something I can get behind. What makes Sèchey fun is that they offer guided tastes, during which an expert will tell you about the process of making non-alcoholic drinks. For $10, you can also get three cans to taste from their wide in-store selection.
632 Hudson St., New York, NY, 10014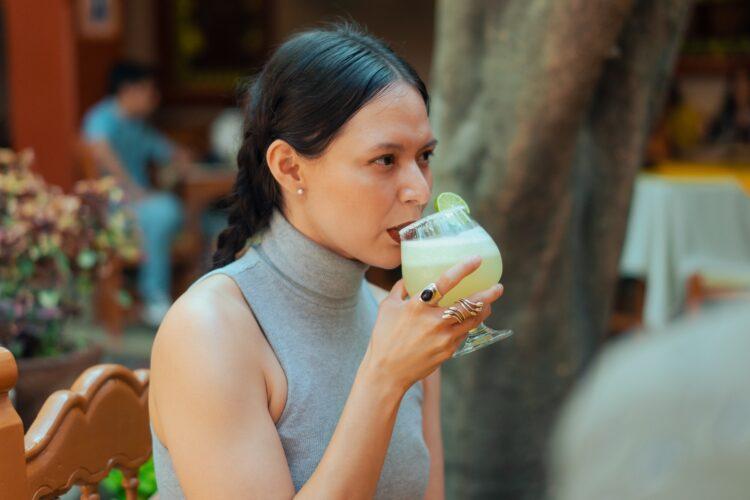 Kava Social
If you ever find yourself in Brooklyn (and why wouldn't you?), I strongly recommend stopping by Kava Social if you're booze-free. Kava Social opened in Williamsburg back in 2020 and its menu features items chock-full of Kava root tea, which has benefits like "elevating mood, well-being, and contentment, and producing a feeling of relaxation," according to Mount Sanai. Their decor also makes it a great scene to be at, considering it has vibrant colors from the floor (aquamarine) to the ceilings. It's giving new-age coffee shop, tbh.
120 Bedford Ave., Brooklyn, NY, 11249



Hekate Café & Elixir Loungue
This East Village sober bar had its grand opening in September 2022 and countless memories have been made (and fully remembered!) since. Abby Ehmann founded and owns this alcohol-free bar, which doubles as a tea shop. According to their website, Hekate is "fueled by feminine energy, designed for those who seek the alchemy of herbal elixirs." My advice? Text your witchiest friends and tell them to meet you at Hekate.
167 Avenue B, New York, NY, 10009



Listen Bar
When you visit the homepage of Listen Bar, you're greeted by four words: "All bar. No booze." Unlike the other brick-and-mortar shops on this list, Listen Bar is a pop-up shop for sober people—meaning it doesn't have one set location. They also don't have set dates for their pop-up appearances. While there is an events page on their website, the best way to stay up to date with their upcoming mixers is to follow Listen Bar on Instagram. Judging by the photos, it's a fun place to be.



abcV
abcV is a chic and vibrant restaurant that offers plant-based meals, making it a perfect venue for any dinner-and-drinks dates you might want to set up. Although this spot isn't exactly a sober bar, its menu still contains a plethora of non-alcoholic beverages. Some notable items include a variety of locally made kombuchas as well as tasty tonics. Overall, I'd suggest sampling the kin spritz, which is a mocktail with ingredients like hibiscus, rhodiola (a yellow and flower-like plant), and citrus.
38 E 19th St., New York, NY, 10003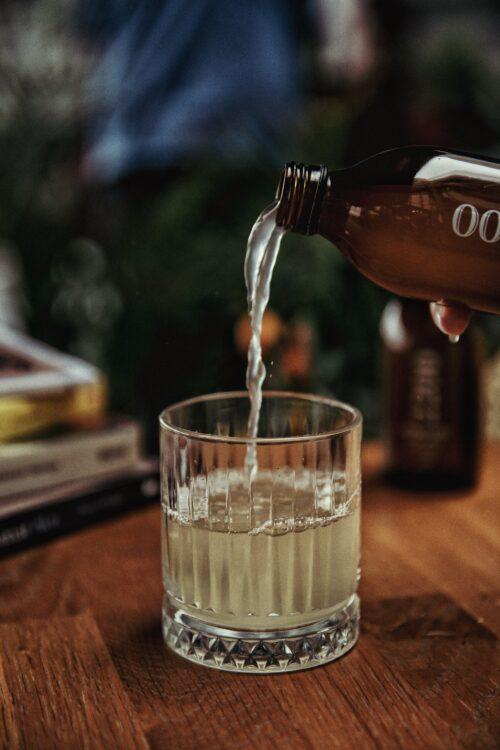 Spirited Away
Spirited Away is a booze-free bottle shop that's open daily from noon to 8 p.m. You can think of it as a non-alcoholic liquor store if that helps. On the Spirited Away shelves, you'll find spirits, wines, beers, cocktails, and more—all alcohol-free, of course. Their events page has details on upcoming tastings at the shop, but you can stop by any time during the aforementioned business hours. This is a great supplement to accompany any sober activities in NYC that you might be partaking in.
177 Mott St., New York, NY, 10012



Minus Moonshine 
According to the Minus Moonshine website, they specialize in "dry drinks and potions," which is a pretty cool way of saying alcohol-free libations (think: Dry January.) The dry bar opens at noon every day and closes at 8 p.m. except for Saturday, when it closes at 7 p.m., and Sunday, when it closes at 5 p.m. If you're shopping in this Brooklyn bar, you can expect to find non-alcoholic canned beer, spirits, wine, and cocktails. You can't, however, expect to find alcoholic beers here since it's exclusively a dry shop.