If you've read other Cocokind reviews, you probably already know how incredible this clean beauty brand is. I discovered Cocokind products on TikTok after someone had recommended their best-selling Ceramide Barrier Serum. After I tried the serum for the first time, I became obsessed and wanted to try more of their products.
There are multiple beauty brands that I love that have tried-and-true products I can't live without—read up on my Paula's Choice skincare review and my honest Vanicream review, too. I'm almost positive Cocokind is going to be one of those brands that will feature products in my vanity cabinet for years to come. Yes, it is that good.
I have a list of products below that I've tried (some I'm obsessed with, and others I could do without). Other products that I can't wait to get my hands on include the Cocokind Resurfacing Sleep Mask, the MyMatcha All Over Moisture Stick, the Chlorophyll Mask, and the Daily SPF. I'm also really wanting to test out the Postbiotic Acne Serum and Turmeric Mask Stick. As I try more of the Cocokind products, I will make sure to add them to this review.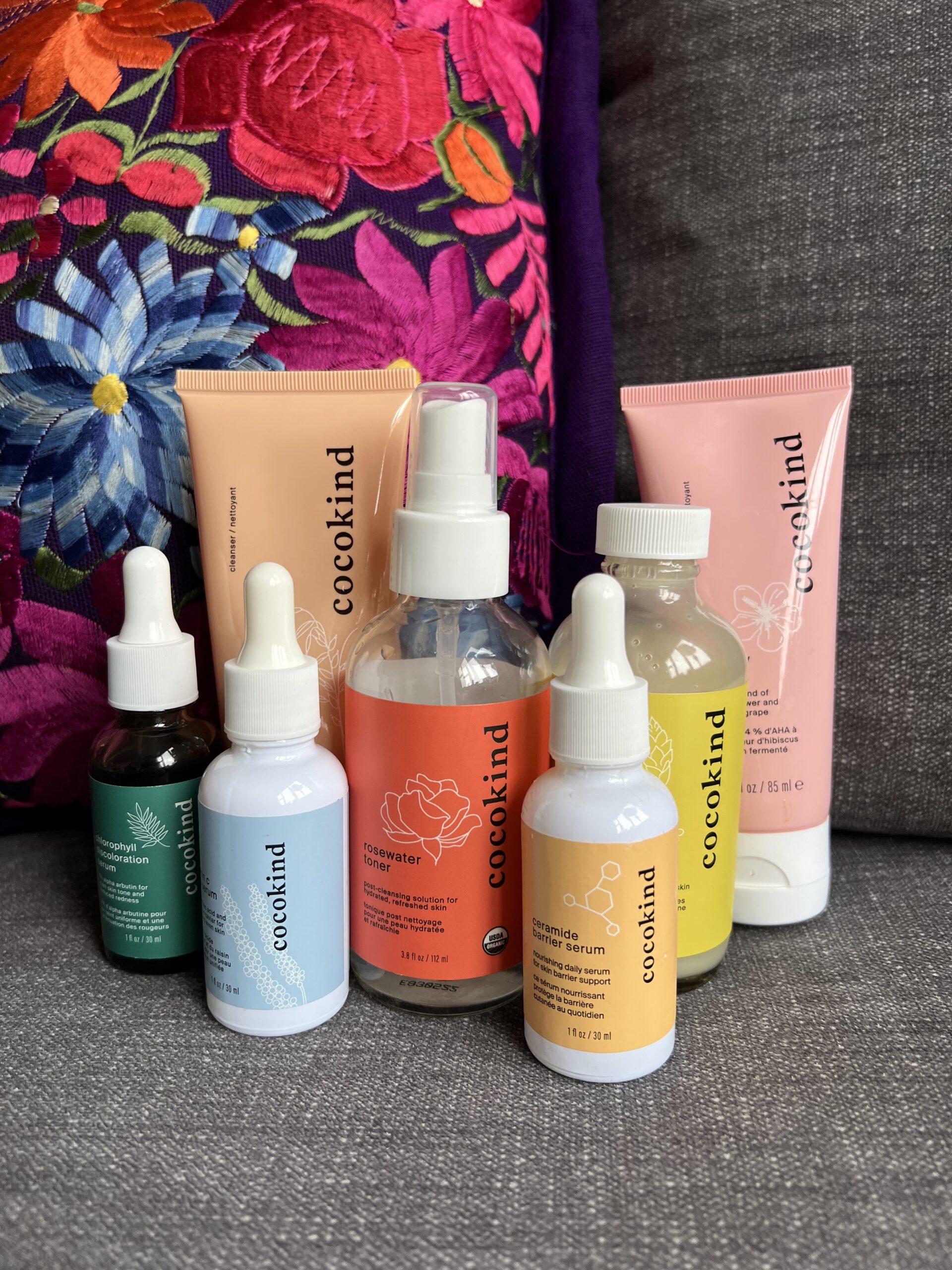 Cocokind Reviews—One That's Worth The Read
I can bet there are very few Cocokind reviews out there that don't praise most of the products within the skincare brand. I remember when I was first pitched this brand years ago (in around 2016) for my job as a magazine beauty editor. Back then, I'm pretty sure the brand was heavily focused on using coconut oil as its main ingredient in most of the brand's skincare products. Hence the name, Cocokind. Because of this, I shied away from the brand because my skin does not do well with coconut oil at all.
Fast forward to 2023, and I don't think most of the Cocokind products actually contain coconut oil! Which is a relief, because they have been a godsend to my easily-irritated skin.
What Is Cocokind
Cocokind is a skincare brand that focuses heavily on hydration and barrier support. All of their products are clean and work to support your skin, rather than strip it. I think my skin loves this brand so much because my face is always so irritated, and I've needed extra nourishment and hydration that I don't find often with other skincare brands on the market.
Priscilla Tsai founded the company in 2014. She struggled with hormonal acne for a long time and wanted to create a line of skincare products that were affordable and supported your skin barrier. One of the things I love about this brand is that it is really accessible. Everything is under $20 and you can find it on Amazon, Target, and Whole Foods, too.
I also love that the brand uses high-quality, natural ingredients that work to heal skin. It reminds me a bit of Tula Skincare, because both brands use probiotics in a number of their formulations. However, Cocokind is much more affordable than Tula Skincare.
If you are someone who struggles with acne but also has really sensitive, easily-irritated skin, I highly suggest that you try this incredible skincare brand. You might notice that I didn't test out either of the best-selling moisturizers—Texture Smoothing Cream and Resurrection Polypeptide Cream. This is because, according to the Sofie Pavitt Ingredient Checker (which I follow pretty religiously), both of these formulas contain potentially irritating ingredients for folks with acne-prone skin. If you have acne-prone skin and have tried these moisturizers with success, please let me know in the comments below!
Best Cocokind Products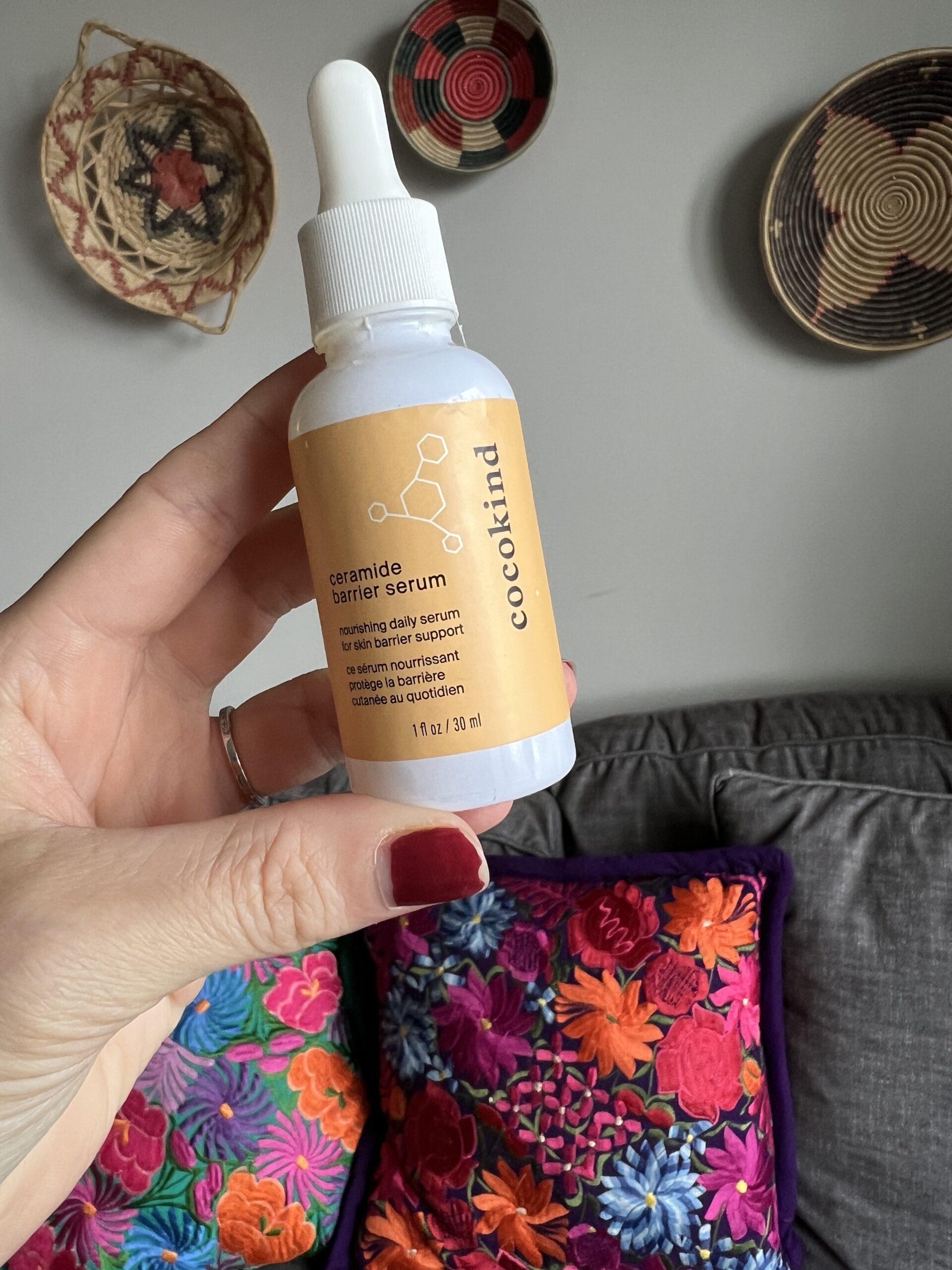 Cocokind Ceramide Serum
This ceramide serum from Cocokind absolutely, 1000% lives up to the hype. I saw someone recommend this product on TikTok and I decided to give it a try a week later. I was shocked by how lovely this felt on my skin. My skin feels incredibly hydrated and soft each time I use this. I have found that other hydrating serums sometimes irritate my very sensitive skin. This one visibly soothes my inflamed face and does such a fantastic job of giving your skin that drink of hydration it is craving.
If you are someone who has a compromised skin barrier and needs some extra support, this serum is for you. And even if you don't have an irritated skin barrier, you could probably benefit from this pick.
The ingredients in this formula are impressive. You can count on five types of ceramides, multiple lipids, beta glucan, and aloe leaf juice to moisturize your skin while calming and soothing your face, too.
One of the things I love about this hydrating serum is that it does not contain hyaluronic acid (HA). There are so many hydrating serums on the market that contain HA, and some folks are actually pretty sensitive/allergic to this ingredient. I love that you can get a ton of hydration from this serum without HA.
The only thing I don't love about this product is that I go through it so fast! I am on my second bottle now. I'm guessing it will probably last me about a month and a half. I use it morning and night most days. That being said, the cost is incredibly reasonable in my opinion, and I'm happy to continue to repurchase if it means it'll give me glowing, happy skin!
Available at Amazon ($21)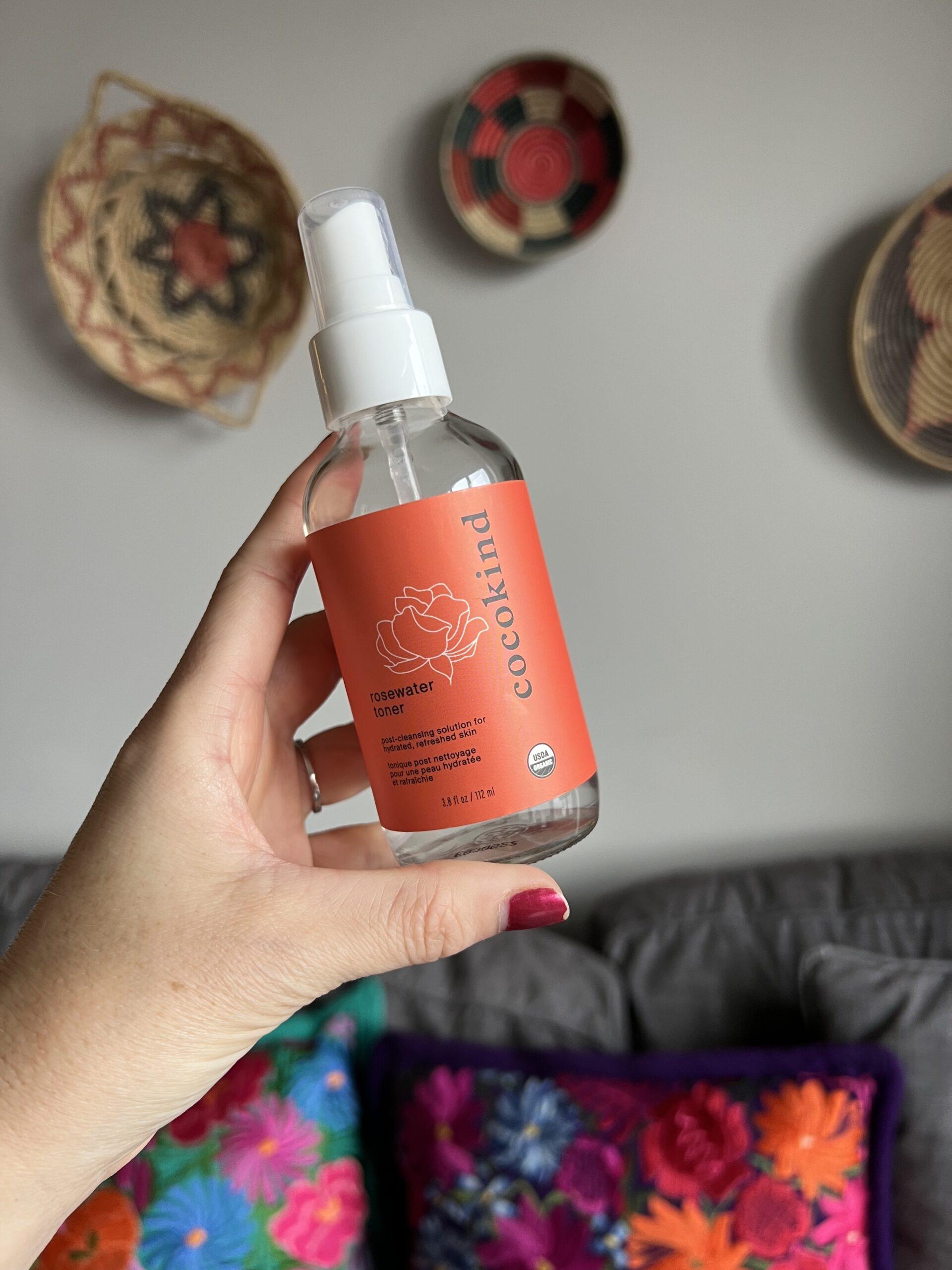 Cocokind Rosewater Facial Toner 
So this is my second favorite Cocokind product that I've tried thus far. It's your pretty standard rosewater toner, and is certified organic. I like that it contains ingredients to soothe and hydrate skin, but isn't too overpowering. Plus, it only contains two ingredients in the formula—rosewater and radish root ferment filtrate.
I am a sucker for anything rose-scented, so I really love dousing my face in this after I've cleansed. I find it to be very calming (both mentally and physically) and it's a lovely step that I've added to my skincare routine daily.
Available at Amazon ($18)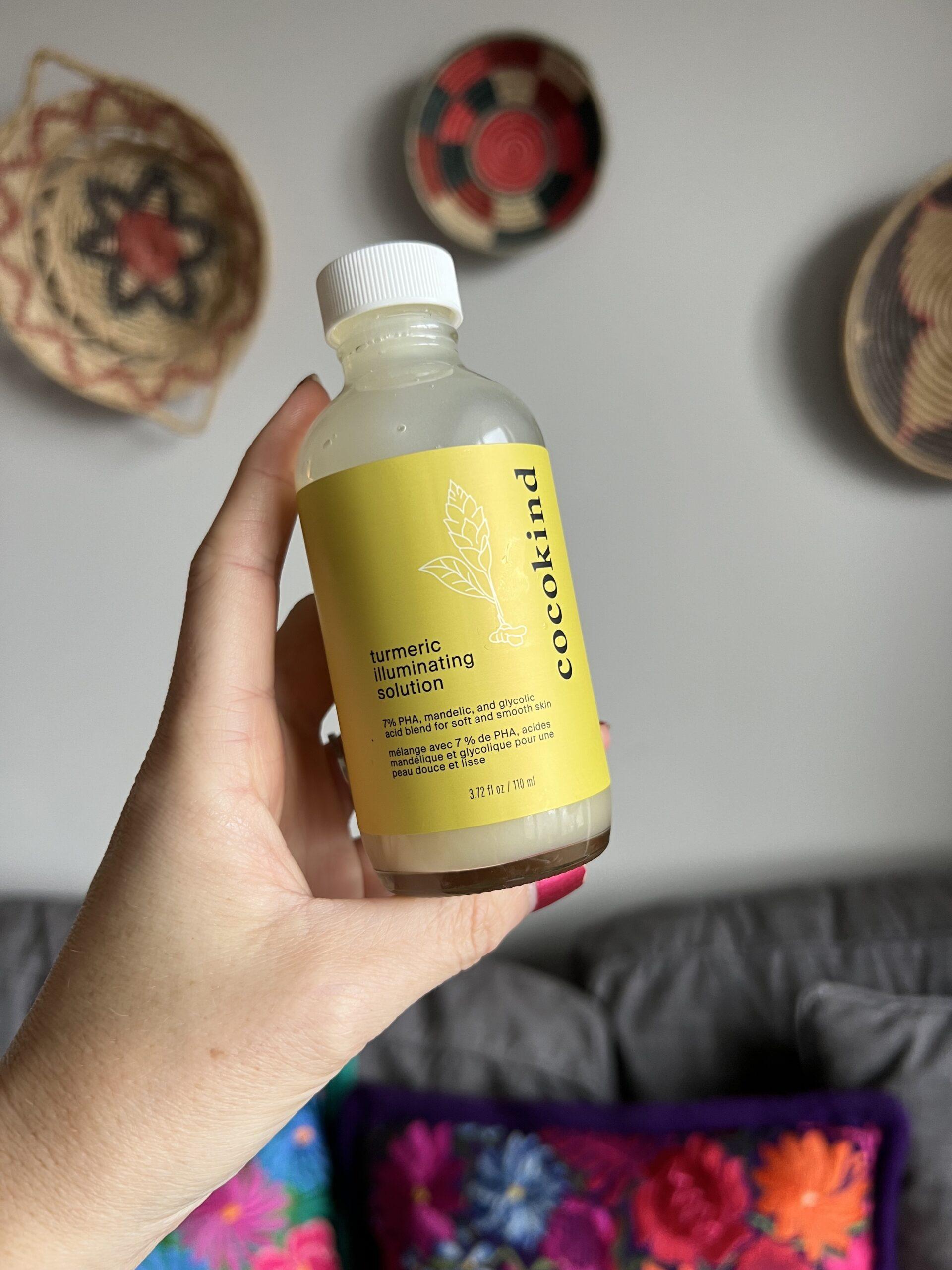 Cocokind Turmeric Illuminating Solution
This is an awesome product for folks who deal with acne, dark spots, and post-blemish marks. It contains 3% glycolic acid, 2% poly-hydroxy acid (PHA), and 2% mandelic acid. The star ingredient is turmeric, which works to calm inflammation, illuminate skin, and even your skin tone, too.
One of my favorite acne-fighting products in the Sofie Pavitt Mandelic Serum. I have a newfound appreciation for mandelic acid. I love that this Cocokind formula contains mandelic in its ingredient list.
I'll use this solution on my face about once a week. I also like to apply it to my chest and back area multiple times per week. I'll deal with acne on my chest and back every so often, and I found that this does a great job of treating bacne. I normally use benzoyl peroxide (BPO) to treat my chest and back acne, but I find it really annoying because I always have to wear a white t-shirt so that I don't ruin my clothes with the BPO.
Sometimes I get these weird red marks underneath my bra if I'm sweating a lot or have been in my bra for too long. I never knew if it was acne or a weird rash. I applied this solution to the patch where the rash was, and it completely went away overnight. It was insane. Really love this pick for body acne/weird skin issues.
One of the things I don't love about this product is the smell. It really doesn't bother me that much, but some folks might find it a little bit off-putting. It just smells a lot like turmeric!
Available at Amazon ($24)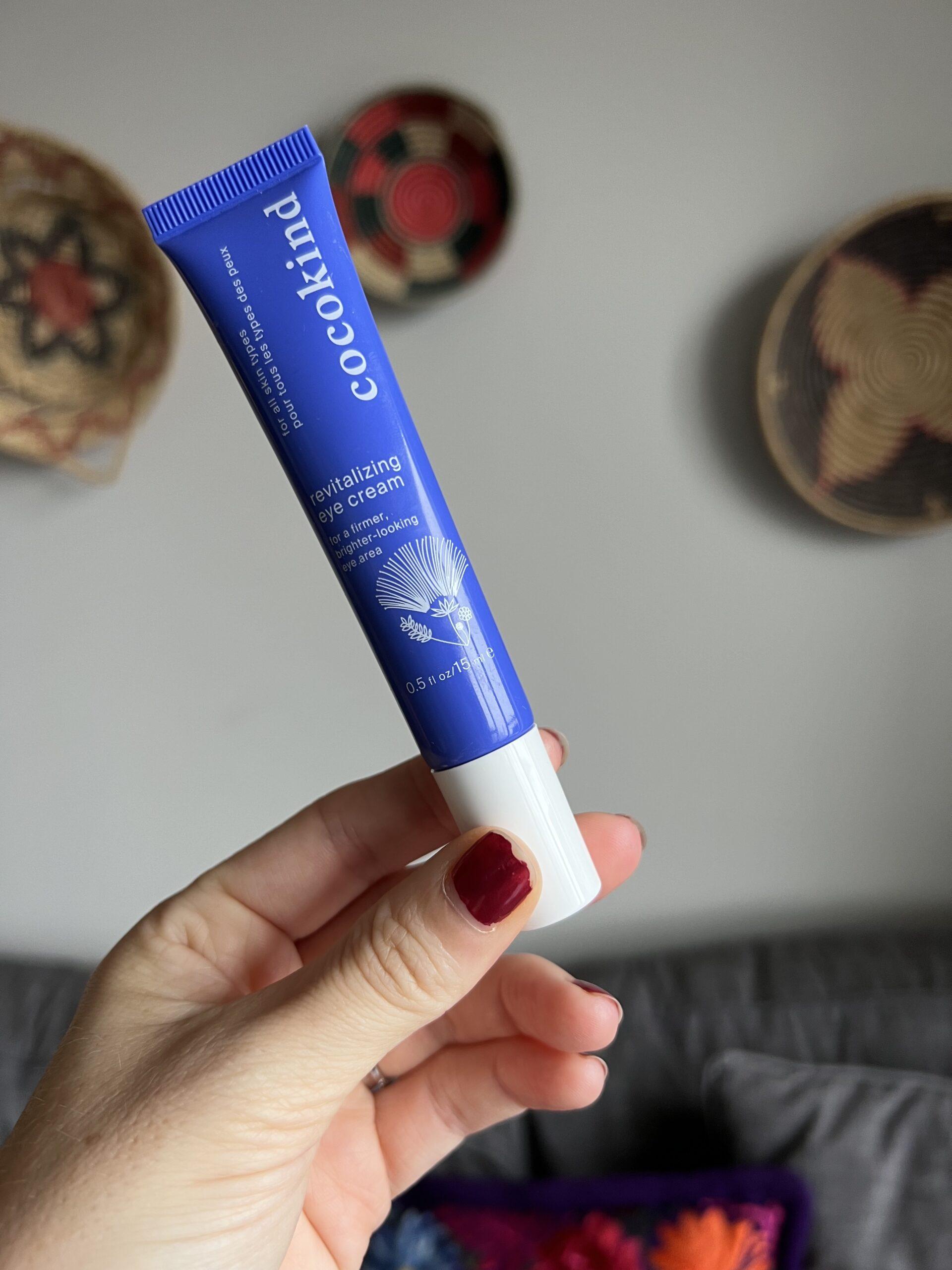 Cocokind Revitalizing Eye Cream
This eye cream is lovely and is one of Cocokind's best-sellers. It contains oat extract, hibiscus flower acids, and persian silk tree to help hydrate skin, reduce the appearance of fine lines and wrinkles, and minimize dark circles, too. I love that this formula feels super moisturizing on your under eye area.
The metal applicator tip provides a cooling sensation when you apply it. I feel like a little goes a long way with this pick and it'll last you for a while. Plus I also really love that this is fragrance-free. I find a lot of eye creams with fragrance irritate the hell out of my eye area. But I don't have any issues in terms of irritation with this pick.
I would say that this eye cream is probably geared more for folks who want some extra hydration to their eye area. Compared to other eye products, I don't think it will do too, too much for undereye bags or severe crow's feet.
Available at Cocokind ($19)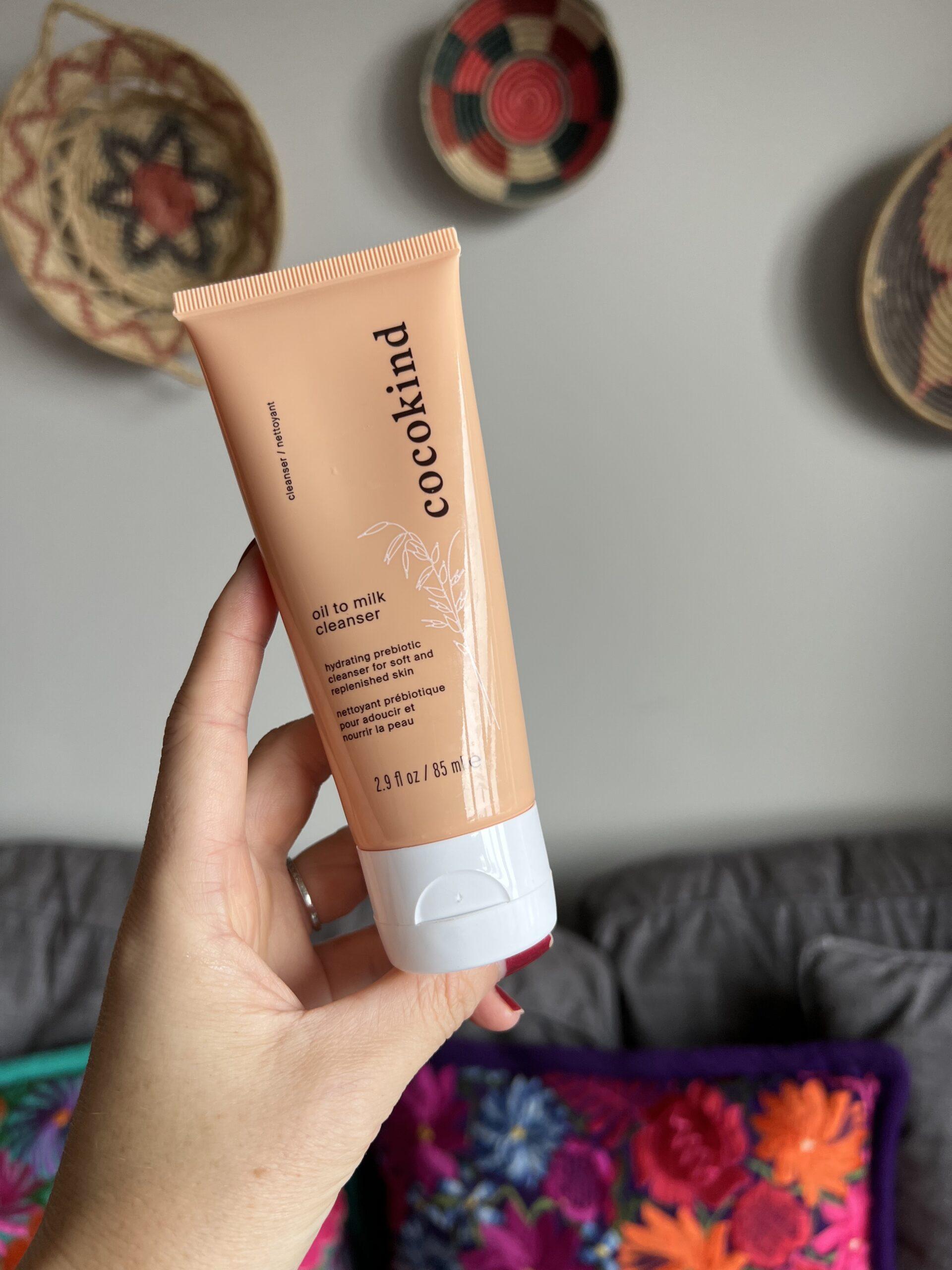 Cocokind Oil to Milk Cleanser
I like this cleanser, but I'm not totally in love with it. I think it does a decent job of getting makeup off. However, I feel like I have to use a lot of it for it to actually work. It's also not like an oil-based cleanser or cleansing balm that you might expect. It does leave my skin feeling really soft and I like that it contains no irritating ingredients that might cause clogged pores. I normally stay away from oil-based cleansers because they cause me to break out, but this one kept me in the clear.
I usually prefer foaming cleansers, so this pick is not my typical first-choice of formula. Folks really love that this formula doesn't strip your skin of its natural oils. And it's really gentle on easily-irritated skin, too.
Available at Amazon ($17)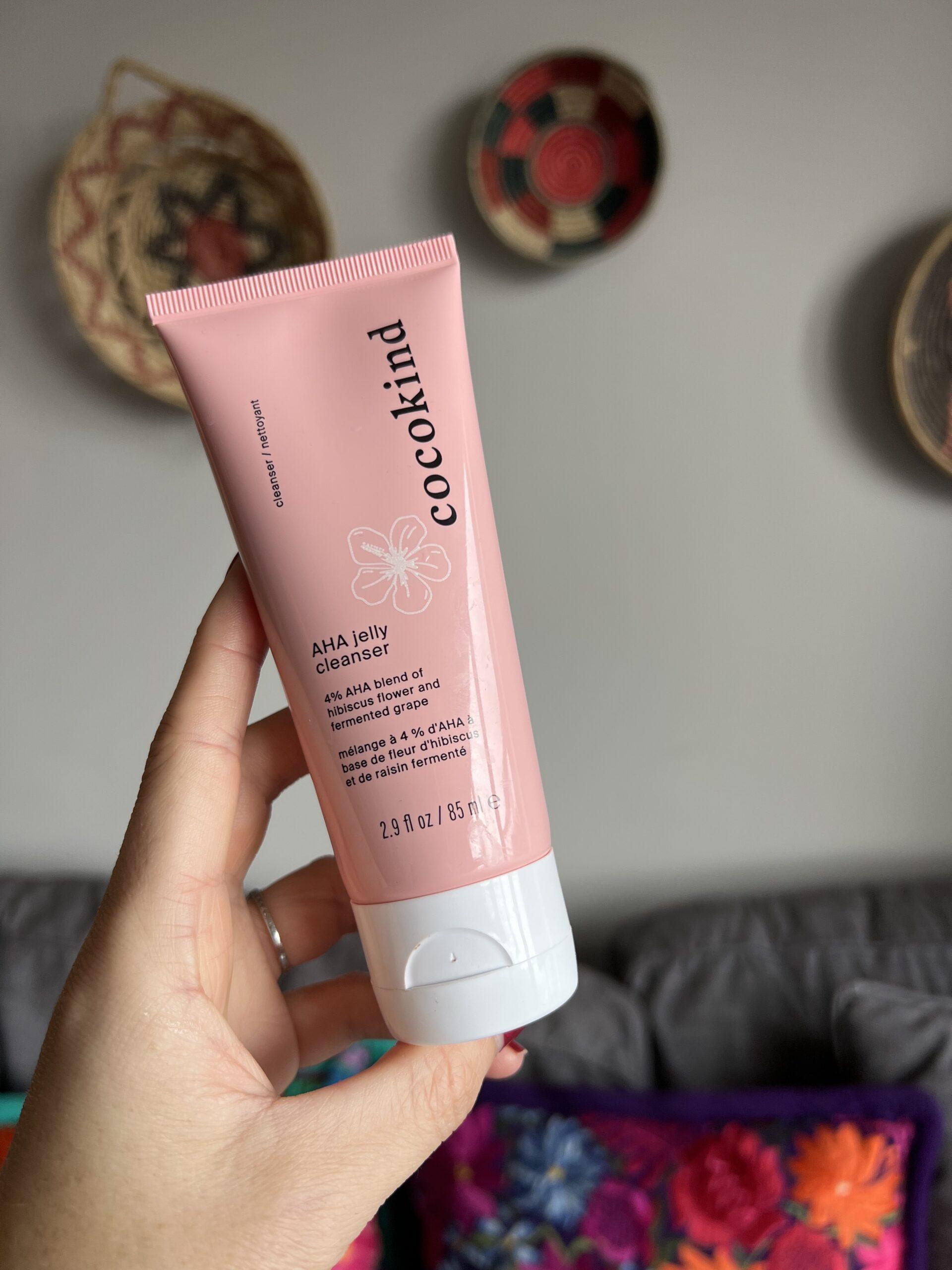 Cocokind AHA Jelly Cleanser
I don't really love this cleanser. It smells pretty weird (read: bad). I feel like it doesn't thoroughly clean my skin as well as it should. The formula contains a few light acids that work to really gently exfoliate dead skin. It also contains a few hydrating ingredients to leave your skin feeling moisturized and not stripped after each use.
This formula doesn't really foam. It feels a lot like the typical jelly cleansers you might find on the market (and they aren't my favorite formula). Personally, I think you could probably pass on this one!
Available at Amazon ($18)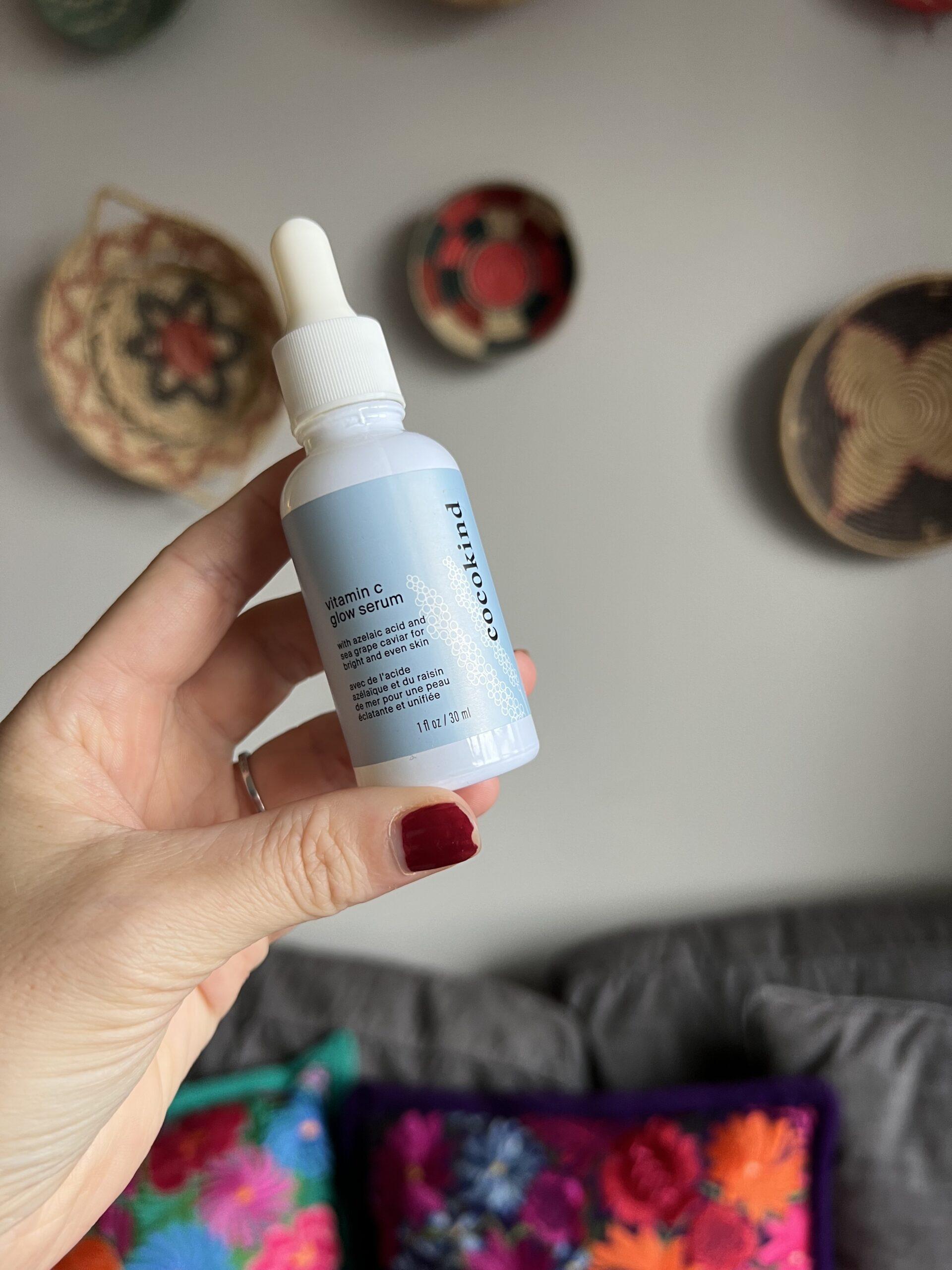 Cocokind Vitamin C Glow Serum
I am sad to report that I think my skin doesn't love this vitamin C serum. I've searched high and low for a vitamin C serum that doesn't irritate my skin. I don't think this is the one. It contains ingredients like ascorbyl glucoside (a stable form of vitamin C), sodium hyaluronate (a form of hyaluronic acid), azelaic acid, and sea grape caviar extract.
I can tell that this vitamin C serum is one of the more gentle vitamin C serums on the market, but I think my skin just doesn't really love vitamin C. I also believe that my skin is in need of hydration and barrier protection more often than even skin tone and dark spot reduction, which is typically what a vitamin C serum is used for.
All this is to say, if you are sensitive to most other vitamin C serums, you might want to try this one? It's pretty gentle, but doesn't work for me, personally. I think the formula and feeling of the product is nice, though—it's like a jelly consistency that feels a bit cooling on the skin.
Available at Amazon ($19)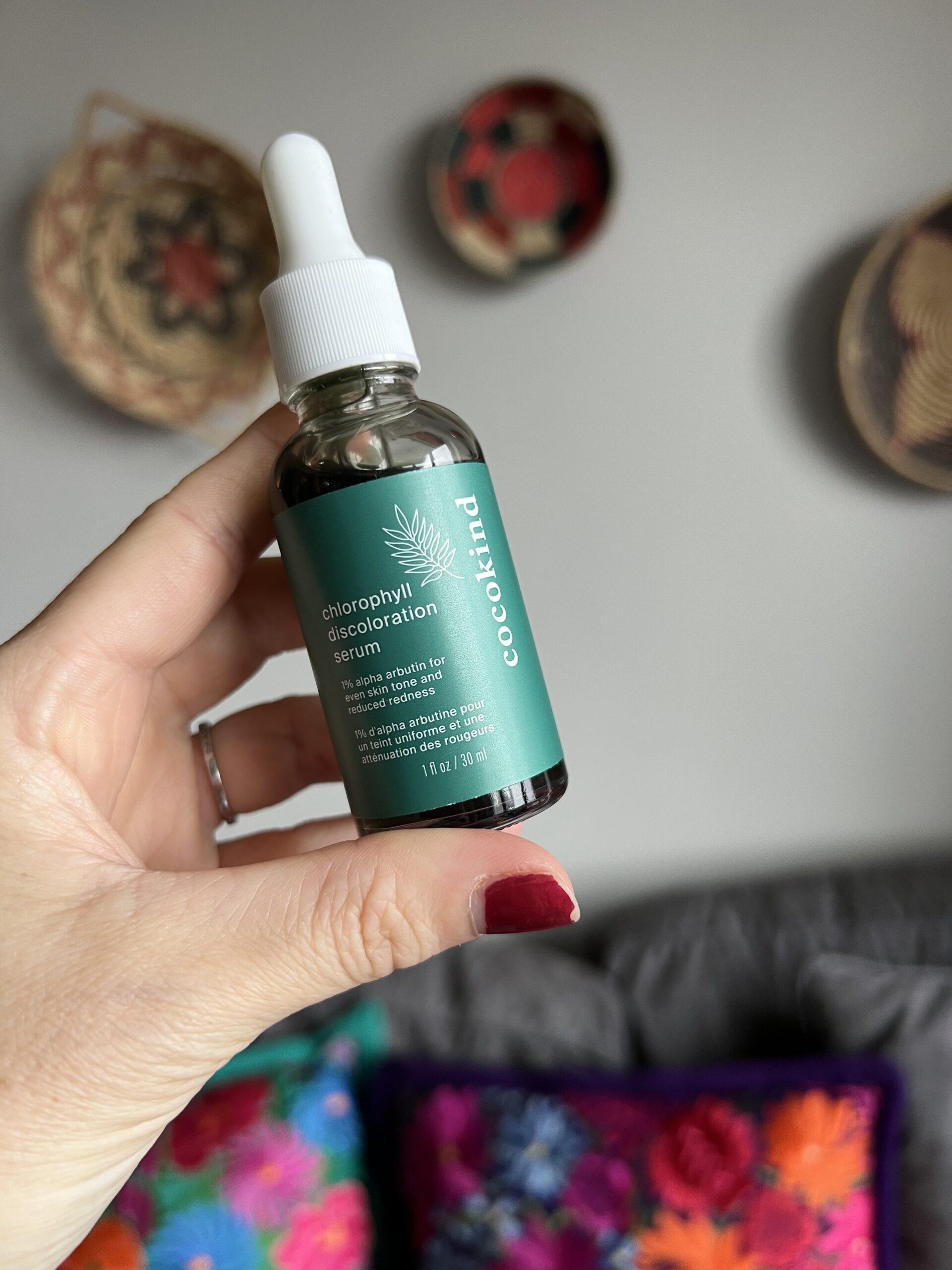 Cocokind Chlorophyll Discoloration Serum
I just got this one and have yet to try it—stay tuned for my full review soon!
Available at Cocokind ($22)


Is Cocokind Good For Acne
I think this brand is great for acne-prone skin, except for a few of the products. You might find some trouble with the moisturizers, as I'm not sure that they are totally acne-friendly. Also, it seems that the SPFs also have potentially-clogging ingredients in the formulas as well. Everything else seems to be really acne-friendly and beneficial for folks who break out or have sensitive skin.
Where To Buy Cocokind Products
You can find Cocokind products at multiple retailers online, including: