If you couldn't tell by my last name (Quinn), I'm as Irish as they get! With an Irish heritage comes very sensitive skin. Having worked as a beauty editor and writer for the last 8ish years, I've tried many, many skincare products. Some have been amazing, and most have been irritating as hell—especially those marketed for all skin types.
Paula's Choice sent me their updated CALM line a few months ago, and I've been obsessed since I opened the box. I have a history of hormonal acne and really sensitive, easily irritated skin. So I knew the CALM line would be ideal for my skin type. 
I really love everything from Paula's Choice, honestly (if you want to try out multiple products from different collections, you can find the best Paula's Choice skincare routine here). While I think it's okay to use different products from different brands and various collections, it's always a good idea to use all of your skincare products from the same collection, as they were all formulated to work harmoniously together. That is definitely the case with this collection. Below, you'll find my full Paula's Choice CALM skincare review and find out if it's the right line to add to your skin care.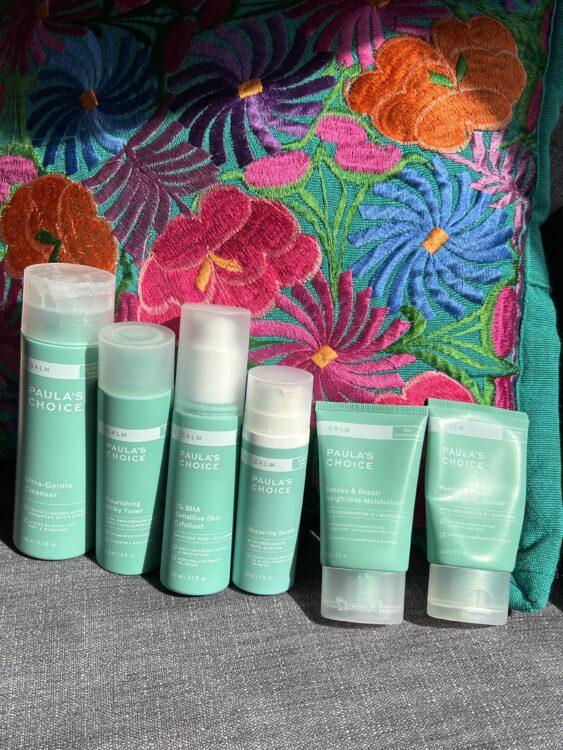 Paula's Choice CALM Skincare Review
I think Paula's Choice CALM collection is so fantastic for those who have really red, sensitive skin. This would also be a great option for folks with acne-prone skin. It doesn't treat acne, but it's gentle enough to not irritate or dry out acne on your face.
I love that each product is really hydrating and gentle. I don't have to worry about any of the products stripping my skin. And I don't have to worry about any of the formulas breaking me out. I also love that they are relatively affordable. One of the best parts of any Paula's Choice products is that everything is fragrance-free, which is really key for those with sensitive, acne-prone skin.
The packaging is a beautiful blue-green color and is easy to use and dispense. I love that there are no jars involved—I hate having to open a tub and then scoop out any skincare products from it. It's time-consuming and not hygienic.


Paula's Choice CALM Collection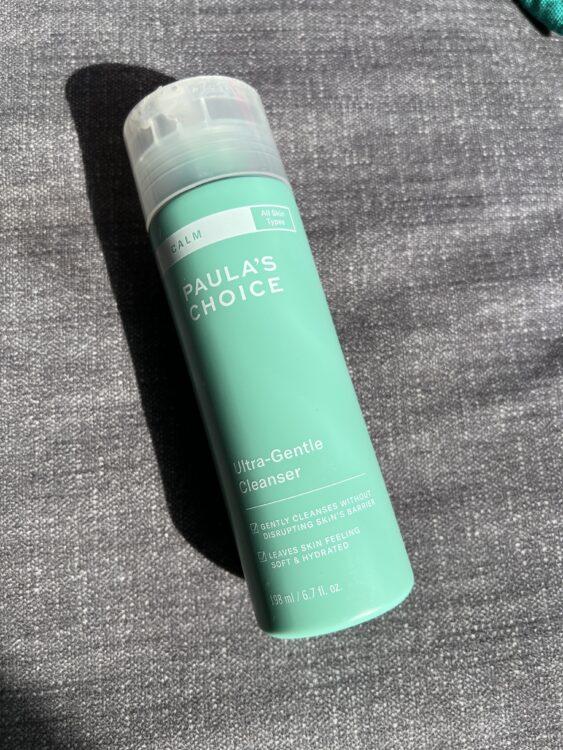 Paula's Choice CALM Ultra-Gentle Cleanser
I've been using this cleanser a lot lately, especially as the seasons are changing. It's super hydrating and feels like a milky gel cleanser. It doesn't foam and it's not the best at removing makeup. I like to use it on days when I don't wear makeup or in the morning, when I don't have any makeup on.
Available at Amazon ($19) | Also available at Paula's Choice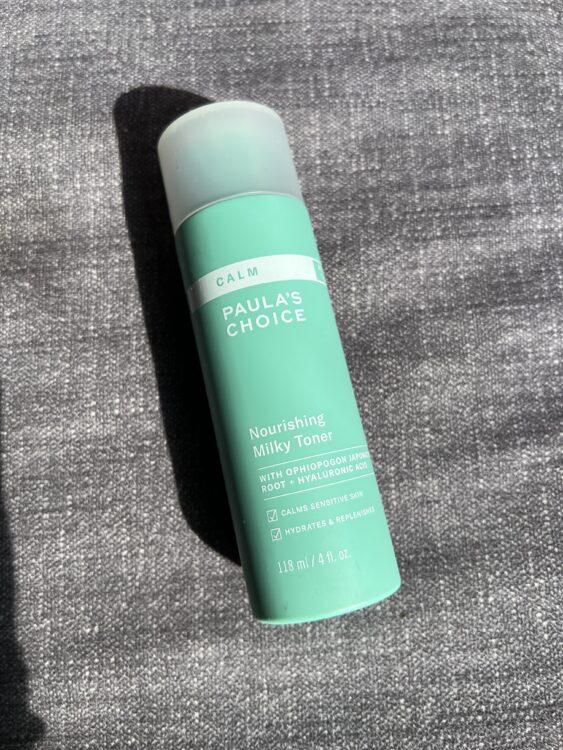 Paula's Choice CALM Nourishing Milky Toner
This toner is exactly what you'd expect from the name—nourishing, thick, and milky. It feels a lot like an essence and really does a fantastic job of adding moisture into my skin before I apply serums and moisturizers. I like to use it morning and night. I just squirt it into my hands and then apply with my fingers. If I were on the Paula's Choice branding team, I would've called this the CALM Redness Relief Toner because it really helps in that aspect.
Available at Amazon ($24) | Also available at Paula's Choice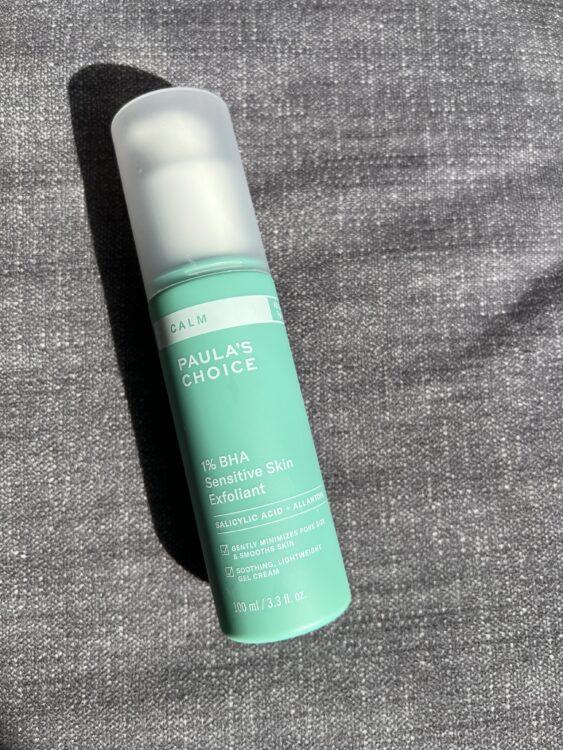 Paula's Choice CALM 1% Sensitive Skin BHA Exfoliant
Okay, so the BHA lotion exfoliant is the one product in the line that I haven't used yet! Historically, one of the skincare ingredients I've been a bit scared to try are exfoliants, because I'm scared it will ruin my skin barrier and make me more dry and irritated. However, I've been using the Sofie Pavitt Face Mandelic Clearing Serum on my skin nightly, and it's worked wonders in smoothing out my skin texture and reducing the post-inflammatory erythema I normally get from breakouts. So all that's to say, don't be afraid of using exfoliants on sensitive skin! 
Available at Amazon ($34) | Also available at Paula's Choice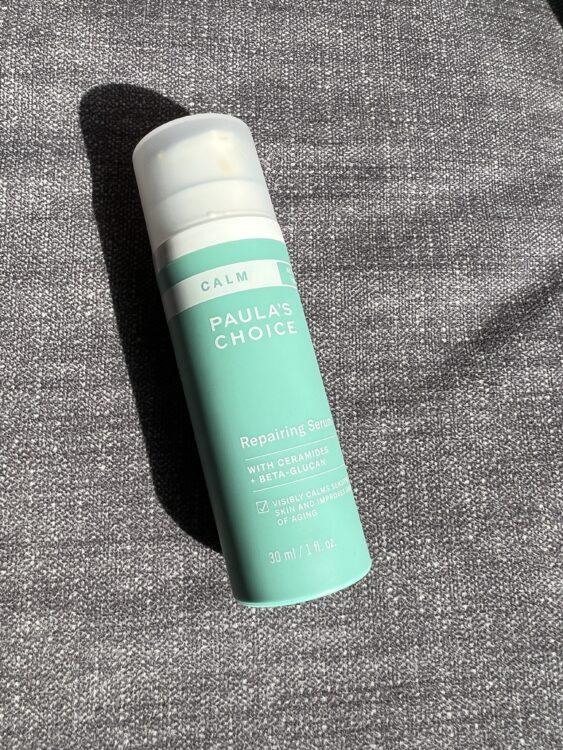 Paula's Choice CALM Repairing Serum for Sensitive Skin
Honestly, I'm not the biggest fan of including serum in my skincare routine, whether it's hyaluronic acid or niacinamide. Sometimes I feel like I'm just adding more crap to my face and not letting my skin actually breathe. Thankfully, that's not the case with this serum. I never feel irritated from this, and it sinks into my face really nicely and doesn't leave an annoying residue. The consistency is kinda interesting—it's a bit slimy. But I don't mind. I wouldn't say that it adds a ton of hydration to my face, but it doesn't dry me out, either. I think of this as the CALM Redness Relief Repairing Serum, even though I know that's not what it's officially called.
Available at Amazon ($44) | Also available at Paula's Choice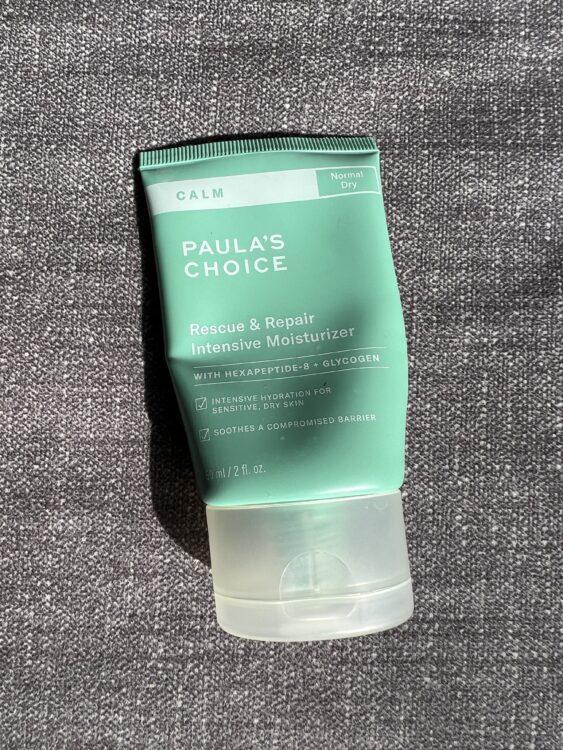 Paula's Choice CALM Intensive Moisturizer for Dry + Sensitive Skin
This is one of the two moisturizers in this collection. It's nice and thick and I love that it doesn't leave my skin feeling greasy or shiny. It really soaks into your skin well (read: no oily skin for me!). It's really great for those with dry skin and I like to use it in the colder months. It doesn't give off a nice sheen like my beloved Skinfix Triple Lipid Peptide Cream does, but it does a nice job of hydrating. 
Available at Amazon ($33) | Also available at Paula's Choice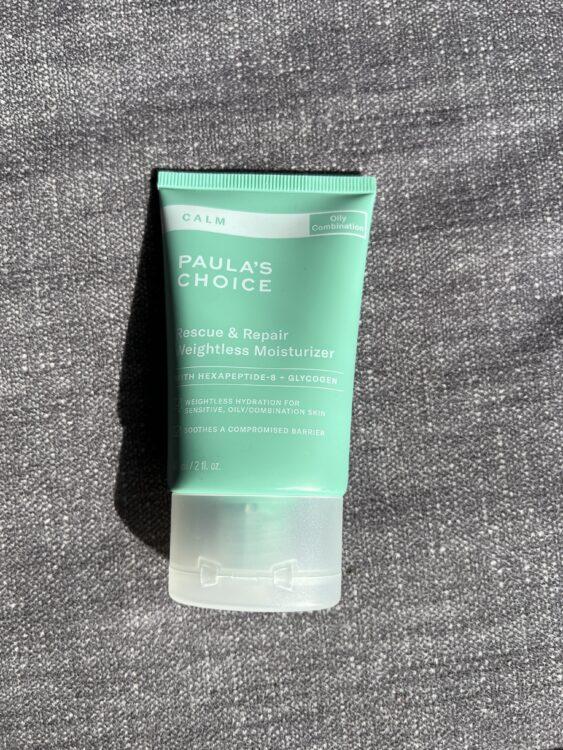 Paula's Choice CALM Rescue & Repair Weightless Moisturizer for Oily + Combination
Okay, so I haven't actually opened this one yet because I've been too busy using the thicker version above. I think this would be a good option for anyone who has sensitive skin but is also always oily and breaking out, too. (How could it be an honest Paula's Choice CALM Skincare Collection review if I didn't admit when I hadn't tried something?)
Available at Amazon ($33) | Also available at Paula's Choice



Where To Buy Paula' s Choice CALM Collection
There are not many places you can purchase Paula's Choice CALM collection! You can purchase the collection on Amazon or from Paula's Choice website. See above for all the related links for each product. You can also purchase some Paula's Choice skincare products on Sephora, but the line is limited at that retailer, and the CALM collection is not available at Sephora. Are you in your 30s and need some great hydrating and anti-aging products? Be sure to check out my skin care for 30s blog post!