By TDD Contributor


It's crazy how something that's supposed to prevent you from getting cancer might actually cause cancer! Unless you've been living under a rock lately, you've probably heard about the latest controversy with sunscreens getting recalled for cancer-causing chemicals or being banned because they're ruining reefs.
There is still a lot of research being done around chemicals in sunscreens. I'm not a doctor or scientist, and I don't think you should be afraid of sunscreens that include chemicals that have been well-studied and researched over decades. However, if you want to play it safe, consider trying out one of the best non-toxic sunscreens on this list to protect your skin while also protecting your health, too.


The Best Non-Toxic Sunscreens
Non-Toxic Sunscreens: Chemical vs. Physical
Even though I've been a beauty editor for 10 years at this point, I only really understood the difference between chemical and physical sunscreen about five years ago. This is the easy break-down: Chemical sunscreens contain chemicals that, when absorbed into the skin, actually absorb the UV rays energy and protect your skin from getting burned. Physical sunscreens, on the other hand, include ingredients that sit on top of your skin and reflect the harmful UV rays off your skin, basically bouncing them off.
You will probably find that physical sunscreens will be more non-toxic than chemical sunscreens, because chemical sunscreens contain, well, a lot of chemicals and are meant to absorb into the skin.


What is a Non-Toxic Sunscreen?
To understand what a non-toxic sunscreen is, we'll first have to unpack what a toxic sunscreen is.
According to West Dermatology, a medical, surgical, and cosmetic dermatology practice with locations in California, Nevada, and Arizona, sunscreen might be considered toxic if it has "ingredients like avobenzone, homosalate, octinoxate, octisalate, and oxybenzone [as they] are stored in the body for weeks after one application." (These are the chemicals used, which makes these types of sunscreens chemical sunscreens.)
That said, though, West Dermatology also states that these ingredients weren't "conclusively shown to cause long-term harm, so maybe the "toxic" moniker is a stretch. Let's talk about why by discussing which ingredients to look for and which to avoid when you're shopping for sunscreen.


Ingredients to Look for in Sunscreen
While it might not necessarily be an ingredient so much as it is a measure of UV and sun ray protection, you always want to make sure that you're peeping the SPF on any sunscreen. For reference, most dermatologists recommend an SPF, or sun protection factor, of at least 30 because that'll block 97% of the sun's UVB rays.
Remember when we said that toxic was a bit of a stretch? That comes strongly into play here, considering that most sunscreens with safe chemicals are labeled toxic simply because they're chemicals and not minerals. While there are myriad chemicals to protect you from the sun, like avobenzone and octinoxate, there aren't all that many mineral (aka non-toxic) options.
Basically, you can consider your sunscreen good to go if it includes some sort of oxide. As board-certified dermatologist Joshua Zeichner told Save the Reef, an organization whose purpose is the same as its name, "The term reef safe typically means that the sunscreen contains only mineral UV-blocking ingredients like oxide and titanium dioxide." To be completely honest, I think of reef-safe, non-toxic, and mineral sunscreen as synonymous.


Ingredients to Avoid in Sunscreen
Again, the ingredients that stay in your body are what you want to avoid. And those are:
Avobenzone
Homosalate
Octinoxate
Octisalate
Oxybenzone
"Because sunscreens must be applied and reapplied daily, some synthetic ingredients can build in the system and even become detectable in breast milk," says West Dermatology. Not only do these substances remain in your system for weeks post-application, but they might also harm our reefs.
According to the National Park Service, "Sunscreens that include the ingredients oxybenzone, octinoxate, and avobenzone can harm coral reefs [by] leading to coral bleaching and adverse effects of reef reproduction." While these chemicals weren't conclusively linked to long-term issues, I think they're worth avoiding to keep the reefs safe.
Some other ingredients to avoid in sunscreen include synthetic ingredients, particularly if you have sensitive skin, says West Dermatology. Fragrance is a great example of something to steer clear of because it might irritate your skin. Lastly, if you have oily skin, you should also stay away from comedogenic (i.e., pore-blocking) oils, butter, and waxes, like para-aminobenzoic acid, soybean oil, and wheat germ oil.


12 Best Non-Toxic Sunscreens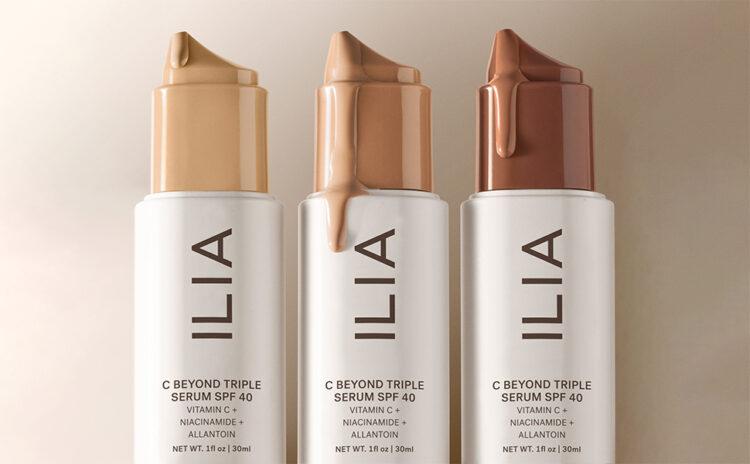 ILIA C Beyond Triple Serum SPF 40
Though I love this pick because it contains Vitamin C and niacinamide, it's only available in three different tones. In my not-so-humble opinion, this is hardly ever a good thing because there are way more skin tones than that. However, reviewers have said that this works on mature skin, that they love the dew they get, and that the formula is lightweight. If you're going to try this product, it might be good to know that some reviewers say it's best worn as a standalone product instead of under makeup.
Available on Sephora ($64) | Also available on Amazon ($64)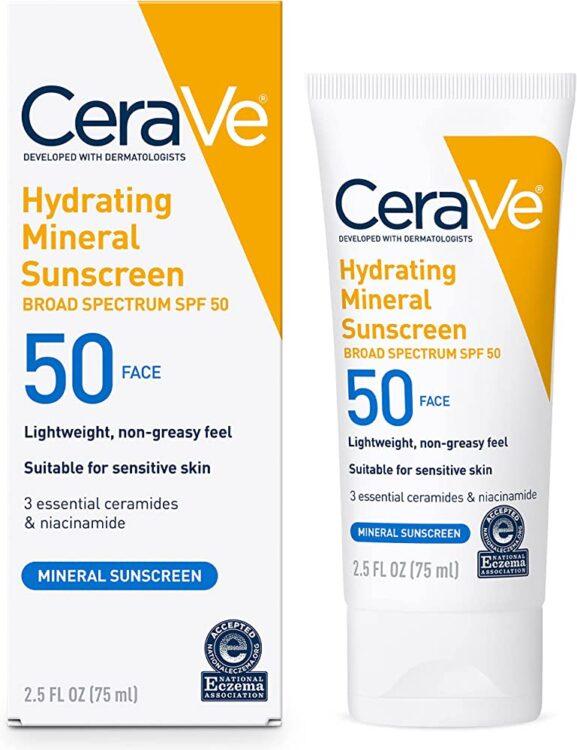 CeraVe Hydrating Mineral Sunscreen SPF 50
On Amazon, this mineral sunscreen has more than 15,000 ratings and it's still averaged 3.9 stars. While all reviews generally skew positive, they also only award this product around 4 stars because this leaves a white cast. If your skin is a darker tone, then you'll definitely want to keep shopping. That said, this might be a good pick if you're at the beach and don't mind the white cast.
Available on Amazon ($15) | Also available on Target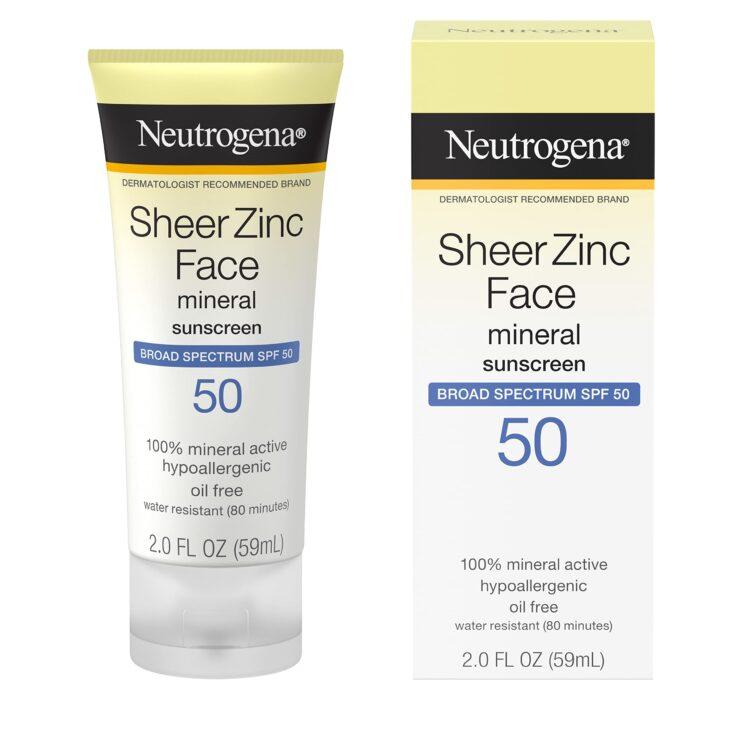 Neutrogena Sheer Zinc Mineral Sunscreen SPF 50
I've said it before and I'll say it again: I love Neutrogena products because they're affordable and available at drugstores nationwide. The Neutrogena Sheer Zinc Mineral Sunscreen SPF 50 is also one of my favorite products from this brand, and I'm far from alone. On Amazon, more than 9,000 reviewers have awarded this sunscreen 4.3 stars out of five. One reviewer said that this is "actually sheer," making it good for darker skin tones.
Available on Amazon ($13)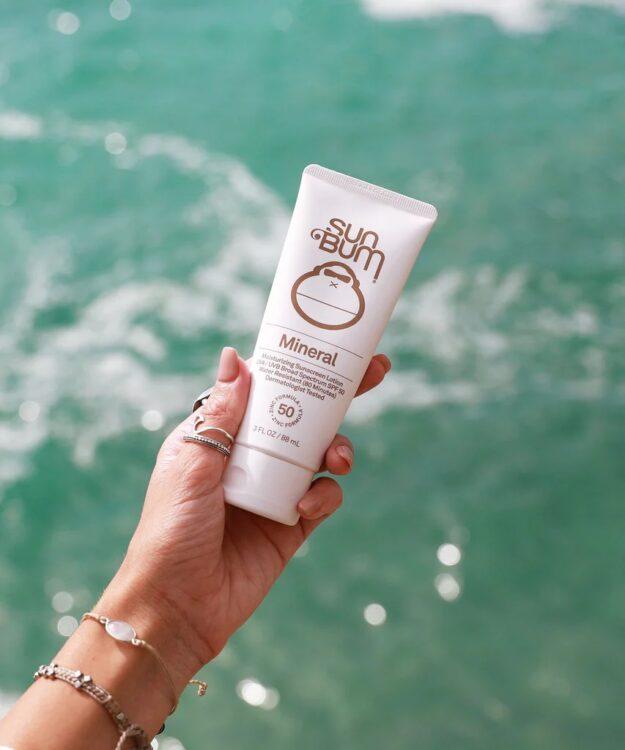 Sun Bum Mineral SPF 50
The active ingredient in Sun Bum's mineral sunscreen is none other than zinc oxide, which is non-toxic but also notorious for leaving a lifeguard-like white cast. The brand actually leans into this cast, saying that "A white tint is normal, as this rad screen sits on top of your skin as opposed to absorbing into your skin!" Another thing to note with this sunscreen is that there's a strong scent to it as it contains fragrance.
Available on Amazon ($17) | Also available on Ulta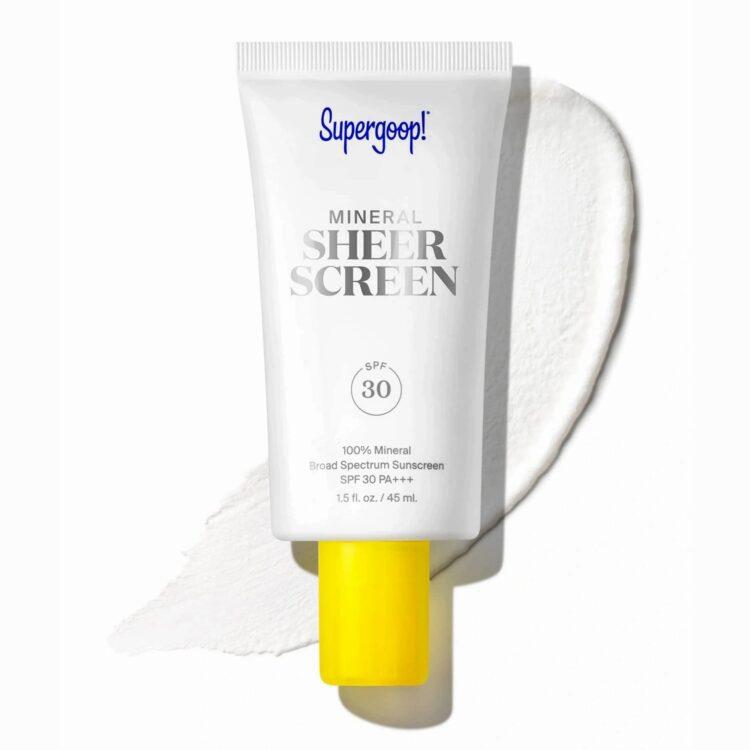 Supergoop! Mineral Sheerscreen Sunscreen SPF 30
If any best-of sunscreen lists don't include a product from Supergoop!, I would take that entire article with a grain of salt. I know this sounds dramatic, but a) that's kind of our thing at The Daley Dose, and b) Supergoop! pretty much single-handedly made us all put on our daily sunscreen. This particular product has been beloved for a while, and it's because it's wildly blendable for being a 100% mineral sunscreen.
Available on Sephora ($38) | Also available on Violet Grey and Kohl's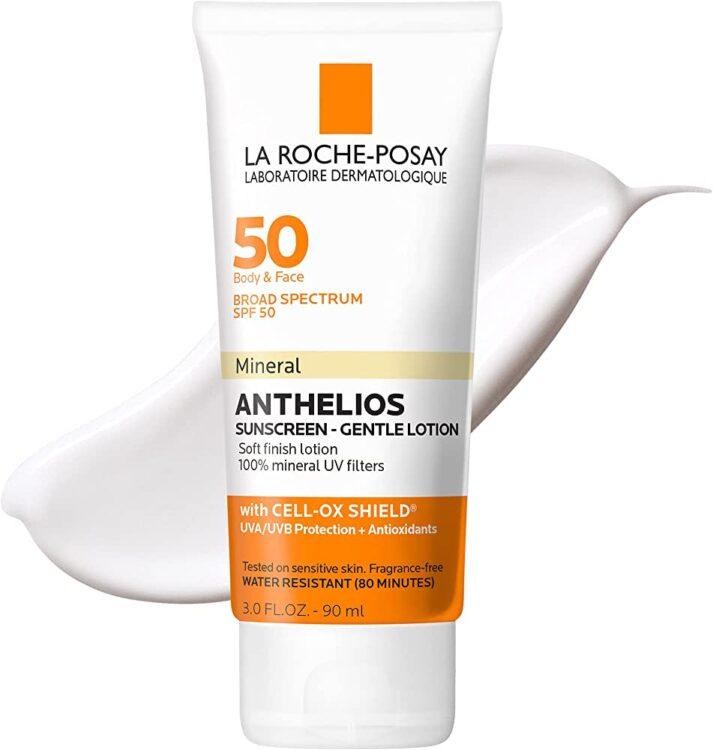 La Roche-Posay Anthelios Mineral Sunscreen Lotion SPF 50
Equipped with 100% mineral UV filters, this sunscreen lotion from La Roche-Posay is a crown favorite. More than 2,000 reviewers have awarded it 4.3 stars on average. Some standout features of this product: it's fragrance and paraben free; it's got SPF 50; and it's great for folks with sensitive skin. One reviewer, who lauded this sunscreen's "great coverage," also noted that it leaves a white cast—meaning it's probably not great for folks with darker skin tones.
Available on Amazon ($32) | Also available on Ulta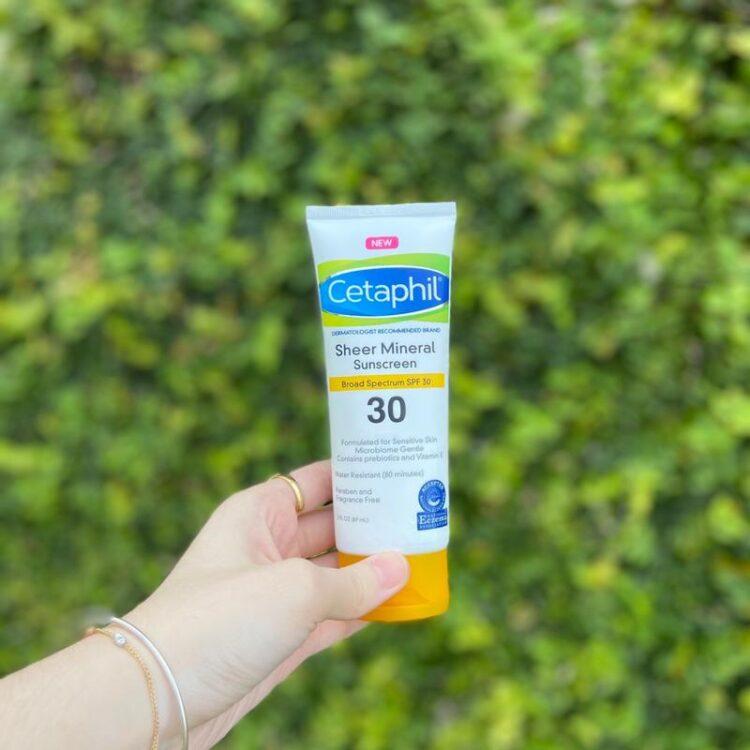 Cetaphil Sheer Mineral Sunscreen Lotion SPF 30
I have to say that I was a little skeptical about this sunscreen because I previously used the Cetaphil cleanser and noticed that it dried out the inside corner of my eyelid. As a prideful Leo, I hate to admit it, but I was wrong. In fact, people with sensitive skin swear by this product. One person on Amazon, who awarded this fragrance-free sunscreen five stars, says "This mineral sunscreen is lightweight, melts into your skin it doesn't leave a white cast like some do. Also it does well with wearing under makeup. No pilling or weird build-up."
Available on Amazon ($10)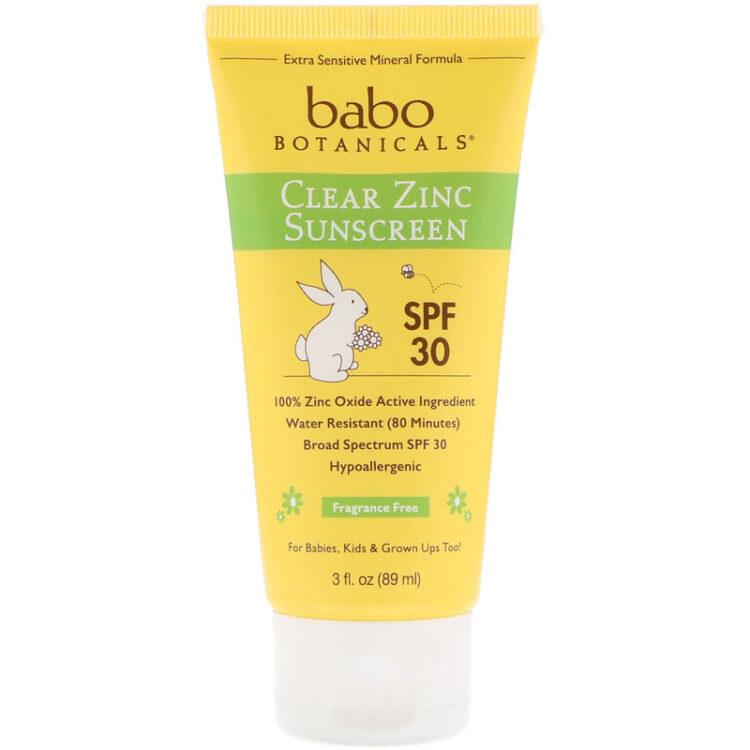 Babo Botanicals Zinc Sunscreen Lotion SPF 30
Babo Botanicals hit a homerun with this sunscreen lotion. Not only is it made 100% of reef-safe and non-toxic zinc oxide, but it's also hypoallergenic and fragrance-free. The bottle says this is a suitable option for "babies, kids, amd grown-ups too." When I worked as a nanny in Malibu, we exclusively used this sunscreen—so I know first-hand that this is really thick and sometimes hard to apply and rub in. That said, it seems Babo Botanicals recently changed the formula and it's much easier to apply now.
Available on Amazon ($16) | Also available on Target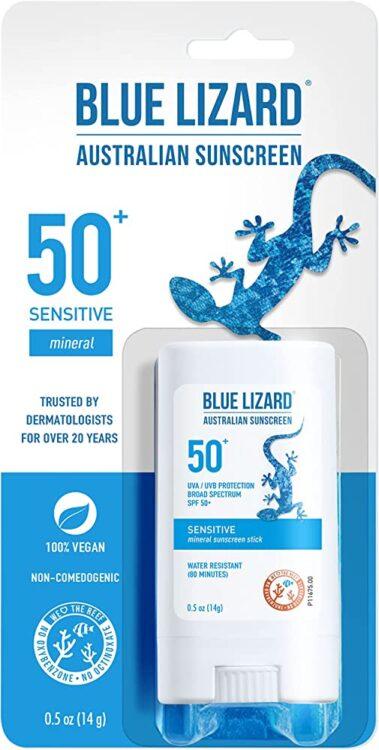 Blue Lizard Mineral Sunscreen Stick with Zinc Oxide SPF 50+
If you're extra concerned about the coral reefs, you and Blue Lizard have that in common. Their formulas are always free of oxybenzone and octinoxate, which they say helps "protect delicate coral reefs." Come to think of it, this product is about as clean as it gets because its ingredients list is also sans parabens, fragrance, and dyes—which makes this another good pick for sensitive skin. Plus, since it's a stick, it's a bit easier to apply.
Available on Amazon ($9)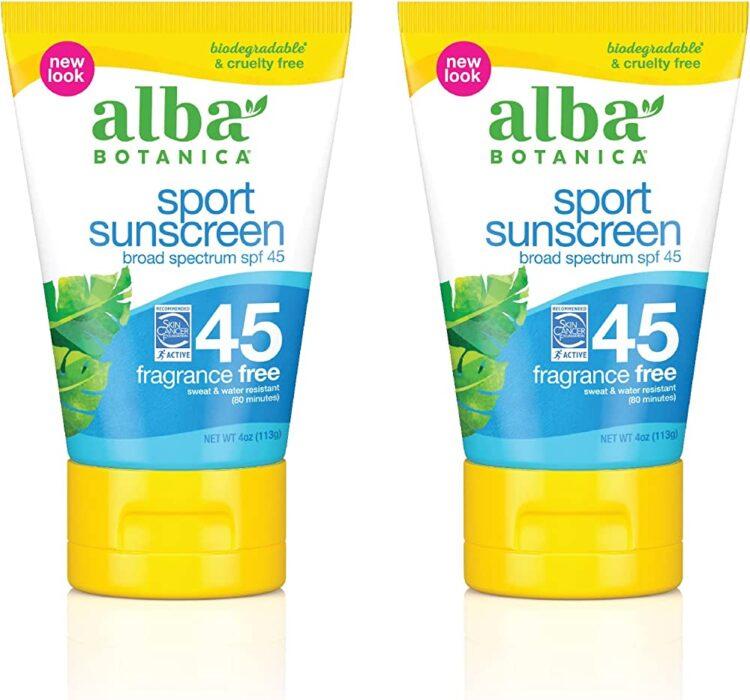 Alba Botanica Sport Mineral Sunscreen SPF 45
Another fragrance-free option comes in this four-ounce bottle of Alba Botanica Sport Mineral Sunscreen SPF 45. Since this lotion is water-resistant for up to 80 minutes, it truly is a great option for folks who are active. Since it's Leaping Bunny Certified, 100% vegetarian, and paraben-free, you can feel good about this non-toxic sunscreen purchase. Moreover, Amazon reviewers love it, with one saying that they "Just tried this and it's exactly what [they've] been searching. It's creamy, which feels so good on my dry skin, and most of all, completely unscented. From now on it'll be a staple in my cabinet."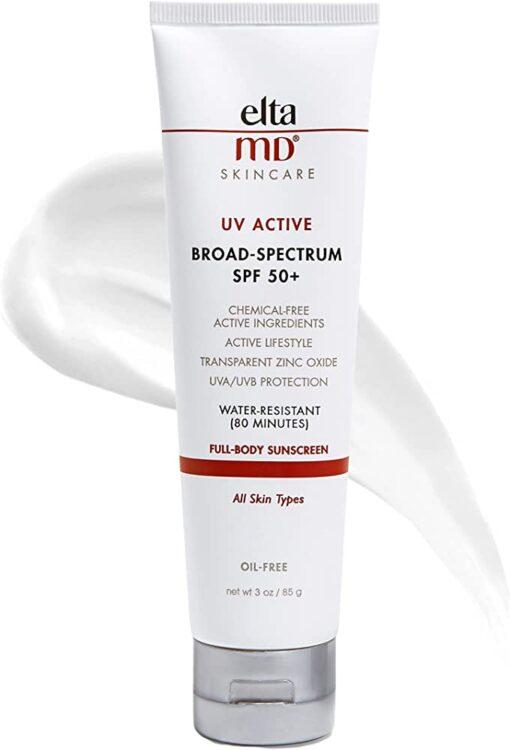 EltaMD UV Active SPF 50+ Mineral Sunscreen Lotion
Out of all the non-toxic sunscreens on this list, EltaMD's pick is recommended by the Skin Cancer Foundation. It will, of course, protect your skin from harmful UVA and UVB rays, but it won't rinse off or drip into your eyes. It's also water-resistant for 80 minutes and free of oils, fragrances, and parabens. With its active ingredients being zinc oxide and titanium dioxide, this is one of the best non-toxic mineral sunscreens.
Available on Amazon ($34)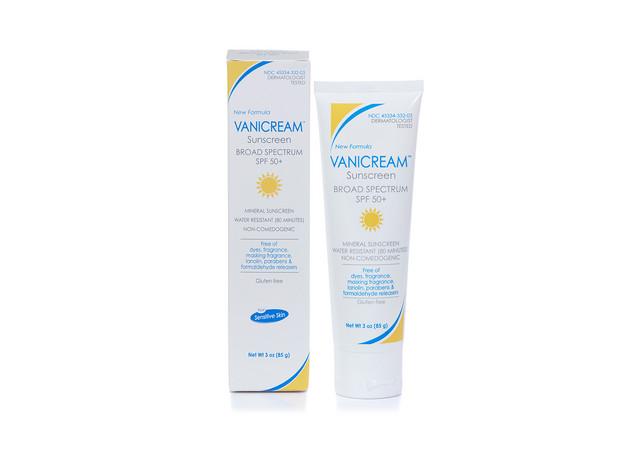 Vanicream Sunscreen Broad Spectrum SPF 50+
Even though I've never tried Vanicream for myself, I can tell that this brand creates some top-notch products. This product earned its spot on this list of the best non-toxic sunscreens. The formula leaves out dyes, fragrances, parabens, and formaldehyde, and it uses zinc oxide as the star ingredient to block UV rays.
Available on Amazon ($18)