I was first introduced to the eczema-focused brand long before I ever tried the Skinfix Triple Lipid-Peptide Cream. It was 2016, I was a newly minted assistant beauty editor at Family Circle magazine, and was in the throes of learning as much as I could about the beauty industry.
I remember having a deskside meeting with the team. They introduced me to Skinfix and let me try samples of their hero product: a thick face ointment. I loved that the brand targeted those with eczema-prone skin (it's me!), but I wasn't a fan of the formula. Unfortunately, I kinda cast the brand aside after disliking their best-seller. Fast forward six years later, and I'm now a Skinfix devotee. And here's why.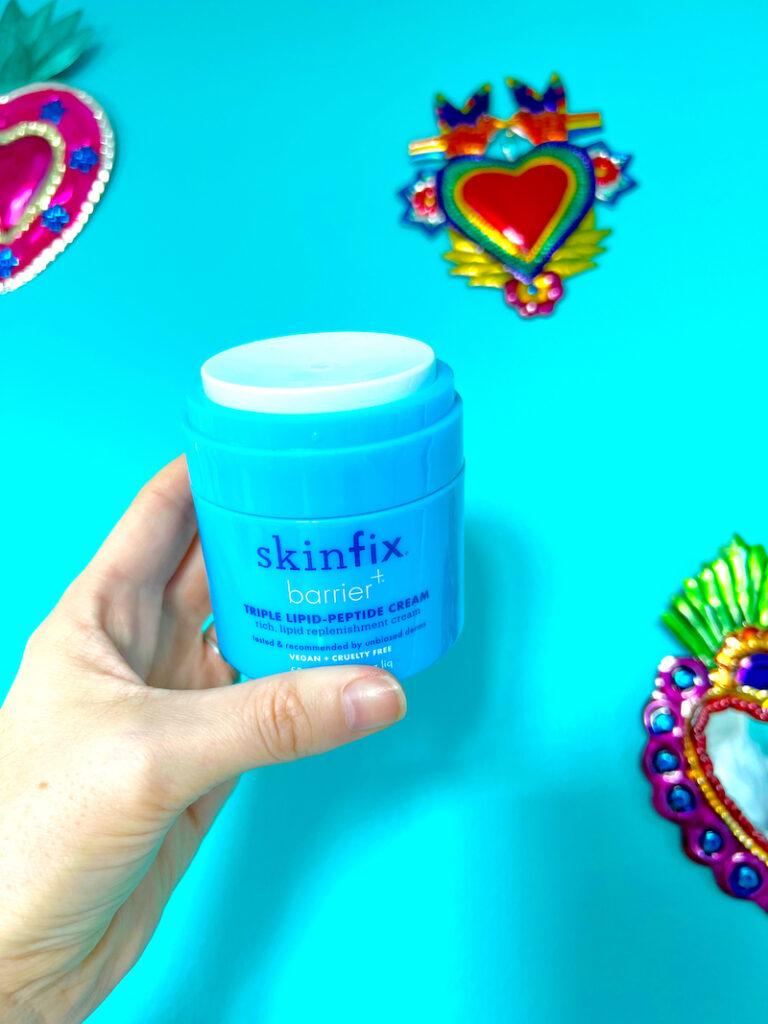 Skinfix Triple Lipid Peptide Cream
If you're new here, let me fill you in on my skin type. It's dry, acne-prone, sensitive, and is as Irish as can be. I suffer from slight rosacea and have been dealing with eczema on my face, hands, and scalp for the last ten years. Unfortunately, I have to be really careful about what I apply to my skin.
One day, my fellow beauty editor friend, Chelsea Burns, posted an IG story about something. I couldn't help but notice that her skin was absolutely glowing. If you know Chelsea, you probably already know that her skin is always looking insanely beautiful. This time, though, I saw that she had zero makeup on, but her skin looked luminous in a way that (I thought) only makeup could attain!
I asked her what she was using on her skin. She said she's been trying out the Skinfix Triple Lipid Peptide Cream and had been very impressed with the results. She told me that she also has sensitive skin, and was surprised by how not irritated it felt after using this cream regularly. I reached out to the brand to ask them if they could send me a sample. It turned out to be love at first slather.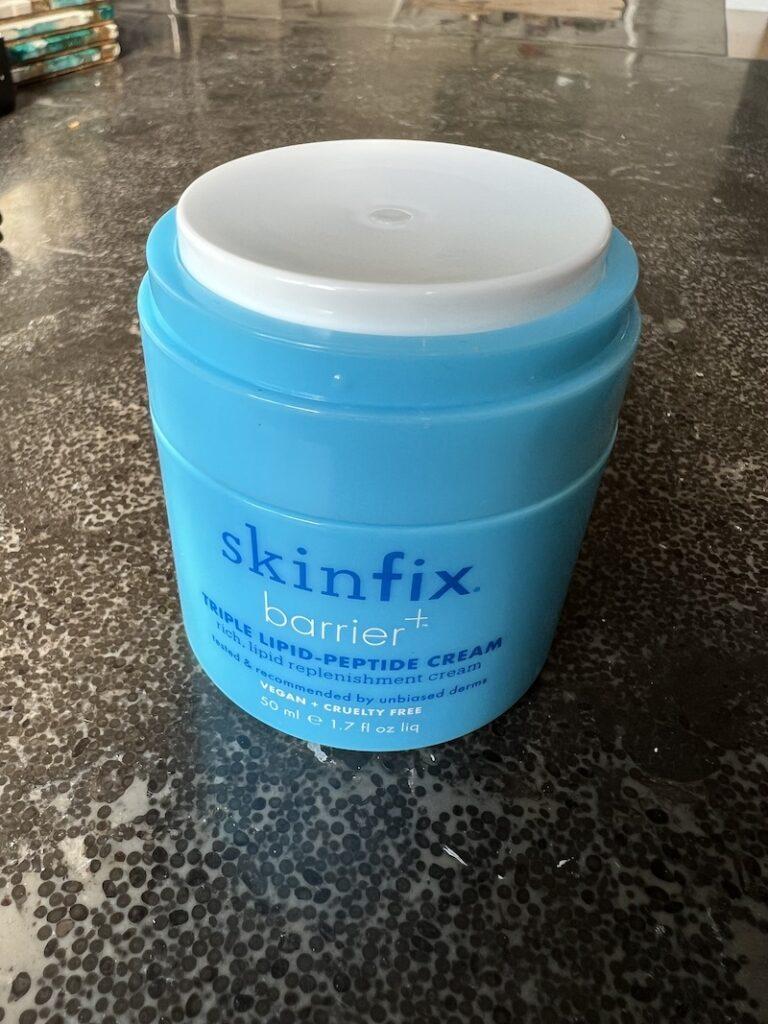 The Brand
Before we dive into my obsession with the Skinfix Triple Lipid Peptide Cream, let's first discuss the brand. Skinfix touts itself as a clean, clinically proven skincare brand. It uses a combination of clinically active and nutritious ingredients for skin health. They avoid toxic ingredients, allergens, and irritants, and work to create products that protect your skin barrier.
One of the things I love about this brand is that they focus on building a healthy skin barrier. These days, consumers swim in a sea of harsh anti-aging, acne-fighting, and barrier-depleting skincare products. It's refreshing to see a brand that actually wants to treat your skin gently.
Considering I suffer from eczema, I like that this brand has really homed in on the skin condition and creates products specifically for problematic skin. That being said, you absolutely don't need to have eczema to use these products. Unless you have very oily skin, I encourage everyone to try the Skinfix Triple Lipid Peptide Cream. I know you will not regret it.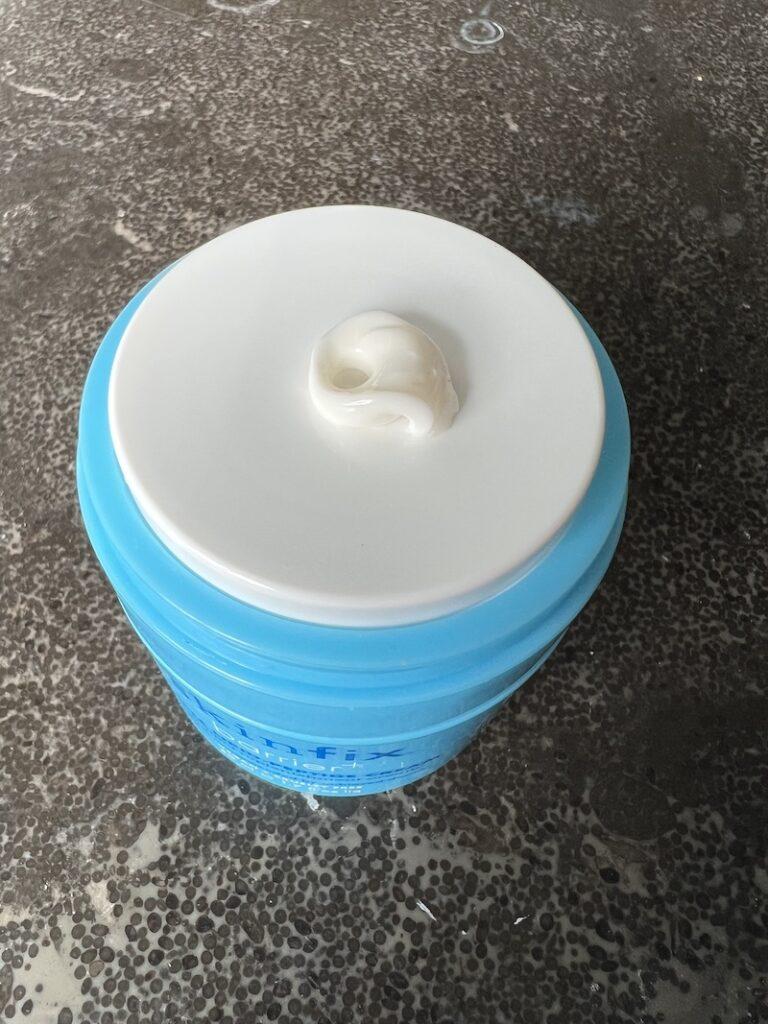 The Formula
Okay, so onto the best part: the formula. After having tried the original thick ointment on my face years ago, I didn't have my hopes up when it came to the Triple Lipid Peptide Cream. But, I trusted Chelsea and her gorgeous skin, and slathered it on.
I was shocked when I first rubbed this into my skin. The texture isn't as thick as a heavy cream, but the finish of the product feels like what you would expect after applying a heavy cream. But not in a bad way. It feels so silky and soft, and really feels like it's nourishing my face on a level I haven't quite experienced with other products.
The miracle is that this cream doesn't irritate my skin at all. It doesn't flare up my eczema, doesn't cause any breakouts, and doesn't make my face feel itchy or weird after use. I love that it soaks into your skin pretty immediately, too.
The triple lipid complex within the formula works to build your skin barrier back up.
If you're unfamiliar, lipids are the skin's natural fats. Your skin looks and feels drier and weaker when it's depleted of lipids. The cream also features nutripeptides to support your skin barrier, lily root to lock in hydration, and seaweed sodium hyaluronate (a cousin to hyaluronic acid) to hydrate the skin, too.
The Skinfix Triple Lipid-Peptide Cream has won about a million awards, is safe (and very beneficial) for sensitive skin, and is vegan and cruelty-free. I would say that this product is ideal for all skin types, except for very oily skin. It doesn't leave your skin feeling greasy, but it does offer a soft glow after application.
And that's my favorite part about this moisturizer. It looks incredible under my makeup and gives me an extra boost of radiance when I'm not wearing foundation. I like to use Alima Pure foundation as my everyday foundation, which is a loose powder formula. Rather than having to wear a liquid foundation that will undoubtedly irritate my sensitive skin, I feel like the Skinfix Triple Lipid-Peptide Cream allows me to get the best of both worlds: I can wear a non-irritating powder foundation and get a soft, moisturized glow underneath.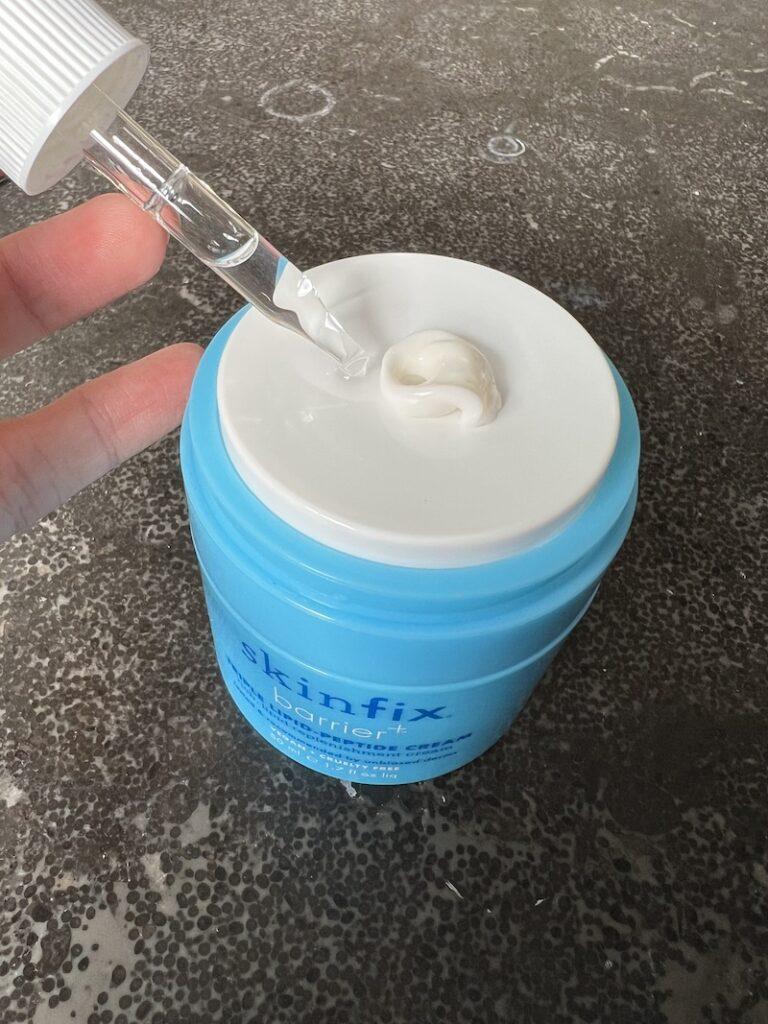 The Packaging
There's nothing I hate more than a tub of moisturizer. You have to twist off the top, dip your fingers in it, then try to screw the top back on with product on your fingers. This pick may appear like one of those annoying tubs of cream, but it's not.
The top pops off easily and you can dispense the cream through a pump. All you have to do is press down on the top, and the inner cup dispenses a perfect amount of moisturizer. One of the cool things about this type of packaging is that it's sanitary (no finger dipping into the jar) and you can even customize your formula. All you need to do is pump some cream onto the inner cup, add a few drops of your favorite serum, mix it around on the cup and apply it to your skin. Rather than layering one product on top of the other directly onto your face, you can mix the two products together and apply it to your skin in one go.
Another cool idea would be to pump the moisturizer onto the inner cup, then add some drops of your favorite liquid foundation, mix it around, and apply to your skin. This would create a beautiful tinted moisturizer.
Finally, I love that this brand is trying its hand at sustainability. The packaging is refillable, rather than thrown out. You must buy the cream in its original packaging first. Once you use up all the product, you can purchase a refill and pop it into the original product dispenser. The refills are less expensive and help save the planet.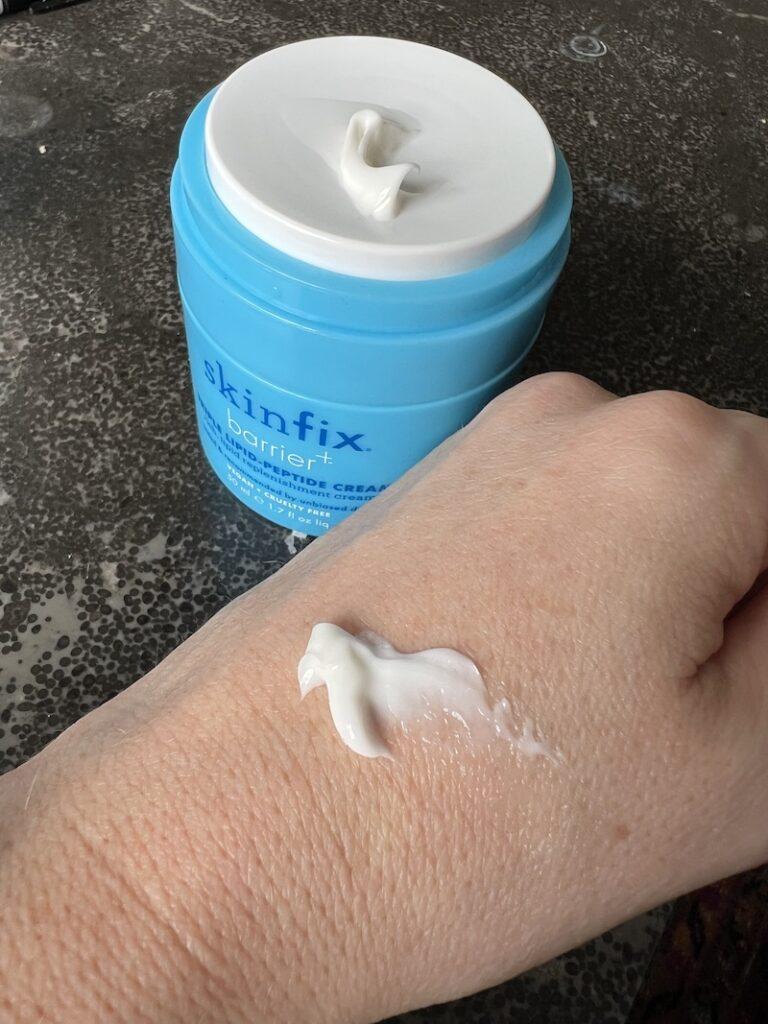 The Price
Now, you might be taken aback by the price, and that's understandable: $52 for a face cream certainly ain't cheap. Compared to your typical drugstore moisturizer, the Skinfix Triple Lipid-Peptide Cream is significantly more expensive. However, compared to other luxury moisturizers on the market, $52 isn't so bad. The refills for this product only cost $42 and will probably last you a few months with daily use.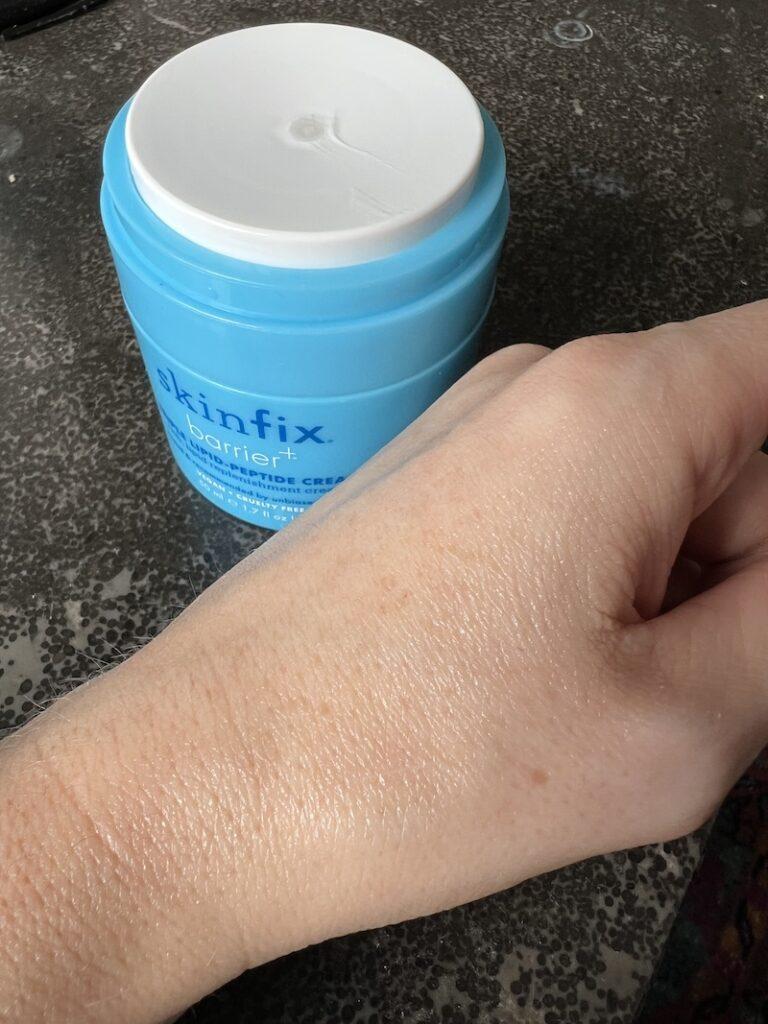 In my opinion, there are beauty products that aren't worth the extra money (looking at you, high-end mascara) and others that are. A great moisturizer is one of those products I think is worth the extra dough. Especially one that doesn't cause you to break out or irritate your face.
All in all, I am smitten with this moisturizer. I especially recommend it for cold, winter months, and I now can't really picture my skincare routine without it.
Thank you, Chelsea, you gorgeous, glowing gal! 🙏

*This post contains affiliate links, so I may earn a small commission when you make a purchase through the links on my site at no additional cost to you. Thank you so much for supporting my small business by shopping through my affiliate links—I am so appreciative!