In case you're new around here, I've been dealing with hormonal acne and dry skin since the dawn of time. Back when the pandemic started in March 2020, and TikTok became everyone's favorite pastime, the concept of "slugging" your skin continuously popped up on my FYP. Most notably from Charlotte Palermino, a New York City-based licensed aesthetician and co-founder of skin care company Dieux Skin.
Palermino is a huge fan of skin slugging and was able to persuade me to try it out on myself. And if you've ever seen her skin on IG or TikTok, you can probably see why I was keen to slather Vaseline all over my face.
While I'm of the belief that what you put inside your body affects your skin more than what you put on top of it, I do still believe that skincare does have a place in keeping your skin happy and healthy. My skin is very sensitive and prone to breakouts, and I'm really selective about what I put on top of it.
Considering my skin breaks out pretty easily, I was really nervous to try out slugging skincare, as I thought it might clog my pores and make me break out even more. Below, I define slugging skincare, go over how to do it, discuss whether it's a good idea for folks with acne-prone skin, and more.


Define Slugging Skincare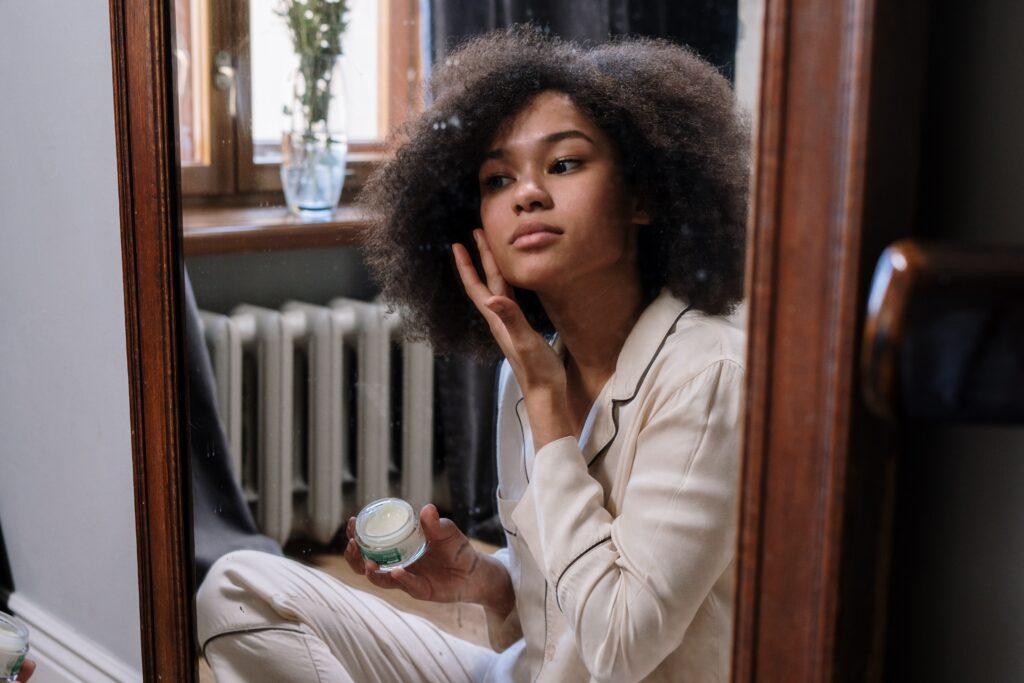 What Is Slugging Skincare
I believe that Palermino was one of the first influencers to really launch this beauty trend in the US to its massive stardom today, but it can be traced back to Korea. According to this Washington Post article, it appears to have first made an appearance in a subgroup on Reddit in 2014, but, in true slug fashion, took a while to reach the masses.
Slugging skincare is essentially a technique that involves slathering your face with petroleum jelly as the last step in your skincare routine. Because petroleum jelly is an occlusive product, it works to keep any bacteria and dirt from entering your skin, while forming a protective barrier for your skin to basically heal itself. Petroleum jelly helps prevent water loss in your skin by acting as a shield—your skin can't get dry if it can't expel moisture past the jelly barrier.
If I were to really define slugging skincare, I would say that it's a technique that's focused more so on protection, rather than intervention. Slugging is different from other skincare trends I've tried because it has a heavy focus on repairing the skin barrier, rather than disrupting it. I believe that slugging skincare really took off over the last few years because many consumers had been destroying their skin barriers with too-harsh active ingredients and skincare products. And now they are facing the consequences and trying to protect and repair the barrier they destroyed.


Benefits Of Slugging Skincare For Acne Prone Skin
Locks in moisture – If you suffer from dry, acne-prone skin, slugging skincare is a great way to lock in moisture while treating the area.


Provides a super soft, smooth skin surface – The first time you slug your face, you're going to wake up amazed by how soft and supple your skin feels. I know I was!


Could maintain healthy skin barrier function – When you're breaking out and dealing with a pimple, your skin is inflamed and angry. By using slugging skincare on your skin, you are protecting your skin barrier and creating a healthy environment for your pimple to continue on its little healing journey.


It encourages building up the skin barrier function, rather than destroying it with acids – The more you destroy your skin barrier by over-exfoliating, the more your skin will overproduce oil to make up for the loss of moisture. When your skin cells overproduce oil, breakouts occur. By slugging your skin, you are avoiding this and promoting a healthy environment, so that your skin doesn't have to feel like it needs to make up for lost moisture and cause a breakout.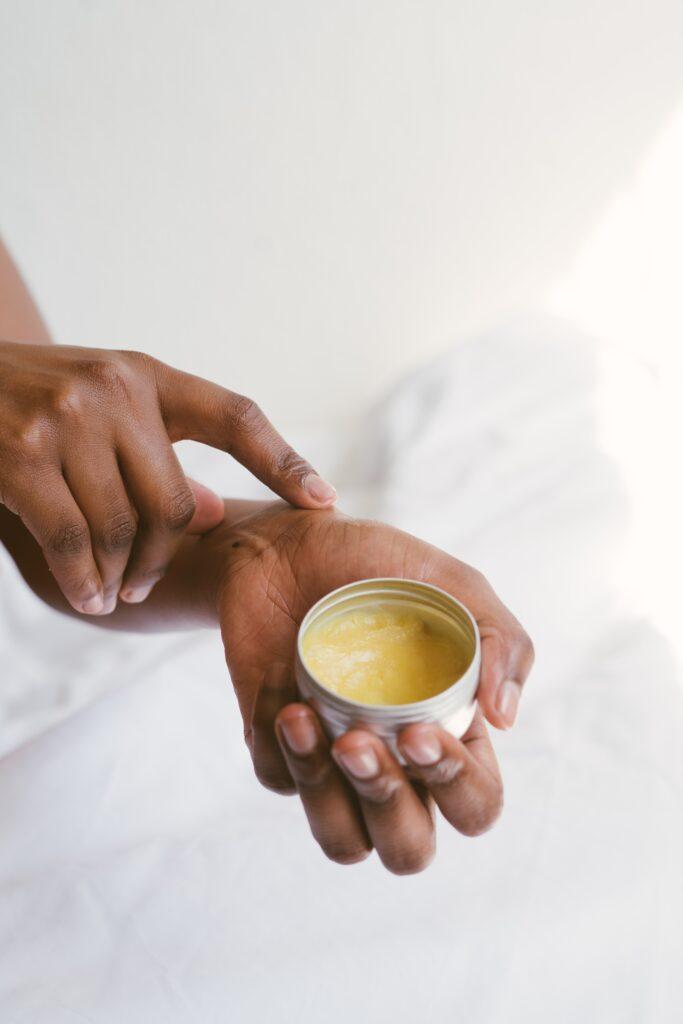 Slugging Skincare Routine
Note: I discourage anyone from slugging your skin in the morning, as this is supposed to be an overnight treatment that works while you sleep. It will make you look like you have very oily skin if you do this in the morning. Plus, petroleum jelly doesn't look very good under makeup, anyway.


Step 1

Cleanse your skin. You can either double cleanse with a cleansing balm (to remove makeup) and then a foaming or gentler cleanser. Or you can cleanse with just a foaming cleanser.


Step 2

Apply a toner. There are exfoliating toners and hydrating toners. If you are slugging your skin, I recommend applying a hydrating toner.


Step 3

Apply your serum. Opt for a hydrating serum with ingredients like hyaluronic acid and ceramides.


Step 4

Apply your prescription topicals. If you're using a retinol or something similar in the evening, this is the place to apply it, before your moisturizer and before slugging. Since a retinol can be drying, you only want to apply a small amount to your skin. Otherwise, using slugging skincare might not do anything for you.

Step 5

Apply a moisturizer. Choose a super hydrating, creamy moisturizer to use before you apply your petroleum jelly. This will add extra hydration and plumpness to the skin.


Step 6

Use a thin layer of petroleum jelly to start slugging. It's important to note that you only need a very, very small amount to effectively slug. I would use no more than a pea size of petroleum jelly on your entire face. The beauty of this technique is that you really don't need to use a lot. And the less you use, the less likely it'll transfer onto your pillowcase at night. I know that "slugging" sounds like a skincare technique where you would apply as much as you would, say, a face mask, but you don't want to do that with petroleum jelly. It'll be a mess.




Slugging Skincare Products
Naturopathica Manuka Honey Cleansing Balm
One of my favorite cleansing balms of all time, the Naturopathica Manuka Honey Cleansing Balm does a great job of cleansing away all your makeup and any dirt and debris that's accumulated on your skin throughout the day. I love that it's non-stripping, smells amazing, and has antibacterial properties, thanks to the honey.
Available at Neiman Marcus ($62) | Also available at Amazon


Byoma Creamy Jelly Cleanser
I was just introduced to this brand last week. They invited me to come get a mini facial and experience all their products as part of my editorial work with media publications. I am super impressed and am really enjoying using the Jelly Cleanser. I think it's a great product to cleanse your skin without that stripping feeling you'll find with foaming cleansers. Because it's non-drying, I think it's a great option to pair with an occlusive skin-slugging product.
Available at Ulta ($13) | Also available at Target


Paula's Choice CALM Nourishing Milky Toner
The brand sent their CALM line to me a month or so ago, and I am absolutely loving it! It's perfect for my dry, irritated, sensitive skin. One of my favorite products in the line is the toner. It's very thick (kinda like an essence) and visibly hydrates my skin right after application.
Available at Amazon ($24)


Byoma Hydrating Serum
This is another one of their products that I'm really liking. It's lightweight but very hydrating, and contains glycerin, squalane, and a ceramide complex for added moisture. Plus, I love that this brand is affordable and won't break the bank.
Available at Ulta ($17) | Also available at Target


PCA Skin Retinol Treatment for Sensitive Skin
Some dermatologists would say that using a retinol under your slugging routine isn't the best idea. It's a little bit counter-productive, as a retinol is used to lightly slough off a top layer of skin, while an occlusive slugging product is meant to promote healing of the top layer of skin. That being said, I've noticed that Palermino does it on her skin (and she looks fantastic) so I think it's safe to do.
I don't really use retinol often, but if I do, it's the PCA Skin Retinol Treatment for Sensitive Skin. Because this is so gentle, I think it's a great option for those who are slugging their skin at night but would like an anti-aging treatment in their skin care routine.
Available at Amazon ($117) | Also available at Blue Mercury


Skinfix Barrier+ Triple Lipid-Peptide Face Cream
I've written about how much I love this moisturizer in the past, and things haven't changed since. It's creamy, emollient, incredibly hydrating, non-irritating, and leaves a lovely finish on the skin. It looks fantastic under makeup and would be a great addition to any slugging routine. Especially because it is a product that's meant to help build the skin barrier back up.
Available at Sephora ($54)


Vaseline
This is the occlusive product that I like to use on my face to slug. It feels a little less thick than the other petroleum jelly products on the market. I like to use a pea-size on my face.
Available at Target ($2) | Also available at Amazon and Walmart


Aquaphor
I have two friends from high school who went through Accutane, and Aquaphor was in their back pocket at all times. I feel like Aquphor is a bit thicker than Vaseline, and I like to use Aquaphor for my lips.
Available at Target ($5) | Also available at Amazon and Ulta


Cerave Healing Ointment
This baby is super thick and emollient. I would only use a small amount on your face. It comes in a large tube and I feel like it will last you a lifetime.
Available at Ulta ($11) | Also available at Target and Amazon


Futurewise Slugging System
Okay, I've never tried this line before, but it's meant for skin slugging, so might be worth a shot. It comes with an essence, a cream, and a balm, and will hydrate the heck outta your skin. I also like that the whole set is $66, which is pretty affordable for three products in one.
Available at Futurewise ($66)
Slugging Skincare Before And After
Below you'll find some before and after photos of a night that I did my slugging skincare routine. My skin felt incredibly soft and hydrated once I woke up that morning. You'll notice that I woke up with a little whitehead on my chin. That was from a pimple that I could feel was forming underneath the surface. I think that the slugging allowed the pimple to come to the surface and essentially, be purged from my skin.