When I was researching which kind of ring I wanted my now-fiancé to propose to me with, I was immediately drawn to art deco engagement rings. They are so classy, so cool, so timeless, and so unique. Art deco engagement rings are a style of ring that originated during the Art Deco era. This era occurred during the 1920s to early 40s.
One of the most popular examples of art deco is the gorgeous Chrysler Building in New York City (which I can actually see from my window as I type this). The Art Deco era was a popular design movement that featured bold lines, geometric shapes, and traditional and modern elements, too.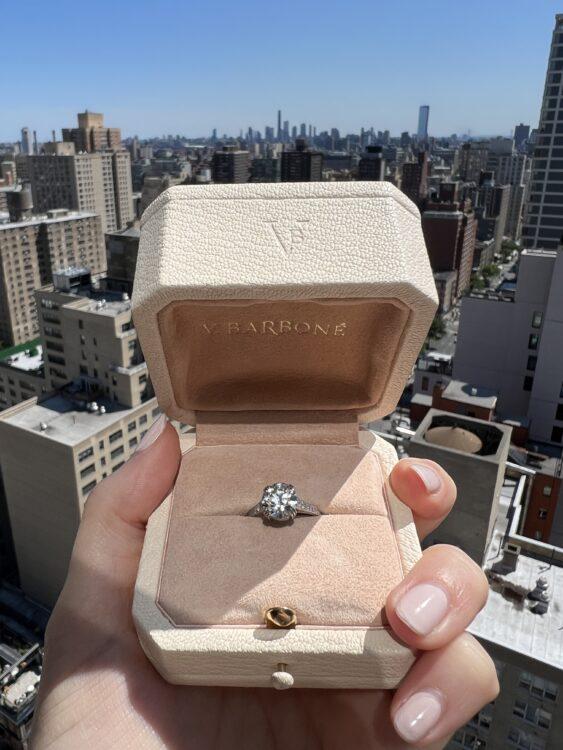 Other elements of this style of ring include colored gemstones (like sapphires, emeralds, and rubies), filigree and milgrain detailing, and step-cut gemstones (like baguette- or emerald-cut diamonds). Finally, you will find a lot of art deco rings in platinum and white gold. This is because the cool-toned color palette were the shades of the era.  
Below, I'm sharing my own personal art deco-inspired engagement ring. Plus, I've included a bunch of other types of art deco engagement rings to inspire you (and your soon-to-be fiancé)!


8 Art Deco Engagement Rings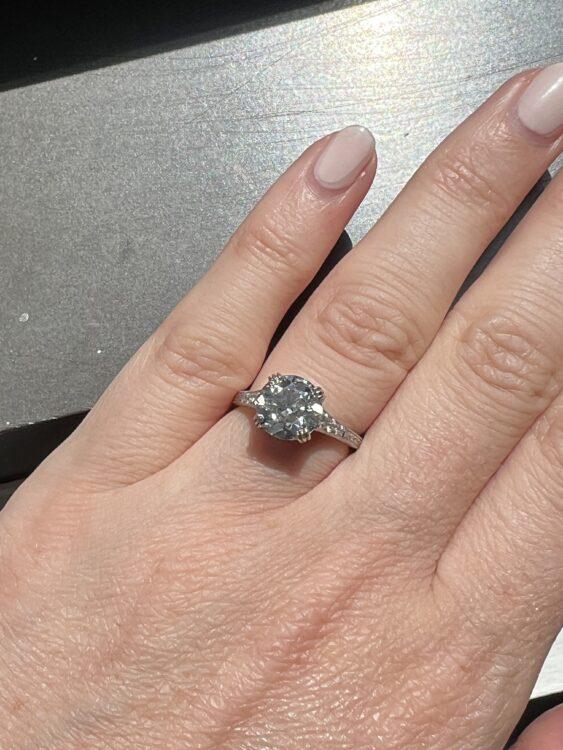 Art Deco Diamond Engagement Rings 
This is a picture of my own art deco diamond engagement ring from Andria Barboné Jewelry in NYC. I tried on a bunch of vintage art deco diamond engagement rings. But, my fiancé and I ultimately decided to have Andria create a vintage-inspired, custom engagement ring. I think this ring has some elements of the art deco era, but also looks a bit more modern, too.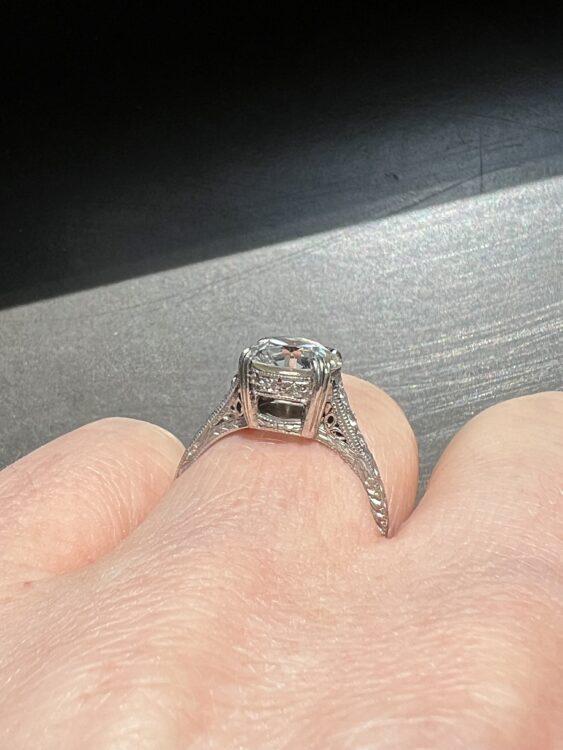 It features an old European-cut diamond (popular in the art deco era), and filigree and milgrain work throughout. The prong setting has a geometric shape and almost looks like rectangular beams.   



Art Deco Antique Engagement Rings
This is a more broad term for art deco rings from the 1920s to the early 1940s. They are usually very intricate and really look like they are from a completely different era. This makes them incredibly unique and a great conversation piece.
This piece is a great example of an art deco antique engagement ring. It has bold square lines, some intricate milgrain around the borders, and rectangular-looking diamonds on the sides.




Art Deco Emerald Engagement Rings
Emeralds were one of the most popular gemstones during this era. This is a stunning example of an art deco ring that features a gorgeously green emerald in the center.
Emeralds were pretty popular during the art deco era for multiple reasons. First of all, emeralds have represented elegance and luxury for a long time. Being able to wear one on your finger really showed your wealth and status back in the day. The green shade has always been associated with royalty and wealth. This made these gemstones in high demand during this era.
Another reason why many art deco engagement rings featured emeralds was because the art deco jewelry design often featured contrasting colors that created beautiful visuals. The green against the white gold or platinum setting really allowed the stone colors to pop.
Finally, because the art deco design featured geometric and clean lines so often, it makes sense that a rectangular stone, like the emerald, would pair well on rings of the era. 



Art Deco Sapphire Engagement Rings
This pick is a great example of an art deco engagement ring that features both diamonds and sapphires. There are many art deco sapphire rings that can feature a diamond as the center stone (with sapphires surrounding it). Or, a sapphire as the center stone (and diamonds or other gemstones surrounding it). 
Similar to emeralds, sapphires were so popular in the art deco era because they have such a vibrant color. It contrasts beautifully against the cool-toned white gold and platinum bands. Additionally, sapphires are easy to be cut and shaped into different shapes and sizes. This allowed many jewelers to create ring designs that were heavily geometric and intricate—a big theme in the art deco era. 



Art Deco Emerald Cut Engagement Rings
Another popular shape in the art deco era was the emerald-cut diamond. These rings were popular during this time period because they featured clean lines and bold, geometric shapes. There was a draw towards this type of ring because the emerald cut has fewer facets compared to other diamond cuts of the time. This allowed for more of a refined and elegant look in terms of an engagement ring. 




Minimalist Art Deco Engagement Rings 
If you're on the hunt for a minimalist art deco engagement ring, it's probably not going to be antique and will have been crafted more recently. I'd say it's going to look more similar to a modern art deco engagement ring. These types of rings still feature geometric shapes with clean lines, but have more of a minimal use of gemstones. They have a very clean and sleek design, and just look more modern.




Art Deco Moissanite Engagement Rings
These might be a bit harder to find, but that doesn't mean it's impossible. These rings will have traditional characteristics of an art deco ring, but will feature moissanite gemstones and will look more modern than vintage. This kind of ring will cost significantly less than other rings on this list and is a great option for folks who are on a budget. 




Art Deco Oval Engagement Rings
An art deco oval engagement ring is a ring from the art deco era that features an oval diamond in the center.  You won't find as many vintage rings in this style because the oval diamond wasn't commonly used during that time period. The art deco era was more focused on geometric shapes and clean lines, and oval diamonds have a rounded shape. Today, you might find custom-made art deco-inspired oval rings, rather than a true antique or vintage ring. 



Looking to toast after an exciting engagement? Check out my blog post all about the best non-alcoholic proseccos!