By TDD Contributing Writer
As we slowly creep into warmer weather, it's easy to start thinking about popping bottles under the sun. Who doesn't want a little sparkling prosecco while having an amazing brunch with friends or loved ones? Fortunately, for those who are alcohol-free or sober curious, there are a variety of non-alcoholic and dealcoholized options that may not give you a buzz, but won't have you forgetting the day in its entirety, either.
Below, I've listed 12 of the best non-alcoholic prosecco on the market. Some of the proseccos range from being completely alcohol-free, while others contain 0.5% alcohol by volume. These are the perfect options, whether you're partaking in dry January or are completely sober.


The 12 Best Non-Alcoholic Prosecco Brands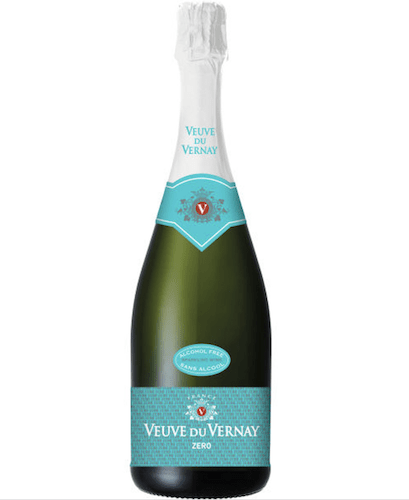 Vevue Du Vernay Zero Alcohol Free Sparkling Wine
The best out of the bunch, this non-alcoholic prosecco is perfectly balanced with notes of pears and apples and a slight floral aroma. Neither the taste nor the smell is at all overwhelming, and it is very delicious.
Available at Amazon ($20)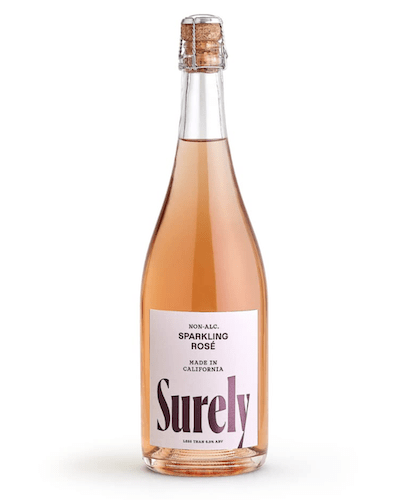 Surely Sparkling Rosé
This wine is the definition of Rosé All Day—it's an exact taste to your classic rosé. The best part is that there are zero hangovers in this less than 0.5 ABV wine. It comes in a bottle or cans, making it easy to take to any event. Despite its fruity flavor, it is not too sweet and has a crispy taste that balances the wine perfectly.
Available on Surely ($27)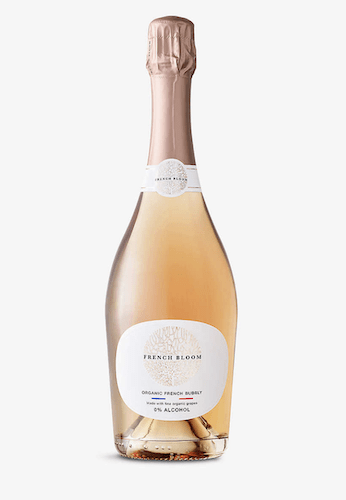 French Bloom Organic French Bubbly
My immediate reaction after the first couple of sips was, "wow!" It was hard to take just one. The French Bloom Organic French Bubbly is slightly fruity, but overall refreshing with the perfect dry finish. It has no aftertaste and can be enjoyed perfectly after the first pop. I would recommend not using it to mix your favorite mocktails, as it'll take away from the authentic taste it already has. The biggest downside of this pick is that it's one of the pricier choices and is not readily available like a lot of the other options.
Available at Drizly ($39)





St. Regis Sparkling Secco
Originating from Spain, but easily found at your local Total Wine, the St. Regis Sparkling Secco is light, fresh, and delicious—it's a great non-alcoholic prosecco option. You can smell the grapes from the first pop. I like that it's not overly sweet. The taste makes it hard to believe it is dealcoholized, which makes it all the better. It's the perfect bottle to make a nomosa, nospritz, and to pop at any celebration.
Available at Amazon ($13)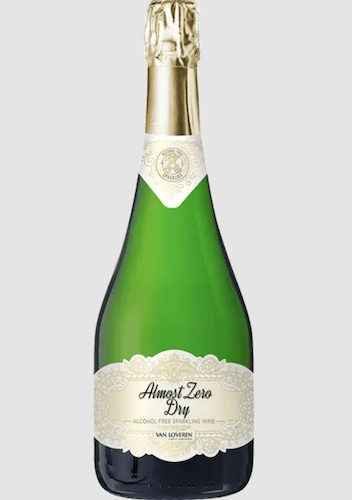 Almost Zero Dry Non-Alcoholic Sparkling Wine
Almost Zero Dry has a wide range of wines available. However, sparkling wine has to be my favorite. It's hard to imagine you are not drinking a crispy, dry prosecco. It starts with a citrus tang and finishes very smoothly. The taste does not linger at all and truly it was hard to stop reaching for the glass for another sip.
Available at Total Wine ($15)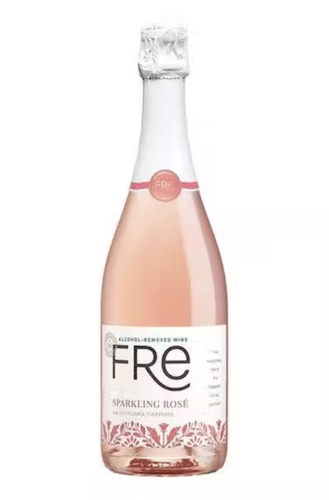 FRE Sparkling Rosè
The FRE Sparkling Rosè is crispy and delicious with notes of strawberry and citrus with a dry finish. This is the bottle you bring with you to picnics or BBQs, or really any outdoor activity. It comes in a can or a bottle and contains less than 0.5% alcohol by volume. It's a perfect pick for any rosè-lover looking for alcohol-removed wine. Like the bottle says, "true happiness lies in the freedom to be yourself."
Available at Drizly ($11)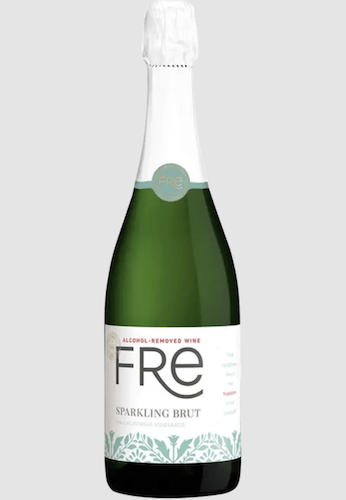 FRE Sparkling Brut
Although it's not what I would consider a brut, this pick from FRE might be better described as a bubbly apple and pear non-alcoholic prosecco. I would consider it fruitier than other options, but can easily be muted down with a couple of cubes of ice. Like the St. Regis Sparkling Secco, this is the perfect choice for any mocktails that need that champagne kick. Like its cousin, Sparkling Rose is alcohol-removed wine and contains 0.5% alcohol by volume.
Available at Drizly ($15) | Also available on Amazon ($24)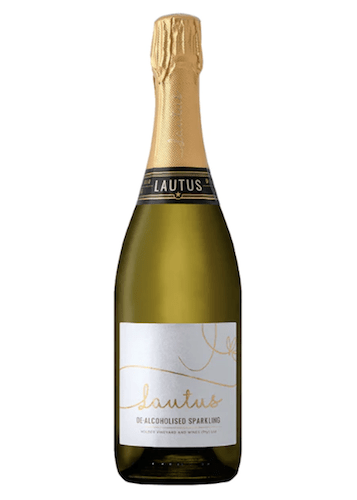 Lautus Dealcoholized Sparkling Wine
The Lautus Dealcoholized Sparkling Wine truly tastes like you're drinking a glass of champagne. It's a non-alcoholic proseccos that's not in the slightest bit fruity, although it's made with aromas of different fruits. This wine is crispy and has a delicious dry finish. It was hard not to finish the entire bottle in one sitting, but even when I did, I was able to enjoy the rest of my day with no headache.
Available at Drizly ($26)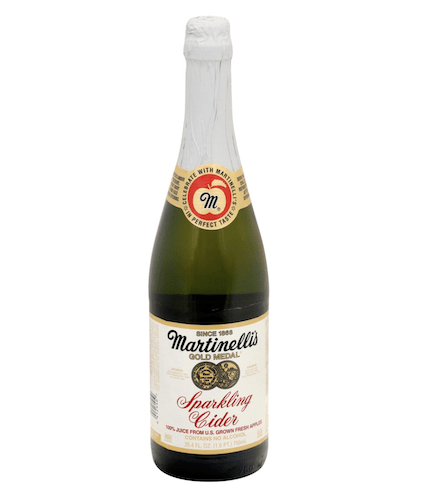 Martinelli's Sparkling Cider
This is the cider that most of us know and love. My dad used to buy this for my brother and me at Costco all the time in middle school. It certainly made us feel fancy when we could pop a bottle for a special celebration. It's sweet, bubbly, and delicious. There's not a trace of alcohol and a great option for anyone—from children to adult sober folks.
Available at Amazon ($27 for 3-pack)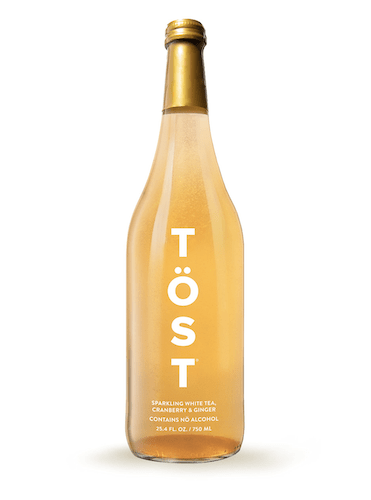 TÖST Alcohol-Free Sparkling Refresher
Never had I considered the magic that ginger would bring to a sparkling wine. This blend of white tea, cranberry, and ginger is delicious. It has a fresh smooth flavor and finishes off dry. The winemakers use agave to balance the taste and it works wonders.
Available on Drizly ($10) | Also available on Amazon ($34 for 3-pack)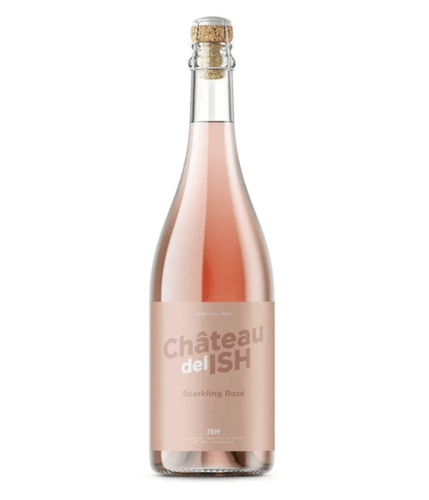 Château delISH Sparkling Rosè
Far drier and crispier, this sparkling rosè has notes of plum, raspberry, and strawberries. It is a vegan option, with low calories and low sugar. It is also gluten-free, which is the perfect choice for anyone looking to enjoy a sparkling wine true to its name. To enjoy at its best, serve chilled.
Available at Drizly ($25)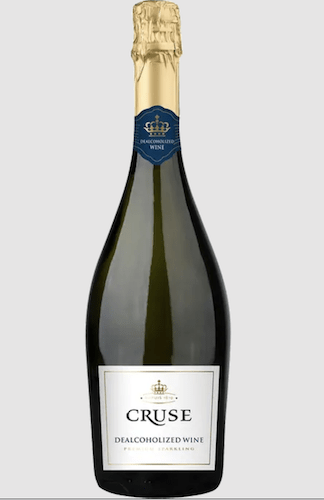 Cruse Dealcoholized Wine Premium Sparkling
Produced in France, this non-alcoholic prosecco is the least fruity of the bunch. In my opinion, it's the best option when making different drinks like mimosas, a french 75, aperol spritz, prosecco mint julep, and so many more. It has a powerful taste of berries and cream with a touch of bubbles, and it finishes dry and has a pleasant aftertaste.
Available at Total Wine ($10)


*This post contains affiliate links. I may earn a small commission when you make a purchase through the links on my site at no additional cost to you. Thank you so much for supporting my small business by shopping through my affiliate links—I am so appreciative!