Interested in signing up for Future? Use my referral link and your
first month will be only $19 (the regular price is $150 per month)! Note: after your first month, your credit card will be charged $150 for the second month and onwards, until you cancel.


I am not one of those people who finds working out an easy activity to incorporate into their day. There are some days that I actually do enjoy working out, like when I do The Class. But most days, I dread it. Keeping myself accountable has been the most challenging part of working out for me. After discovering the Future fitness app a few months ago, however, I no longer need to hype myself up to burn some calories. I have my own personal trainer in my pocket.
Her name is Lauren and she lives in Dallas, Texas. We message almost every day, and she basically knows everything that's going on in my life. Lauren creates custom workout plans for me based on my fitness goals. She sends me motivational GIFs regularly. She will quickly swap out a workout for a recovery day if I need to, and does so much more.
Future App Review
The Future fitness app has been a huge game changer for me as I navigate sobriety. It's allowed me to channel my energy into something other than alcohol. I've been using the app for about six weeks and I've already noticed a change in my body. My progress pictures don't lie! In this Future app review, I break down everything you need to know about the fitness app: what it is, how it works, and why I think it is so, so worth it.
The Future app defines itself as "a blended mobile app, watch app, and human personal trainer."
The app was launched in 2019 and co-founded by Rishi Mandal—he's a product leader at Google and former CEO of Sosh (acquired by Postmates).
If you are an Android owner, unfortunately, you won't be able to try out the Future app. It's only available for iPhones. And while you don't necessarily need an Apple Watch to use the Future app, it's highly recommended. An Apple Watch will allow you to track your progress and measure your heart rate. If you don't own an Apple Watch, Future will loan one to you.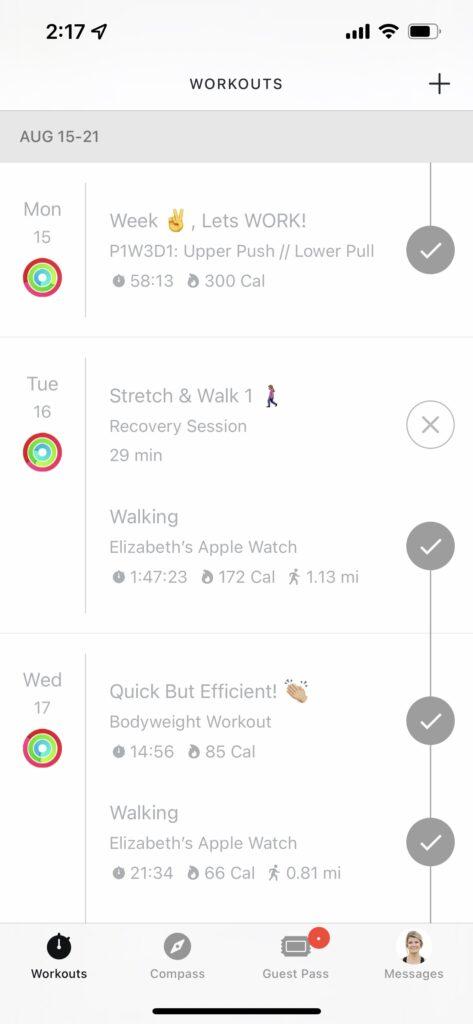 How It Works
The Future app basically functions as a personal trainer on your phone. With over 200 personal trainers to choose from, you can connect with an elite performance coach that meets your needs. Each trainer's bio includes their experience, hobbies and likes, and general coaching strategy. One trainer might be more militant, while another might be more encouraging, for example.
Once you've chosen your trainer, they will set up a 15-minute Facetime call with you to go over your needs, expectations, and more. It's a great way to get to know your trainer and establish a good working relationship together. Lauren asked me what my goals were, what I found difficult about working out, and what my lifestyle is like. She also asked me whether I like to repeat the same exercises often or if I like to switch them up. Finally, she wanted to know how often I wanted to do strength training each week. We settled on three strength training workouts, one Class workout, two walks and stretch sessions, and one recovery day each week.
After you've explained your preferences, your trainer will create a custom training plan for you.
Each workout will include exercise moves that help you get closer to your goals. For most of my strength training workout routines, we use dumbbells (and some gym machines if I have access to a gym) and body weight training. For you, that might look different. If you don't have a gym membership, or if you prefer using kettlebells or another type of strength training machine or tool, you can ask your trainer to incorporate that into your routine.
Each of my workouts includes three rounds of three different blocks, with a total of nine different exercise moves. Each workout starts with a quick warmup, and then a longer stretch session at the end. Lauren has pre-recorded her voice into the workout to help explain different movements and add extra motivation for me.
What I love about this app is how seamless it is to follow the exercises in each session.
Each move has been pre-recorded to show how it should be properly done. Once you've finished that exercise, you can press the next button on your phone or watch, and move on to the next exercise. All the while, your watch tracks your heart rate and calories burned through each move.
Once you've finished your workout, you can rate how difficult it was. You can also leave any notes for your trainer. I love that you can see which "heart rate zones" you hit and for how long. The app gives you the option to toggle through your whole workout to see which exercise moves increased your heart rate rapidly, and which kept your heart rate low.


Signing Up
Step 1: Sign up
To sign up, you'll need to either download the app or go to their website to get started. Click the "Start Your Fitness Journey" button and begin the survey.
Step 2: Fill out the survey
The survey will ask you questions about your gender, age, and how often you work out. It'll also ask you how often you'd like to work out, if you have any unique needs or special interests, and more.
Step 3: Pick your trainer
Once you've completed the survey, Future will offer a list of five trainers they think meet your needs the best. You also get the option to "pick coach later."
Step 4: Pay for your monthly subscription
When you've picked out your Future coach, you will then sign up for your first month of Future.


Pricing Options
As of October 2022, the price of the Future fitness app costs $149/per month. However, you'd be wise to use my discount code so that your first month is only $19! You'll pick your coach, then FaceTime with them, then follow your custom workout routine and watch your body transform. If you aren't happy with the app after 30 days, Future will refund you the full amount. Also note that you can pause or cancel your membership at any time.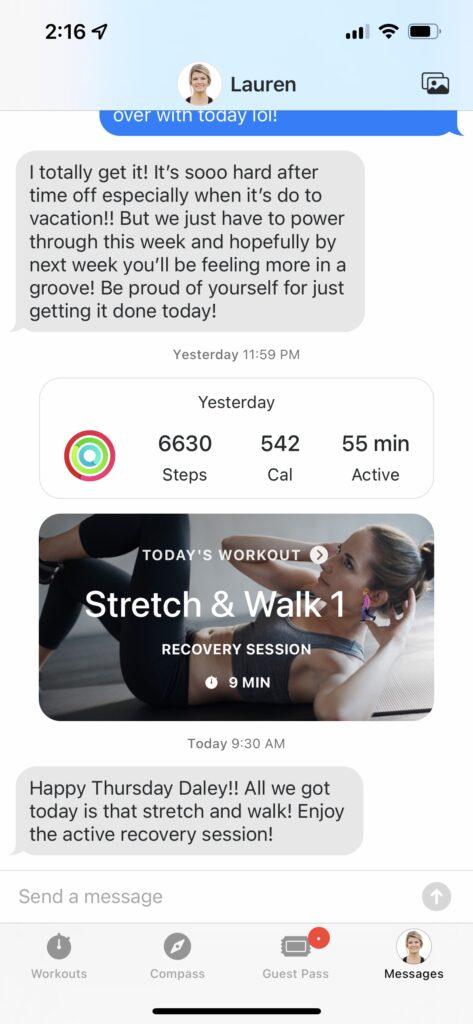 Communication Methods
Another great benefit of Future is how it holds you accountable. I get messages from Lauren in real-time through the app almost every day. She always encourages me for each workout and asks me how my day is going. We've met via Facetime twice—the first time was to get to know each other and understand my goals. The second time was about a month later to gauge where I was at in my Future journey, and if we needed to change anything up. Lauren has let me know that I'm always free to hop on another Facetime call with her if I want to ask her any questions or to just talk about my journey so far.
If I ever need to change up my workout schedule for the week, Lauren makes it incredibly easy for me to message her and swap out a workout for something easier (or harder if I'm really feeling motivated that day). We work together on a workout schedule that fits my busy schedule. I travel a lot and might need to opt for a bodyweight exercise if I don't have access to a gym. Plus, she always lets me know ahead of time when she will be offline (such as a holiday).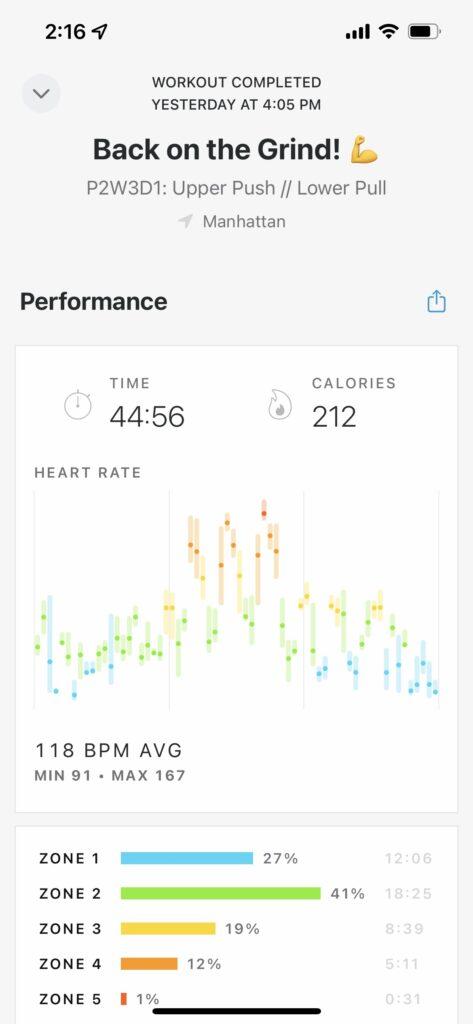 Is The Future App Worth It?
If you haven't already picked up after reading this Future app review, yes, I absolutely believe the is worth $150 per month. I used to pay $400 a month to see my in-person personal trainer once a week. I've found the communication, motivation, clear plan, and attention to detail that Lauren offers far exceeds what I was getting with my former in-person trainer. I feel like Lauren is really rooting for me. Plus, I feel a lot less guilty about paying $250 less per month on a trainer.
I love that, unlike other personal training apps, you really cannot bullshit your trainer on Future. They will know if you did your workout or not (based on how your heart rate is monitored on your watch). Additionally, they will know how hard you went with your workout. If they see that you didn't push yourself during your workout, they might comment on that or give you extra motivation to do a better job next time.
Finally, your trainer will be able to tell if you just skip through the entire workout plan by pressing the next button. I even asked Lauren if she's able to see if I ever press the "next" button faster than it would actually take me to complete that exercise, and she said that yes, she has the ability to see that too! There is no BS when it comes to Future, and that's the app's greatest strength.
A downside of having a virtual personal trainer is that they aren't able to see if you are demonstrating proper form.
If you're unsure about whether your form is off for an exercise, you can record yourself doing the exercise through the app. Once you've finished recording, you can send the video to your trainer to have them analyze your form.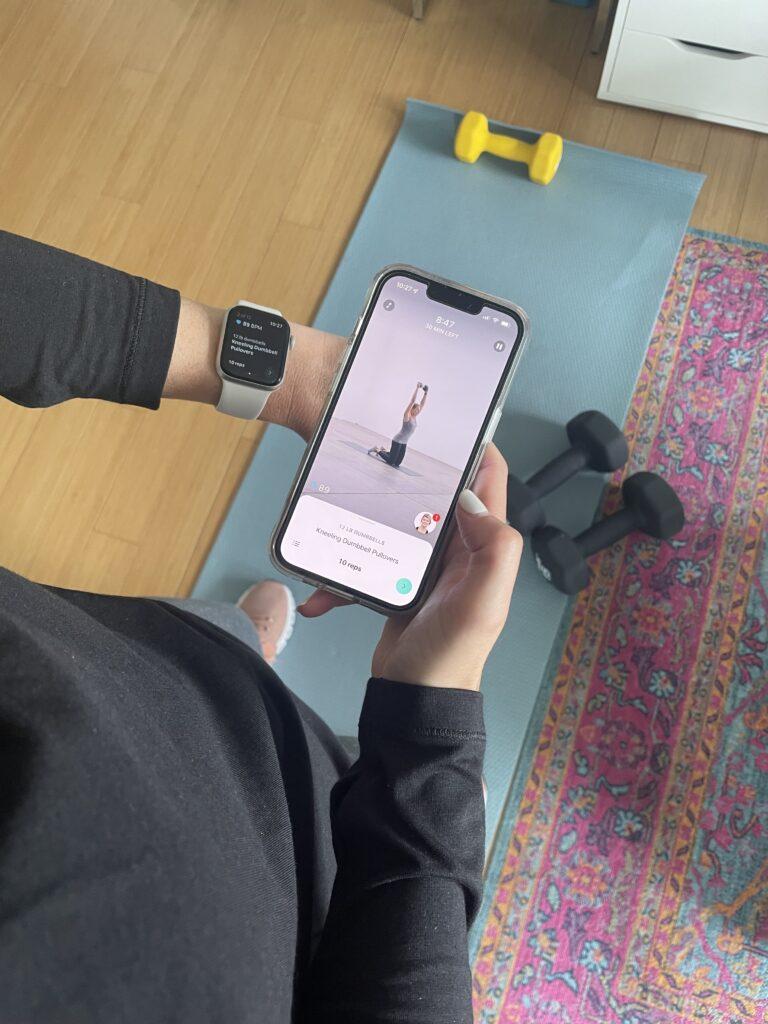 Why I Think You Should Try It
I think this is a great program for everyone, regardless of your current fitness level. It's so customizable that it can benefit men, women, older folks, pregnant mamas, or a mom who feels like she doesn't have time to go to the gym but would love some extra motivation to shed a few pounds at home.
I love how I've bonded with my trainer and it kinda feels like we are friends! She keeps me motivated and on track to reach my goals each month, and she inspires me to push myself on days when I really don't wanna get off the couch.
This app has changed the fitness game for me and I don't see myself stopping anytime soon. So, did my Future app review convince you to try it out? Trust me, I know you won't regret it!