It's a tale as old as time: I've been dealing with acne since I was 15 years old. After I turned 30 last year, I hoped and prayed that my hormonal acne would vanish, but the hormonal Gods had other plans for me. I'm still dealing with hormonal chin breakouts 15 years later, and I've finally turned to spironolactone this year to help aid in the vicious fight.
That being said, I've tried a million and one acne treatments over the last decade-plus, and some have worked much more effectively than others. Below, I've rounded up everything that's helped me deal with acne problems at 30.

How to Deal With Acne Problems at 30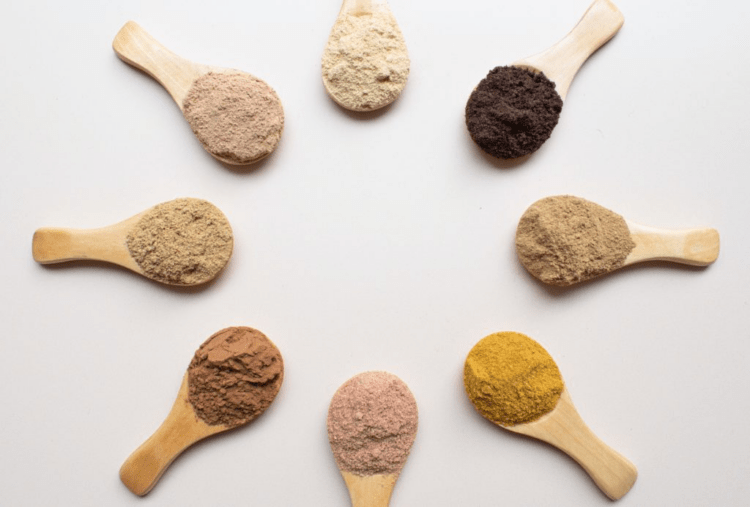 Keep things moving
I've written about this previously, but I'm a believer that trapped hormones in your stool can wreak havoc on your body—and in this important case, they play a role in your skin, too. Your poop is an incredibly crucial way for your body to dispose of hormones (and many other things) from your body. If you're backed up and not eliminating regularly, the fluctuating hormones in your stool are going to recirculate into your body and bloodstream, and could potentially cause you to break out with hormonal acne.
If you suffer from acne in your 30s (specifically hormonal acne on your chin), you're going to want to really look into getting your gut health in check and make sure you're going number two at least once a day.

Best Skin Care Products For Acne – Constipation
Bellway Sugar-Free Psyllium Husk Fiber Supplement Powder
I like to take this fiber powder every morning, mixed in with the INNATE GI Response Powder (see below). I take one scoop of each and then use a frother to mix the two together. You'll want to chug this mixture immediately after mixing it, as the psyllium husk will get gross and gelatinous, which I don't find very tasty. While I try to get my fiber intake in whole foods throughout the day, this powder adds the extra support that I need.
View at Amazon ($27) | Also available at Target

Dr. Christopher's Original Formulas Lower Bowel Formula Capsules
I like to take these especially when I'm traveling or having a really rough week getting things moving. I discovered them after watching a video from Organic Olivia and I notice that they help me immensely. 
View at Amazon ($14) | Also available at iHerb and Dr. Christopher's Herbs

INNATE GI Response
I worked with a functional dietitian a few years ago, and she recommended that I start incorporating this powder into my daily morning routine. It contains five grams of l-glutamine, which helps to support optimal permeability of the intestinal barrier—meaning, it may help with any leaky gut issues you might be facing. Truthfully, it's hard to tell if this powder does anything for me, but it certainly hasn't hurt me (or my skin), so there's that.
View at Amazon ($60)

Beans
I've recently discovered the work of Karen Hurd and Unique Hammond and am a believer in the Bean Protocol. I don't follow the Bean Protocol super closely, but I do try and incorporate beans and legumes into my meals when I can. I discovered lentils this past year and I can't believe how much they've transformed my bowel movements—I'm sad I hadn't discovered them sooner. If you're not used to eating beans often (I certainly wasn't) or have never really incorporated them into any of your meals, try to add some into a salad or soup, or as a little side dish with one or two of your meals every day.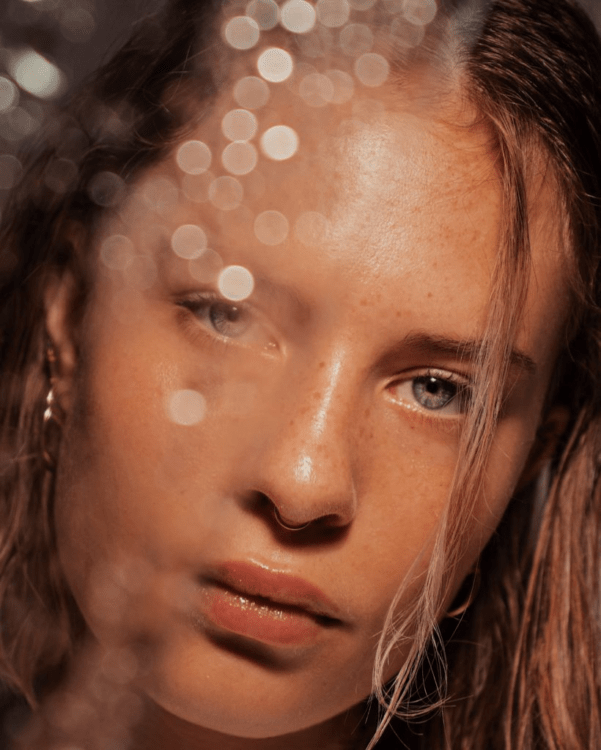 Hydrate your skin
When it comes to skincare treatments, I feel like there are two modes of action, even from the American Academy of Dermatology: dry the shit out of your acne, or hydrate it. I'm in the latter camp, and I prefer to add as much hydration to my acne as possible. I don't want my skin to think that it's dry and produce more oil, further clogging my pores. 
Not only that, but I notice that my makeup looks terrible if I dry out my acne and then apply foundation on top. Because of this, I prioritize hydration over my other acne treatments. I do love a really thick cream for my dry skin, but you really need to test it out to make sure it doesn't clog your pores and create more damage. Additionally, I try to avoid oils on my face, as oil almost always contributes to acne on my face. I've tried so many facial oils targeted toward "acne," and they all make me break out.

Best Skin Care Products For Acne – Hydrating moisturizers
Avène Tolerance Control Soothing Skin Recovery Cream
I've written about my love for Avène previously, and this pick is no different. It's not too thick but not too watery either, and won't cause any breakouts. If my skin is extra dry, I'll use this as a serum and then apply a thicker moisturizer on top.   
View at Amazon ($36) | Also available at Ulta, Walgreens, and Blue Mercury
 
Doctor Rogers Natural Restore Face Cream
This stuff is hella thick, so if you really don't love thick moisturizers, I would skip this one. I'm obsessed with its rich, luxe texture. Plus, I love that it is fragrance-free and doesn't irritate my skin.
View at Amazon ($72) | Also available at Dermstore and Credo Beauty
Skinfix Barrier+ Triple Lipid-Peptide Face Cream
I discovered this Godsend late into the game, but I'm so glad I did. The texture is unreal, it's so thick and creamy, and it looks so good underneath makeup. I definitely noticed my skin barrier improving while using this cream. That being said, it's not formulated for acne-prone skin, so be cautious when using it over breakouts.
Available at Sephora ($52) | Also available at Skinfix
 
CV Skinlabs Calming Moisture for Face, Neck & Scalp
I just finished another tube of this stuff, and I love how simple and bare-bones it is. It's a bit on the lighter side and contains a very faint, non-irritating fragrance. It does a great job of hydrating my skin without breaking me out further. I like to apply my Vanicream Lotion (below) as my serum, and then apply the CV Skinlabs cream on top for extra hydration.
View at Amazon ($52) | Also available at Credo Beauty and Macys
Vanicream Moisturizing Lotion
This is a very simple, oil-free moisturizing lotion that I like to use as a hydrating serum. Vanicream has formulated its products for extremely sensitive skin, so I know when I use anything from this line that it won't break me out.
View at Amazon ($13) | Also available at Target and Walgreens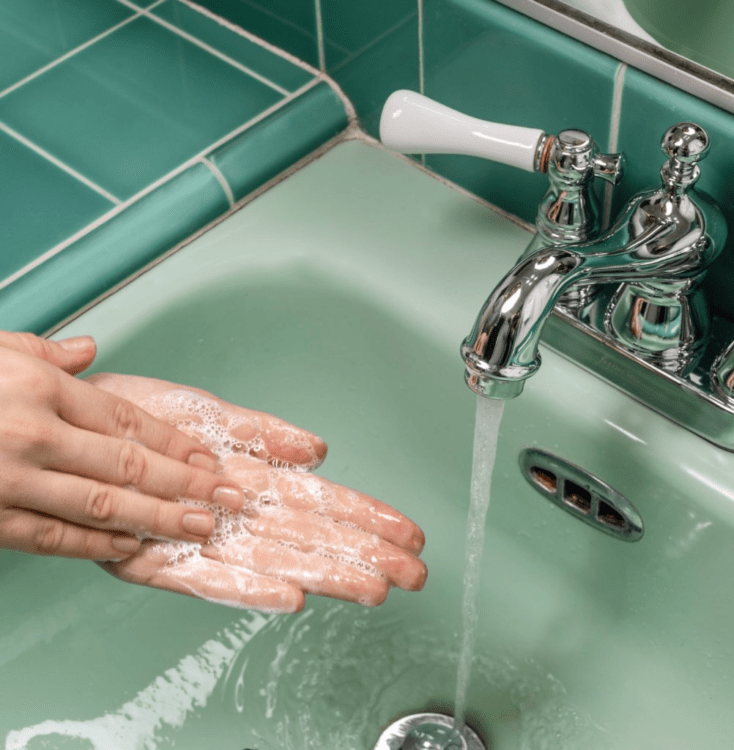 Use a gentle cleanser
Okay, I might get some flak for this, but I don't really believe in acne-fighting cleansers. I mean, I believe that they work, but I also know that they dry the heck out of your skin, and I try to avoid drying out my skin into oblivion.
Rather than using cleansers with salicylic acid or benzoyl peroxide on your face, you want to wash your face with super gentle cleansers (especially if you're washing your face twice a day). Then, you'll use acne-targeting spot treatments later in your skincare routine. That being said, I do like to use cleansers with active acne-fighting ingredients on my chest and back (when I need it), just not on my sensitive face.
Best Skin Care Products For Acne – Gentle cleansers
Vanicream Gentle Facial Cleanser
I've been using this cleanser from Vanicream for most of this past year, and it does the job of cleansing my skin as well as removing makeup and hair products on my hairline without drying everything out. If I'm feeling extra dry or have a lot of makeup on, I will double cleanse with an oil cleanser, and then use this afterward.
View at Amazon ($8) | Also available at Target and Walgreens
Trilogy Rosehip Cream Cleanser
I discovered this pick a few years ago and I love how hydrating it feels on the skin. It's definitely not ideal for makeup removal, and I prefer to use this in the winter on days I'm not wearing makeup and need some extra TLC.
View at Amazon ($21) | Also available at Trilogy 
Doctor Rogers RESTORE Face Wash
This is a fun jelly consistency and it does a great job of removing makeup. It's fragrance-free, doesn't irritate my skin, and doesn't feel drying after I rinse, either.
View at Amazon ($42) | Also available at Credo Beauty and Macy's 
Avène XeraCalm A.D Lipid-Replenishing Cleansing Oil
I used to use this pick for years before I started using the Vanicream Cleanser. This pick is an oil, so that's an important aspect to note if you are super sensitive to oils. That being said, I never really noticed this cleansing oil ever irritated my skin or broke me out. It does a fab job of removing all makeup, dirt, and debris, and leaves skin feeling super soft, too.
View at Amazon ($29) | Also available at Dermstore and Avène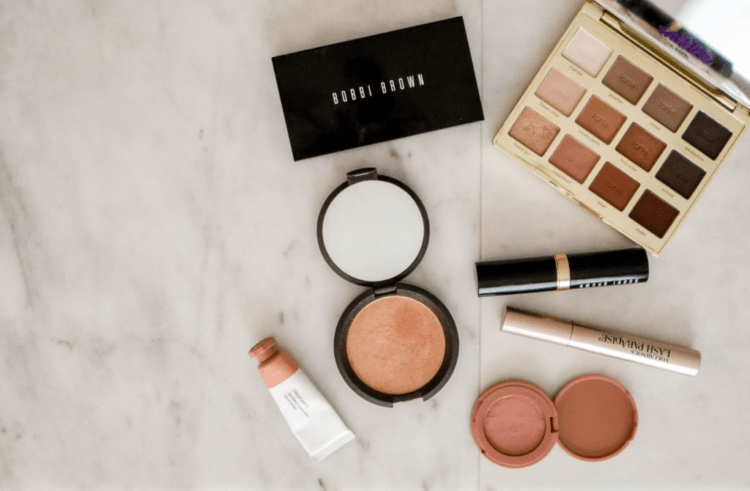 Use non-irritating makeup
Finding makeup that won't make your acne worse is just as important as using non-irritating skincare products. Unfortunately, I have found very few foundation products that don't irritate my skin in some way. The Alima Pure foundation has been my go-to for years. If I'm going to a cocktail party or want to look super glam, I'll reach for my Armani foundation, knowing there is a risk I'll have a pimple pop up the next day. When searching for non-irritating makeup products, look for ones that include minerals, as mineral makeup is known to be the least irritating.
Best Skin Care Products For Acne – Makeup
Alima Pure Satin Matte Foundation
I included a bunch of makeup products I love in this post, but the foundation I reach for every time I leave the house is my Alima Pure Satin Matte Foundation. It never lets me down, never breaks me out, always covers my adult acne beautifully, and doesn't feel too cakey or heavy. 
View at Amazon ($32) | Also available Credo Beauty and Naked Poppy
ILLUMINARÉ Concealing Mineral Foundation
This is another foundation I have that's said to be non-irritating for acne. I'll be honest and admit that I don't use this one often, and I feel like it cakes pretty easily, but you should try it on your skin to see if you like the texture and finish—remember that everyone's skin is different, so something that looks drying on me might look greasy on you! You just never know until you try it.
View at Amazon ($33) | Also available at Illuminare Cosmetics
NYX PROFESSIONAL MAKEUP Bare With Me Tinted Skin Veil
I just discovered this pick this past year and I notice that it does a great job of covering my acne while not breaking me out, either. It's a light to medium coverage and is buildable if you want heavier coverage. I hate that this doesn't come in more shades. I have to mix two shades together to get my perfect match.
View at Amazon ($9) | Also available at Ulta and Target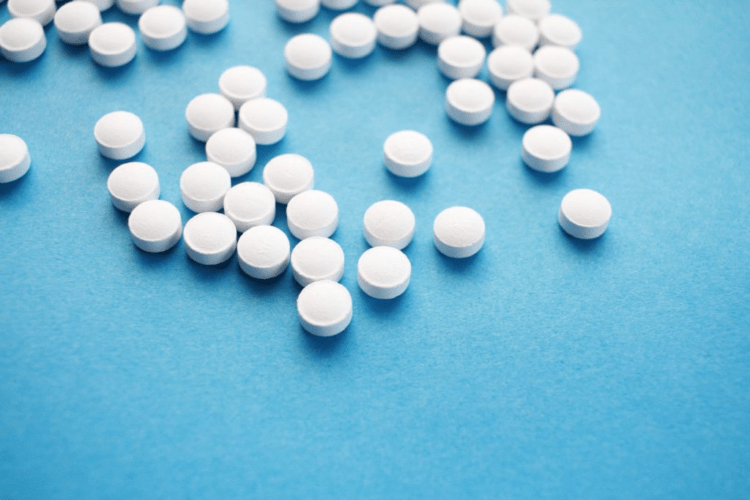 Get on birth control pills or spironolactone
Ugh. I'm sad that this one is on my list, but if your acne has become debilitating, consider getting on birth control pills or spironolactone. I was on birth control pills for five years and it cleared up my hormonal acne (but had some nasty side effects I didn't love). After I got off of it about two years ago, my acne came back—I've been on a journey to clear it up naturally ever since.
This month, I finally caved and decided to go on the lowest dose of spironolactone (25 mg per day) to balance out my hormone levels. I admitted to myself that my acne-prone skin needs the extra help—I'm still going to be concentrating on eating a ton of fiber and doing everything I can to keep my period regular, but my breakouts have become debilitating, and it's time I treat acne with medication.
If you, too, are suffering from self-esteem issues due to hormonal acne, I encourage you to speak with your dermatologist to figure out different treatment options, topically and/or orally.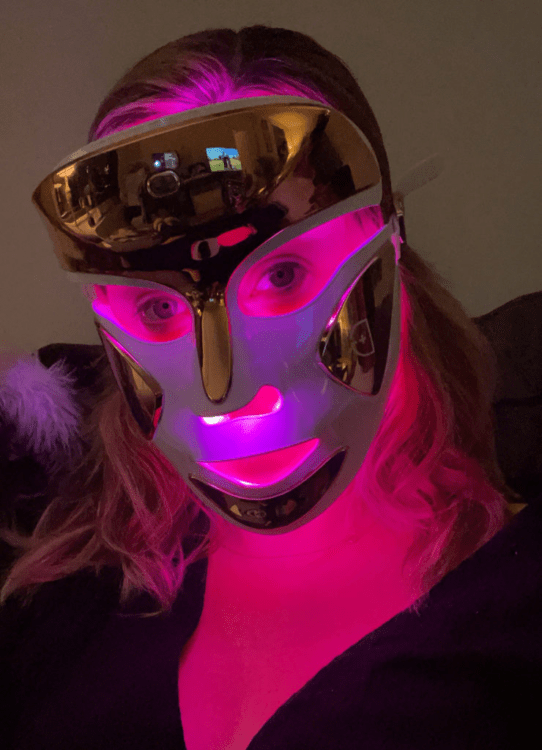 Try LED light therapy
I was amazed at the difference in my visible acne the first time I used the Dr. Dennis Gross DRx SpectraLite FaceWare Pro (see below). The red light therapy reduced the redness from my acne, rosacea, and dermatitis tremendously, and I've been a big believer in LED light therapy ever since.
Personally, I prefer to use red light over blue light, even though blue light is said to target adult acne specifically. I notice that the red light does a better job at minimizing redness from my acne. Sometimes I'll use both red light and blue light on my face to combat both acne-causing bacteria and redness and irritation.
Best Skin Care Products For Acne – LED Light Therapy
Dr. Dennis Gross DRx SpectraLite FaceWare Pro
The first time I used this device was the first time I really noticed the transformative powers of LED light therapy. This pick comes with three light options (red, blue, and red+blue), and does a great job of covering my entire face. I look like a freak when I wear this around the apartment, but I love how my skin looks afterward.
View at Amazon ($455) | Also available at Sephora and Dr. Dennis Gross 
TheraFace PRO
This is a new toy that Therabody gifted to me, and I am loving it. The device does four things in one—LED light therapy being one of them. This pick has red, blue, and red+infrared light and works to help clear acne and reduce the appearance of wrinkles.
View at Amazon ($399) | Also available at Best Buy and Target
SolaWave 4-in-1 Facial Wand
Small but mighty, this little guy does a great job at spot-treating problem areas. I like to glide this pick along my chin and jaw while I watch my favorite Bravo TV shows at night. It's affordable and easy to use. The one caveat is that it doesn't cover your entire face all at once, so you'll have to do extra work to move it across your skin.
View at Amazon ($80) | Also available at Blue Mercury and Sola Wave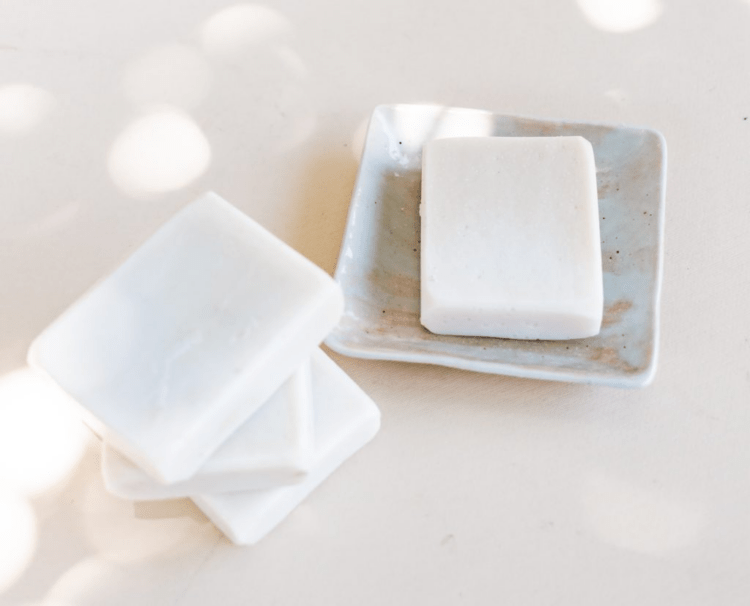 Experiment with sulfur soap
Sulfur is known to have antibacterial and antifungal properties, and it might help clear out clogged oil glands. I like to use sulfur soap on my skin occasionally, when I feel like my acne needs a bit of extra help. Sulfur soap is pretty stinky, but I'll do anything to get rid of my acne, so the smell doesn't bother me as much.
Best Skin Care Products For Acne – Sulfur Soap
Grandpa's Thylox Acne Treatment Soap with Sulfur
A dermatologist recommended this product to me years ago. Not only is it great for treating adult acne, but I've also found it helpful in treating my perioral dermatitis when it flares up. This soap helps prevent oil from building up in the hair follicles on your face, causing you to break out. Sulfur soap can get pretty drying, so I only like to use it a few times a week if I'm having a flare up. Make sure you moisturize right afterward.
View at Amazon ($20 for 3-pack) | Also view at Walmart and Grandpa's Soap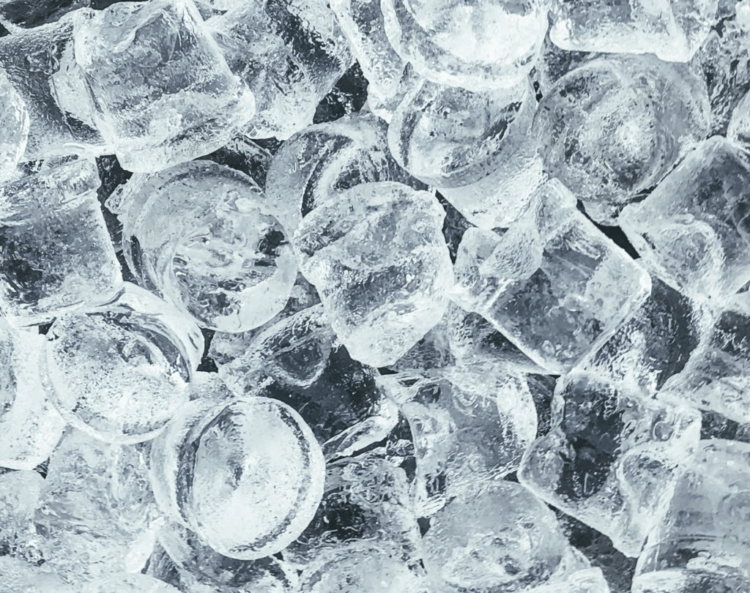 Apply ice to your acne
I learned to ice my acne after working with an esthetician at Skin Salvation in San Franciso. I love this description of why icing your acne is so important—essentially, it reduces inflammation, prevents inflammation, creates micro fissures in the skin to allow products to absorb better, and keeps your hands busy (and prevents you from picking). 

Best Skin Care Products For Acne – Icing

6-Piece Popsicle Molds
I like to keep a bunch of these in my freezer filled with ice. I then lay a towel across my chest and ice my skin while I watch TV. I'll usually ice for about 10 minutes, refill the popsicle mold, and throw it back in the freezer.
View at Amazon ($10)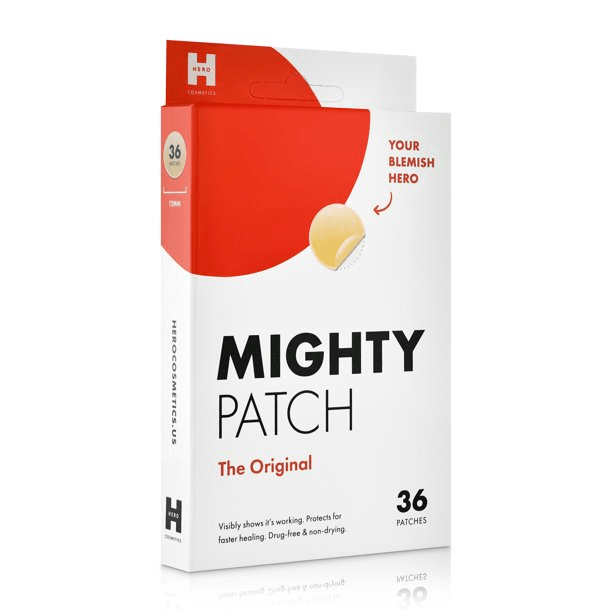 Try pimple patches
I really wish I had discovered the magic of pimple patches sooner. They truly do an incredible job at sucking out all the gunk from a whitehead, further making the bump appear much, much smaller the next morning. I like to apply pimple patches either at night or during the day if I'm working from home. I also like to wear them under my mask if I'm on a long flight and need a bit of extra help with my skin. 

Best Skin Care Products For Acne – Pimple patches

Florence by mills Spot a Spot Acne Patches
These do a great job of sucking out all the junk and getting your pimples flat. Plus, they have cute shapes, and I like that the patches are a bit larger than average.
View at Amazon ($14) | Also available at Ulta, Target, and Florence by Mills

Hero Cosmetics Mighty Patch Original
These have been my favorite so far—mainly because they are clear and I can easily see how much fluid was absorbed after wearing one or two during the night. There is something so disgustingly satisfying about it!
View at Amazon ($10) | Also available at Target and Ulta

Avarelle Pimple Patches
This brand sent me a bunch of their patches in all shapes and sizes to try, and I have been loving them. I like that they are inexpensive and come in small dots or massive squares for larger surface areas.
View at Amazon ($7) | Also available at Avarelle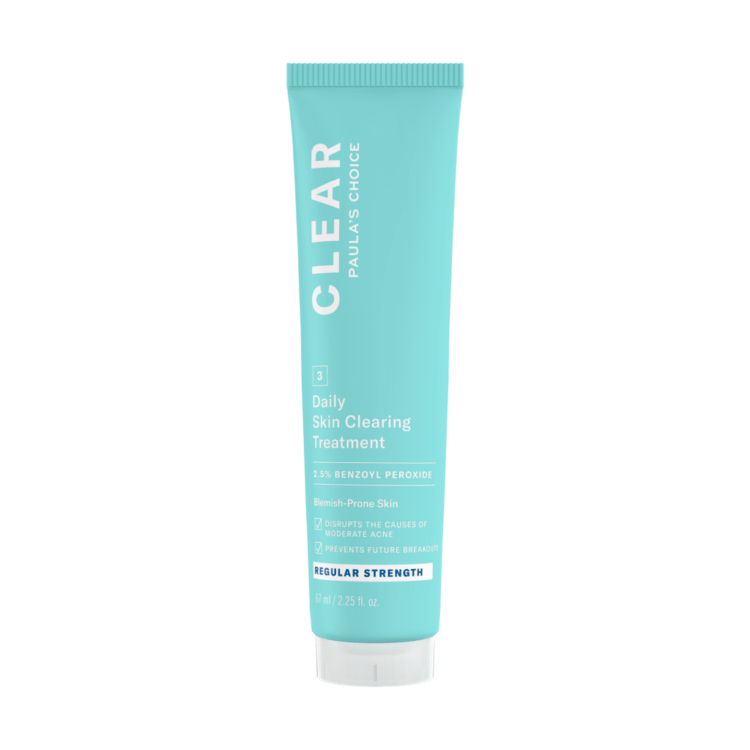 Use a spot treatment
I like to use spot treatments on occasion. I've tried many in my career as a beauty editor, and some do more harm than good. I don't like to dry out my acne too much, but the below have done a great job of treating my acne without destroying the surrounding skin barrier. When using an acne spot treatment, I suggest applying it to clean, dry skin at night, waiting about 10 minutes, and then applying a moisturizer on top to prevent dryness the next day.  

Best Skin Care Products For Acne – Spot treatments

Paula's Choice CLEAR Regular Strength Daily Skin Clearing Treatment
I think this is probably one of the best topical creams for acne that I've tried. The active ingredient is 2.5% benzoyl peroxide, which I have always found to work more effectively on my acne compared to salicylic acid (the other popular acne-fighting ingredient). I like to use this at night before I go to bed, and apply my moisturizer on top of it. Benzoyl peroxide is known to stain fabrics, so be careful with your clothing and pillowcases!
View at Amazon ($22) | Also available at Sephora and Dermstore 

Avène Cleanance Concentrate Blemish Control Serum
I like that this serum is super gentle but still reduces the appearance of blemishes effectively. It doesn't use benzoyl peroxide or salicylic acid, but contains other ingredients that kill the blemish at the source.
View at Amazon ($27) | Also available at Ulta and Walgreens

De La Cruz 10% Sulfur Ointment Acne Treatment
This is a great spot treatment for those who suffer from fungal acne. Sulfur is a useful ingredient for clearing bacteria on the skin and drying out acne or eczema. I like to use this more as a mask and wash it off after about 20 minutes.
View at Amazon ($15) | Also available at Walgreens and Walmart

The Ordinary Niacinamide 10% + Zinc 1% Oil Control Serum
This serum does a great job of calming any irritation or redness I might get from my adult acne. It feels like a gel, dries down nicely, and is hella cheap, too.
View at Sephora ($11) | Also available at Ulta and Target

Paula's Choice 2% BHA Liquid Exfoliant
This product is considered a holy grail for many. I honestly haven't used it in a while, but I remember being obsessed with it when I did. I like to apply it to just my chin and nose, where I break out the most.
View at Amazon ($30) | Also available at Sephora and Dermstore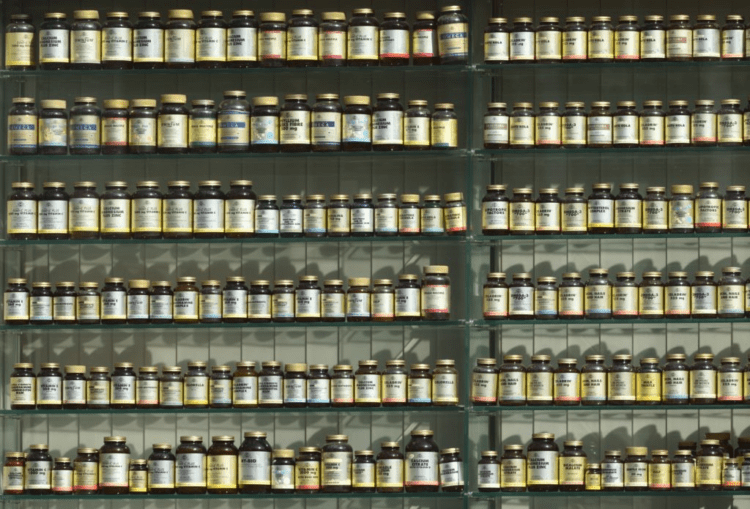 Test out supplements 
Supplements are a great way to add some extra support to your acne-clearing regimen. That being said, taking the wrong supplements can absolutely wreak havoc on your skin. I've played around with multiple supplements in the past, and some do help, but others have given me the worst breakout of my life (vitamin b12, looking at you). Please, always consult your doctor before taking any supplements.

Best Skin Care Products For Acne – Supplements

Klaire Labs Ther-Biotic Complete Probiotics
I'm on the fence about whether probiotics do anything for your skin. However, I do believe that they can be beneficial for your gut, and I'm a believer in gut health = skin health. I don't know why, but I trust refrigerated probiotics more than I do non-refrigerated ones.
View at Amazon ($50) 

Jarrow Formulas Zinc Balance
Zinc is a great anti-inflammatory, but orally and topically. I like this pick because it also contains copper, which can get out of balance if you're taking too much zinc.
View at Amazon ($10) | Also available at iHerb and Walmart

Gaia Herbs Saw Palmetto
There isn't too much research behind how saw palmetto might improve hormonal acne, but I think there is research proving that saw palmetto might reduce androgens in the body, which lead to acne on the chin and neck.
View at Amazon ($22) | Also available at iHerb or Walmart

Nature Made Ashwagandha Capsules
There's more and more research coming out about the effects of stress on the skin. Ashwagandha is a natural adaptogen that promotes relaxation and calmness. I like to take this at night a few hours before I go to bed—it is an incredible sleep aide for me.
View at Amazon ($10) | Also available at Walgreens and CVS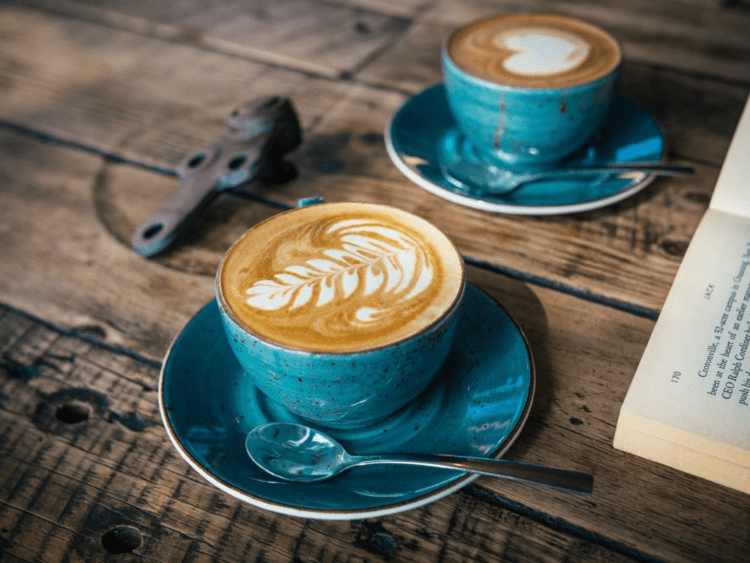 Cut out the root cause of acne
Ugh, I know you don't wanna hear it, but I gotta tell you! If you're really struggling with finding out the root cause of your adult acne, consider eliminating dairy, gluten, coffee, and sugar for at least two months, and then reintroducing them back into your system one by one to see if they affect your acne or not.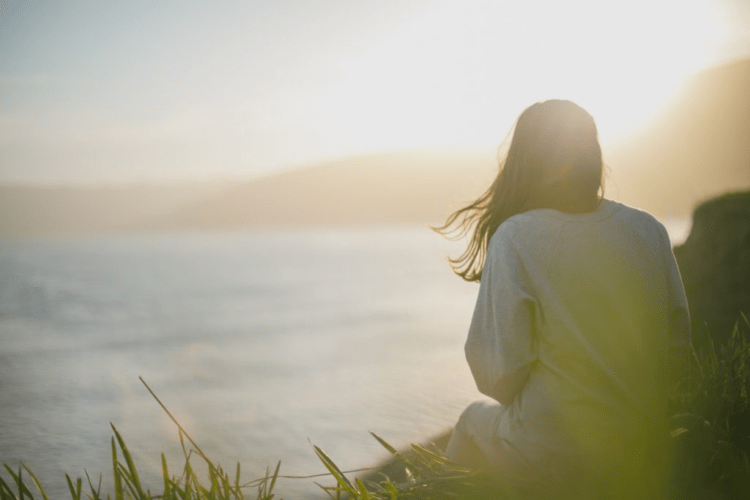 Reduce stress
Like I mentioned previously, stress is a big factor in acne production. Make sure you exercise regularly to release stress and tension (I really love The Class Digital Studio), and consider incorporating meditation and/or breathwork into your day. 

Best Skin Care Products For Acne – Stress-reducing apps

Headspace App
I love this app for many reasons—it helps me stay calm, get energized, or help me fall asleep. I think it's a great way to get into meditation if you are a newbie.
View at Apple Store ($13 per month, $70 annually)

Breathwrk App
I just started using this app after a brand gifted me an annual subscription, and I'm honestly loving it more than mediation. I'm finding that breathwork is easier for me to follow and, considering I find it so hard to quiet my mind in meditation, this is a great alternative.
View at Apple Store ($10 per month, $70 annually)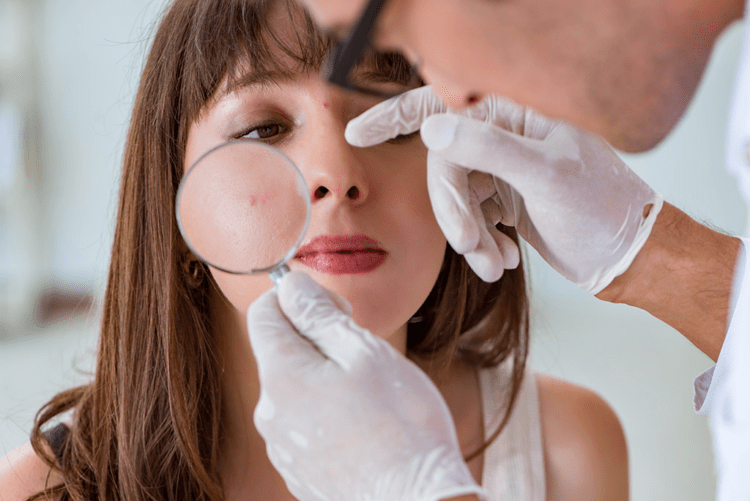 See a board-certified dermatologist
If all else fails, consider seeing a dermatologist. A dermatologist will know the best course of action to get you clear in the shortest amount of time. That being said, make sure you take advice from a dermatologist who takes the time to get to know you and your acne struggles. I once went to a dermatologist on Park Avenue who didn't give me the time of day and sent me home with a very heavy dose of antibiotics for my acne (which she had spent 1 minute analyzing). I ended up with the worst bout of acne post-treatment about six months later.
*This post contains affiliate links, so I may earn a small commission when you make a purchase through the links on my site at no additional cost to you. Thank you so much for supporting my small business by shopping through my affiliate links—I am so appreciative!