In my search for the beauty holy grail, I've tried many, many products over the years working as a beauty editor and writer. There are many that I continue to come back to, and others that I wish I'd never applied to my face. I've also learned that some beauty products truly are worth the extra cash, while others truly are a scam. Below, I've rounded up my favorite beauty products worth the splurge, and why I think you should add them to your skin care routine.
DISCLAIMER: Please note that I was sent most of these products as potential editorial consideration for my work as a freelance beauty journalist, but am in no way affiliated with any of these brands. This is my unbiased opinion and I've listed products I would spend my own money on (some of these products I actually have repurchased with my own money).


Best Beauty Products Worth The Splurge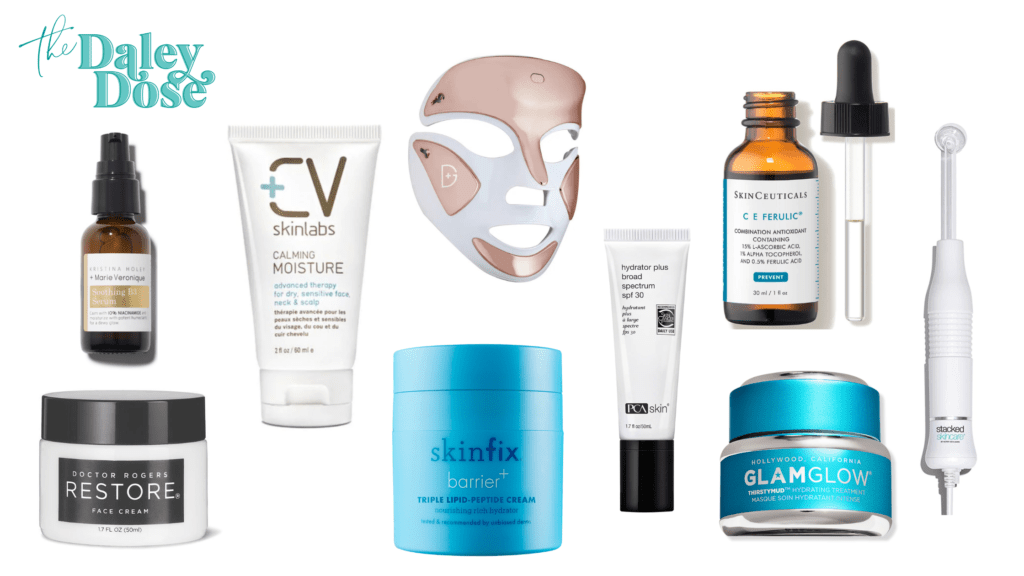 SKINCARE

CV Skinlabs Calming Moisture for Face, Neck & Scalp
I have the most sensitive skin, and I'm always on the hunt for a gentle moisturizer. I found this pick from CV Skinlabs over a year ago and love to mix it into my lineup. It's incredibly calming, non-irritating, and has a really nice, lightweight (but not too lightweight–I like my creams on the thicker side) formula that soaks beautifully into my skin. I love that it's fragrance-free and no-nonsense. Just a few reasons why this is one of the best beauty products worth the splurge. 

Available on Amazon ($52) | Also available on Macys

Doctor Rogers Natural Restore Face Cream 
This is another really gentle moisturizer that I fell in love with after I did some freelance content work for the company. This cream is super, super thick (just how I like it) and has the loveliest texture. It's probably not ideal for hot summer months, but I do like to use it if I get a sunburn on my face and I feel like my skin needs extra moisture. 
Available on Amazon ($72)

Dr. Dennis Gross Skincare DRx SpectraLite™ FaceWare Pro
One of the most useful acne- and redness-fighting tools I've discovered in the last year is LED light therapy. I was gifted this device from Dr. Dennis Gross and I'm consistently amazed by how less red my face is after each use. It does an incredible job of calming down any inflammation I might have, from dermatitis to acne. And I like to use it for six minutes most days to keep inflammation at bay. It comes with red light for anti-aging and anti-inflammation properties, while the blue light helps to kill acne-causing bacteria on the skin. It also has a mode where you can activate both the red and blue lights for anti-aging and anti-acne benefits at the same time.
Available on Amazon ($435) | Also available on Sephora and Nordstrom
SkinCeuticals C E Ferulic 
This is a serious award-winning product, and many beauty editors and dermatologists live and die by this stuff. When my skin isn't freaking out and being sensitive, I like to use this as my vitamin C serum. It smells terrible, but works well in fighting against free radical damage and turning back time. Note that vitamin C is a notoriously unstable ingredient, so you'll want to use this product up relatively quickly so that it doesn't go bad/become ineffective. 
Available on Blue Mercury ($182) | Also available on Dermstore
PCA Skin Hydrating Serum
I've written about this pick before, and I still love it to this day. It's lightweight, very hydrating (thank you, hyaluronic acid), doesn't irritate my insanely sensitive skin, and feels lovely under a moisturizer and makeup. I feel like it would work well for all skin types, too. This is why the PCA Skin Hydrating Serum is on my list of the beauty products worth the splurge. 

Available on Amazon ($102) | Also available on Nordstrom and Blue Mercury
PCA SKIN Hydrator Plus Broad Spectrum SPF 30
I've tried a bunch of sunscreens on the market, and it's been really hard to find a formula that doesn't break me out. This one from PCA Skin doesn't cause a breakout for me and is very lightweight. The active ingredients are octisalate, octocrylene, and zinc oxide. It has extra hydrating properties that help keep my skin moisturized, and sometimes I will even use it in place of a moisturizer during the summer months, when I'm heading to the beach for the day. 

Available on Amazon ($48) | Also available on Nordstrom and Blue Mercury
Marie Veronique Soothing B3 Serum
Loaded with 10% niacinamide, this serum from Marie Veronique is incredibly soothing and helps to calm down any redness or irritation on my skin. It's free of any fragrances and essential oils, and has a lightweight gel texture. At first, this product might feel a tiny bit sticky, but once you've rubbed it into the skin and applied your moisturizer on top, the stickiness goes away. 
Available on Violet Grey ($90) | Also available on CAP Beauty and Marie Veronique
SkinMedica TNS Advanced+ Serum
If you're 30 years or older, I suggest trying out this intensive serum from SkinMedica. It contains their signature TNS-MR formula, which is a growth factor blend that works to diminish the appearance of fine lines and wrinkles. It also has a beautiful blend of botanicals and peptides to help support the skin barrier.
Available on Amazon ($265)

Alastin Skincare Procedure Enhancement System
Last summer I had a derm go ham on the laser during a laser treatment appointment, and was left with some pretty gnarly, post-procedure bruising all over my face. I used a ton of products from Alastin and was so pleased with how well the products helped to speed up my skin's recovery. If you are someone who gets lasers, Botox or filler, or other facial procedures often, I highly recommend investing in this kit.
Available on Alastin ($275)

 
Skinfix Barrier+ Triple Lipid-Peptide Face Cream
I'll be honest and say that I wasn't expecting much when I first tried this cream, but wow was I blown away after the first application. It is a true game changer. The cream has the most amazing, nourishing consistency and texture, and I feel like I could bathe in this shit all day, every day. This is a great option for anyone with irritable skin who needs some extra TLC. 
Available on Sephora ($54) | Also available on Kohl's
Fresh Rose Face Mask
A tried-and-true fave among the beauty editor community — and a product that reviewers love — this face mask from Fresh contains real rose petals in the formula and is super soothing and calming. I'm also obsessed with the smell, too. 
Available on Sephora ($64) | Also available on Ulta and Nordstrom
The Canopy Humidifier Starter Set
I bet you didn't expect to see a humidifier on this list! I love this one from Canopy because it helps hydrate my super dry skin in the wintertime. Plus, I love that it has a built-in aroma diffuser to add a lovely fragrance to your room while humidifying. 
Available on Sephora ($150) | Also available on Blue Mercury
Stacked Skincare High-Frequency Acne Device
I was gifted this handy device a few years ago, and use it occasionally when I'm breaking out badly. It works to kill acne-causing bacteria on the surface of the skin while also diminishing redness and inflammation, too. It can be a bit of a shock (no pun intended) upon first use, so make sure you start low and slow before zapping your zits. 

Available on Amazon ($130)
GLAMGLOW THIRSTYMUD 24-Hour Hydrating Treatment Face Mask
This face mask does a really great job of hydrating my skin, especially during the cold, brutal winter months on the East Coast. If I have a really chapped nose or specific areas on my face, I like to dab some of this on and let it soak in—it really helps fight the facial flakes.
Available on Ulta ($42) | Also available on Macys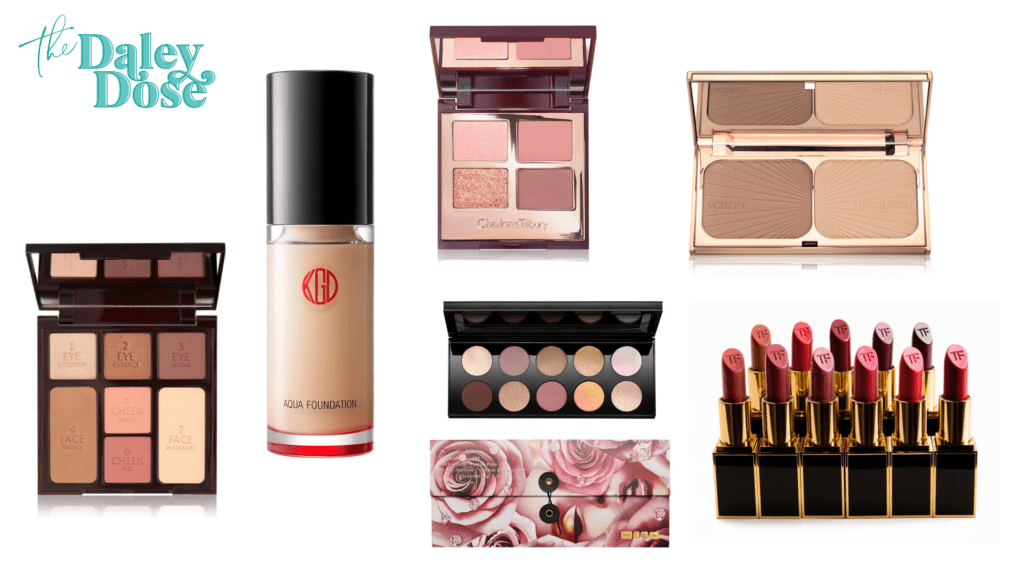 MAKEUP

Pat McGrath Labs Mothership VII Eyeshadow Palette – Divine Rose Collection
Not only do I love the texture, payoff, and colors in this gorgeous Pat McGrath Labs eyeshadow palette, but I can't get over the packaging, either. All of her products come in the most gorgeous packaging, and are definitely worth the high price tag in my opinion. The palette comes in rose-toned hues and includes eyeshadows with matte, shimmer, metallic, and radiant finishes. 
Available on Sephora ($128)
Victoria Beckham Beauty Posh Lipstick 
If a lipstick could be considered sexy, the Victoria Beckham Beauty Posh Lipstick would be it. I mean, is there anything the Spice Girl can't sexify? I love these lipsticks because they are rich in color, are very hydrating and nourishing, and aren't a cakey matte texture (never my fave). Even though they're not widely available online, it's still one of my fave beauty products worth the splurge.
Available on Violet Grey ($38)


Charlotte Tilbury Eyes to Mesmerise Cream Eyeshadow
The pigment on these is insane, and I'm just obsessed with all things Charlotte Tilbury (I've met the famous makeup artist twice and she's a doll). This eye makeup is super easy to apply, blends out beautifully, and every shade somehow complements my skin wonderfully—10/10 recommend!

Available at Sephora ($35) | Also available at Nordstrom and Kohl's
Tom Ford Lip Color Lipstick
This is a legendary lipstick within the beauty industry and deserves a spot on this list. Not only is it beautifully packaged, but the formula is lovely, too. I feel like a rich bitch every time I whip this baby out of my purse, and I love that it comes in a wide array of colors.  
Available on Sephora ($58) | Also available on Nordstrom
Nudestix Euphoric Nudes 7pc Festival Palette
I love this brand so much, and I love the founder even more. I wear something from Nudestix most days of the week, and the Magnetic Eye Pencils are definitely my fave. These babies are so dang easy to travel with and I love all the colors, too.  It was a no-brainer for me to put this on my list of beauty products worth the splurge.
Available on Sephora ($79)


Charlotte Tilbury Instant Look In A Palette Stoned Rose
This is a really great palette to travel with—it has everything you need to create a gorgeous, natural-looking face and I love that it has the same bronzer and highlighter shades from the Filmstar Bronze & Glow Contour Duo (a product I use almost every day). 
Available on Sephora ($75)
Charlotte Tilbury Filmstar Bronze & Glow Contour Duo
I've been obsessed with this palette for years, and even when trying other bronzer and highlighter duos, always find myself coming back to this one. I'll admit that I use the highlighter side much, much less than the bronzer side, and always end up hitting pan on the bronzer way before the highlighter. 
Available on Sephora ($68) | Also available on Nordstrom


Charlotte Tilbury Luxury Eyeshadow Palette
I have a bunch of these eyeshadow palettes in my beauty closet, and I love how luxe they look and feel. I think my favorite is the Golden Goddess, but there are a bunch of lovely quads that would enhance your gorgeous eye color, too. 

Available on Sephora ($55)
Koh Gen Do Aqua Foundation
This is a very lightweight foundation that will have your skin glowing after application, and that's exactly why it's one of many beauty products worth the splurge. If you prefer medium to heavy coverage, I suggest finding a different foundation—this pick is light to medium and looks super natural. 
Available on Sephora ($96) | Also available on Macys
Sigma Beauty Essential Kit
I bought this set in high school and I remember it being a very big splurge for me. I did months of research (and watched so many Youtube video reviews) before purchasing, and I'm happy to say that I am still using most of these brushes, about ten years later. Some of them have fallen apart a bit, but most of them have kept their shape and color the same and I appreciate how sturdy and high-quality these brushes are. 

Available on Amazon ($160) | Also available on Nordstrom, Neiman Marcus, and Forever 21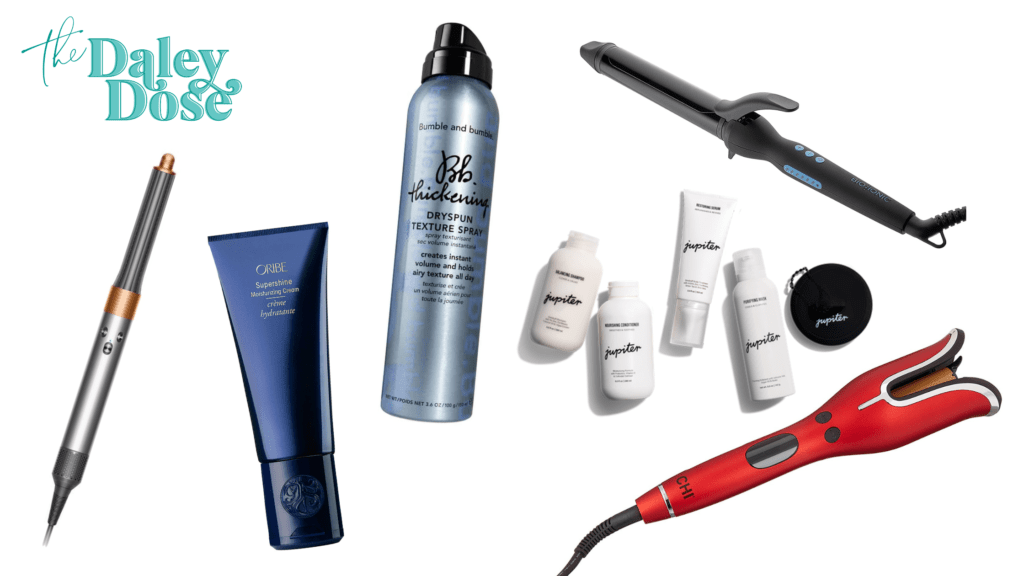 HAIR

Dyson Airwrap Multi-Styler Complete Long
I've written about my love for the Dyson Airwrap previously, and I definitely recommend it for anyone who styles their hair often. Yes, it is a very expensive blow dryer, and is the priciest product on this list, but there's no doubt about it—the Airwrap does a fantastic job of creating multiple styles with just one base and six attachments. It would be wrong to call it just a hair dryer because it does so much more than that!

Available on Sephora ($600) | Also available on Dyson and Best Buy
CHI Spin N Curl Ceramic Rotating Curler
I thought this self-rotating curling iron was so sick the first time I tried it, and I couldn't believe how well (and easily) it curled my hair. I'll admit that it felt a bit scary to put my hair into this contraption and pray that it doesn't get sucked into the barrel and fry off, but I've never had any issues with it and love how easy it is to create a nice curl. While I do love this pick, I will say that I don't get as much control over my curl as I would with my Bio Ionic curling iron, so that's something to consider.  
Available on Amazon ($77)


BIO IONIC Long Barrel Styler
This is a fantastic curling iron that I know will last me a long time. I like to use the 1.25-inch barrel for looser curls, and I find that my curls last…days…after using this product. It has six different heat settings—I like to use a low heat setting for looser waves, and a higher heat setting for tighter curls. I also like that this pick comes with a clamp, rather than this being a styling wand. I used to use a wand back in the day, but I find that method to be a pain in the ass and prefer the curls that a curling barrel with a clamp offers. 
Available on Amazon ($149) | Also available on Sephora
Bumble and bumble Thickening Dryspun Volume Texture Spray
This texture spray reminds me of the first real salon I ever visited with my mom, where they sprayed this stuff around like no one's business. The scent brings back good memories for me, and the body this spray adds to hair is pretty impressive. 
Available on Sephora ($34) | Also available on Kohl's
Jupiter The "Whole Darn Set" Set
I've been dealing with dandruff issues for a while and have tried a bunch of products to combat the flakes. Jupiter really sets itself apart from other anti-dandruff brands because it focuses a lot on its hero ingredient, zinc pyrithione 1%. Additionally, I find their line to be not only soothing, but super hydrating on my hair and scalp too, which is hard to find with other anti-dandruff products.
Available on Hello Jupiter ($106)


Oribe Supershine Moisturizing Hair Cream
The Oribe Supershine Moisturizing Hair Cream does a great job of calming frizz and making my hair not look like a hot mess when I air dry it. The texture of this pick kinda feels like a body lotion to be honest, and a little will go a long way. Plus, it smells amazing!
Available on Amazon ($52) | Also available on Sephora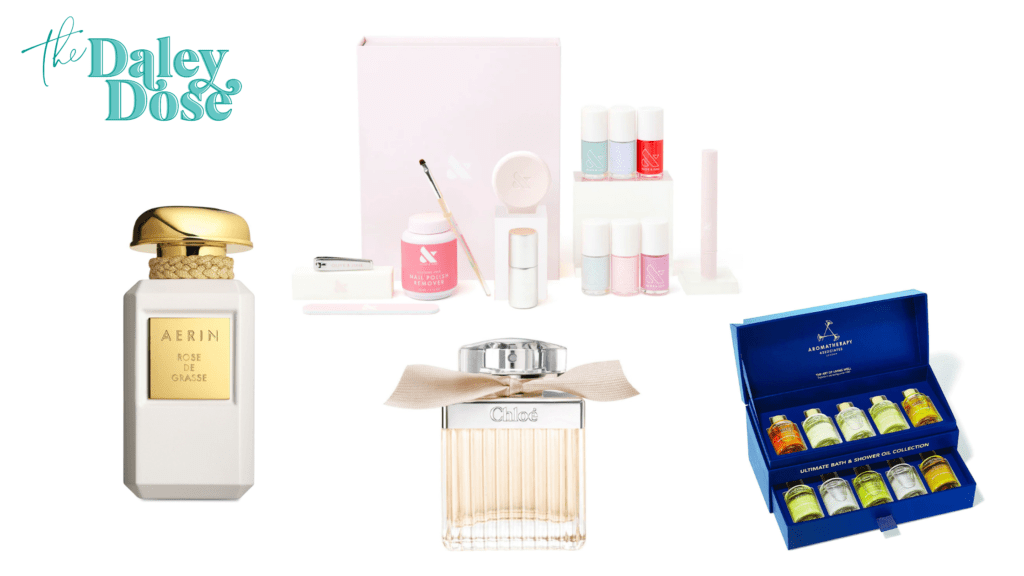 BATH AND BODY

Chloé Eau de Parfum
This is the classiest perfume out there, and every time I douse myself with Chloé, I really feel like I have my shit together (even though I most likely, absolutely don't). It's a very feminine, chic fragrance that I'll keep on my shelf for a long time. 

Available on Sephora ($132) | Also available on Ulta and Nordstrom
Aerin Rose De Grasse
I love so many Aerin fragrances, and especially loved this pick when it was gifted to me years ago. I adore the floral scent of roses (call me a grandma!) and this one has a lovely, non-powdery rose scent. 
Available on Sephora ($240) | Available on Nordstrom and Estee Lauder


Aromatherapy Associates Ultimate Bath & Shower Oil Collection
I stayed with a friend in Boston last summer and raided her essential oils cabinet before jumping in the shower. She had the most incredible collection of Aromatherapy Associates bath and body oils, and I wanted to get a few for myself. I like adding these oils into my bath, or rubbing it into my body right before hopping into the shower to help me relax and unwind. 
Available on Amazon ($99)


Pink Moon Midnight Melody Body & Hair Oil
I was just gifted this body oil a few weeks ago and let me tell you, the hype is real. I've been slathering this on my arms every night before bed, and it's the most calming scent ever. It smells strong of ylang-ylang, which I find some people love and others hate. I once had a little bottle of ylang-ylang essential oil that spilled in a box in my childhood bathroom, leaving my bathroom smelling of sweetness constantly. Ylang-ylang reminds me of home. 
Available on Pink Moon ($42)


Olive and June The Mani System
This nail care brand is so fun and innovative, and their polishes are great, too. I love all the tools that come with this set and think it's definitely worth the money if you love to do your nails at home. This has definitely earned its spot on my list of the best beauty products worth the splurge. 
Available at Olive and June ($90)

*This post contains affiliate links, so I may earn a small commission when you make a purchase through the links on my site at no additional cost to you. Thank you so much for supporting my small business by shopping through my affiliate links—I am so appreciative!