I'll be honest and admit that I don't style my hair very often. I'm lucky to have hair that I love, thanks to my semi-wavy strands that require a bit of product, scrunching, and air to look good. That being said, there are definitely days when a heat tool is required. Considering I've been working in the beauty industry for a while now, I've tried my fair share of heat tools on the market. And let me tell you, I've never seen a hair tools brand shake up the scene as successfully as Dyson has over the last six years.
With incredible technology comes an insane demand, and both the Dyson Airwrap Styler and the Dyson Supersonic Hair Dryer have taken over Christmas wish lists worldwide. These powerful, game-changing products are everywhere on social media, but notoriously, and often, nowhere in stock. Because of the hefty price tag, many folks are undecided about purchasing either or both of the tools to add to their haircare arsenal.
Below, I'm sharing a complete guide to help y'all decide which Dyson hair styling tool is the best option for you and if it's worth the investment. That being said, I think it's important to make a disclaimer that I was gifted both of these tools by Dyson for my work as a beauty journalist. However, I am in no way being paid or sponsored by Dyson to write about their products, and my review comes from my extensive background testing many styling tools over the years and working in the beauty industry as an unbiased journalist.
Now, let's get to it!

Dyson Airwrap vs Supersonic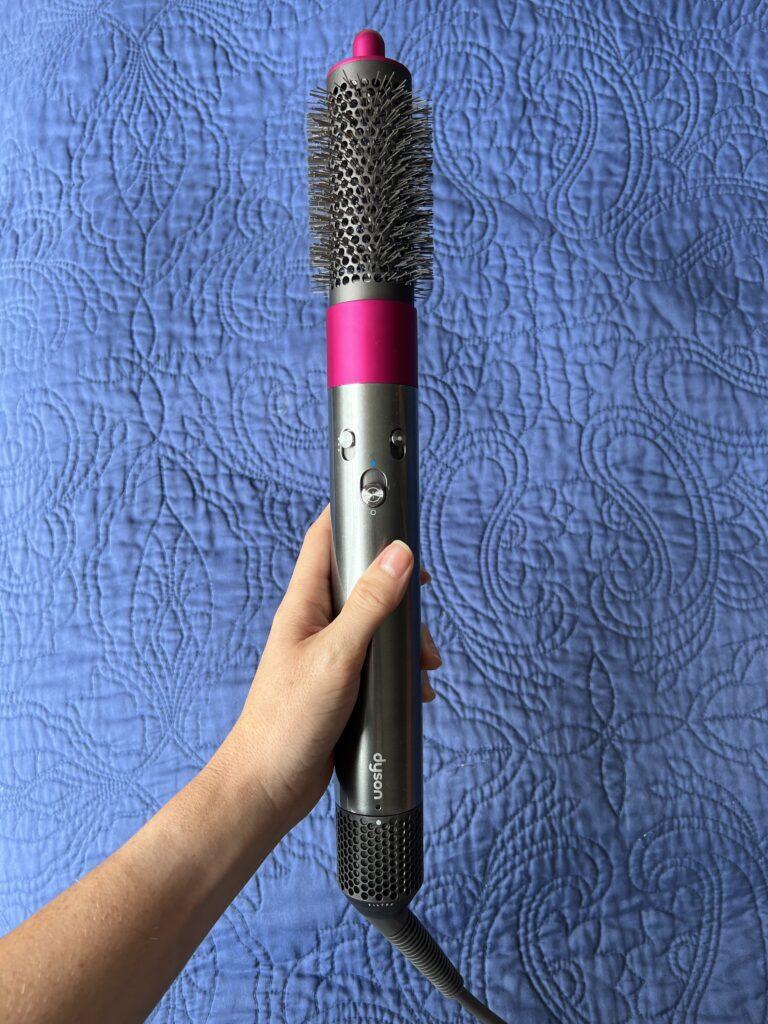 What Is The Dyson Airwrap & How Does It Work
Note: This is a review of the original Dyson Airwrap Styler, not the new Dyson Airwrap Multi-Styler Complete. The two are basically the same, minus the difference in the attachments.
The Dyson Airwrap is an incredibly innovative hair tool that essentially does the job of four tools in one. It's unlike any other hair tool on the market, thanks to its many attachments and advanced technology. And it can dry and style hair at the same time. Whether you're looking for gorgeous curls, a bouncy blowout, a straight style, or to quickly blow dry your locks, this tool can do it all.
The Dyson Airwrap is powered by a specialized digital motor. Which is strong enough to produce the air pressure that creates the Coanda effect. What's the Coanda effect, you ask? It's an aerodynamic phenomenon that occurs when air is propelled at the right speed and pressure and naturally follows an adjacent surface. This then pulls in the surrounding air and creates a spinning vortex of air around the cylindrical-shaped barrels of the Airwrap. Essentially, it's how you get that poppin' curl without too much heat.
This tool also has what's called "intelligent heat control."


Basically, it measures the airflow temperature over 40 times per second. And will keep the temp under 302℉ to prevent your hair from frying. The Airwrap offers three airflow speed settings, as well as three different heat settings. It also has what's called a "cold shot," which is a button you can press that offers cool air immediately. This helps to set the curl or blowout.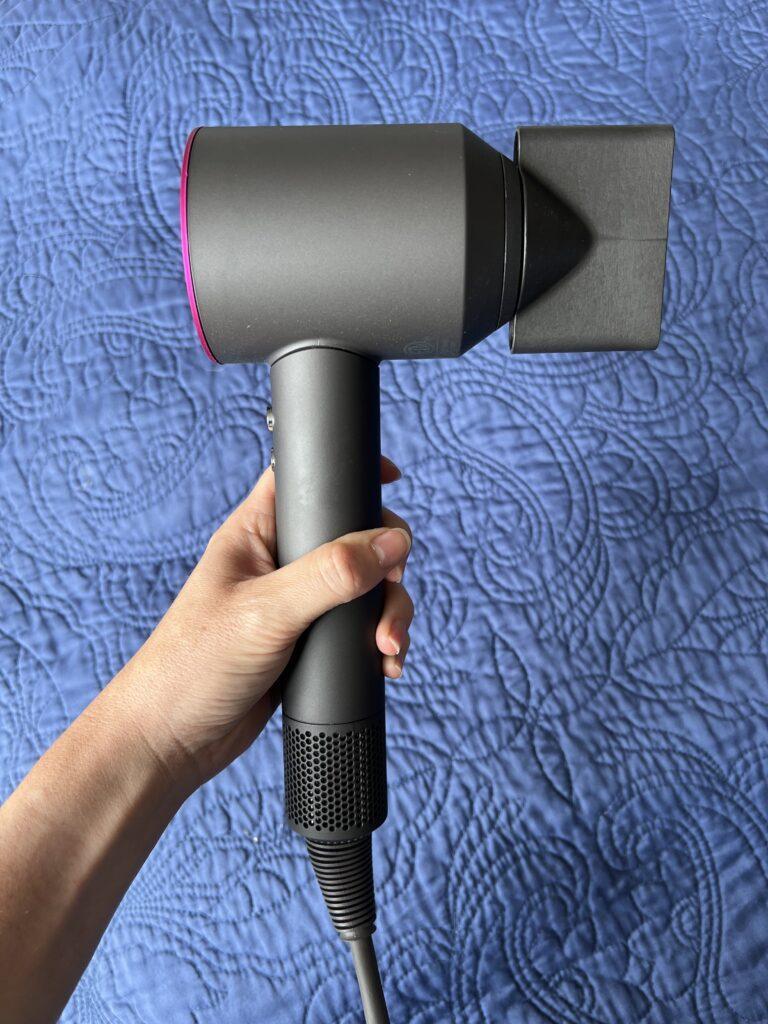 What Is The Dyson Supersonic & How Does It Work
The Supersonic, first released back in 2016, was the first beauty product that Dyson ever created. Upon its arrival, beauty editors and influencers were shook by how sleek the design was, how little damage it caused to hair, and how dang fast the air flowed. Today, it's still one of the best-selling blow dryers on the market. And can also be found in professional hair salons nationwide.
The Dyson Supersonic is a hair dryer that was designed to protect hair from extreme heat damage. Similar to the Airwrap, the Supersonic also has intelligent heat control. Which is a feature that tells the motor to ramp up or decrease the amount of heat the blow dryer is giving off, so as not to overdry your locks.
Unlike other blow dryers that have the motor inside the head of the dryer, the Supersonic's motor can be found in the handle of the device. This makes it feel lighter and avoids that dreaded sore arm you often get after holding a blow dryer for too long.
The Supersonic was aptly named because its airspeed is unparalleled.


The digital motor spins about six times faster than other hair dryer motors at one inaudible frequency. Supersonic airspeed means supersonic drying time. This blow dryer comes with five magnetic attachments, including a diffuser attachment, and can be used on all hair types.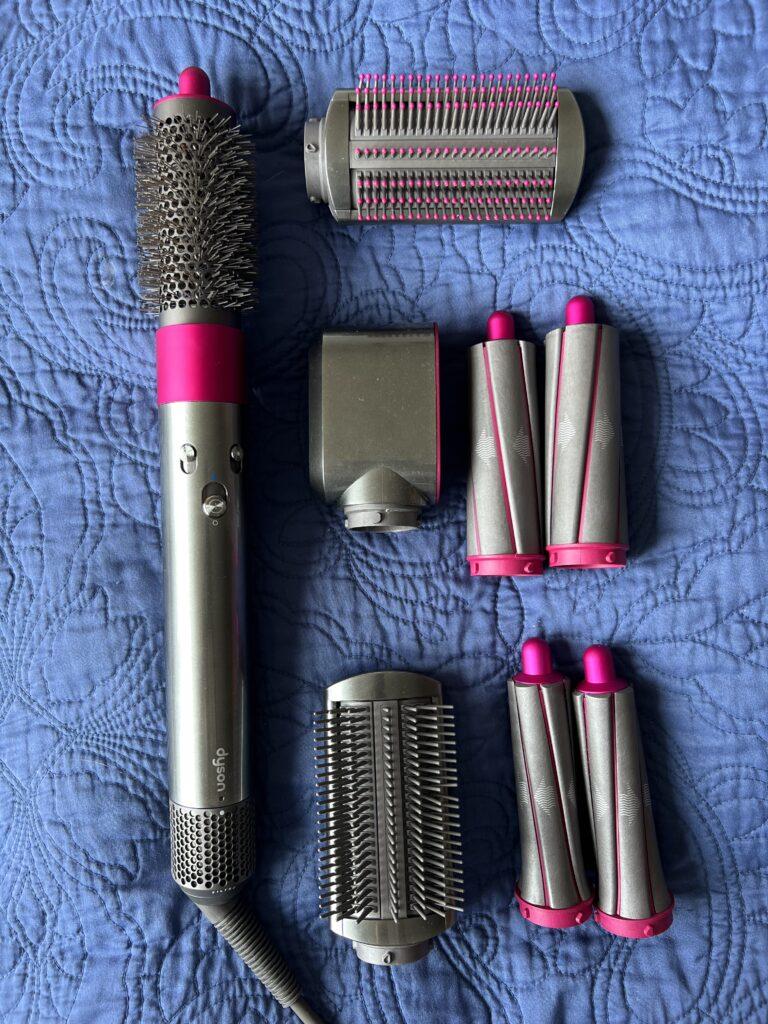 Differences Between the Dyson Airwrap and The Dyson Supersonic
Wet vs. Dry Hair:
Simply put, the Supersonic can be used on wet hair, and was specifically designed to dry wet hair fast. The Airwrap, on the other hand, should be used on damp to almost-dry hair. As it wasn't meant to be used on sopping wet hair. That being said, the Airwrap comes with a blow dryer attachment. So that you can blowdry your locks before using the other styling attachments.
Attachments:
The Supersonic comes with five attachments (the diffuser, wide-tooth comb, gentle air attachment, smoothing nozzle, and flyaway attachment), while the Airwrap comes with eight attachments (the pre styling dryer attachment, four curling attachments, one firm smoothing brush, one soft smoothing brush, and one round brush)
Multiple Uses:
The Supersonic has one use, which is to dry hair effectively. The Airwrap was designed for multiple uses with various attachments—it can dry, curl, straighten, or create a bouncy blowout, all in one device.
Airflow rate:
Because the Supersonic has a higher wattage, it is able to offer stronger airflow, compared to the Airwrap. Additionally, it can get hotter than the Airwrap for faster drying.
Wattage:
The Supersonic has a higher wattage at 1,600w, compared to the Airwrap, which has 1,200w.
Storage:
The Airwrap comes with a storage case for all the attachments, while the Supersonic does not.
Price point:
The Supersonic costs $430, while the Airwrap costs $600.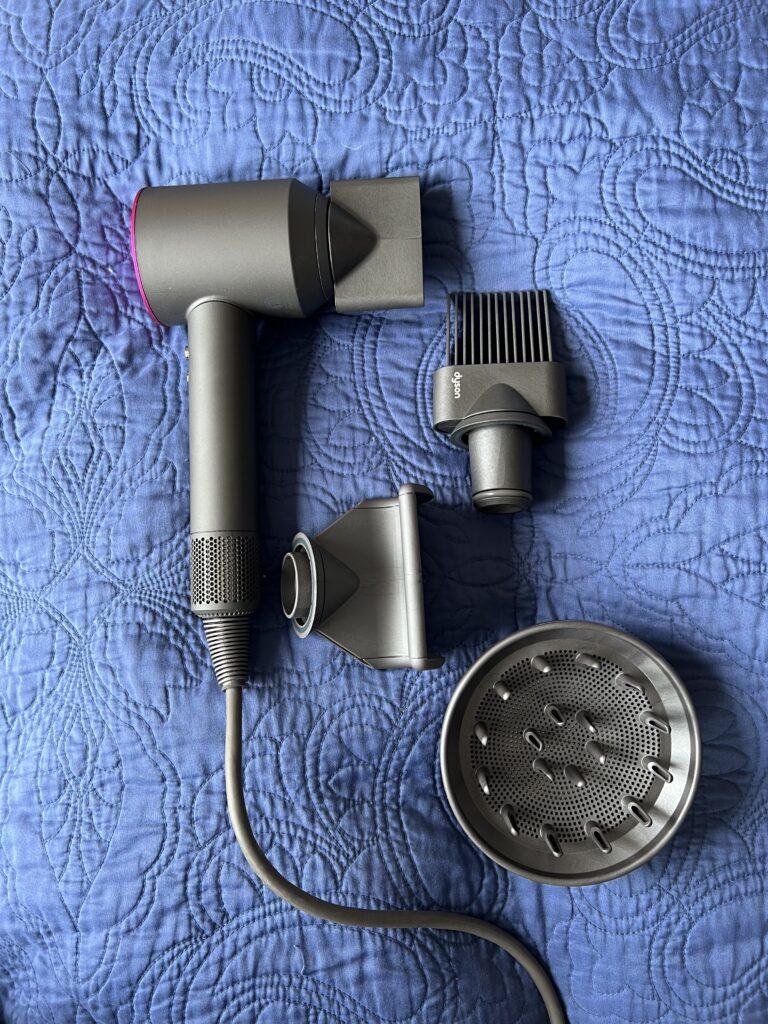 Dyson Hair Dryer vs. Dyson Airwrap Performance
Heat
Because both the Airwrap and Supersonic feature the intelligent heat control, I don't find that they get too hot and fry my hair. The Supersonic has three heat settings and one cool setting. While the Airwrap has two heat settings and one cool setting.


Frizz
Both these devices do a great job at taming frizz and flyaways and act as a styling concentrator. Apparently, there were a lot of complaints about how the Supersonic and Airwrap created a lot of flyaways. Probably because the air speed was so strong. Recently they both came out with a new flyaway attachment that helps to diminish unruly hairs and hold them in place while styling.


Safety
I've never had any issues in terms of getting burned or injured while using either of these devices. Sometimes, if I use the Airwrap curler attachments too close to my scalp, it can get a bit too hot. Additionally, you need to be careful when switching out the Airwrap barrels, as they can get a bit hot—just make sure to hold them from the tip.


Time
Just as the name suggests, I'm able to dry my hair hella fast with the Supersonic blow dryer. It takes a bit more time for me to dry my hair with the blow dryer attachment on the Airwrap. And if I'm curling or blowing out my hair with the Airwrap, it will take me about 30-40 minutes to complete my whole head.


Easy to Use
The Supersonic is very easy to use. And the magnetic attachments come in clutch when you need to swap things out quickly. The Airwrap, on the other hand, takes a bit of time to learn the ropes. Interchanging the curling barrels can be a total pain. But the brand just released new barrels as part of their latest Airwrap launch. One curling barrel can now create clockwise and counterclockwise curls—absolute geniuses!


Storage
The Supersonic device doesn't come with any sort of storage system. And I've admittedly just thrown my Supersonic in a drawer with zero protection. This isn't the case with the Airwrap. This expensive device comes with a fancy storage case to conveniently store all of the attachments it comes with. While I love the idea behind this, I kinda hate how big and bulky the storage case is. I live in a small apartment in NYC and don't have enough space for this large case. I wish Dyson would come out with something that is a bit sleeker.


Easy to Hold
Both of these devices are easy to hold, but the Airwrap weighs a bit less than the Supersonic. I love that the round volumizing brush attachment on the Airwrap is a lot less round and bulky than other hair dryer brushes on the market. However, combining the curling barrels with the Airwrap motor makes for a pretty cumbersome tool, compared to sleeker curling irons on the market.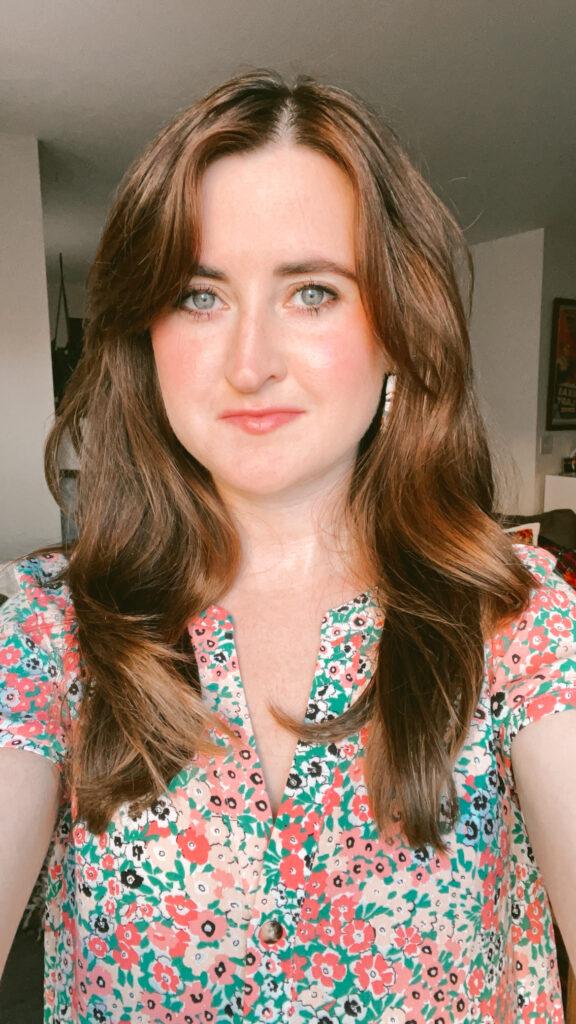 My Honest Review and Recommendation
After I was gifted these two products, I've found myself using one of them a lot more than I thought I would.
All-in-all, the Supersonic is a great blow dryer with incredibly high performance and a sleek, sexy design. I would say it's the creme de la creme of blow dryers, but absolutely comes at a price. Had I not been gifted this blow dryer, I wouldn't have spent $430 on this device. That's because I don't blow dry my hair often enough to justify the price tag.
That being said, I think this is definitely worth it for someone who blow dries their hair more than 3-4 times per week. Not only will the Supersonic last you a long time, but it will protect your hair from too much damage and will also dry your hair very fast. It's beautifully designed, looks great on a bathroom counter. And is worth the high price tag for those who blow dry their locks often.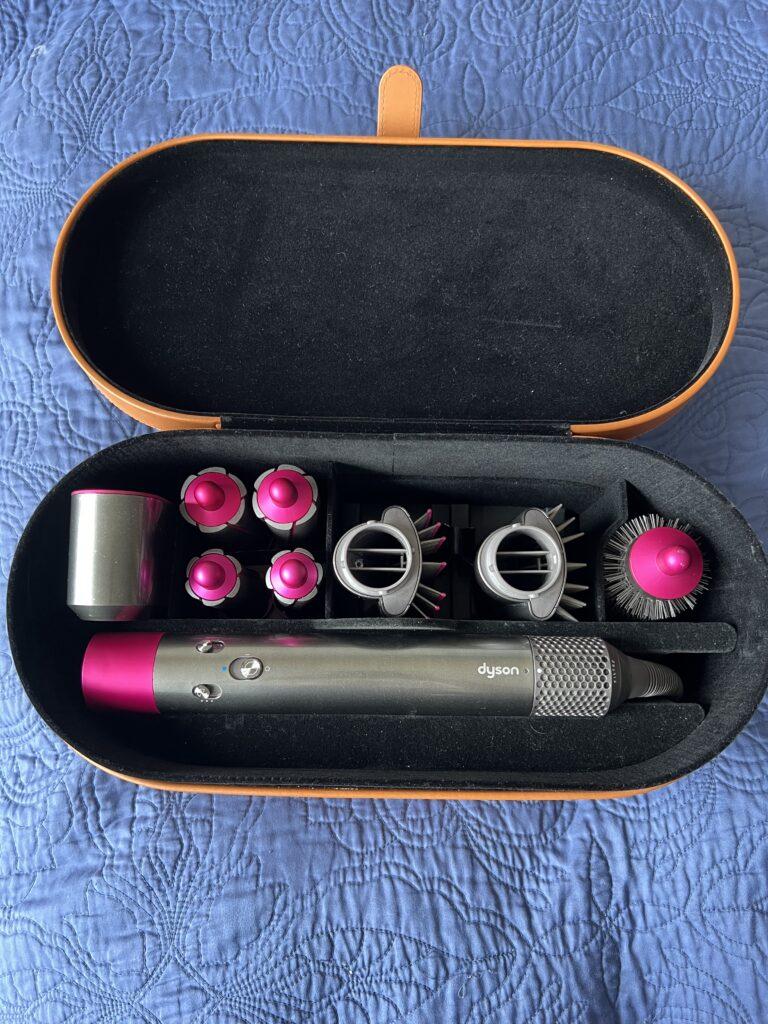 I didn't expect to love the Airwrap as much as I do. But, every time I use it, my friends ask me if I got my hair done somewhere. And yes, although the price tag is very high ($600), you're getting four tools in one—if you divide the price up, that would be $150 per tool, which is the average cost for a high-end hair tool.
The Airwrap comes with multiple attachments, but I find myself using the round brush attachment the most. I'm obsessed with how this attachment gives me the perfect bouncy blowout without a ton of damage. It takes me about 30 minutes to blow out my hair with this attachment. And I can make it last for about four days before I have to wash my hair again.
I use the other attachments less often. Honestly, I don't love the style of curly hair that the curling attachment gives me (I prefer to use my curling wand). However, the brand just came out with new curler attachments that are thinner and longer than the original. I'm hoping the new attachments will offer the tighter, more long-lasting curls that I'm after. I find that, after I've curled my hair using the curling attachments, it looks more like a blowout than curls.
I also love using the smoothing brushes when I want my hair to look less frizzy and don't have the time or bandwidth to curl or blow out my hair.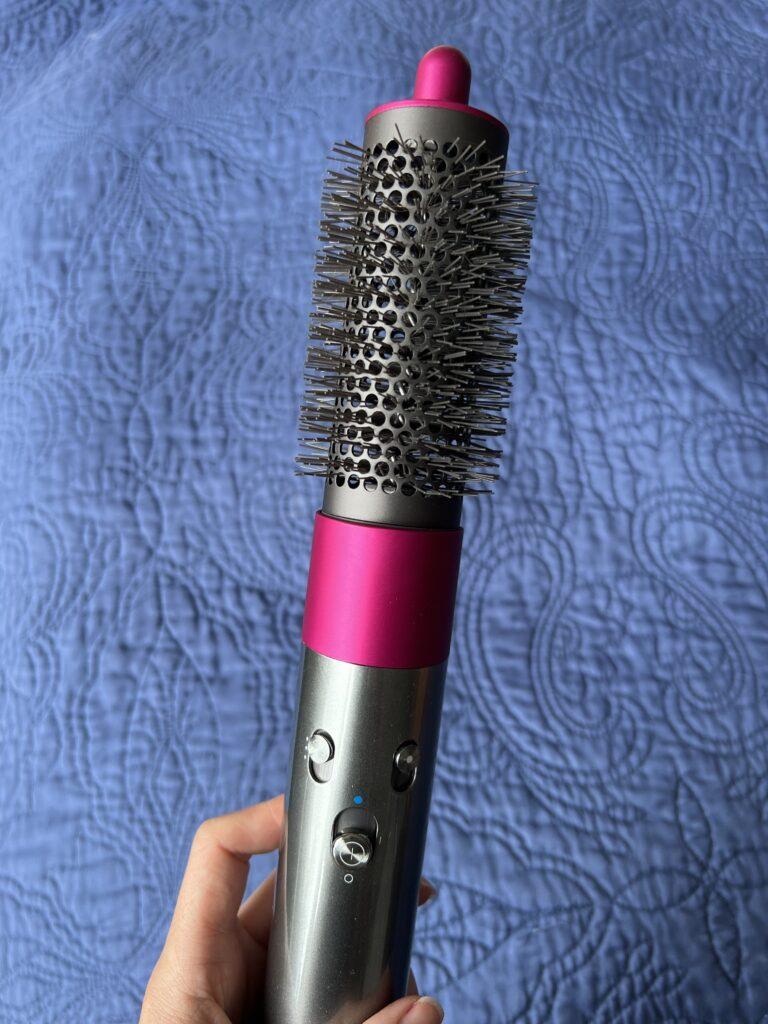 In terms of whether the Dyson Airwrap is worth the money, I think it is with the new, latest technology and attachments.
I'm not sure I would purchase the one I have (the older version) for full price (I'd probably try to find it on sale). And I wish I used more of the attachments than I do. I really love the round brush attachment on the Dyson. And while I know there are other hot hair brushes out there, there aren't many that are as slim and fast drying as the Dyson.
Both of these devices are expensive, but I think they are worth the price if you actually use them!
You can also purchase the Dyson Airwrap at Best Buy, Blue Mercury, Ulta, and Nordstrom. The Dyson Supersonic is also available at Best Buy, Nordstrom, Ulta, and Neiman Marcus.

*This post contains affiliate links, so I may earn a small commission when you make a purchase through the links on my site at no additional cost to you. Thank you so much for supporting my small business by shopping through my affiliate links—I am so appreciative!


Have your eye on the new Shark Flexstyle? Check out my latest blog post FlexStyle vs. Dyson Airwrap HERE!