By TDD Contributing Writer


American colors have always been red, white, and blue. Similarly, when discussing wine, you have three color choices: red, white, and pink. (Okay, there are some orange wines, but you get my point.)
When I think of red wine, I see a lax night at home or maybe a lowkey dinner at a dimly lit restaurant. White wine conjures the "lady who lunches" vibe, or maybe a chic coastal grandmother. Pink wine, aka rosé, gives ultimate cool-girl day-drinking on a rooftop.
Rosé, in case you're wondering, is a lip-smacking-good wine made out of red and white grapes. When you're looking at an alcoholic rosé, you can expect its alcohol by volume (ABV) to be between 11 and 13.5 percent. But there are no physical benefits to drinking boozy rosé. Plus, being sober is cool.
Drinking non-alcoholic rosé allows you to enjoy the amazing mouthfeel and flavors of rosé without the negative effects of alcohol—health, hangovers, and otherwise. For that reason, I'm sharing a round-up of non-alcoholic rosé wines you can add to your list of faves.
(Since I'm a sober soul who really loves to keep a stocked-up bar cart, I've also rounded up the best non-alcoholic Mexican drinks and the best non-alcoholic prosecco brands. After all, no one said a bar cart is strictly for alcoholic beverages, am I right?)
The 10 Best Non-Alcoholic Rosé



Thomson & Scott Noughty Alcohol-Free Sparkling Rosé 
I always feel my cool-girl fantasy when I sip on this alcohol-free wine. The bottle is extremely chic, with a geometric logo and gold foil on the top of the bottle. As far as taste, this is similar to alcoholic wines in that it has a medium-dry finish. Other plusses include that it's organic, has a low sugar volume, and is vegan.
Available at Amazon ($28)





French Bloom Le Rosé
One of the best things about this wine is that you can really feel a well-balanced complexity to it. As its name indicates, it's of French origin. According to the product page, the specific wines are chardonnay and pinot noir wines.
Available at French Bloom ($44)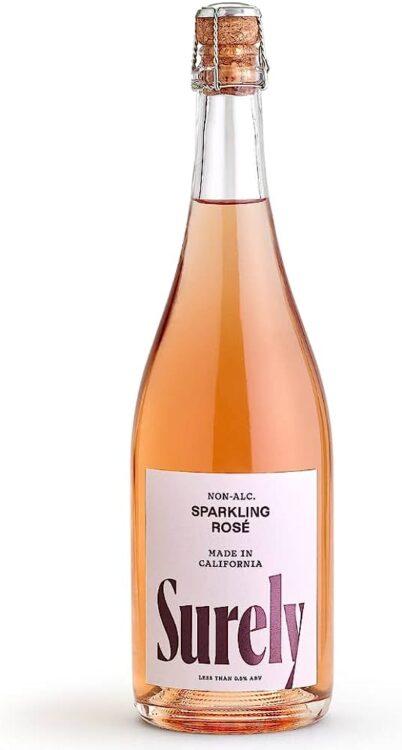 Surely Non-Alcoholic Sparkling Rosé
There's a lot to love about this Californian sparkling rosé. First, a glass contains fewer than 20 calories and only two grams of sugar. Secondly, it's got a great level of acidity that's balanced out with a touch of sweetness. Lastly, it's similar to a traditional wine in that it's got a medium body that's good to swirl around in your mouth.
Available at Amazon ($30)





Starla Wines Non-Alcoholic Sparkling Rosé
Starla Wines Non-Alcoholic Sparkling Rosé promises the taste of "sophisticated…botanicals in every glass." And, for the record, those botanicals include strawberry blossom, citrus, and lychee. Because of these ingredients, this rosé is definitely a full-bodied wine.
Available at Amazon ($34)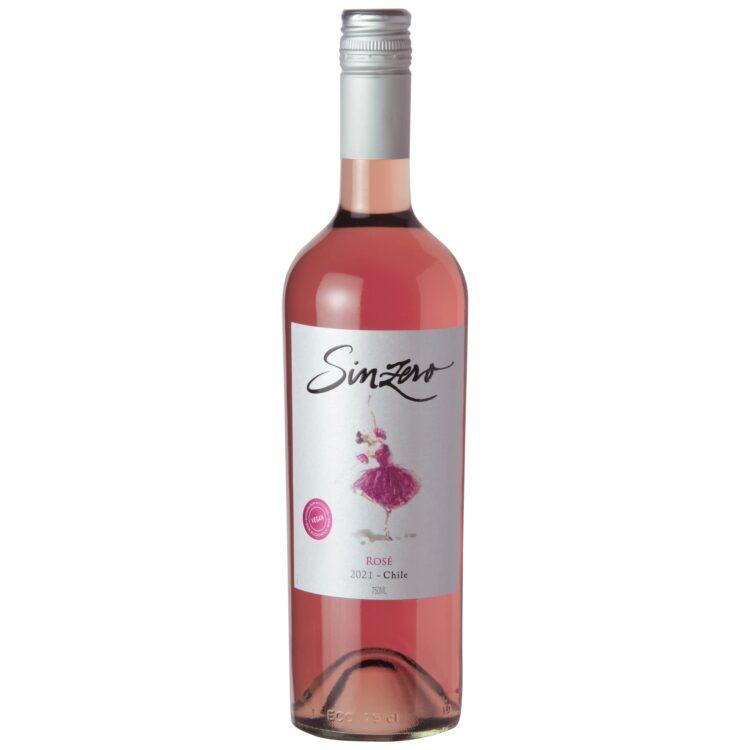 SinZero Rosé
I don't know about you, but I love Chilean wine—and that's what SinZero rosé is. It's also made with strawberries, blackberries, and cherry fruit flavors so that there's a fruitfulness to it that's not exactly available in all rosés.
Available on Amazon ($26)





Perle Rosé de Chavin
With the Perle Rosé de Chavin we have the first French wine on this list. As you might have gleaned, this wine is a little more bubblegum-pink and features fewer orange hues. That's because the drink is made with roses and other flowers—which also gives it a floral and earthy flavor.
Available on Amazon ($34)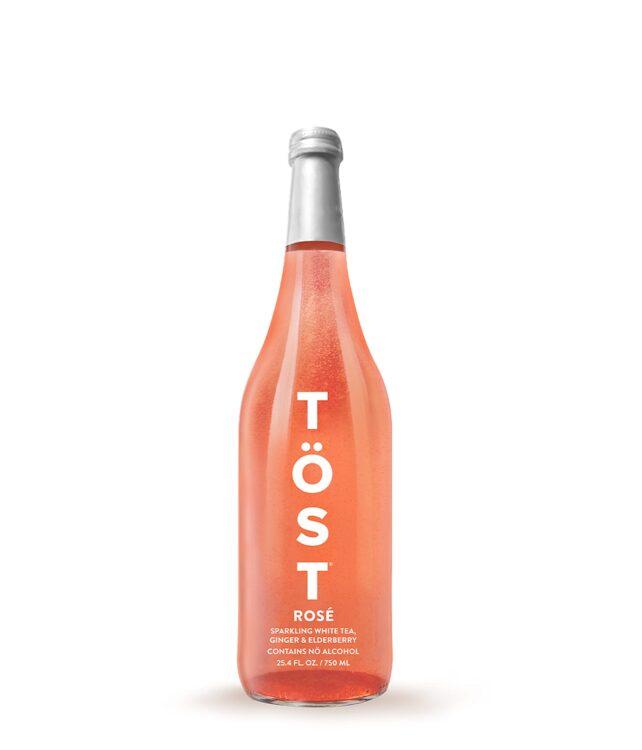 TÖST Rosé
The front of this wine bottle features a list of ingredients sure to make any wellness aficionado happy: "sparkling white tea, ginger, and elderberry." Since those things are tasty and good for you, it'd be a wise choice to purchase this rosé. A few other notes: This wine has a dry and delicate palate while producing a fruity nose.
Available on Amazon ($33)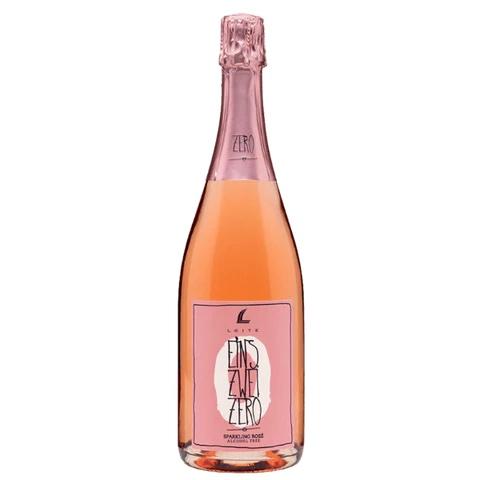 Josef Leitz Eins Zwei Zero Sparkling Rosé
Since rosé is a kind of sparkling wine, you'll always get a glass full of bubbles. The Josef Leitz Eins Zwei Zero Sparkling Rosé—which comes from Rheingau, Germany—is no different. This particular wine is refreshing and contains red fruit flavors like cherry and strawberry.
Available at Wine.com ($25)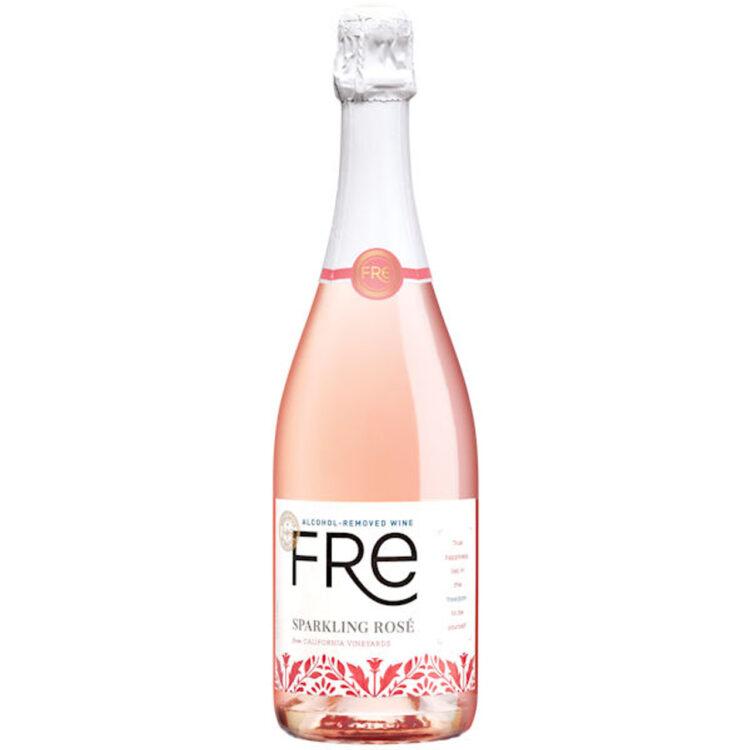 Fre Alcohol-Removed Sparkling Rosé
This is one of my favorite alcohol-removed sparkling rosés because it's ultra crisp and super refreshing. Made using grapes from California, the finish on this is dry but still refreshing. One reviewer on Bevmo, the alcohol retailer, said that this "tastes almost like the real thing except [for] a touch sweeter."
Available at Bevmo ($15)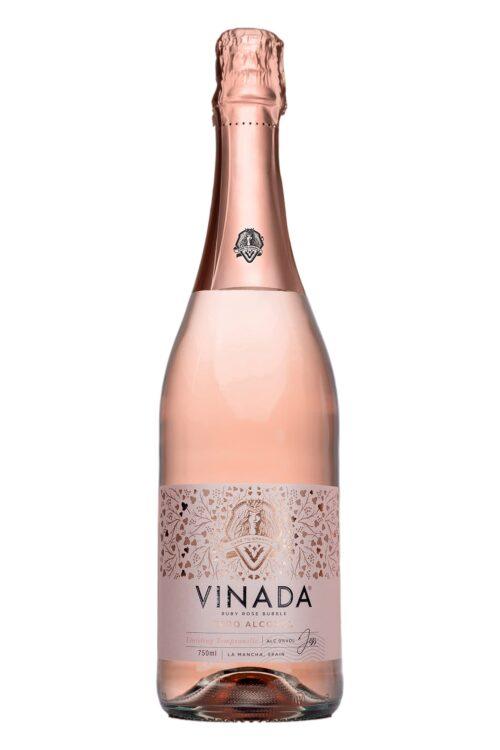 Vinada Sparkling Rosé
Hailing from across the pond—the La Mancha region in Spain, to be more specific—this wine is bubbly, refreshing, and ever so slightly acidic. This is a pink-on-pink dream since it's a rose gold color from the cork to the base of the bottle. As far as the palate, you can expect "a fruity, dry wine with nuances of red fruit."
Available on Amazon ($41)





Giesen De-Alcoholized Rosé
One thing I've noticed is that all non-alcoholic drinks are still about the same price as their boozy counterparts. For instance, the rest of the wines on this list are well above $20, which makes this Giesen De-Alcoholized Rosé an absolute steal at $19. But don't think you're compromising taste. This New Zealand rosé is reminiscent of white peach, apple, and fresh strawberries.

Available on Amazon ($19)