I rarely like to switch up my foundation—I'm a diehard Alima Pure Satin Matte Foundation stan. However, when I saw that one of the best-selling foundations on Amazon was a brand I'd never heard of, I knew I had to purchase and write an honest Magic Minerals Airbrush Foundation review for my blog.
Unfortunately, most foundations irritate the hell out of my sensitive, acne-prone skin, so I was a bit weary to try out the Jerome Alexander Airbrush Foundation. After noticing that there were almost 10,000 Magic Minerals reviews on Amazon, I decided to trust other reviewers and give this pick a trial run. Below, you'll find everything you need to know about the Jerome Alexander Magic Minerals Airbrush Foundation before deciding to purchase.


My Magic Minerals Airbrush Foundation Review
The Magic Minerals Airbrush foundation is just one of the many products housed under Jerome Alexander Cosmetics. Despite the fact that I've been a beauty editor for the last decade, I had never heard of this brand before finding it on Amazon. The brand offers mostly complexion products, along with mascara and lipstick.
Magic Minerals by Jerome Alexander is an airbrush foundation that uses minerals to cover imperfections. The product comes in a spray bottle, and is meant to be sprayed onto the included kabuki brush before applying to your skin.
This best-selling pick is a full-coverage foundation that is easily buildable with each application layer. I noticed that, even after hours of wear, the formula didn't get cakey and didn't streak.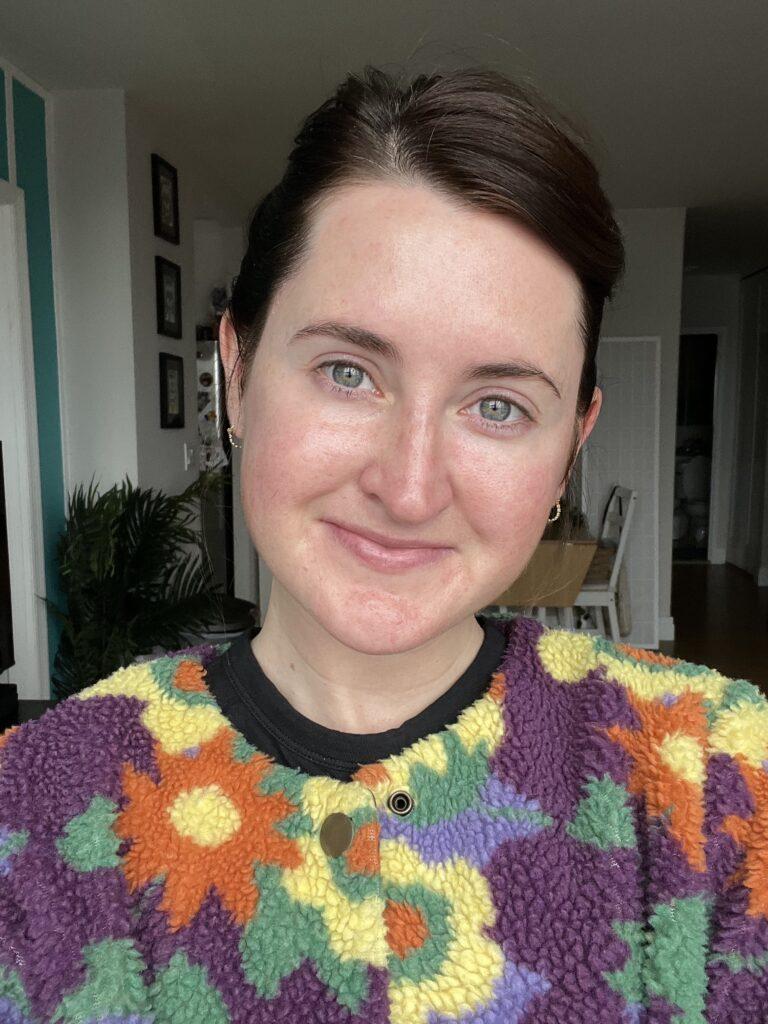 How to Use Magic Minerals Airbrush Foundation
So, this pick comes in multiple different sets. I purchased the 2-piece set, but they also sell a 3-piece set that comes with a primer, too. The 2-piece mineral airbrush makeup set comes with the product and the added kabuki brush.
According to the instructions, you're supposed to first shake the can well. Then, hold the can two inches away from the kabuki brush head and spray two sprays directly onto the brush. Finally, apply the foundation in circular motions onto your face. You will have to apply multiple sprays onto the brush in order to cover your entire face.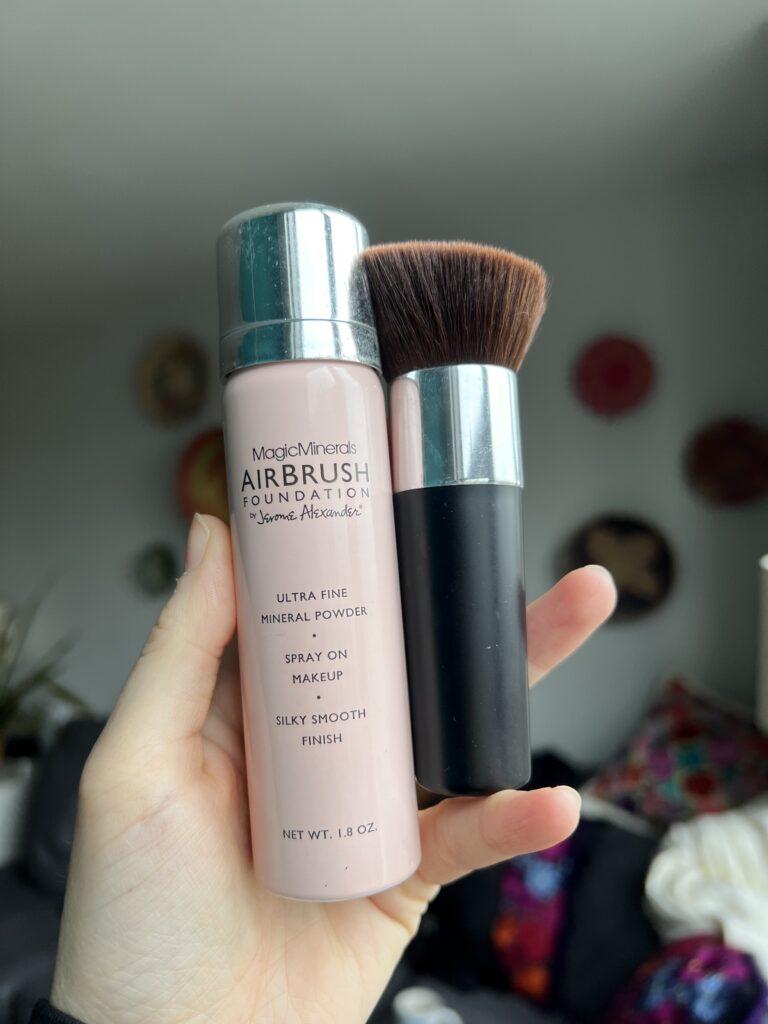 While I love the coverage of this product, the application process can get hella messy. In order to avoid getting the foundation on areas other than your brush, you will need to spray the product pretty close to the brush. I prefer to apply the Jerome Alexander foundation in my bathroom, as I sometimes accidentally get the formula on the counter. It's a good idea to spray the foundation onto your kabuki brush in the sink. That way, you can easily rinse the sink out with water when you're done and avoid a huge mess.


What is the Jerome Alexander Magic Minerals Shade Range?
The Jerome Alexander Magic Minerals shade range is pretty decent. The foundation comes in 12 shades, from "fair" to "dark espresso." I bought the shade "light," and unfortunately, I think it is a bit too dark for my skin tone. It might match my skin in the summertime, but considering it's the dead of winter and I am as pale as a ghost, I should have opted for the "bright light" or "fair" option. You can kind of tell that the shade is too dark for my skin in the photos I've included. There's a slight ring around my neck where I didn't blend the foundation all the way down.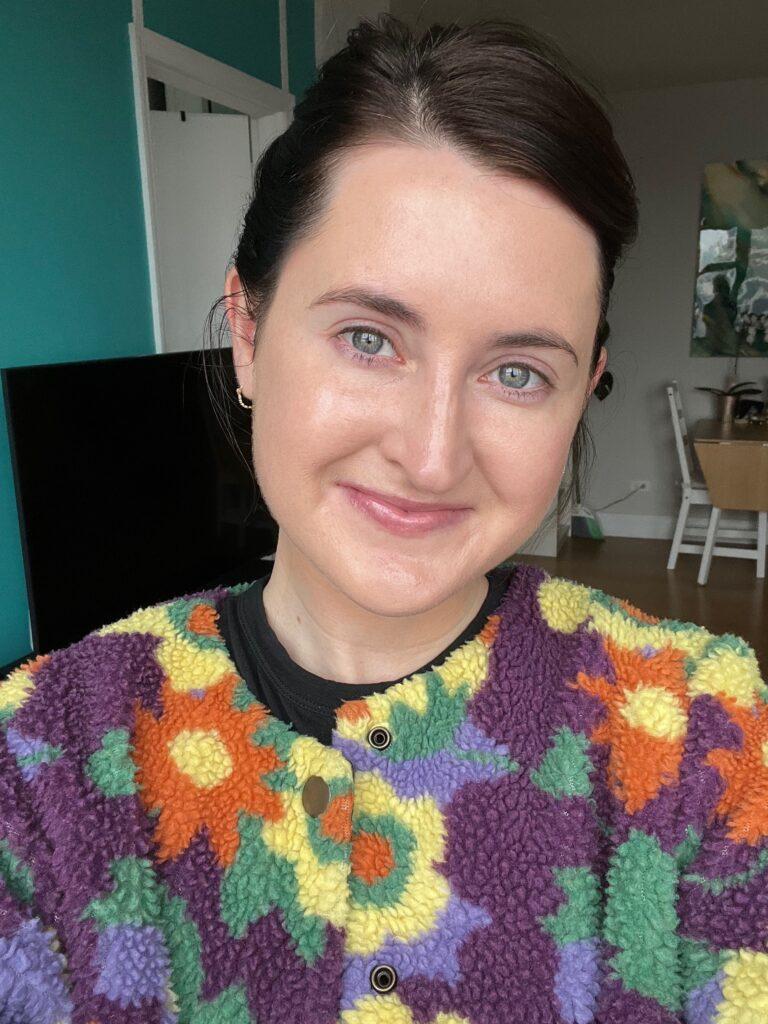 Magic Minerals Airbrush Foundation Ingredients
Okay, so this is the super honest part of my honest magic minerals airbrush foundation review. While I love the formula and the way this product sits on the skin, the ingredients in this foundation kinda freak me out.
According to EWG's Skin Deep database, the Jerome Alexander Magic Minerals Airbrush Foundation is marked as a 6 out of 10 (10 being potentially very harmful to your health) on their scale. Some of the potentially harmful ingredients on the list include fragrance, butane, octinoxate, propane, and a bunch of others.
It was a bit concerning to read the words "butane" and "propane" on the ingredients list. I believe that the brand has had to include some of these ingredients because the product comes in an air canister, but I am still a little iffy about it.
Because of this, I don't think I would apply this product to my face every day. I love the way this blends into the skin and has pretty great staying power, but I think I would only use it for special occasions.


Where to Buy Magic Minerals Airbrush Foundation
You can purchase the Magic Minerals Airbrush Foundation in multiple places online. Interestingly, it sells for a bunch of different prices at various outlets. It sells for $20-$30 on Amazon, $24 on the Jerome Alexander website, and $20 on Walmart.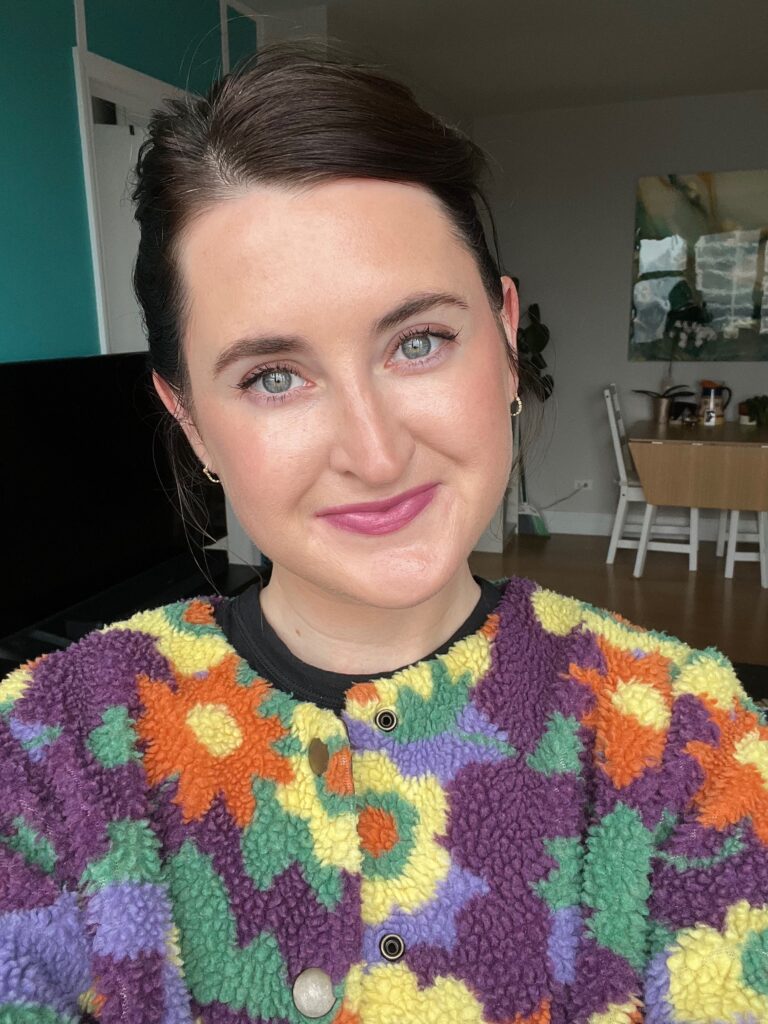 My Overall Thoughts on the MagicMinerals Airbrush Foundation
This product surprised me. Considering I'd never heard of the brand before, I didn't really have my hopes up. But each time I've used this foundation, it always looks (and most importantly, feels) lovely on my skin. The Magic Minerals Airbrush Foundation does not irritate my skin and does not cause me to break out. However, that might not be the case if I were to use this product every day. But because the ingredients sketch me out a little bit, I'm not interested in using this for daily use.
I think this foundation really does give you a nice, airbrushed look. It's important to note that it does leave your skin looking pretty shiny. I would use a translucent setting powder to minimize the shine in my T-zone area.
Although it comes with a kabuki brush, you can use whichever round, flat brush you have on hand. The brush it comes with is pretty low quality. Some of the brush hairs ended up on my face when I was blending the foundation into my skin. I wouldn't recommend using your fingers to apply this pick, nor would I apply this directly to your face. That's just asking for a giant mess.
I would say the coverage is light to medium. However, it can be buildable to a full coverage foundation if you add multiple layers. I think the best part of the Magic Minerals Airbrush Foundation formula is that it really does look like second skin. It's hard to tell if you even have foundation on when you're wearing it. I can foresee this being a nice foundation for those with acne or fine lines and wrinkles.
All in all, I would definitely recommend using the Magic Minerals Airbrush Foundation for special occasions or infrequent use.
I wouldn't recommend this for every day—unless a questionable ingredient list doesn't freak you out. I really love that this pick doesn't irritate my sensitive skin and gives me a subtle, healthy glow, too.


*This post contains affiliate links, so I may earn a small commission when you make a purchase through the links on my site at no additional cost to you. Thank you so much for supporting my small business by shopping through my affiliate links—I am so appreciative!