Having glowing skin can 100 percent boost my self-esteem, which is why I'm so serious about my skin care. On a good skin day, I'll be in the mirror blowing kisses at myself (in the name of self-love, of course). When we're designing a skincare routine, though, many of us tend to focus on just the skin on our face, but you can actually achieve an all-over glow. What's more: you can do it in the shower.
What you do in the shower—from the temperature of the water to the skincare products that you use—is actually a crucial part of your skincare routine, whether or not you know it. And I'm here to prove it, by sharing my very own shower routine for glowing skin from head to toe.


Shower Routine For Glowing Skin
I like to split my shower time into two categories: the goddess shower, aka where I religiously follow my routine for glowing skin, and the quick shower, which is precisely what it sounds like. Both are equally important, but we're here to talk about the former, so that we can achieve the dew all over our bodies. Some of these steps are two-for-ones because I like to be efficient.


Step one: Remove all of your makeup
I like to do this before I get into the shower so that I can confirm for myself that all my makeup has, in fact, come off. My go-to makeup remover is Garnier's Skin Active Micellar Cleansing Water, which comes in six different formulas. I get the water rose scent because it leaves my sensitive skin feeling clean yet hydrated. Using a cotton swab, cotton pad, or face towel, I am able to gently remove all traces of makeup from my face and prepare to jump in the shower.


Step two: Set the right temperature for your shower
Although it often feels amazing to shower in hot water, it's actually not great for your skin. Dermatologists have said that this strips natural oils from all skin types and can lead to breakouts or dry skin. For that reason, I personally shower in lukewarm water or warm water if it's chilly. It may sound unpleasant, but I also end my showers with a few seconds of cold water. There are myriad science-backed benefits of doing this, like improving circulation, reducing stress, and promoting healthy skin by closing off pores. Plus, if I do this in the morning, it helps wake me up.


Step three: Remove dead skin with a dry brush
This is something that I do while I wait for my shower to go from really cold to just right. Since I'm a fervent believer in saving water, I go through this step pretty quickly. Essentially, I take a dry brush to my forehead and rub it circularly against my skin. I continue this process all the way down to my feet and it's one of my favorite exfoliating practices.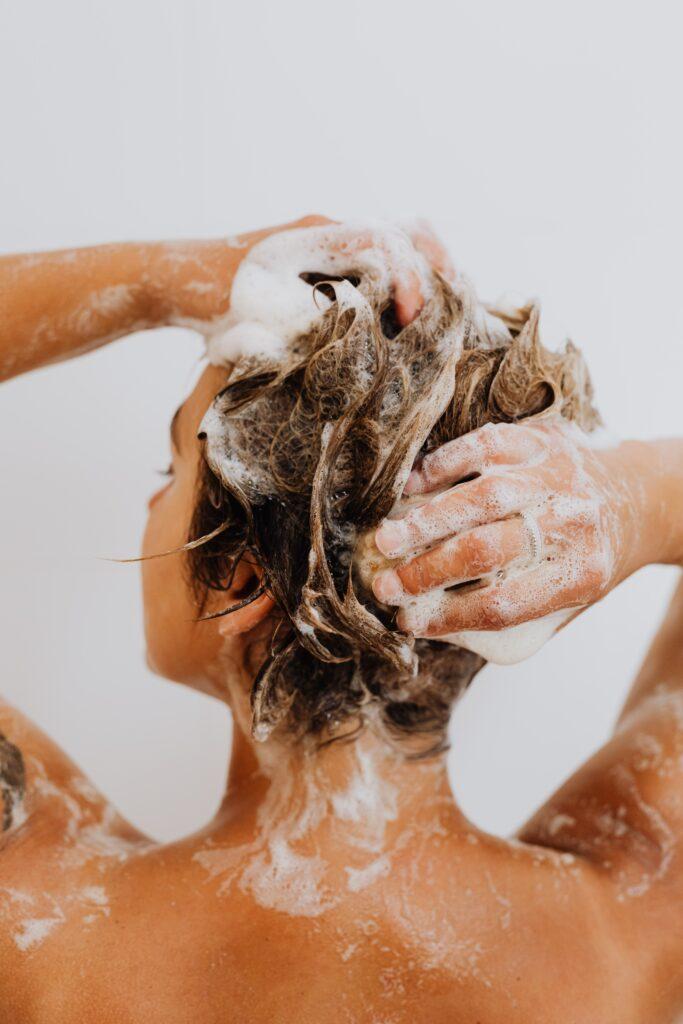 Step four: Wash your hair
I don't wash my hair every single day because that also strips my scalp and strands from necessary oils. However, when I'm taking a self-care shower, that's definitely on my list. I feel extra clean and like a brand-new person when I come out of the shower. I usually wet my hair and shampoo it as soon as I get into the shower, rinse that off, then complete other steps of my routine while I leave the conditioner in.


Step five: Scrub yourself from the neck down using a loofah and body wash
I know some people are big fans of bar soap, maybe because of nostalgia or maybe because of cheaper price points. While I'm not knocking any budgetary decisions, I still want to emphasize how integral a pH-balanced body wash is for my own regimen. While I haven't necessarily struggled with yeast infections or UTIs, there's something very calming about knowing my body wash will help prevent that. As far as a loofah, I tend to opt for the flat, round cotton-scrubber vibe—you know, the one with the strap for your hand.


Step six: Exfoliate using a gentle scrub, then shave your legs
Since I already went in with the dry brush, I like to use a gentle scrub so as to not irritate my skin. I prefer things with oils and granular substances in them (like sugar or salt) because they're more natural but also work to remove excess dead skin. I like to do this right before I shave my legs because the oils serve kind of as a shaving cream and your skin feels super buttery right after you're done (and even after the shower).


Step seven: Rinse your conditioner out, then wash your face
This is pretty straightforward, but I'd be remiss not to mention it. My hair has been luxuriating in the conditioner up to this point, which is sure to provide it some shine and hydration, but it's time to wash it off and I prefer to do it before I wash my face. Something about washing my face and then getting conditioner all over it seems wrong. Once I wash my face for a minute straight, I rinse my cleanser and dry off.


Step eight: Grab your favorite face mask, then finish your skincare routine
I don't know about you, but there's something about putting on a face mask that makes me feel instantly serene. Maybe it's knowing that they can help even out my skin tone or that some of them come jam-packed with hyaluronic acid, which is a super hydrating ingredient. I usually leave the face mask on for about 15 minutes, remove it, then gently tap my face to "push" the liquid in. After that, I finish my routine as usual: I spray my toner, lather on my serum, put my moisturizer on, and stick true to my slugging practice (which involves covering my face in Vaseline, basically).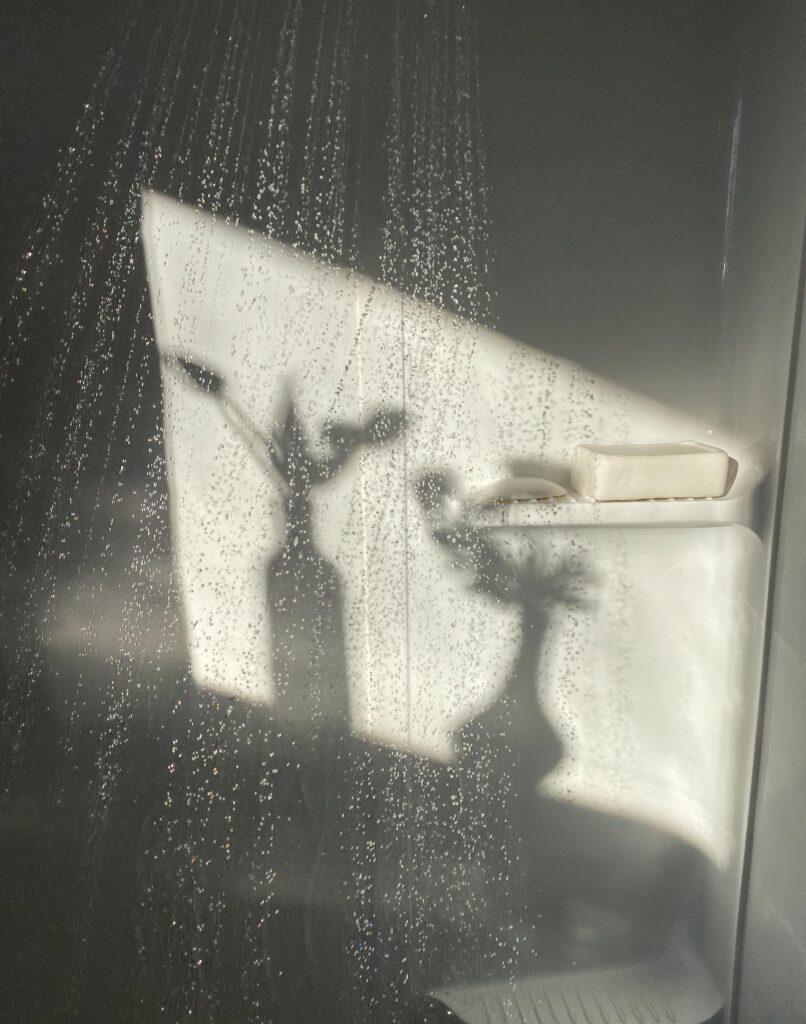 The 10 Best Products for Glowing Skin
Though I'm recommending these products, I always like to caveat that you have to find what works for you. That said, it's helpful to have a place to start. Read on to get everything from body washes to exfoliating scrubs and dry brushes.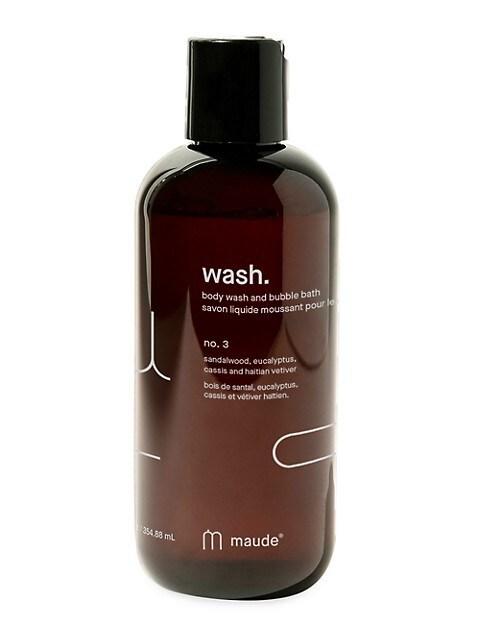 1. Maude Wash No. 3
This is my go-to body wash because it's pH-balanced and its formula features a lot of vitamins that the skin craves. It's also extremely moisturizing and it even doubles as a bubble bath (in case you want to take the shower routine to the next level). This product is scented, with notes of sandalwood and eucalyptus that make you want to take deep breaths just to smell it. A vegan body wash free of parabens? Yeah—I'll always have this in stock.
Available at Sephora ($22) | Also available at Maude and Saks Fifth Avenue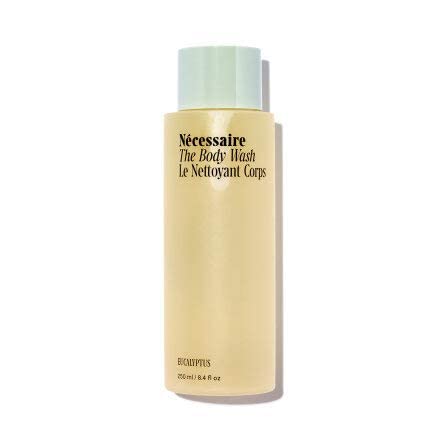 2. Nécessaire The Body Wash
What initially drew me to Nécessaire's body wash is that it has almost a glittery shimmer to it. I was convinced to buy it, though, because it contains Vitamins A, C, and E, which are great nutrients for your skin. It also has niacinamide, which is known to strengthen the skin's protective barrier and help reduce the appearance of pores. Yes, it's a little on the pricey side—considering that you only get 8.4 ounces for $25—but the vegan formula and the fact that it's really hydrating make it a worthy splurge.
Available at Sephora ($25) | Also available at Nordstrom and Violet Grey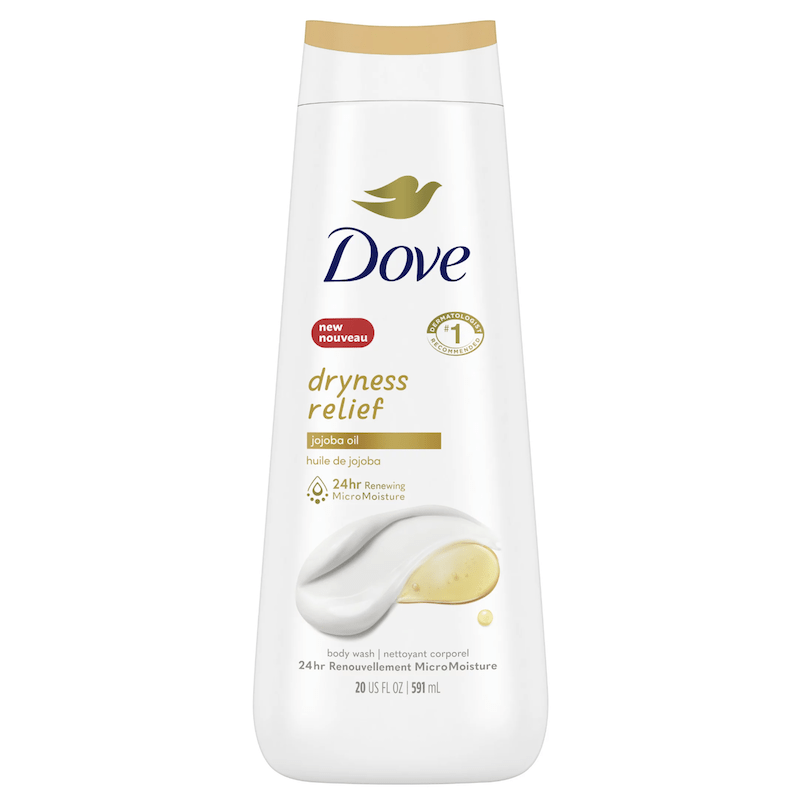 3. Dove Dryness Relief With Jojoba Oil Body Wash
This product from a tried-and-true brand is a full 20 ounces. It's great for folks who are on a budget. That said, just because it's affordable doesn't mean it's any less nourishing than body washes with higher price tags. In fact, Dove's body wash (as its name states) features ever-moisturizing jojoba oil. I like to put a quarter-sized amount in the middle of my loofah and then scrub my body to clean and moisturize it all at once.
Available at Amazon ($28 for 4-pack) | Also available at Walmart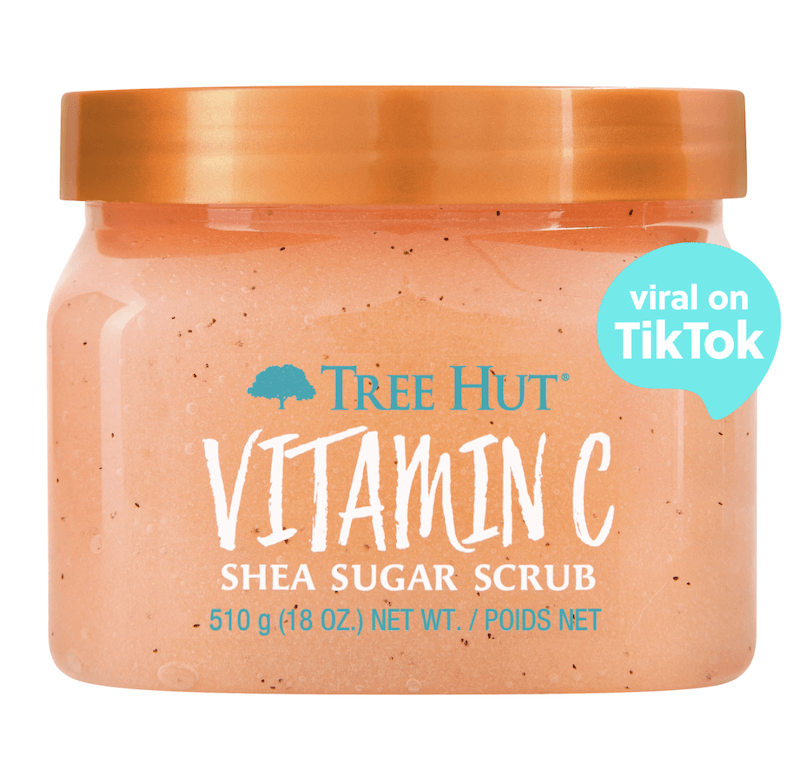 4. Tree Hut Vitamin C Shea Sugar
I have to admit that this is kind of a nostalgic product for me. I used it all throughout high school and the formulas have actually held up, if not gotten better, with time. While there are a lot of different scents and formulations to choose from with Tree Hut scrubs, I like the Vitamin C scrub because it helps even my skin tone. It also has shea butter to help moisturize and alpha-hydroxy acids to provide a chemical exfoliation.
Available at Target ($8) | Also available at Amazon and Walmart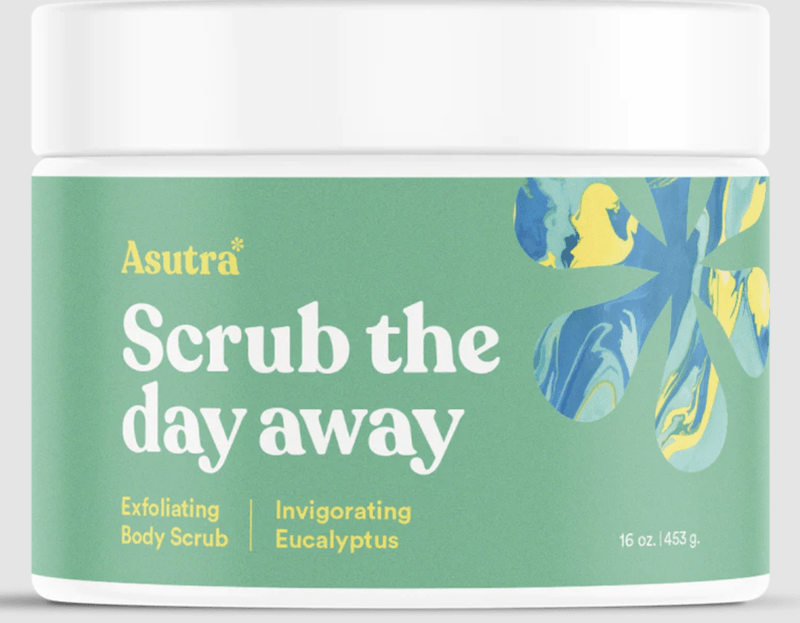 5. Asutra Invigorating Eucalyptus Body Scrub
At the end of a long day, I turn to Asutra's body scrub. The line, which features a dozen different scents, is aptly named "Scrub the Day Away," and contains good-for-skin ingredients like Dead Sea salt, organic coconut oil, and aloe vera. It's important to note that this is a body scrub, meaning it's not designed for use on the face. I usually take a quarter-sized amount and work that down my neck and chest. Then I take another scoop, this time scrubbing my back and tummy. I work my way all the way down to my feet, but be careful not to slip!
Available at Amazon ($22) | Also available at Asutra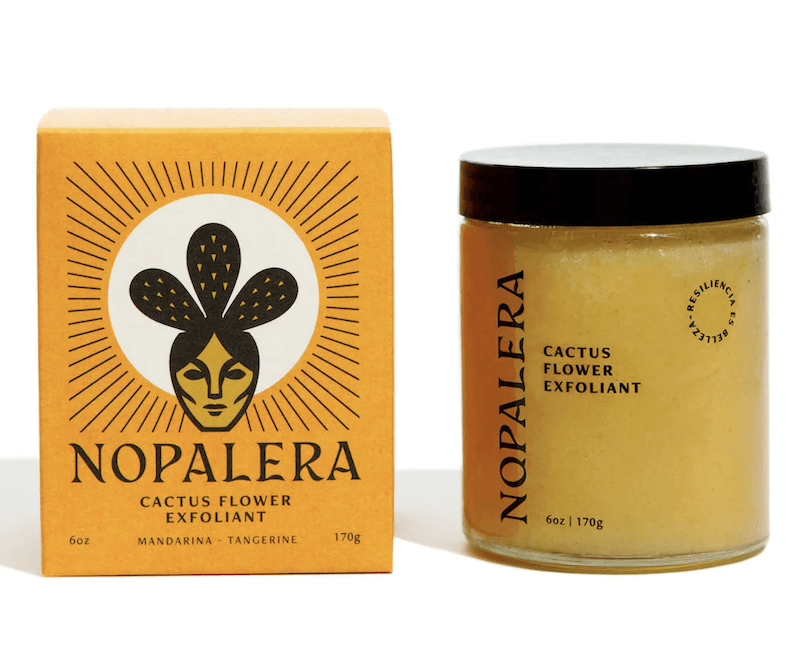 6. Nopalera Cactus Flower Exfoliant
Nopalera is a Mexican American-, woman-owned brand that's been taking the beauty game by storm. One of their standout products is this cactus flower exfoliant, which is the definition of a multi-use product. When you rub the exfoliant on your skin, you're also cleansing and moisturizing it. That's the award-winning recipe for glowing skin. The notable ingredient here is the prickly pear cactus, which cleanses and draws moisture to the skin. Plus, it smells phenomenal since it's naturally scented with tangerine oil. The container is glass, so you can reuse it more easily.
Available at Nordstrom ($32) | Also available at Amazon and Credo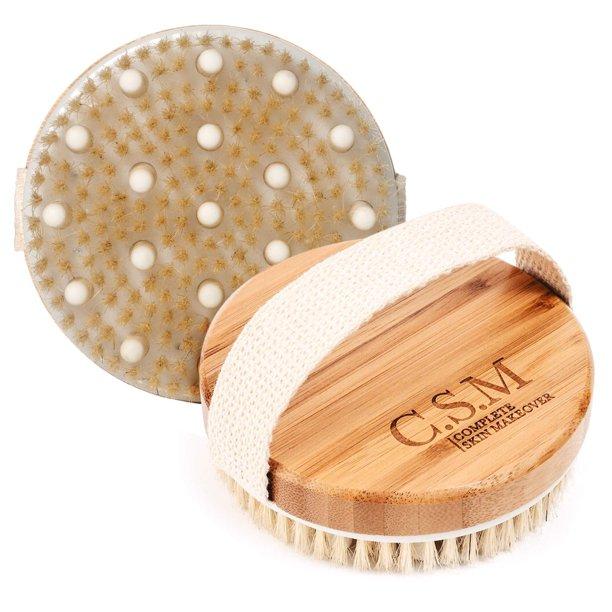 7. CSM Dry Body Brush
This body brush gets the job done. As soon as I brush an area of my skin, it's instantly softer to the touch. I suspect that's because the brush is made with real boar hair. It's tough and gentle at the same time. It's also less than five inches in diameter and has a strap for your hand, making it easy to hold and use.
Available at Amazon ($6)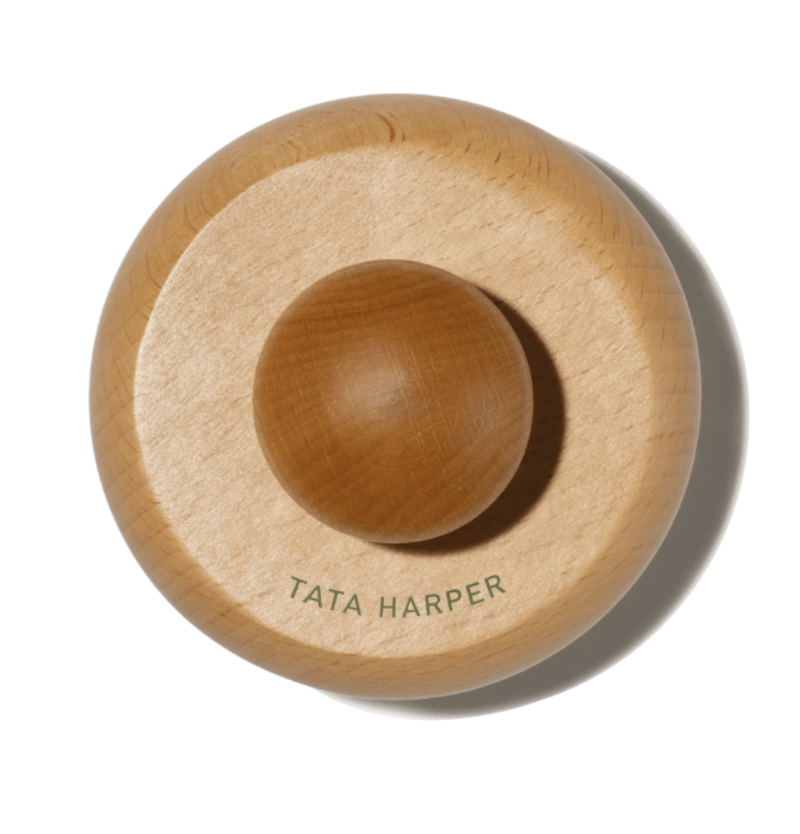 8. Tata Harper Dry Body Brush
If you're vegan and the previous body brush isn't for you, rest assured this one is. Not only is it super gorgeous (and most Tata Harper products usually are), but it's also really easy to use. The brand recommends starting at your week and working "your way up and towards your heart." The brand recommends using short and rhythmic strokes to remove dead skin from the surface.
Available at Tata Harper ($20)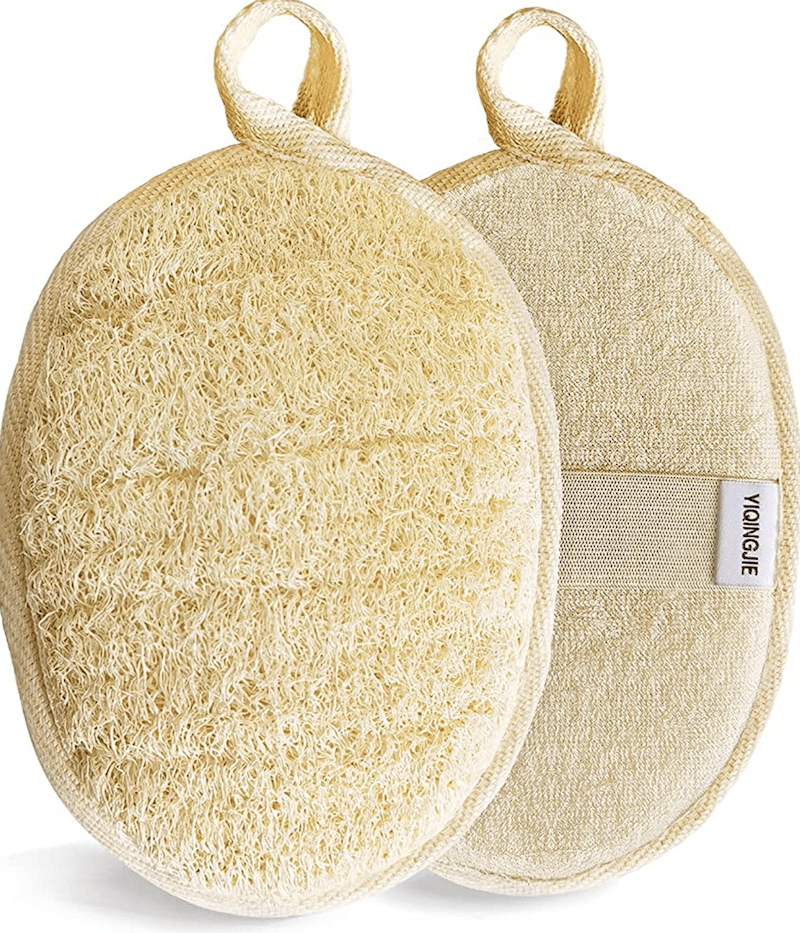 9. Yiqingjie Exfoliating Body Scrubber
Starting with the fact that this body scrubber is biodegradable, there's a lot to love about this loofah. It's made of a soft sponge and a towel-like cotton material that gets you clean and removes dead skin in the process. To use it, make sure you immerse it in water, as it can be a little tough when it's completely dry. Once it's softened, lay on your body wash and scrub your body, starting at your neck and working your way down.
Available at Amazon ($18 for 3-pack)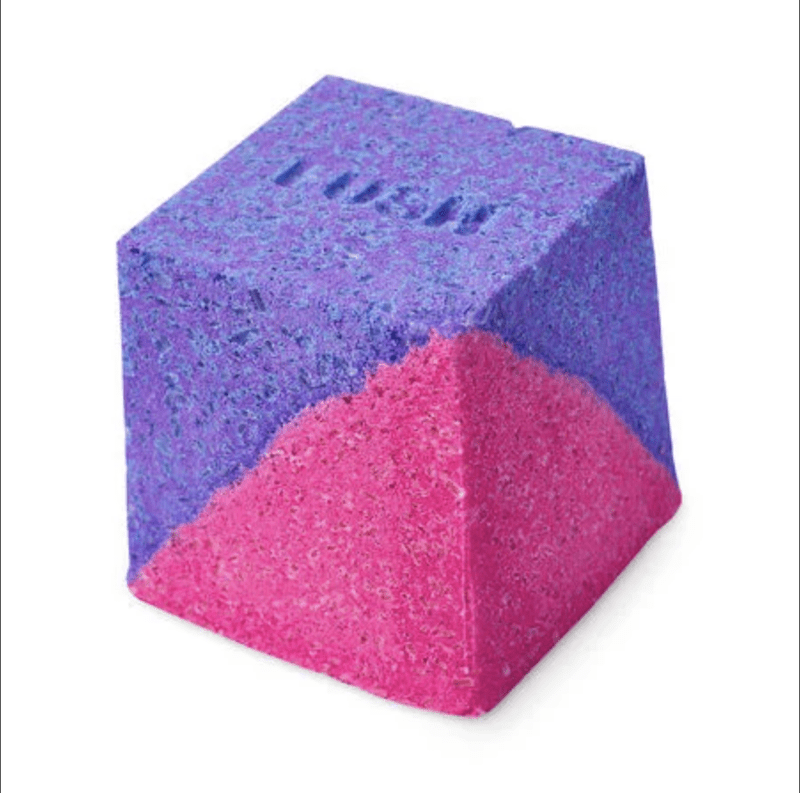 10. Lush Deep Sleep Epsom Salt Cube
I know this is a shower routine post, but I also love a good bath. Studies show that taking a bath can increase relaxation. Plus, people who regularly take baths tend to have better subjective health. One of my favorite bath-time products is this bath bomb because it helps me relax as soon as I drop it in. The colors dissipating are super visually pleasing. Also, I like the fact that it contains Epsom salt to help release tension in my muscles.
Available at Lush ($8)