Building healthier-looking skin takes more than just SPF and a good skincare routine. Incorporating the best foods for clear glowing skin is just as important. Similar to how certain foods have been found to help those with acne-prone skin, having a diet filled with healthy fats and rich in vitamins certainly helps in improving our overall skin health.
There's significant research in the relationship between our gut and skin: the microbiome plays an important role in our overall health and it's said that when we improve our gut health, our skin and its many conditions improve as well. Nutritious ingredients filled with essential amino acids and greater sources of vitamins are surely a guarantee to help better your overall gut health. Paired with a proper skincare routine, you'll be sure to see a huge improvement in your skin's health over time.
Below, I've rounded up some of the best foods and drinks that can improve our skin's health, leaving you with clear, glowing skin.


20 Best Foods for Clear Glowing Skin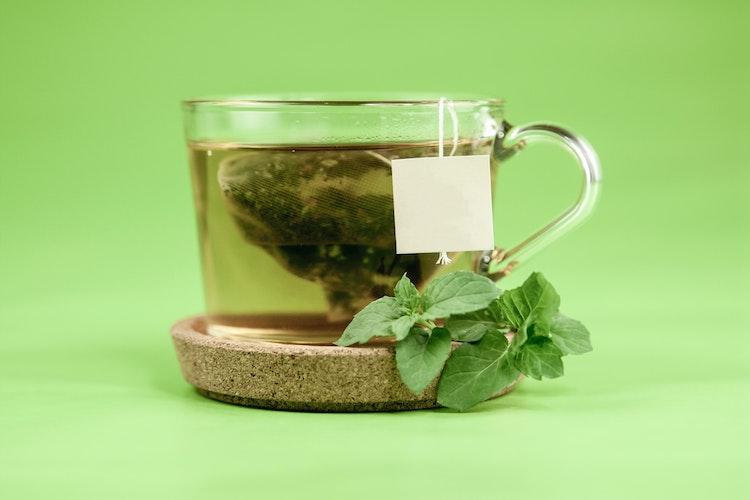 Green Tea
Green tea is considered to be one of the top superfoods in the world. A compound present in green tea called EGCG offers many therapeutic properties such as anti-inflammation and antioxidants, and helps prevent chronic conditions such as diabetes and cancer.
Green tea is also a very easy drink to make. It requires just a cup of hot water and an optional sweetener or milk of choice. Although to truly reap the benefits, you can try consuming it as is. Studies have also shown that it helps prevent melanoma skin cancer due to its anti aging polyphenols.
Available at Amazon ($18 for pack of 6) | Also available at Target and Walmart



Tomatoes
An excellent source of antioxidants and vitamin C, tomatoes are an easy, inexpensive dietary source that's full of nutrition for the body. With its anti-inflammatory effects, you can use tomatoes in basically any everyday staple dish: tomatoes and eggs, sandwiches, salads, and more.



Oranges
One of my favorite fruits on the go is oranges. They really are the best choice to bring because of how easy it is to carry them around. Oranges are high in vitamins and nutrients, giving us the best option for any quick snack for the day.
Whether it's drinking orange juice or eating them raw, this is an excellent source to help you feel hydrated and energized throughout the day. Use oranges to make an amazing smoothie or add them to your salad to make it more refreshing—it's definitely a kitchen must-have.



Salmon
Vitamin D plays a key role in our bodily functions, particularly in cell regrowth and repair. It's vital to make sure that we consume sufficient vitamin D each day. Salmon offers a great amount of vitamin D, and is a terrific protein choice, keeping us fuller throughout the day.
I like to cook my salmon with some salt, pepper, and lemon and add them to my rice and veggies, but there are so many ways we can cook it. Add it to your choice of protein on salads, pair it with a healthy grain, or even eat it raw sushi-style (but make sure it's really high quality before consuming raw fish).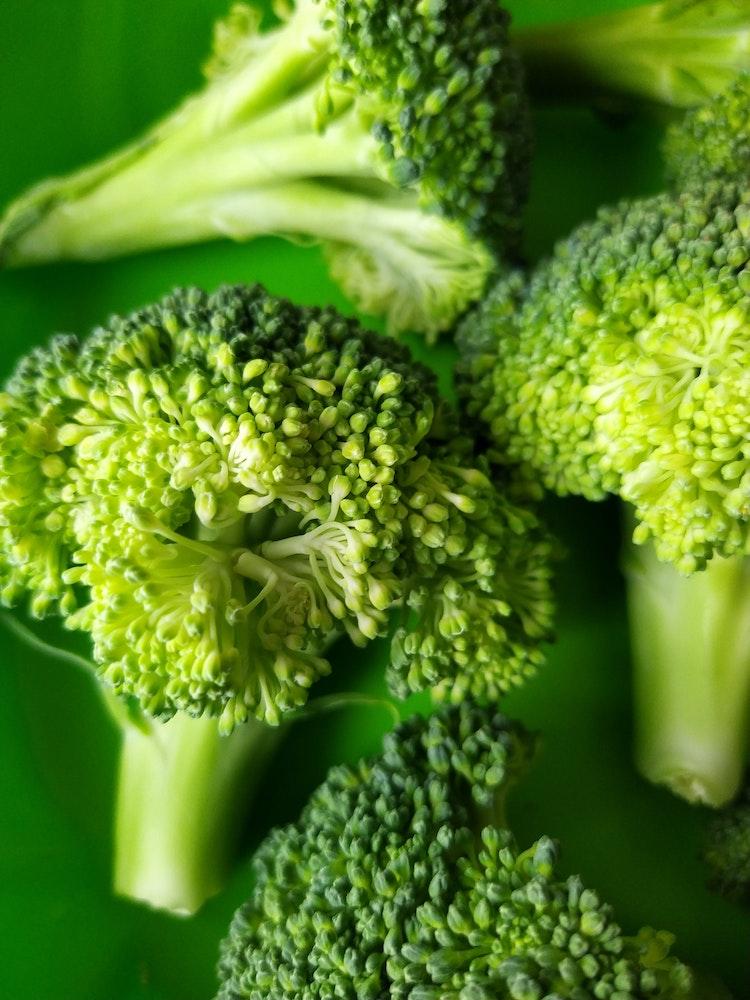 Broccoli
Broccoli contains lutein, which helps protect the skin from oxidative damage and free radicals. This helps prevent our skin from becoming too dry and wrinkly and reduces inflammation!
With broccoli, I'd keep it simple by either steaming or roasting it. Pair it with your choice of protein and healthy fat on the side, and you got yourself a delicious meal that'll keep you full for the day.



Kale
One of the best foods for clear glowing skin is kale. It's a superfood that you might see at any restaurant that serves high-quality salads. Kale is a superfood and rightfully so: it's high in vitamins C, E, and K. All of these vitamins help get rid of dark spots, fine lines, and free radicals.
One of the best ways to eat kale is to stir-fry them or roast them with some olive oil and spice. I also like to add kale to a lot of my soups.



Avocado
A rich source of monounsaturated and polyunsaturated fatty acids, avocados help immensely in moisturizing and conditioning our dry skin. If I had to pick just one ingredient from this entire list, I'd go for some avocados.
A versatile ingredient on its own, avocados make a great side dish for any meal: have it with your eggs, add it to your toast, cube them up for a salad, or even make some guacamole out of it. It's always a good idea to have some avocados ready in the kitchen.



Strawberries
Strawberries are a great choice when fighting against acne-prone skin. In fact, strawberries help reduce UV damage, fade hyperpigmentation and dark spots, and brighten the skin. Because strawberries have great anti-aging properties, they make a great superfood to add to our pantry.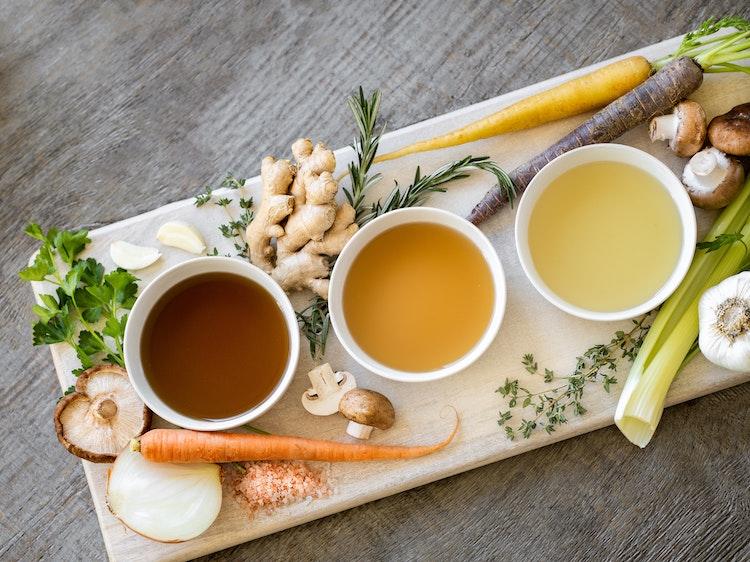 Bone Broth
Remember how I mentioned a healthy gut influences our skin's health? Well, this is one of the best foods to consume when you're aiming to heal both your skin and your gut.
Bone broth is rich in collagen, which helps increase our skin's elasticity and significantly reduces the appearance of fine lines and wrinkles. And all you need is a cup to serve it warm. Consuming bone broth on an empty stomach can also prepare your gut as it consumes all the nutrition it needs for the day. On the plus side, it also helps support our joints!
Available at Amazon ($21 for pack of 2) | Also available at Bare & Bones



Sweet Potatoes
An excellent source of vitamin A, sweet potatoes protect the skin from sun damage, sunburn, dryness, and wrinkles. One of the easiest foods to prepare, I highly recommend steaming sweet potatoes and eating them with a dressing or topping of choice.



Dark Chocolate
The flavonoids found in dark chocolate can protect against sun damage, improve blood flow to the skin, and increase skin density and hydration. Dark chocolate is a must-have for anyone who's interested in taking care of their overall health.
Full of antioxidants, this rich and organic food makes the perfect addition to any snack or meal. And if you're on the go, simply take a bar with you.
Available at Amazon ($24 for pack of 6) | Also available at Walmart



Sunflower Seeds
Sunflower seeds are rich in fat-soluble antioxidants. They can help fight oxidative damage and improve our skin's barrier function. Drizzle some sunflower seeds into your favorite salad—they make the perfect afternoon meal.
Available at Amazon ($5) | Also available at Walmart and Target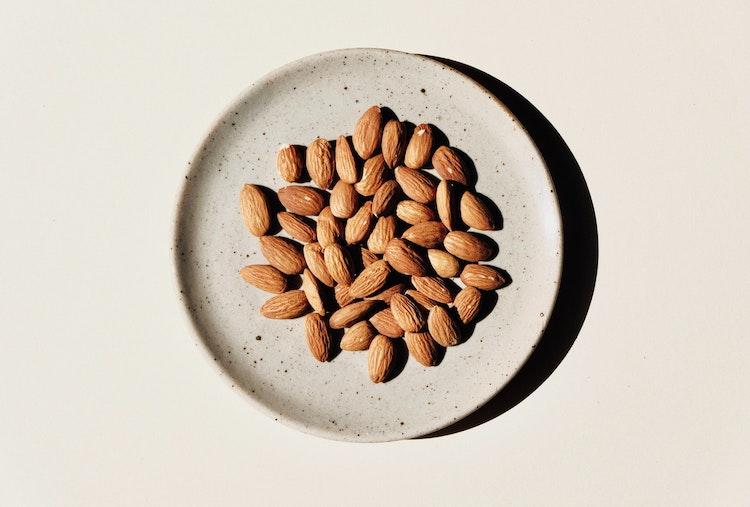 Almonds
I love almonds because they make an easy snack. Almonds are a great source of copper, which is a major role in skin and hair pigmentation. There are so many flavors to choose from when it comes to almonds: you can get it roasted, salted, roasted and salted, honey-flavored, or mix with other super nuts in store.
Available at Amazon ($8) | Also available at Walmart and Target



Carrots
TikTok is currently trending with this raw carrot salad and so it's only obvious that we should add carrots to our list? Carrots are a fantastic antioxidant, giving us a vibrant and fresh look.
High in beta carotene, carrots are an antioxidant that are converted to vitamin A inside the body. They help repair skin tissue and protect against the sun's harsh rays.



Turmeric
If I could offer just one spice to add to your kitchen, it'd be turmeric. Studies show that skincare products formulated with turmeric and curcumin improved the appearance of skin tone irregularities, like blotchiness, redness, and unevenness.
The ultimate anti-inflammatory spice, you can add turmeric to many dishes from omelets to chicken to even golden lattes.
Available at Amazon ($13) | Also available at Walmart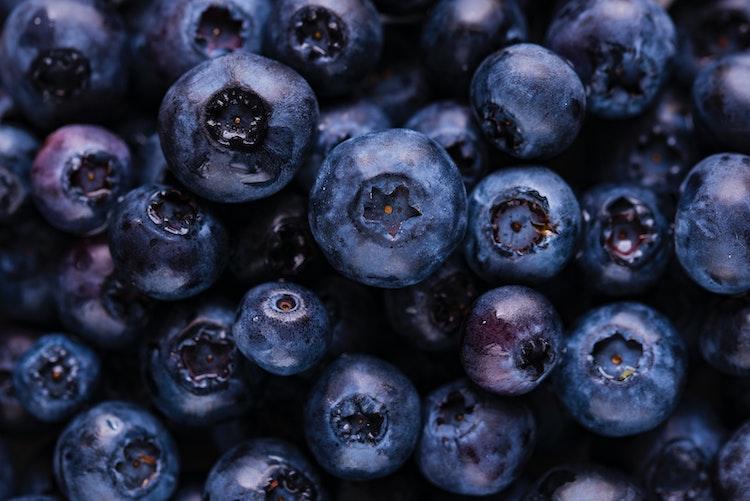 Blueberries
The superfood that's made for every smoothie. Blueberries are a must-have for anyone who loves smoothies or even dessert in general. Aside from being high in vitamins and antioxidants, blueberries have low sugar content and high fiber, making them a great choice for keeping you full and satiated all day. Plus it helps build our skin's barrier to be healthier and brighter for longer.



Eggs
An easy choice of protein, eggs are packed with all the right nutrients. This high-protein food helps build the skin's elasticity, so why shouldn't we add it to our pantry?
There are a multitude of ways to cook eggs, whether that's whisking, frying, boiling, steaming, or any other kind of way, eggs are definitely the easy choice when stocking up our kitchen.



Chia Seeds
Chia seeds are a nutritional powerhouse full of omega-3 fatty acids that delay aging, reduce acne scars, and give you radiant skin. I like to add chia seeds to my morning smoothies, but you can also make a kick-ass chia seed pudding, perfect for breakfast or a midday snack.
Available at Amazon ($8) | Also available at Walmart and Target



Coconut Oil
Whether you cook it, bake with it, or even wear it, coconut oil is essential for our skin's health. Studies show that coconut oil helps treat eczema, providing exceptional moisture to our skin's barrier, keeping us looking young and protected throughout the day.
Available at Amazon ($8) | Also available at Walmart



Water
And lastly, water. The ultimate food for hydration. Refreshing and detoxifying, anyone can benefit from drinking enough water throughout the day. Studies show that water helps improve blood flow, hydrating our cells and even regenerating them to provide softer, moisturized skin. Also, it's water. Need we say more?