I've been dealing with hormonal acne for what feels like 300 years. After spending the last two years trying to cure it naturally, I finally decided to take a low dose of spironolactone, a potassium-sparing diuretic. I take one 25 mg pill every evening before I go to bed, which has worked wonders for my skin. I went from thinking and worrying about my acne all day, every day, to proudly walking outside barefaced.
Truthfully, I wish I didn't have to take medication to control my acne, but here we are. I hope I will be able to cure it naturally one day. Until then, I'm willing to take medication to minimize my breakouts. Especially because I know that they negatively affect my mental health and well-being.
Since I started spironolactone about three or four months ago, I've noticed the drug's side effects. The most significant and obvious one has been dehydration. Getting on spironolactone has definitely increased my thirst, and I notice that I'm feeling like I need to drink a lot more water throughout the day.
Those are just the side effects that I noticed myself. Others report breast pain, weight gain, high potassium, and even kidney disease and liver disease, so make sure you talk to your doctor before reaching for this as an acne solution. 


How Much Water Should You Drink When Taking Spironolactone
Although spironolactone has cleared up my acne, I've seen that it negatively affects the hydration levels of my skin. My face feels a lot drier while taking spironolactone. I have to be cognizant about adding extra moisturizing serums and creams to make up for it.
To quench my thirst (and hydrate my poor skin), I've made it my mission to drink as much water as possible while taking spironolactone. Below, I've covered more about this skin-saving drug, how it works to clear hormonal acne, what are the side effects, and how much water you should drink while taking spironolactone.
Disclaimer: The content provided on The Daley Dose is for educational purposes only. I am not a doctor and cannot give medical advice. Please speak with your doctor or a healthcare professional for any questions you have about spironolactone.


What is Spironolactone?
Simply put, spironolactone is a diuretic pill. (Fun fact: all diuretics are known as water pills!) Doctors typically prescribe spironolactone to treat those with high blood pressure (aka hypertension) and heart failure. It causes the kidney to remove excess fluid from your body when you pee. It's used off-label to treat women who suffer from hormonal acne. It can also be used for edema and hirsutism in females as well as to treat nephrotic syndrome.


How Does Spironolactone Work for Acne?
This miracle pill works by slowing down the androgen hormone (like testosterone) and the hormone aldosterone (which regulates salt and water) in your body. Unfortunately, high levels of androgens can make your skin produce excessive amounts of oil, which ultimately clogs pores and leads to acne. Some women have higher levels of androgens than others, which is natural. But if the high levels of androgens are negatively impacting your skin, you might want to consider trying spironolactone.  


Side Effects of Spironolactone
There are a couple of side effects that come with taking spironolactone daily. Most of the time, the side effects are pretty minimal and aren't much cause for concern. If you are experiencing severe side effects from taking spironolactone, please speak with your healthcare provider immediately.
The most common side effects include:
Frequent urination
Feeling thirsty
Dizziness
Changes in your menstrual cycle
Fatigue
Headache
Breast tenderness
Lower sex drive
How Much Water Should I Drink When Taking Spironolactone? 
One of the most noticeable side effects that I've experienced while taking spironolactone is my increased levels of thirst. I definitely feel more thirsty while taking this medication, but it's not so uncomfortable that I can't handle it. You might find an increased thirst when taking this medication because it is a diuretic.
I'm not a doctor, but I would recommend drinking at least 64 fluid ounces daily when taking any dose of spironolactone. If you can't do the math, that's about eight cups of water per day. I don't recommend drinking less than that, and try to drink even more if you can!


When to Drink Water
There is no best time to drink water when taking spironolactone. In fact, the best time to drink water while on this medication is all the time! One thing to note is that, because this medication makes you feel like you need to pee frequently, you should avoid drinking lots of water right before bed. You want to avoid frequent bathroom visits in the middle of the night.


Foods To Avoid While Taking Spironolactone
Because spironolactone already spikes your potassium, the general recommendation is to avoid foods that are also high in the mineral. These include:
Avocado
Bananas
Coconut water
Mangoes
Papaya
Spinash
Sweet potato
You may also want to steer clear of greasier foods as well as foods high in sugar or salt, as these don't tend to provide your body (or skin!) with the hydration it needs.


Can I Drink Coffee While Taking Spironolactone?
I have to admit, there's a little bit of a debate about whether or not you can (or should) drink coffee while you're taking spironolactone. Some folks say that they would never drink coffee with spironolactone because that'll make your potassium levels way too high. Others say that it isn't an issue for most people, including themselves. That said, I prefer to err on the side of caution, so my answer is: No, please don't drink coffee while you're taking spironolactone.


Signs You Might Be Dehydrated
The obvious sign of dehydration is feeling really thirsty. You'll notice that you're reaching for water way more often, going to the bathroom more frequently, and filling up your water bottle constantly. Other, less obvious signs that you might be dehydrated include:
Headache
Dry mouth
Dizziness
Muscle cramps
Dry skin


My Best Tips for Staying Hydrated
Drinking water while taking spironolactone can sometimes feel like a chore, but it doesn't have to. There are multiple products I've purchased (see below) that have really helped me stay hydrated throughout the day, without much thought. I highly recommend getting some of these products to help you keep hydration levels up and support your body as best you can while taking spironolactone!
My Essentials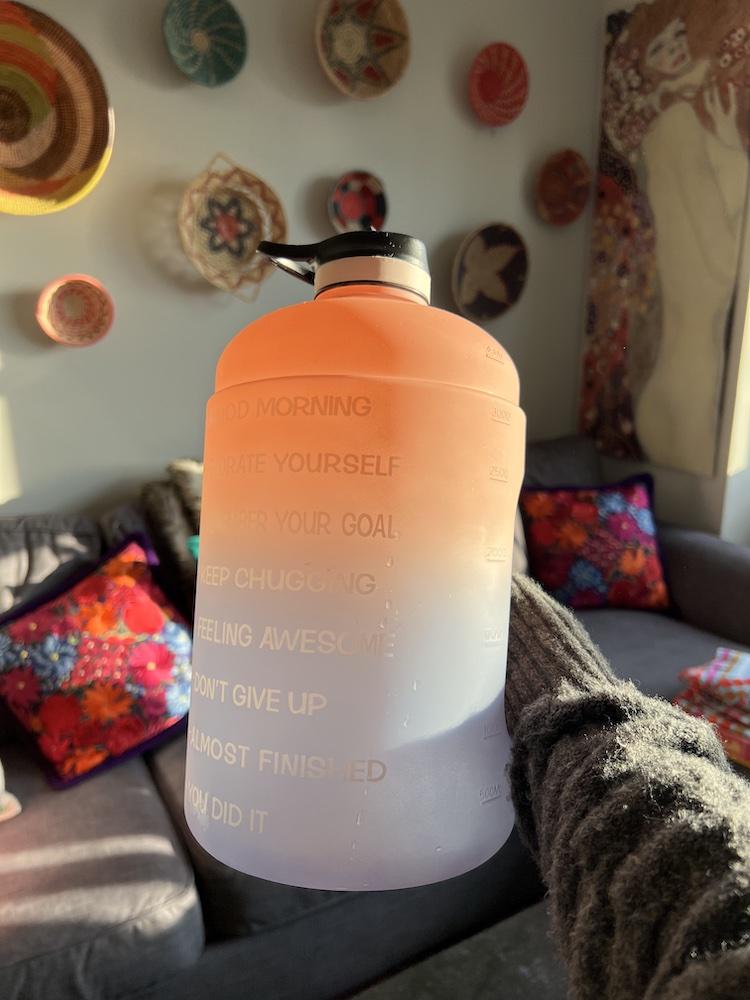 Venture Pal Large 64 oz/Half Gallon Motivational Water Bottle
This thing is massive and clunky, and I don't recommend traveling anywhere with it, honestly. However, it is the perfect addition to your daily routine while sitting at your desk at work. If you work from home like I do, I recommend purchasing this pick to help you stay on track. It holds all the water you need for the day, and has cutie little motivational sayings for every few hours of your water intake.
One of the downsides of this product is that it's very heavy in the morning, when you're just beginning your water intake. But I like to use it as motivation to drink more water, so that the bottle gets lighter and lighter by the end of the day. Another drawback of this pick is that it's not the highest quality water bottle. Mine accidentally broke after about six months and I purchased another one. However, I use it very often and can speak from experience that it really does help you get your water in for the day.
Available on Amazon ($25)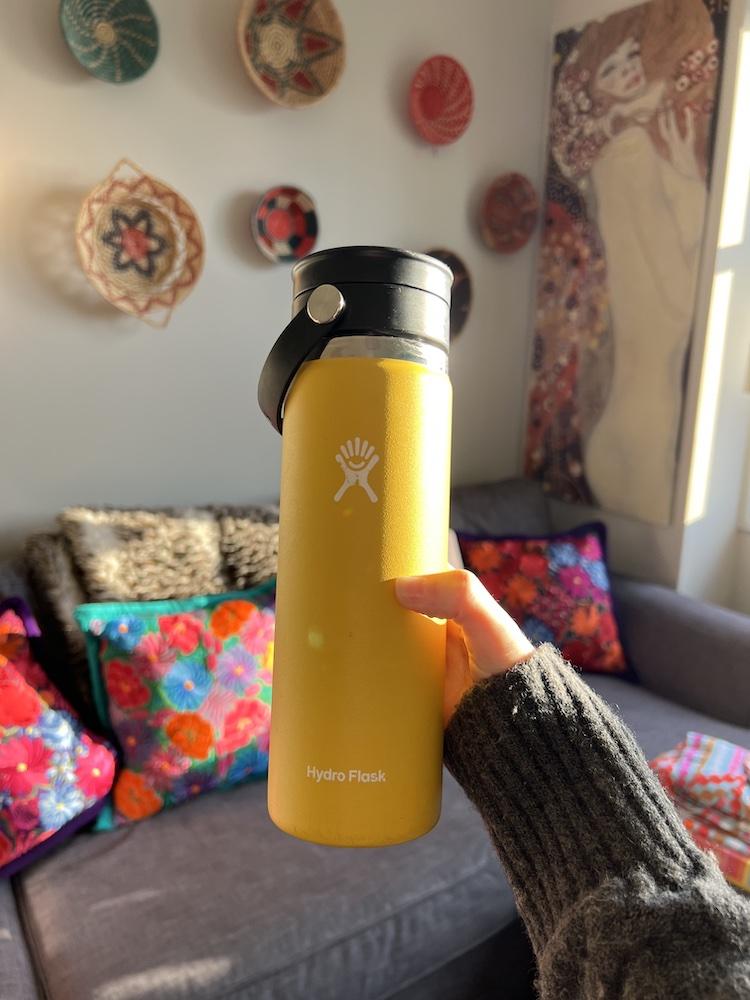 Hydro Flask Standard Mouth Bottle with Flex Cap
I have a few of these water bottles from Hydro Flask and they never cease to amaze me. I could leave water with ice in this bottle for days and it will still keep the ice frosty and not melted. It's insane. I mostly travel with my Hydro Flask and don't use it much at home. I always bring it with me to the airport and find that I use it throughout the day wherever I travel. Using the water bottle during my travels allows me to keep track of how many ounces of water I've had that day (because I certainly don't want to travel with the giant Venture Pal bottle).
Available on Amazon ($26) | Also available on Dick's Sporting Goods and Urban Outfitters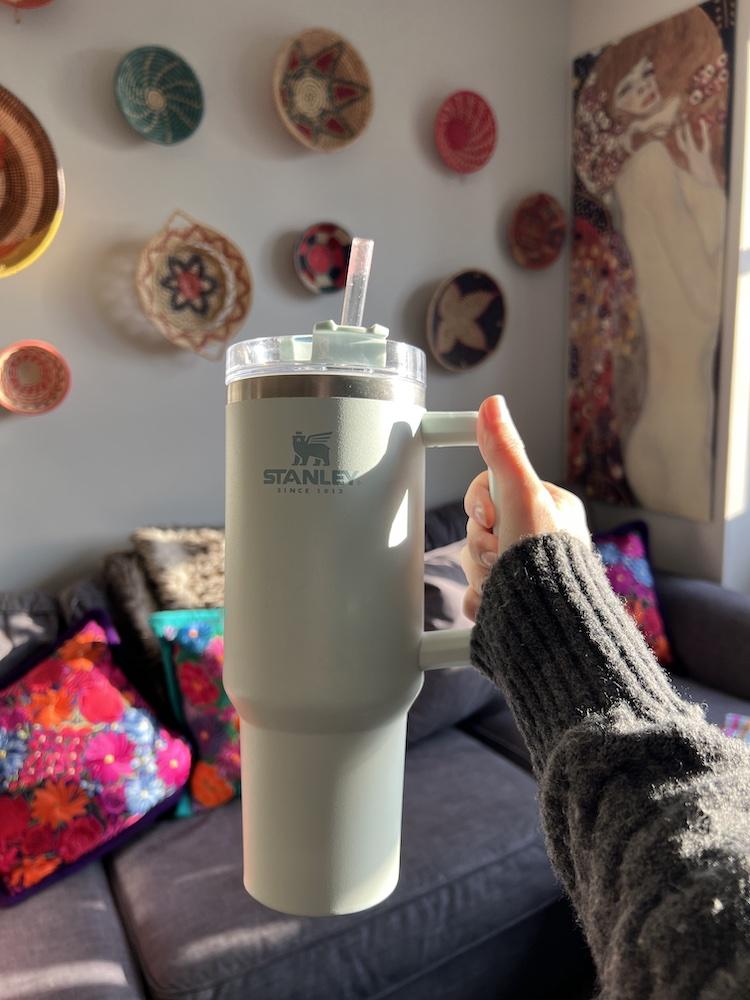 Stanley Adventure Reusable Vacuum Quencher Tumbler
Okay, I have a theory: I believe that you drink more water when you actually have a larger cup and more water available to you. What I mean is that, when you are drinking from a smaller cup, you take smaller sips because you don't want to run out of water. And having to get up and go refill your cup again is a pain in the butt. When you have more water in a larger cup, you're more likely to drink more water because you're not worried that your water supply is going to run out!
This is the phenomenon that happens every time I use my Stanley tumbler. I know these things are very popular and are all over social media, and it's for a good reason. They hold a lot of water, keep beverages cold and hot for a long time (mine keeps ice cold for eternity), and fit nicely in a cup holder in your car.
I notice that I drink significantly more water whenever I use this water bottle (compared to others that live in my kitchen cabinet). You want to purchase the 40 oz. tumbler to really get in as much water as possible. And yes, I know it seems crazy to spend $40 on a thing you're just drinking water from, but I know you will get hooked after your first sip. No joke! Plus, this comes in a bunch of cute colors and will look so good on your desk, too!
Available on Amazon ($40) | Also available at Dick's Sporting Goods and Urban Outfitters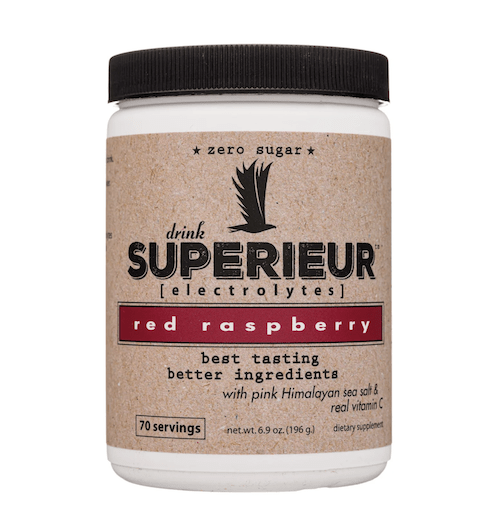 Superieur Electrolytes
I worked with a functional dietician a couple of years ago to try and cure my hormonal acne. She recommended this brand of electrolytes. My fiancé and I have been buying it ever since. I think it's a lot cleaner than other electrolyte powders on the market, but also costs a bit more, too. We like to pour one scoop into my water every day, and I use a milk frother to mix it up in my water so that it doesn't get clumpy. The red raspberry flavor is my favorite. I also like that it comes in travel packs, too.
Available on Amazon ($29) | Also available on Superieur Electrolytes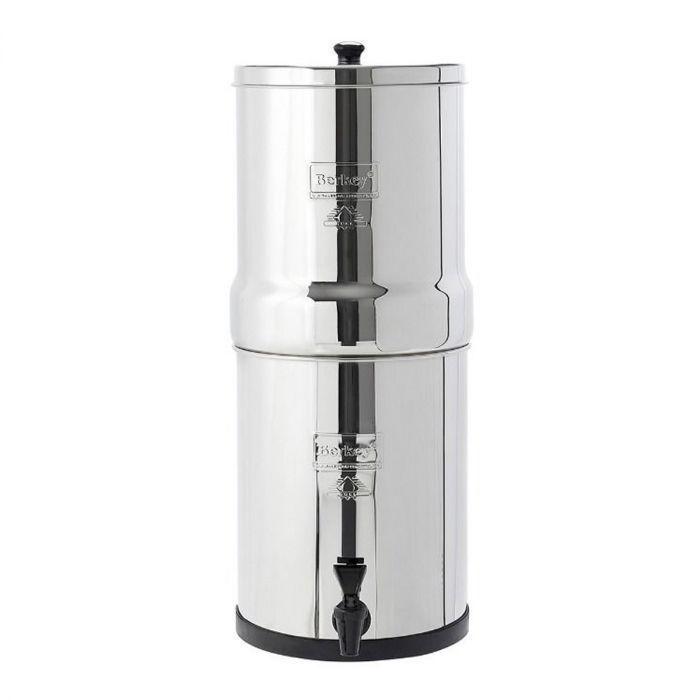 Travel Berkey Gravity-Fed Water Filter
During my quest to cure my hormonal acne naturally, I read a bit about how excess fluoride consumption might cause hormonal fluctuations in the body. I don't think there is a ton of research behind this, and personally don't know if I believe that fluoride consumption is what is causing my hormonal breakouts. That being said, I did get a Berkey water filter a few years ago and my fiancé and I haven't looked back since. We basically only drink water from our Berkey. I like knowing that we are drinking clean water that doesn't contain fluoride in it.
However, it is pricey and is a big investment. Unfortunately, there aren't many other options on the market that filter fluoride out of your water.
Available on Amazon ($344) | Also available on Berkey Filters



My Extras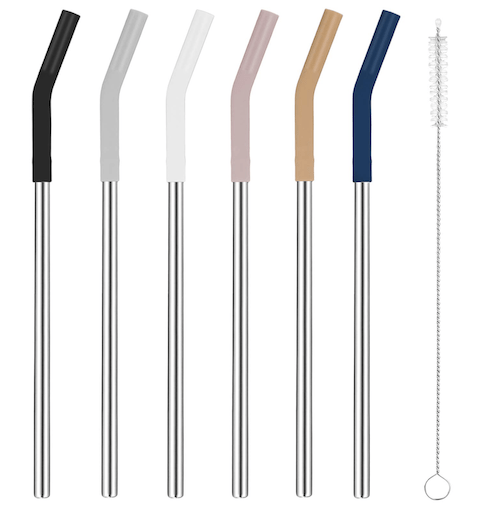 Tronco Stainless Steel Reusable Metal Straws
I drink more water when I use straws. I don't know why. Maybe I don't like water or ice hitting my teeth. I'm really not sure. What I do know is that these straws are great to help you up your water intake while taking spironolactone. I also love using these straws for my smoothies, too.
Available on Amazon ($10)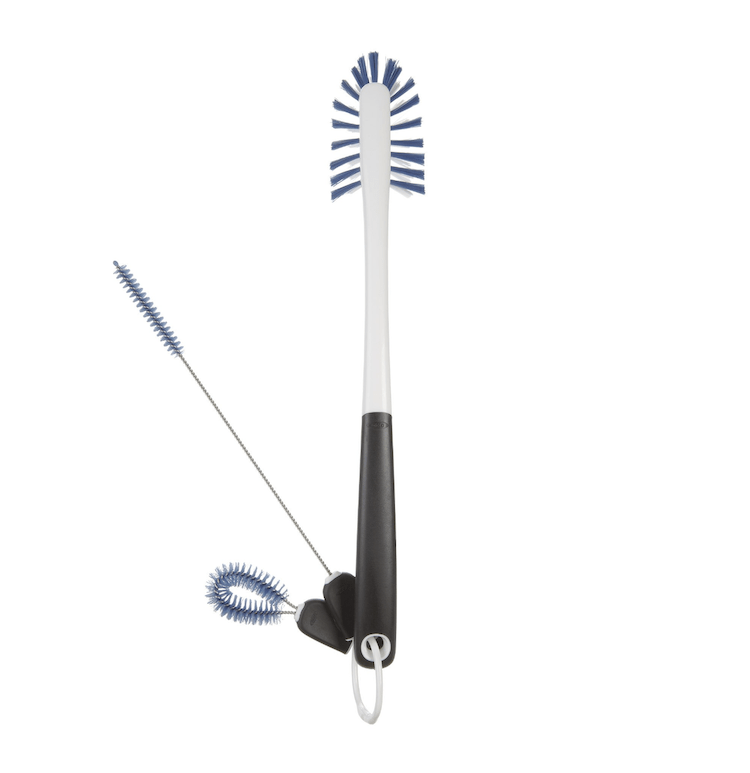 OXO Good Grips Water Bottle Cleaning Set
Now that you're becoming a pro water drinker, consider investing in a great water bottle cleaner. I like that this pick also comes with a straw scrubber. I basically have to use a straw scrubber any time I use my reusable straws for my smoothies. Or else food gets stuck in them and it's nasty.
Available on Amazon ($12) | Also available at OXO and The Container Store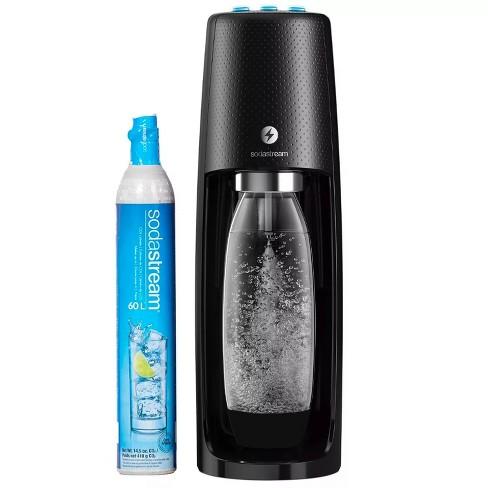 SodaStream Fizzi One Touch Sparkling Water Maker
Once upon a time, I got this sent to me through my journalism work. I used it a bunch during the height of the pandemic, but kinda stopped using it after a while. If you really love sparkling water, I would consider trying this pick out. It's pretty easy to use and, if you buy seltzer cans frequently, it will save you a bunch of money in the long run.
Available on Amazon ($90)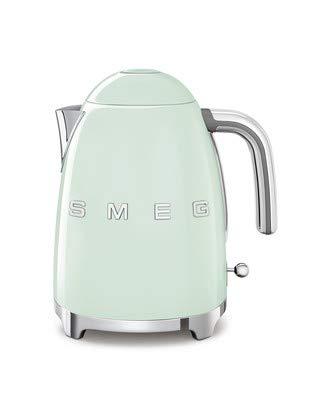 Smeg Electric Kettle with Embossed Logo
I use this kettle every single day. It heats up water for the 5,897 cups of tea I have daily. If you're a tea drinker, don't forget that herbal tea counts as a cup of water, too! Drinking tea throughout the day is a great way to stay hydrated while on spironolactone, too.
Available on Amazon ($190) | Also available on West Elm and Macy's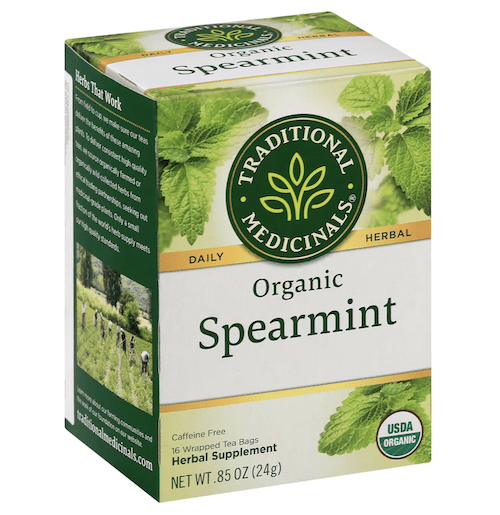 Traditional Medicinals Organic Spearmint Herbal Tea
There are a few studies that have been done proving that drinking two cups of spearmint daily may help reduce hormonal acne. Unfortunately, the research is so small that it's hard to believe the claims. That being said, I still try to incorporate spearmint tea into my day when I can. I like this brand and I appreciate that it keeps me hydrated, too!
Available on Amazon ($8)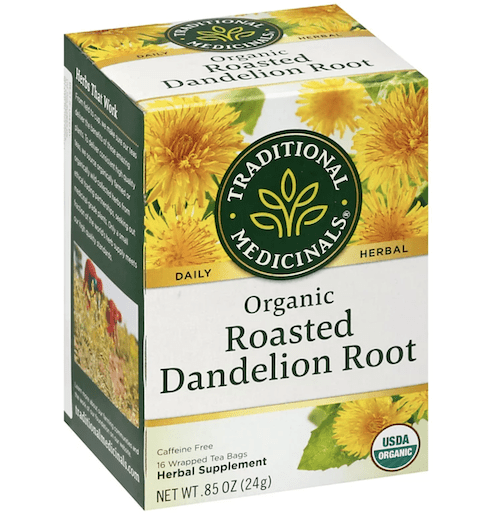 Traditional Medicinals Organic Roasted Dandelion Root Herbal Leaf Tea
Your liver does a lot of work to process everything in your body. Drinking dandelion root tea might help support your liver. This could be beneficial while taking spironolactone. This tea definitely isn't for everyone, and has a bit of a bitter taste. I recommend adding a bit of honey if the taste bothers you.
Available on Amazon ($30 for 6-pack)


*This post contains affiliate links, so I may earn a small commission when you make a purchase through the links on my site at no additional cost to you. Thank you so much for supporting my small business by shopping through my affiliate links—I am so appreciative!