I discovered the iS Clinical Pro Heal Serum after a celebrity esthetician had used it on my skin during a facial. I can bet that you've probably seen this brand before. iS Clinical is widely used at spas and dermatology offices nationwide and is one of the leading, professional-grade skincare lines.
iS Clinical is all about medical-grade skincare and formulations and is pretty scientifically advanced. They have strong actives and usually offer pretty immediate results. Truthfully, I've traditionally stayed away from iS Clinicals because most of their products are pretty aggressive, and aren't suitable for my super-sensitive skin. That being said, the iS Clinical Pro Heal Serum Advance is said to be well-tolerated by folks with acne and sensitive skin types. I wanted to give it a trial run and see how it went!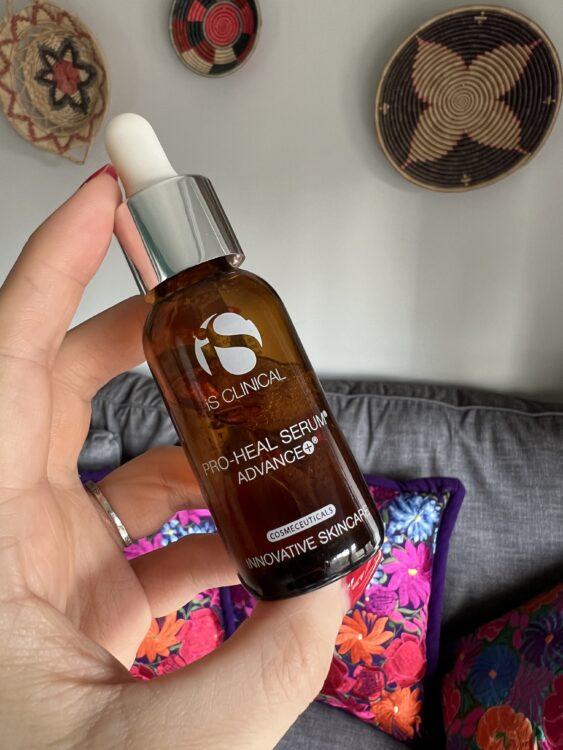 My Honest iS Clinical Pro Heal Serum Review
The iS Clinical Pro Heal Serum does a number of things for the skin. You can thank the vitamin C, vitamin A, vitamin E, kojic acid, and olive leaf within the formula. First off, this formulation significantly increases antioxidant protection—it protects your skin against free radical damage and environmental aggressors. Secondly, it helps to improve the appearance of blemishes, fine lines and wrinkles, and general dullness. Finally, olive leaf works to soothe and calm irritated skin.
I think this product is best for folks with sensitive skin, who don't tolerate other vitamin C serums well. Although this product has a bunch of other ingredients that benefit the skin in a variety of ways, I would consider this a vitamin C serum, as ascorbic acid is the second ingredient on the list. 
iS Clinical Pro Heal Serum Ingredients
Advance+ Vitamin C – Many studies show that vitamin C can help protect your skin against photodamage and environmental aggressors.
Pure vitamin A – Potent antioxidant that works to diminish the signs of aging.
Olive Leaf – Antioxidant that helps to soothe and nurture acneic, sensitive, and irritated skin.
Pure vitamin E – Natural moisturizer that also doubles as an antioxidant to protect against photodamage.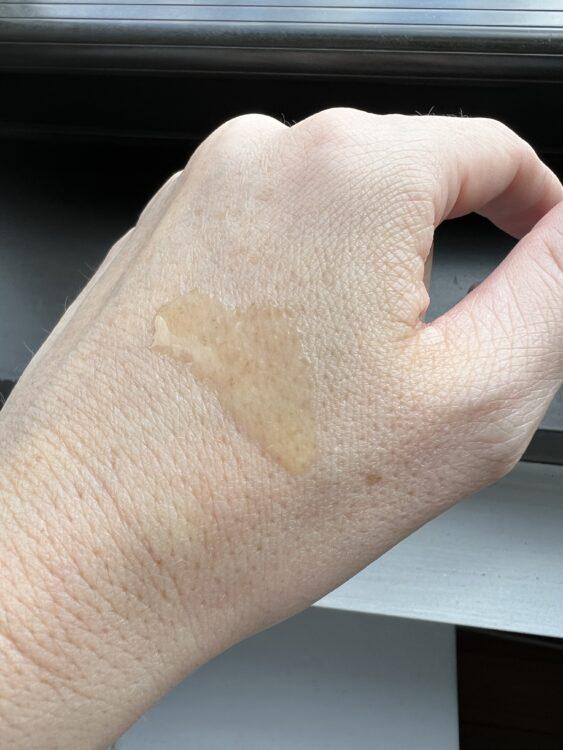 iS Clinical Pro Heal Serum Review
I've always had issues with vitamin C serums—including this one. I can't decide if I like this product or not, if I'm being honest. It's marketed for folks with sensitive skin, but a few hours after I apply it, I almost feel like it makes my skin even more sensitive. My skin definitely feels drier after using this every night for weeks.
I didn't really notice a ton of positive changes in my skin after using this serum. I have super sensitive, blemish-prone skin, and I didn't really see any changes in my acne hyperpigmentation or pore size . This formula made my cheeks and forehead irritated, but worked fine on my nose and chin (where I break out the most).
I like that this product doesn't have a million and one ingredients in it, and I like that ascorbic acid (aka vitamin C) is the second ingredient on the list, right behind water. Compared to other vitamin C serums I've tried in the past, this one certainly leaves my skin the least irritated of the bunch. However, I still notice a slight irritation after use.
That being said, I want to play around with this product a little bit more.
I'm thinking that I'm either going to only apply it to my nose and chin, or I'm going to only use it a few nights a week, and see if it makes a huge difference in my complexion. 
I think that if you are someone who has sensitive skin and you're looking for a good vitamin C serum, you might want to try a small bottle of this. Some folks might tolerate this formula better than I have.
The biggest downside with the iS Clinical Pro Heal Serum is the price—a full-size, 1 fl. oz. bottle costs $158, while the mini-size, 0.5 fl. oz. bottle costs $95. However, the competitor to this product, SkinCeuticals C E Ferulic Serum, costs $182. That's $24 more than the full-size iS Clinical Pro Heal Serum.
Another thing that I don't love about this product is that it's hard to apply to the skin. The serum is pretty watery and it's not easy to get everything on your whole face. The directions state to apply 3-4 drops onto your face. However, I don't think that's enough to cover the entirety of your face and neck.
The biggest upside with this product is that it does not make me break out further. I know that's hard to find when it comes to a vitamin C serum that doesn't break you out (be sure to check out my blog post about the best skincare for dry acne-prone skin). If you are concerned about this formula causing pimples, you shouldn't be. It's not a very cloggy formulation and shouldn't cause breakouts.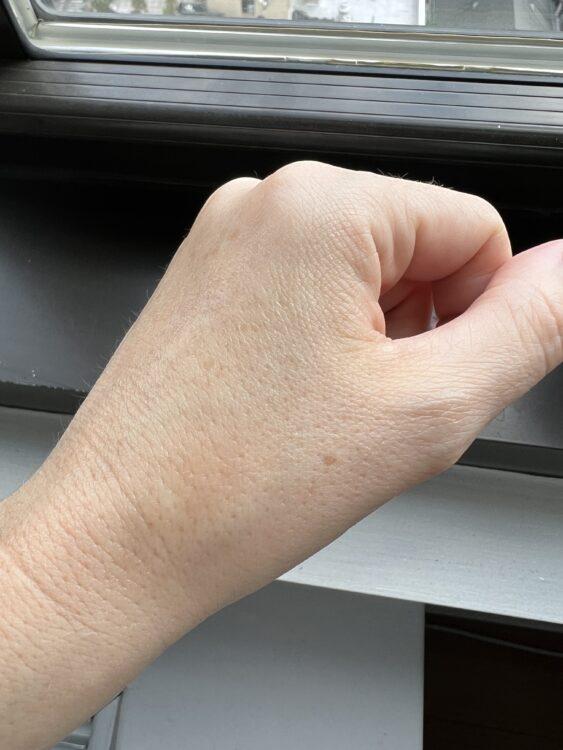 How To Use iS Clinical Pro Heal Serum
Clean your skin 
Before you apply the iS Clinical serum, make sure your skin is clean. Wash your face, apply your toner (if you use one), then apply this as your third step. 
Use in the morning or night
This is one of those products that can be used in the morning or at night. I don't think it matters much. It'll really depend on what else you like to use in your skincare routine. For example, I like to use my Sofie Pavitt Face Mandelic Clearing Serum every night. I don't like to apply too much to my face at one time, so I would apply the iS Clinical serum to my skin in the morning instead of at night. 
Apply directly to skin or in your moisturizer
Like I've mentioned previously, this formula is hard to apply directly to the face. You might want to apply it sparingly to clean skin. It's really watery and doesn't blend super well. Because of this, I like to add it into my morning moisturizer and then apply that to my skin. But I think you could use it either way.
Looking for other age-defying products? Check out my favorite anti-aging products for 30s!