I'm embarrassed to admit this, but one of my favorite hobbies is to day drink in the summertime. There's nothing quite like getting drunk under the blistering sun and finally feeling warmth after a long winter. Sadly, I've had to retire my favorite summer pastime over the last few months as I've taken an extended break from alcohol to recharge my batteries and experience life sans booze.
While I do miss drinking sometimes, I've also been having fun trying out new nonalcoholic beers, mocktails, and other refreshing drinks to beat any cravings that pop up. Avoiding alcohol in the summer can be hard, but it doesn't have to be. Below, I've rounded up some of the best non-alcoholic drink recipes for you to explore and try out if you're interested in taking a break from the booze, too.

25 Best Non Alcoholic Drinks For Summer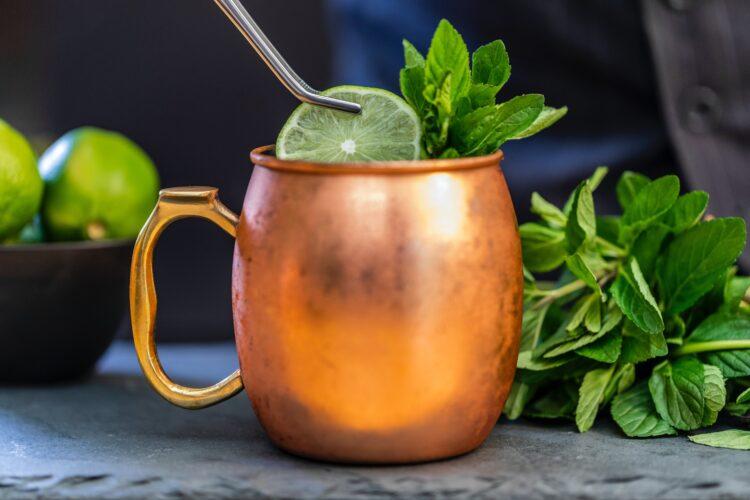 Mindful Mocktail / via mindfulmocktail.com
Moscow Mule
I love a great Moscow Mule, and I feel like it's an alcoholic drink that can easily be made into a non-alcoholic version, without you noticing that it's booze free. This recipe from Mindful Mocktail uses fresh mint, lime juice, and ginger beer for a lovely, refreshing mocktail.
Athletic Brewing Co. / via athleticbrewing.com
Athletic Brewing Co. Run Wild
I've written about it once and I'll probably write about it a million times more—I'm obsessed with Athletic Brewing Co. I'm so fond of the brand, in fact, that I just signed up for their Membership, where I receive three packs of their various beers each month. I'm pumped! Run Wild is their best seller and is my go-to when I'm having a beer craving.  
The Spruce Eats / via thespruceeats.com
Arnold Palmer
I don't think there's anything that screams summer more than an Arnold Palmer. Of course, you could purchase the many bottled iced teas and lemonade combos on a shelf in the store, or you could make a big batch to keep in the fridge at home (or in your cooler).
HOP WTR / via broadwayworld.com
HOP WTR
A brand sent me a four-pack of HOP WTR a few weeks ago and I'm pretty impressed. It's non-alcoholic sparkling hop water made with hops and other trendy ingredients, like adaptogens and nootropics. Each flavor was super light and not overpowering either, which I liked. Plus, they're made with zero sugar!
Unsplash / via unsplash.com
Topo Chico
It really doesn't get more classic than Topo Chico. My parents have a million cases of this mineral water on hand at all times, and I'm pretty sure they drink more Topo Chico than regular water. I think the reason this shit is so addicting is that it contains salt in it, so you end up wanting to quench your thirst and drink more and more. But hey, I ain't complaining!
Unsplash / via unsplash.com
Strawberry Lemonade Punch
Next up on our list of refreshing summer drinks is this strawberry lemonade punch. I feel like this is a super fun drink to slurp down with a friend at your backyard barbecue underneath the sun. It only requires four ingredients and I love the beautiful, bright color, too.
Fre / via frewines.com
Fre Sparkling Brut
I tried a few options from the Fre brand last summer, and honestly didn't love most of them. But that wasn't the case with their Sparkling Brut. I was honestly impressed by how much this tasted like champagne, and I feel like this would be a great sparkling addition to any type of sparkling mocktail you're crafting this summer. I also really love the price point, too! 
KOEN VAN WEEL / ANP / AFP VIA foodandwine.com
Heineken 0.0
I used to down Heinekens in college—for whatever reason, I seem to love the beer's semi-nasty taste of grass and weed. Heineken 0.0 is a great option to bring to the beach or a pool party this summer because it's easy to drink (if you like the taste) and easy to find, too.

Mindful Mocktail / via mindfulmocktail.com
Passion Fruit Sparkler
I think this drink looks so interesting and cool! I honestly don't exactly know where to purchase passionfruit (maybe at your nearest Whole Foods?), but I love that it only requires five ingredients including passionfruit, lime juice, coconut water, soda water, and your sweetener of choice.
Athletic Brewing Co. / via athleticbrewing.com
Athletic Brewing Co. Upside Dawn
This is another one of my favorites from Athletic Brewing Co. I've noticed that, apart from Run Wild, Upside Dawn is the second-most available beer when I visit bars in NYC. It's a nice, golden ale that's light and tastes delish.
The Kitchn / via thekitchn.com
Southern Sweet Tea
Southern Sweet Tea is my greatest weakness whenever I head home to Texas. It's normally loaded with sugar, so if you're trying to stay low sugar, this recipe is definitely not for you! Southern Sweet Tea is a great nonalcoholic drink to whip up and store in your fridge for hot summer days when you need to cool off and sweeten up!
The Spruce Eats / via thespruceeats.com
Appletini Mocktail
This Appletini Mocktail is a great alternative if you're into apple-flavored cocktails. It only requires five ingredients including granulated sugar, freshly pressed apple juice, simple syrup, lemon juice, and apple slices for garnish.
Athletic Brewing Co. / via athleticbrewing.com
Athletic Brewing Co. Cerveza Atletica
The Cerveza Atletica brew reminds me a lot of Tecate, and I love using this beer to mix with Zing Zang to create micheladas (see the michelada recipe below). It's very light and really great for a hot day on the beach!
Unsplash / via unsplash.com
Virgin Piña Colada
I really only like to drink piña coladas when I'm on a tropical vacation, but perhaps I will whip this one up on my next beach vacation on the East Coast. What I love about virgin piña coladas is that they basically taste exactly the same as a rum-filled piña colada. I love to add a splash of pineapple juice for the extra tart flavor.
Minimalist Baker / via minimalistbaker.com
Peach Iced Tea
Another southern favorite, this peach iced tea recipe takes a bit longer than normal, as you'll need to freshly brew the tea and then wait for everything to cool down in the fridge. But, it's totally worth all the trouble, I promise! Plus, you can add slices of peach to get a serving of fresh fruit.
Brewbound / via brewbound.com
Partake Pale Beer
I tried Partake Pale Beer for the first time the other day and really enjoyed it! It's pretty light, low calorie, and has a medium bitterness.
Unsplash / via unsplash.com
Virgin Mojito
Okay, I'm not gonna lie—I'm really not a mojito fan, and never have been. That being said, I thought it was important to include a virgin mojito recipe on this list because I know how many folks love this classic cocktail. This virgin mojito recipe features fresh mint, lime juice, sparkling water, and a few other essentials to recreate this drink as a non-alcoholic option.
Recipe via Chelsea's Messy Apron
Taste of Home / via tasteofhome.com
Michelada
I'm from San Antonio, Texas, where micheladas are a staple on most cocktail menus. One of my favorite summer drinks is to craft a michelada with Zing Zang Bloody Mary Mix and the Athletic Brewing Co. Cerveza Atletica—my mouth is watering just thinking about it.
Recipe via New Orleans Magazine
Surely / via drinksurely.com
Surely Non-Alcoholic Rosé
I've tried a couple of non-alcoholic or alcohol-removed wines, and many of them suck. That's not the case with Surely. I really like this brand and love that they have a few non-alcoholic wine options. If you're looking for a rosé alternative (a cold glass of rosé in the summer…is there anything better?), consider trying out the Surely Non-Alcoholic Rosé.
Photo By Alex Lau, Food Styling By Rebecca Jurkevich / via bonappetit.com
Salted Watermelon Juice
When I think of summer, I automatically think of watermelon. This agua fresca recipe is hella easy, hella simple, and hella delicious. Plus, the recipe was created by Molly Baz, so you know it's good!
A Calculated Whisk / via acalculatedwhisk.com
Strawberry Orange Ginger Fizz
So, this recipe does require a bit of extra leg work, but the added effort will all be worth it, I promise. I like that it's sweetened with honey and fresh-squeezed orange juice, so you don't have to worry about too much added sugar.
My Recipes / via myrecipes.com
Blood Orange and Ginger Soda
Blood orange makes the prettiest-looking drink, don't you think? This pick from MyRecipes is a refreshing summer sip and has a nice mix of ingredients including blood orange (duh), fresh ginger, mint leaves, and more.
Just Beet It / via justbeetit.com
Beet, Blood Orange, and Lime Slushy Virgin Margarita
Beets in my mocktail? Don't knock it till you try it! This pick is more on the tart side of drinks, so if you prefer a sweeter concoction, you can add a bit more honey or maple syrup to your liking.
Lyre's / via lyres.com
Lyre's Tommy's Margarita
I just tried the Lyre's Agave Blanco Spirit for the first time and I'm really impressed. The drink leaves that slight burn in your throat that a traditional, alcoholic tequila would, which I thought was cool! This recipe requires their Lyre's Agave Reserva Spirit and tastes very similar to the real margarita deal!
Unsplash / via unsplash.com
Non-Alcoholic Sangria
I'm honestly not a huge fan of sangria, but if you love that sweet stuff, this recipe will be a hit for your tastebuds. It requires a mixture of five different juices and you can add as many different frozen strawberries, grapes, or any other fruit as you wish!