After receiving a few DMs with questions about my 30th birthday experience in Cancun, I thought I'd write up an honest Excellence Playa Mujeres review for the all-inclusive resort we chose. As I was researching adults only all inclusive resorts, I was on the fence about which resort to choose in or around Cancun. This spot had a ton of great reviews, but there were also some sister resorts, including Finest Playa Mujeres and Beloved Playa Mujeres, that I had my eye on. But when Olivia Muenter, a colleague friend of mine, wrote her own review and raved about Excellence, I knew my boyfriend and I had to try it! In this post, I'll cover everything from the overall vibes, the rooms, the pools and beaches, the food and drinks, and much more.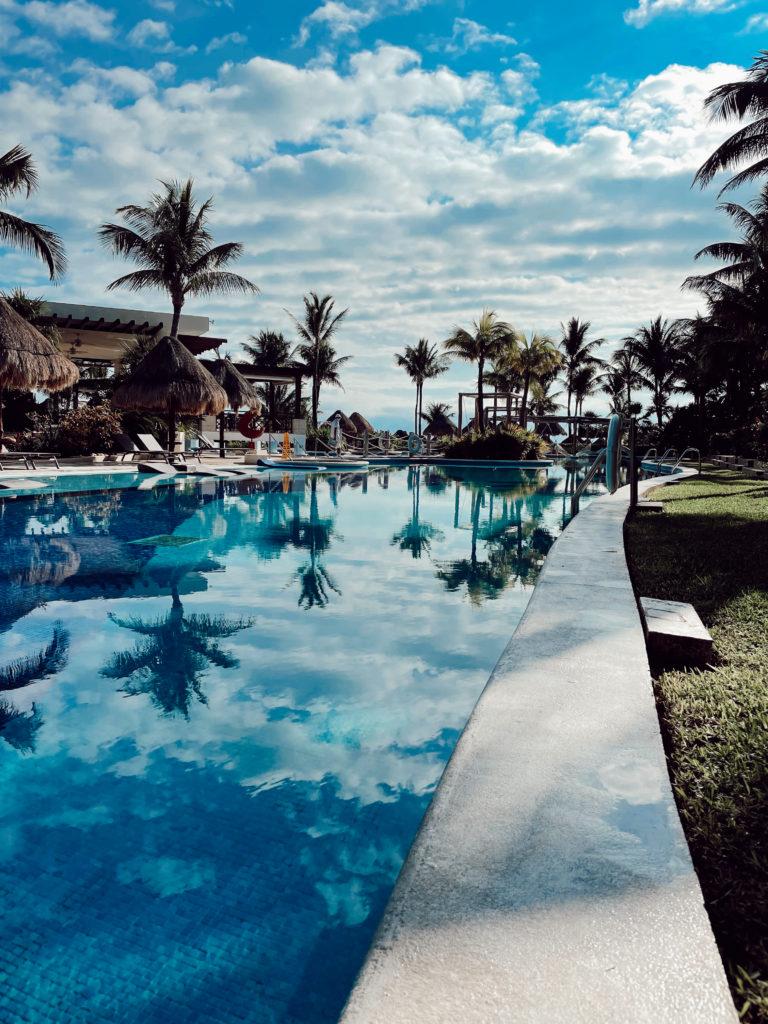 My Honest Excellence Playa Mujeres Review
The Vibes
The overall vibes of Excellence Playa Mujeres in Isla Mujeres were impressive. I love that the resort offers free, private shuttle service to and from the airport. And I was incredibly impressed with the service (more on that later) and friendliness of the staff. The resort grounds are immaculate. And we noticed staff members cleaning some of the statues and pruning some of the palm trees while we were there—they take really good care of this resort, and it definitely shows. 


Playa Mujeres Adults-Only Resort
The folks staying at the resort varied across the board. This adults-only resort included honeymooners in their mid-to-late 20s, big groups of friends in their 30s and 40s vacationing together, and other couples in their 50s and 60s who had been coming back to Excellence Playa Mujeres year after year, for more than a decade. Although we met a few people our age (early 30s), I felt like most of the resort guests were in their early 40s and above. That's all to say, if you're looking for a wild rager vacation, I'd probably choose a different resort. As Excellence Playa Mujeres felt more chill and relaxed (which is exactly what I was hoping for).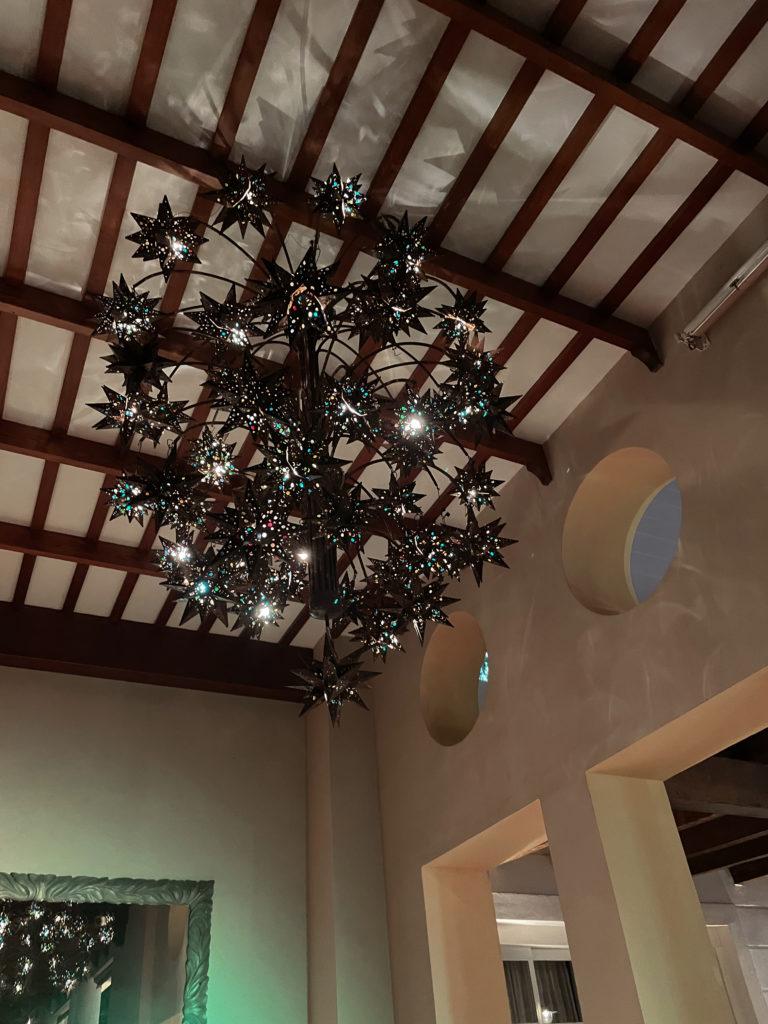 Excellence Playa Mujeres App
Another super cool feature at the resort is their app. I believe that all of the Excellence properties have an app for the guests, where you can get more information about the resort, get a list of all the restaurants and bars in the resort, their menus, and how crowded they are in real-time, peruse the room service menu, and so much more. I've never seen anything like it, and I thought the app was incredibly helpful throughout our time there.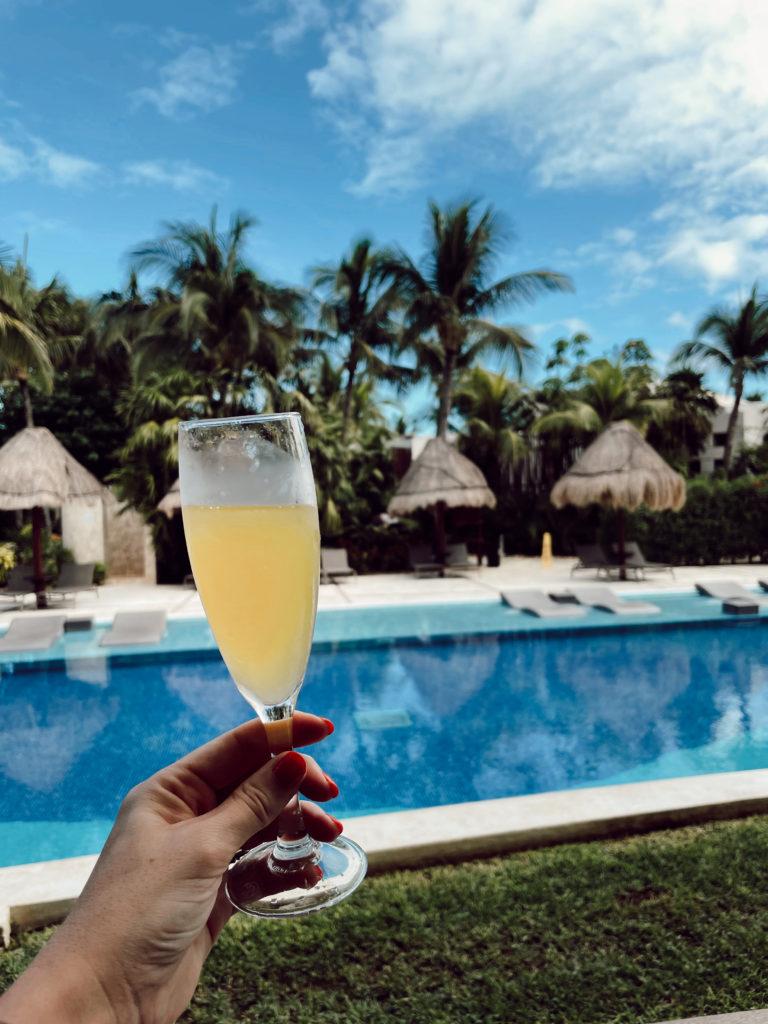 The Excellence Club Benefits
I feel like deciding whether to pay extra for the Excellence Club benefits is what brings many folks to an Excellence Playa Mujeres review. Because it was my 30th birthday, and I wanted this trip to be extra special, my boyfriend and I decided to pay more for the Excellence Club benefits.
If you choose to pay extra for the Excellence Club, you'll be able to check in (and check out) at a separate area upstairs while being greeted with champagne. The Excellence Club is a members-only, locked area that can only be accessed with a keycard. The area includes a fully-stocked bar and a restaurant that's only available to Excellence Club members.
Another Excellence Club benefit is access to special, private pools within the resort. As well as a more private area on the beach. My boyfriend and I took advantage of both the private pools and beach area, where we were waited on with food and drinks from the bar. Other Excellence Club benefits include Bvlgari toiletries, an upgraded minibar, an upgraded room service menu, an upgraded in-suite premium liquor and wine bottle selection, a Nespresso machine, daily fruit and petit fours in suite (which we actually never ended up eating), fresh flowers and sparkling wine in suite upon arrival, and one Aqua hydrotherapy treatment per person per stay (more on that later).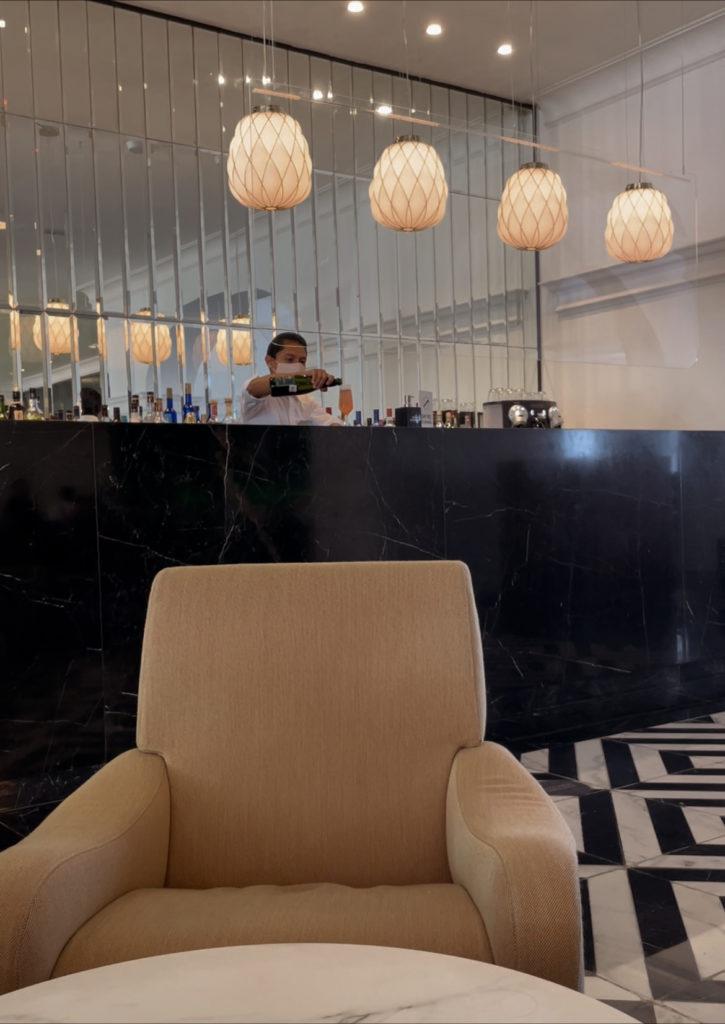 Is The Excellence Club Worth It?
I'm honestly on the fence about whether to recommend you pay extra for the Excellence Club benefits in this Excellence Playa Mujeres review.

While the private pool and beach area were great, we actually didn't end up loving the Excellence Club restaurant, Magna. And I actually didn't like how secluded the Excellence Club was. It's located upstairs, away from the fun, and has more of a cold, drab feeling—the decor was lacking and all of the windows had sheer curtains over them (I guess for privacy). So you couldn't look outside when you were up there. I didn't love how stiff the Excellence Club felt. But perhaps the benefits of the private pool and beach area, Aqua hydrotherapy treatment, and upgraded drinks and food were worth the price. All-in-all, I think that if you don't pay extra for the Excellence Club benefits, you won't be missing out on too much.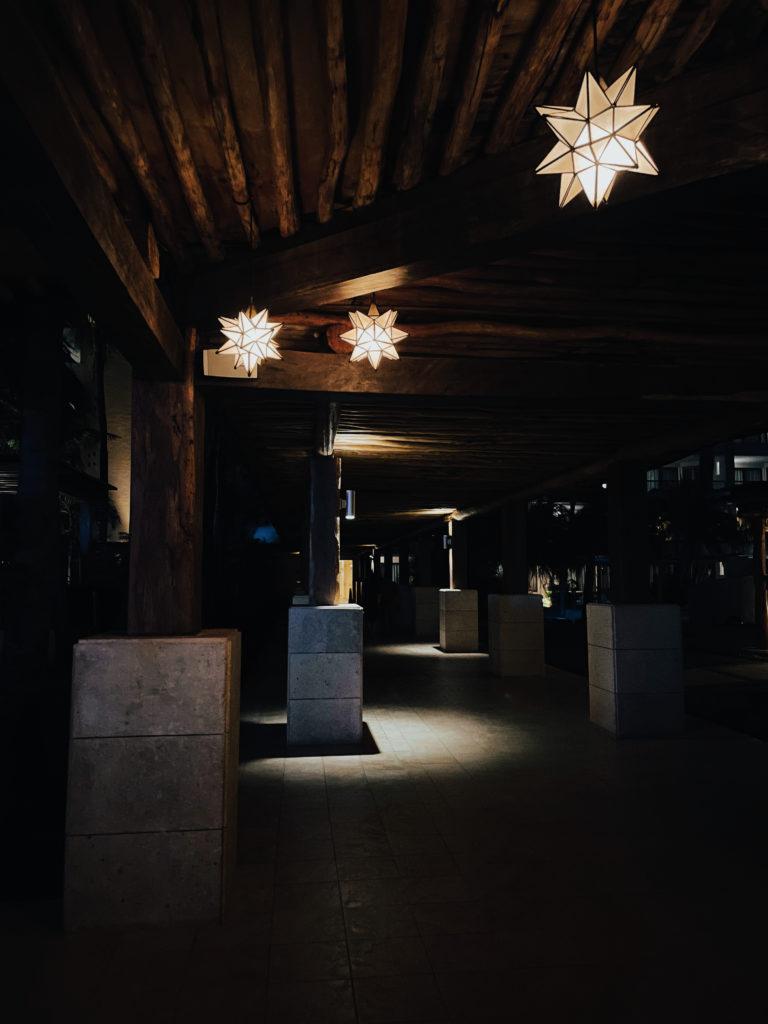 The Rooms
The rooms at the Excellence Playa Mujeres were absolutely lovely. Super clean, spacious, and they included both a shower and separate jacuzzi bathtub. Which is basically my wet dream situation (pun intended hehe). After reading some reviews online, we opted for the junior swim-up suite, which is basically a junior suite on the ground floor of the building and includes a large patio/deck area, right in front of a pool.
If you're looking for a more private experience, I wouldn't recommend the swim-up rooms (the two-story rooftop terrace might be more up your alley, if you're willing to spend extra for more privacy). There will be people swimming in the pool right in front of your sliding glass doors. On the flip side, if you're a more social couple or going with a group of friends, I think the swim-up rooms are perfect and worth the extra splurge. If you're on your honeymoon, I would recommend looking into the honeymoon suite with a private pool.
I loved how convenient it was for us to head back into our room whenever we needed to get something we forgot. However, our swim-up suite was in an area that didn't get much sunlight during the day. And I found myself sitting in the lounge chairs in the pool more than lounging on our deck, because I wanted to get more sun. If you do sign up for the Excellence Club, I would recommend trying to reserve a room with a swim-up suite that's off of one of the private pools, as I think those get more sunlight.
One of the downsides to be aware of is that the toilet rooms in your junior suite won't have an actual door. The toilet is sectioned off with just saloon doors (like the bars in Western movies). And might get awk for some couples or a group staying together.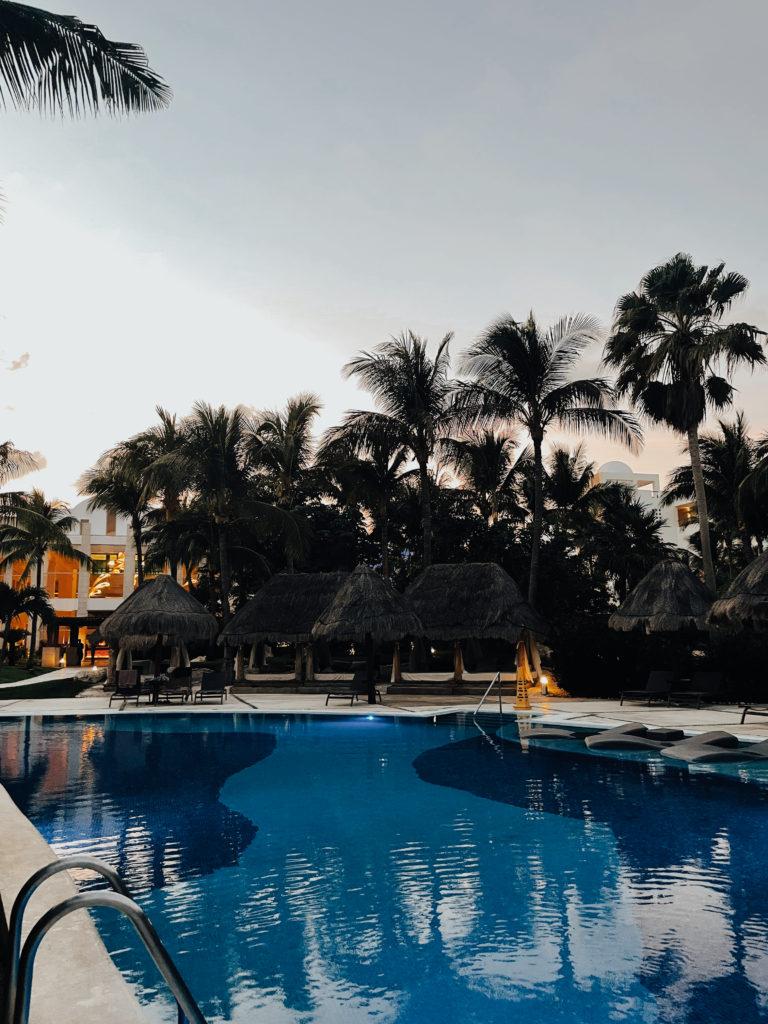 The Pools and Beach
Like I mentioned previously, we had access to the Excellence Club pools and private beach area throughout our six-day stay. The pools were well kept and clean, and are where we spent most of our time. We hung out along the "public" pool (also known as the Lazy River) in front of our swim-up suite (where we actually were also waited on by staff members from the bar). As well as at the private pool, where service was a bit faster for us, since there were fewer people.
Across the way from our public pool was an even bigger party pool. They had live music with a DJ playing tunes throughout the day. And it seemed like everyone was gathering there (and at the nearby, swim-up bar) to get shwasty and dance. We didn't spend much time here (I think we are getting old haha). But I loved that that was an option at this resort.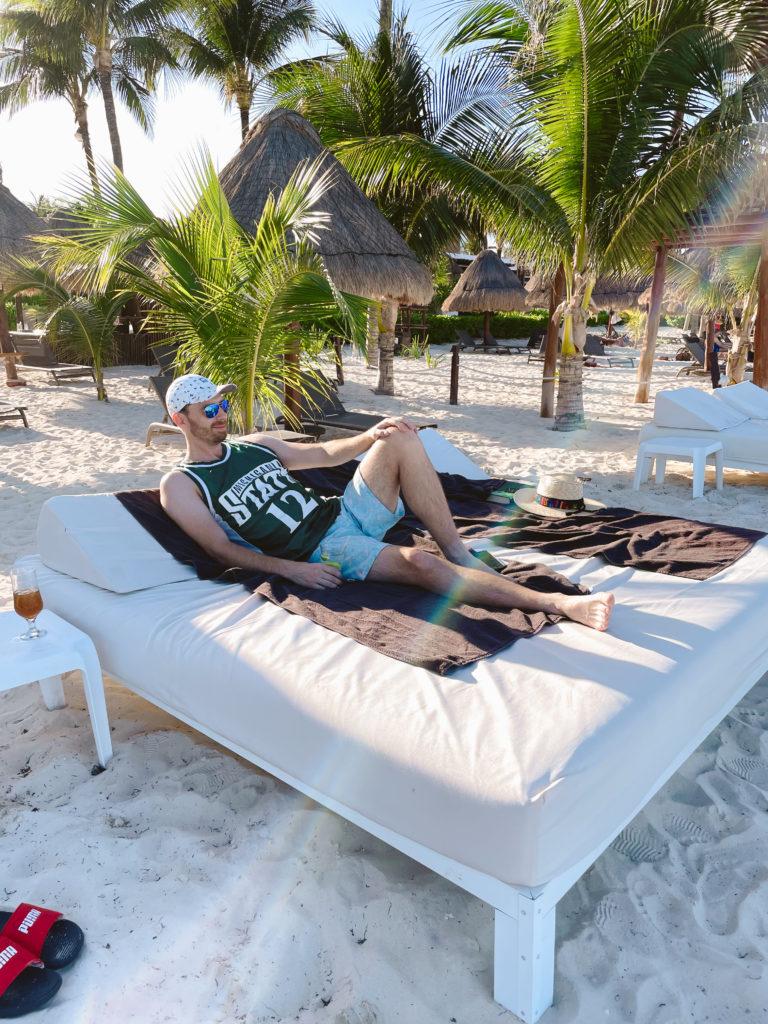 We also spent a solid amount of time at the beach. And while I loved lounging in the cabanas under the sun, the actual beach was definitely lacking. Although the white sand felt amazing in between my toes, there was dried seaweed everywhere, the water wasn't very clear. And the vibes were a lot more chill and relaxed than any of the pools. That being said, I enjoyed the service and loved sitting my butt on the beach. And reading a book, Michelada in hand.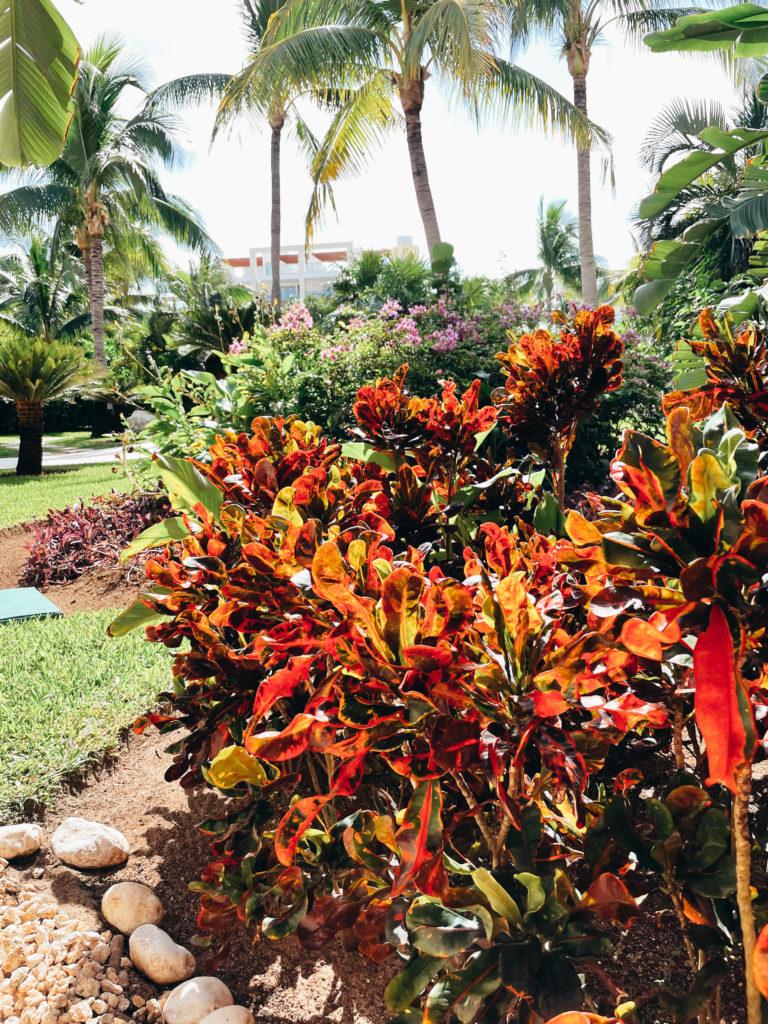 The Service
I'd be remiss not to mention the absolutely incredible service in this Excellence Playa Mujeres review. I read many reviews online about how amazing the service was at this resort. But I couldn't believe how well we were treated during our stay. Every single staff member at this resort was incredibly friendly, accommodating, attentive, and hard-working. And I hope that the company is paying their employees well. Because it's very clear that the service offered by the staff is what brings resort-goers back year after year. Additionally, I recommend bringing a lot of extra bills to be able to tip the amazing staff members throughout your stay at the resort.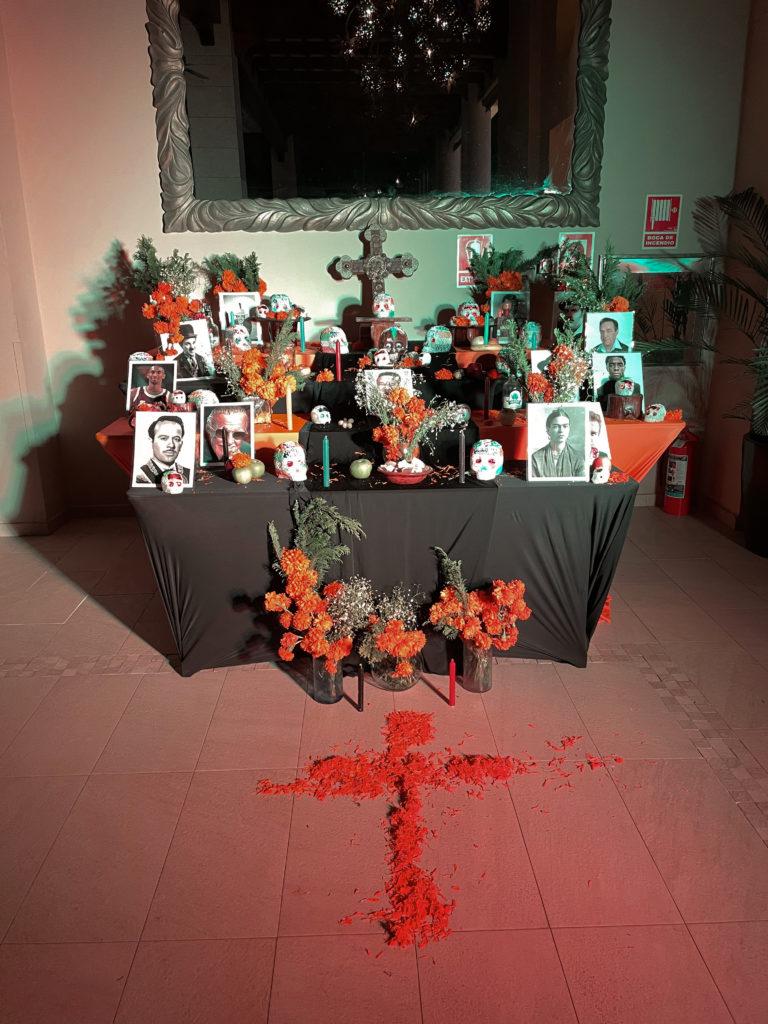 The one interesting thing I noticed, though, was that some of the staff members will actually ask you to write a review on Trip Advisor or Google about their service. For example, one of the staff members at the private pool asked us how we were enjoying our stay and poolside service. And after we said we were more than happy, he asked us if we could write a brief review of his (and his colleague's) service on Google. He asked us to include his name, as well as his colleague's name. Which makes me think that they might get some sort of bonuses if they ask guests to write a review of them online.
I believe this is why there are so many five-star reviews of this resort everywhere. We were only asked once to write a review if we wanted to. And I ended up writing one on Google. But it makes me wonder if some guests are asked multiple times to write a review of the resort.


The Food & Drinks
I promised honesty in this Excellence Playa Mujeres review, especially when it comes to the food! Like most all-inclusive resorts, the food probably won't be as amazing as a non-all-inclusive resort or hotel might be. I found this to be the case at the Excellence Playa Mujeres, despite the fact that Bon Appetit raved about the food there. (Although now that I'm looking at the article again, I'm noticing that it's actually sponsored by Excellence Resorts!) Yes, the food and drinks were definitely better than other resorts I've been to. But I'm not sure I would book a trip to this resort just for the food.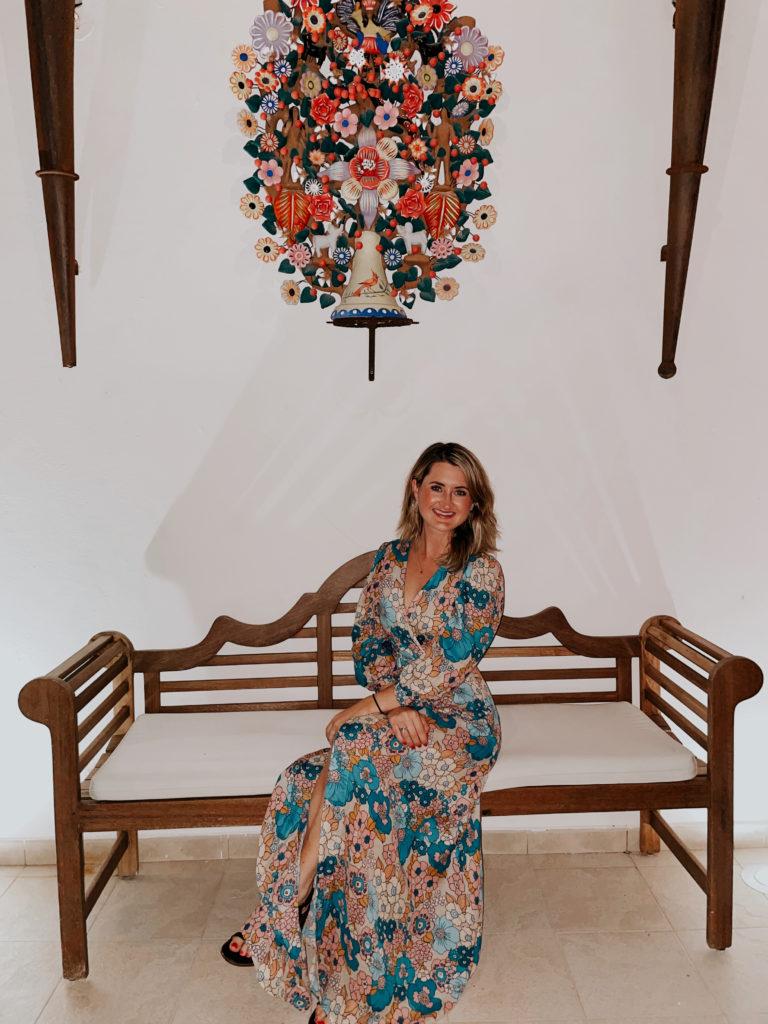 My boyfriend and I didn't end up trying them all. But I'd say our favorites were Agave, the Mexican restaurant (this shouldn't be surprising, considering the resort is located in Mexico—plus, my love of Mexican food is strong), Basmati, the Indian restaurant (this one was surprising to us. And is the top choice for most of the resort guests who have been coming to Excellence Playa Mujeres for years). As well as Chez Isabelle, the French restaurant. We also loved the Martini Bar, which was located right inside the entrance upon arrival.
We went to Magna, the Excellence Club restaurant, for dinner once (didn't love it). And then had breakfast there a few times as well. We ate at Toscana, a buffet by day and Italian restaurant by night, for breakfast. And I thought the buffet breakfast food was superior to the Magna breakfast.
The restaurants we ended up not trying included The Lobster House, Barcelona, Spice, and Flavor Market.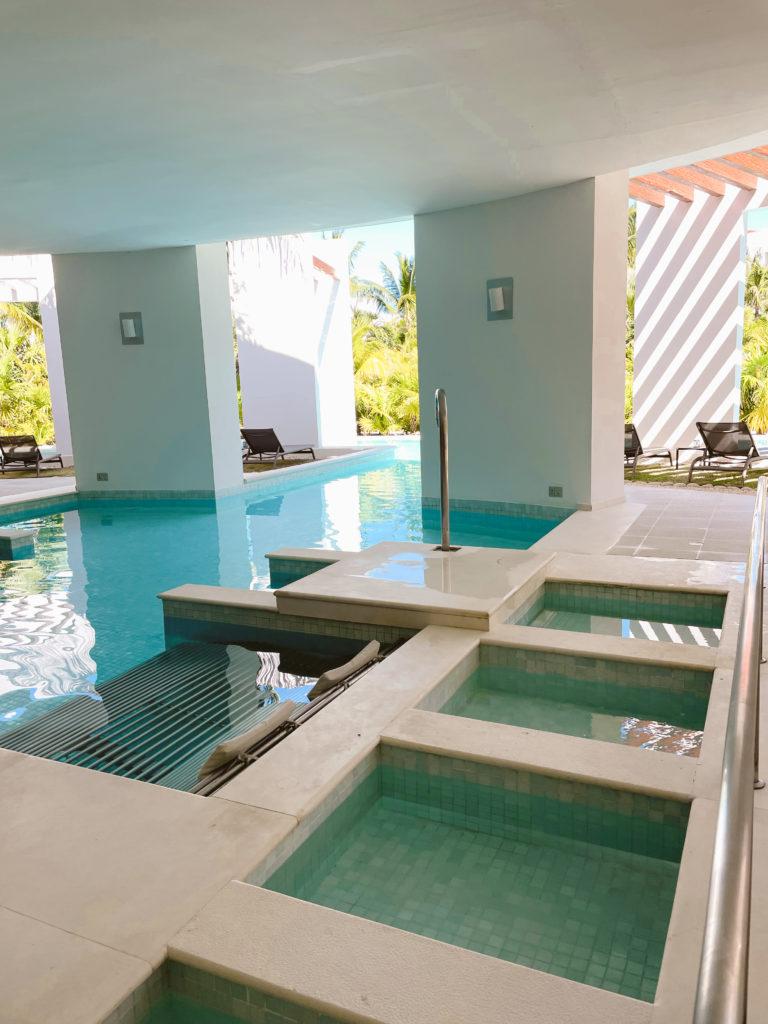 Excellence Playa Mujeres Spa
Considering I work as a beauty and wellness journalist, I've been to a fair share of spas in my career. That being said, I'd never been to a spa that had a full aqua hydrotherapy experience. My boyfriend had booked me a massage treatment at the spa. And one of the Excellence Club benefits was a session at the spa's hydrotherapy facilities.
Basically, the experience involved a guided journey through all their different hydrotherapy sections—my guide put me into a hot steam room. And after about a minute or two, came into the room and poured a bucket of ice water on my head. Then I was guided into the sauna, where I was instructed to place a cold towel on my head again. After that, I entered a freezing cold plunge pool. And into more pools that had strong currents and different types of jets. Although all the hot and cold transitions might sound unappealing, it was actually really fun and felt great. I wish my boyfriend had experienced it with me.
The two things I will say about the hydrotherapy experience are to make sure you wear a sturdy bathing suit and to also not be afraid of skipping one of the jets if you feel like it's too powerful and is hurting you.
One of the jets in the pools was very, very strong on my back. And I think that I got a bit of temporary nerve damage for a few months after our trip because I thought the severe pressure of the water would be good for my back.
Just be wary of some of the streams if you're a smaller person. And also make sure you wear a bathing suit that won't fall off when the jets are streaming at full force. Although I did get a great massage, I definitely think the hydrotherapy experience was more memorable and well worth it.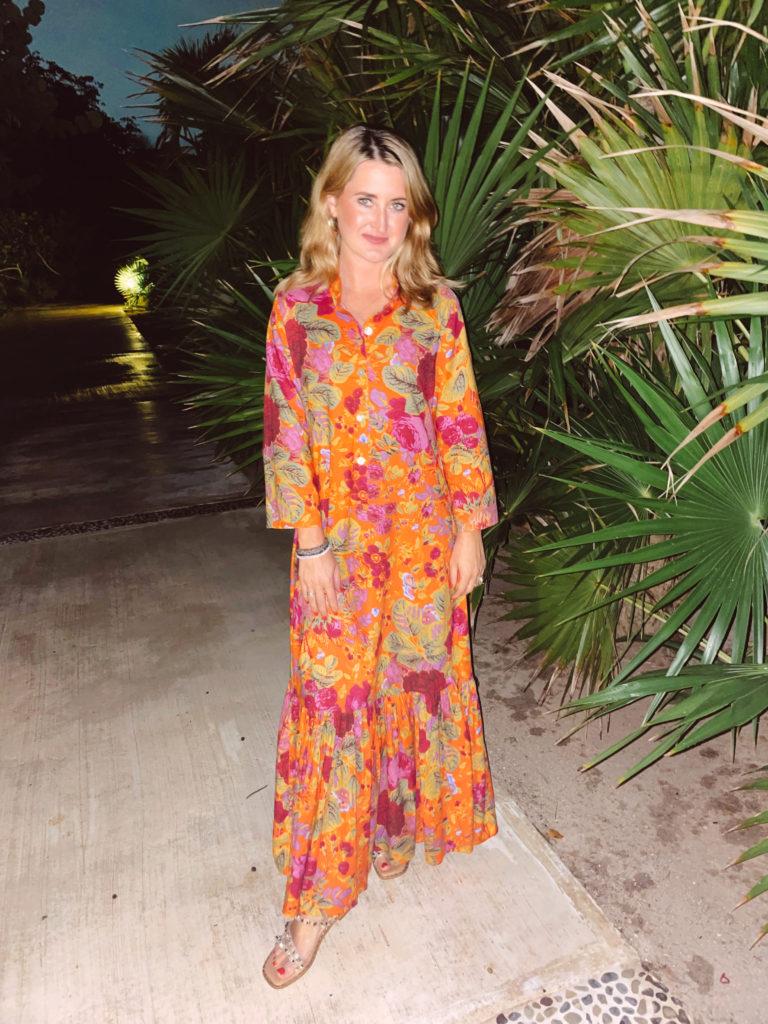 Overall Review
All-in-all, my Excellence Playa Mujeres review is a positive one, as we really enjoyed our stay there. The service (including the customer service) at this resort is truly fantastic. And I think it's a great spot for honeymooners or older couples just trying to relax. The food was decent but not amazing. The drinks were good, the rooms were spotless and the vibes were welcoming. The pools were lovely, but I felt like the beach was lacking a bit. But there's honestly nothing the resort could do about that. I definitely think this spot is worth a trip, especially because it's so close to the United States and relatively easy to get to. I'm so glad we went and I think we'll be back!