The first big purchase I ever made for myself was my Theory Clairene Jacket. I was about 24 years old, two years post-grad. And probably didn't have the funds to spend $600 on a jacket. I'll never forget the first time I saw it at Bloomingdale's: I was tagging along on a shopping trip with my parents while they were in town. And an off-white jacket was beckoning my name from the Theory section. 
But I really don't wear white often. But when I tried on this coat, it felt like nothing has ever fit me more perfectly. And I'm not exaggerating. The cut hit my petite frame beautifully. And I imagined all the ways I could wear this jacket throughout the seasons in a flash.
Unfortunately, the price tag freaked me out. And so I left my beloved jacket hanging on the Bloomingdale's rack, unpurchased. About a month later, I still couldn't stop thinking about that ivory jacket. And so decided to head back to Bloomies to invest in my beloved piece. Years later, I have since purchased four other Theory Clairene Wool-Cashmere Coats in different colors. 
Founded in 1997, Theory is a men's and women's contemporary fashion brand that sells expertly tailored pieces made from high-quality materials. I learned about Theory after seeing the brand pop up a few times at my local TJ Maxx (some of the stores carry Theory in their "The Runway" section). Theory is best known for its pieces that could be considered "staples" in many closets around the globe. Almost all of their clothes are solid colors, and most are dark or neutral shades. I rarely see super bright colors on their website.
My Theory Clairene Jacket Review
Although Theory isn't a typical brand I would reach for (I love lots of color), I am obsessed with how tailored their clothes are. Below, I've written my review of the Clairene Jacket and why I can't live without it.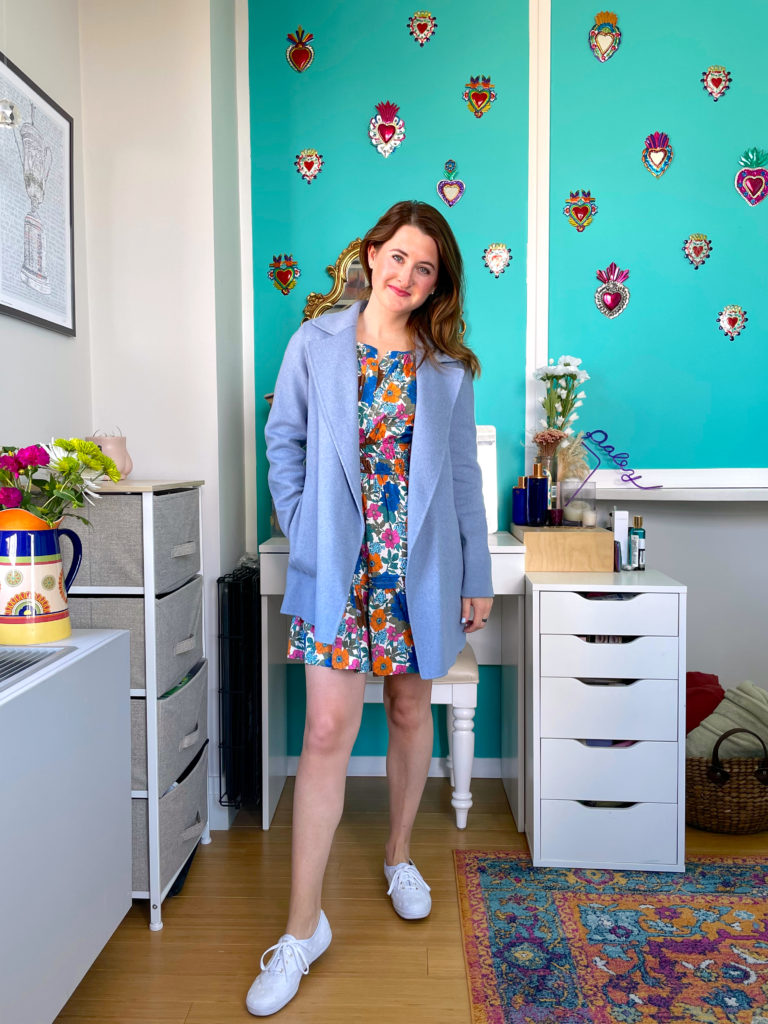 The Clairene Jacket is a medium-weight jacket made from wool coating and cashmere. It has an open-front silhouette (no buttons or zippers), side slip pockets, and a beautiful collar. I like to wear this jacket mostly in fall and spring. And sometimes I can also get away with sporting this in the winter if I layer a lot. Because this jacket isn't lined with goose feathers or faux fur, it's not going to keep you warm in a blizzard. Additionally, you'll fry to death if you try to wear this in humid, hot summers. 
Although I do love the open-front, relaxed shape of this jacket, sometimes I do wish the front had buttons to close the jacket when I need it. If I don't layer properly, I can get a little chilly in this jacket in certain weather conditions. That being said, it probably wouldn't be the Theory Clairene Jacket if the front wasn't completely open.
You can sport this jacket both indoors and outdoors, and it comes in many colors, depending on the season. The reason that I own five of these jackets is that they are always going on sale. And I'm usually able to snag a new-to-me color for about $350, rather than $600 at full price.


Theory Jacket Materials
The feel of the double-face wool-cashmere blend is dreamy. Each of these jackets are made with 90% wool and 10% cashmere, and never feel scratchy or uncomfortable. The double-face fabric is made by MTR, an artisan wool coating mill that specializes in blends of carded wool. Theory cares about sustainability. Which is why the fabric they use is partially made from responsible wool farmed using sustainable agriculture, animal welfare practices, and land management. The 10% cashmere in this blend is recycled and blended in Prato, Italy.


Theory Jacket Fit and Sizing
My favorite part about the Clairene Jacket is the way it fits. I am 5'2", and it's always been difficult to find clothing that fits my petite frame. Jackets and coats are usually the pieces of clothing I find myself swimming in often. Thankfully, that's not the case with the Clairene Coat. This coat comes in six sizes including petite (P), small (S), medium (M), large (L), extra-large (XL), and extra-extra-large (XXL).
I am size P and believe the Petite jacket is cut a bit shorter at the hem to accommodate a shorter frame. I had a Cinderella-glass-slipper moment the first time I tried this jacket on. The bracelet-length sleeves were slim and not too long (no rolling required). The shoulders weren't too wide or stiff. And the hem is cut perfectly at my hip.


How To Style The Theory Clairene Coat
Every time I throw on this jacket, I know I look incredibly chic with minimal effort. It has the ability to dress up any outfit instantly. And, because I own it in so many colors, it's easy for me to match it with any ensemble.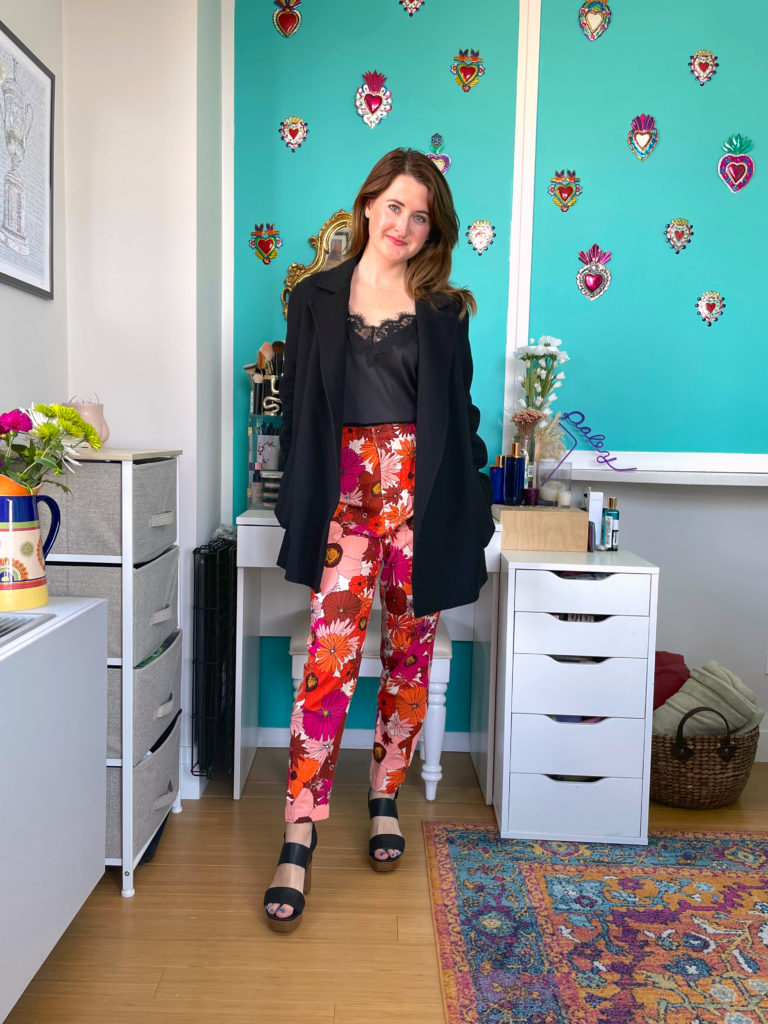 Theory Clairene Jacket with Pants and a Top
I really love a bold floral pattern, and this pant really pops when paired with a black, lace camisole. I wear my black Theory Clairene Jacket the most as it's very versatile and matches many of my outfits.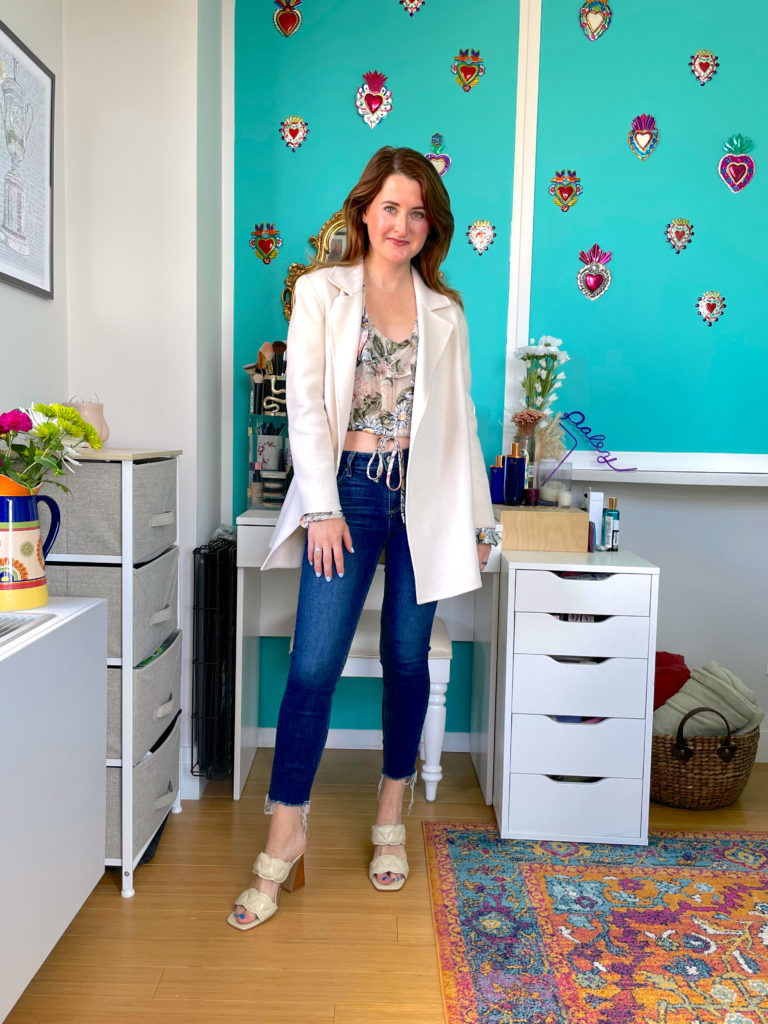 Theory Clairene Jacket with Jeans and a Top
Admittedly, this ensemble isn't my favorite of the bunch. And I look like I really need a tan with all this white! That being said, I feel like the Theory Clairene Jacket does an amazing job of elevating even a top with jeans. And making the whole look appear sophisticated. This is the original Ivory shade that I fell in love with years ago and still wear all the time.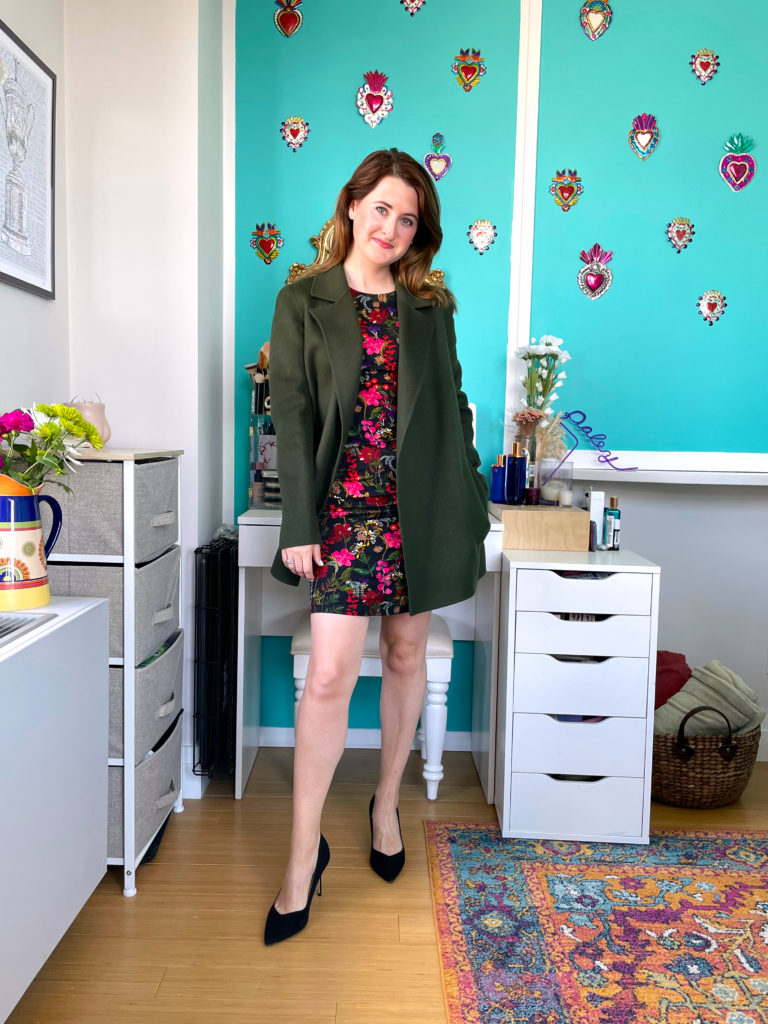 Theory Clairene Jacket with a Dress
The Clairene Jacket goes perfectly with a short dress, as it usually hits right above the hem of a mini. It's a perfect jacket for a nicer occasion, where you can't wear your sporty North Face and also don't want to ruin your elegant look with a giant puffer jacket.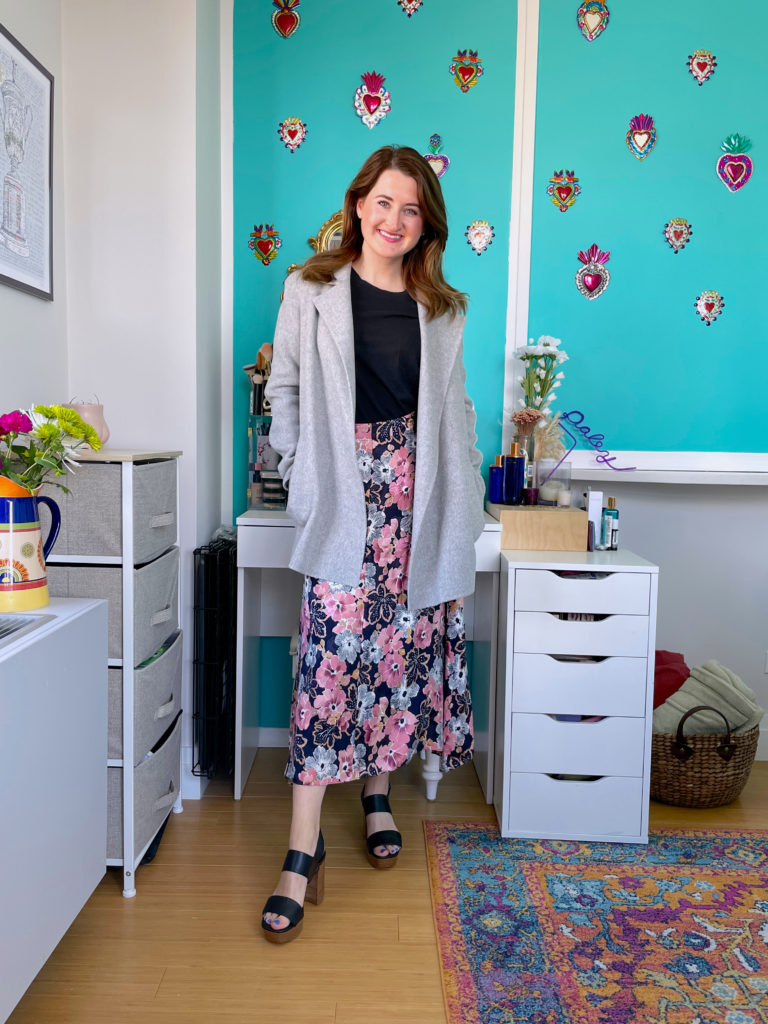 Theory Clairene Jacket with a Skirt and Top
Don't be afraid to rock this jacket with a long skirt or long dress. I think it cuts at an ideal length on the thigh and will still look balanced out when paired with something long underneath. I recommend wearing heels if you're short and going to wear this jacket with something long—you might look a bit swallowed and frumpy if you wear flat shoes.


Is The Theory Clairene Wool-Cashmere Coat Worth It?
The Theory Clairene Jacket is absolutely worth the high price tag. For all my shorties out there, this petite wool coat needs to be in your wardrobe—I've never worn a jacket that fits me so well, without needing any altering or tailoring. I love that the wool and cashmere blend are soft but not flimsy, and I can't get over how well so many different outfits pair with this jacket.
I think the best temperatures to wear this jacket would be anywhere between 55-80 degrees Fahrenheit. Anything lower or higher than that might be too cold or too hot. I love wearing this jacket to my coworking space or a work event, and usually leave it at home if I'm having a wild night out (for fear that I will lose it or it'll get ruined). I think this is a great petite wool coat for a brunch date, or a fabulous throw-on to elevate a look when running errands.
While yes, the price point is high at $595.


But this jacket is often on sale in various colors (and can be even discounted further if you find a great promotional code online). You can find the Clairene Jacket in the United States at Amazon (here are some more fun colors on Amazon, too!), Theory, Theory Outlet, Saks Fifth Avenue, Neiman Marcus, and Bloomingdales. I've only ever purchased the Ivory shade at full price, and have bought the other colors I have (including Black, Gray, Hunter Green, and Cornflower Melange) on sale. If you do want to purchase the coat for yourself, I would recommend buying one in a color you know you'll definitely wear often. I wear my Black coat the most often, and my Hunter Green one the least often. My jacket in Cornflower Melange is the latest addition to my collection, and I'm so, so in love.
I consider the Theory Clairene Wool Coat a staple in my wardrobe, and I know this classic will never go out of style. It's one of the best purchases I've ever made, and I'm excited to see which colors Theory comes out with next!

*This post contains affiliate links, so I may earn a small commission when you make a purchase through the links on my site at no additional cost to you. Thank you so much for supporting my small business by shopping through my affiliate links—I am so appreciative!