One of the few bright spots to another dark year in 2021 was my Nuuly clothing subscription discovery. My stylish friend Kayli raved about the clothing rental service, and after she showed up to multiple girls' gatherings looking cute as hell, I decided I needed to try it ASAP. If you're a Nuuly newbie, let me give you the scoop: similar to Rent The Runway, Nuuly allows you to rent trendy pieces from a variety of clothing brands monthly. You pay $88 each month to rent six items of clothing, and if you end up loving one of the pieces, you can purchase it for a reduced rate (but you don't have to purchase any item of clothing if you'd prefer not to). Below, you'll find my Nuuly rent clothing review for the three items I fell in love with and couldn't send back.
If you're someone who loves to mix up her wardrobe but doesn't have the budget to buy new, fast-fashion items from Zara or Amazon Prime every week (ahem, you know who you are), I think Nuuly is a great, affordable option to get your fashion fix without blowing up your bank account.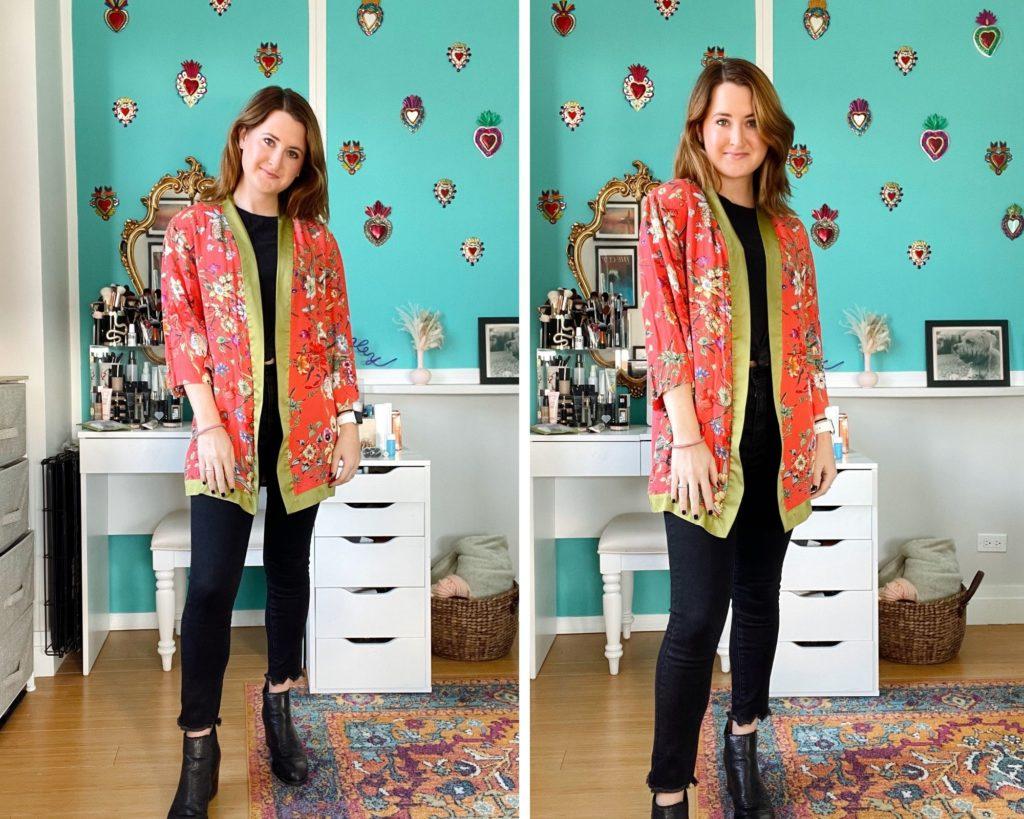 Nuuly Clothing Review:
Purchase #1: Love Token Thomas Short Duster
This Thomas Short Duster from Love Token was the first item I bought from my Nuuly clothing subscription back in August. The bright, bold duster has some of the highest reviews on Nuuly, and for good reason: it is so beautiful, so fun, true to size, and can easily dress up any outfit without much effort. Despite the fact that I'm petite, the duster hits at the perfect spot on my thighs, without making me look too short or like I'm drowning in the fabric.
I've only ever worn this duster with jeans and a white or black t-shirt, but I can totally see someone wearing this over a sexy, tight little black dress or maybe a tight skirt and top, with this piece layered on top. The fabric is lightweight and is ideal for the late spring and summer months. That being said, though, it's such a fun pop of color, that I kinda love rocking it in the cold, dark gray winter months in NYC.
Pricing — Retail: $116 || Reduced rate I paid: $81.19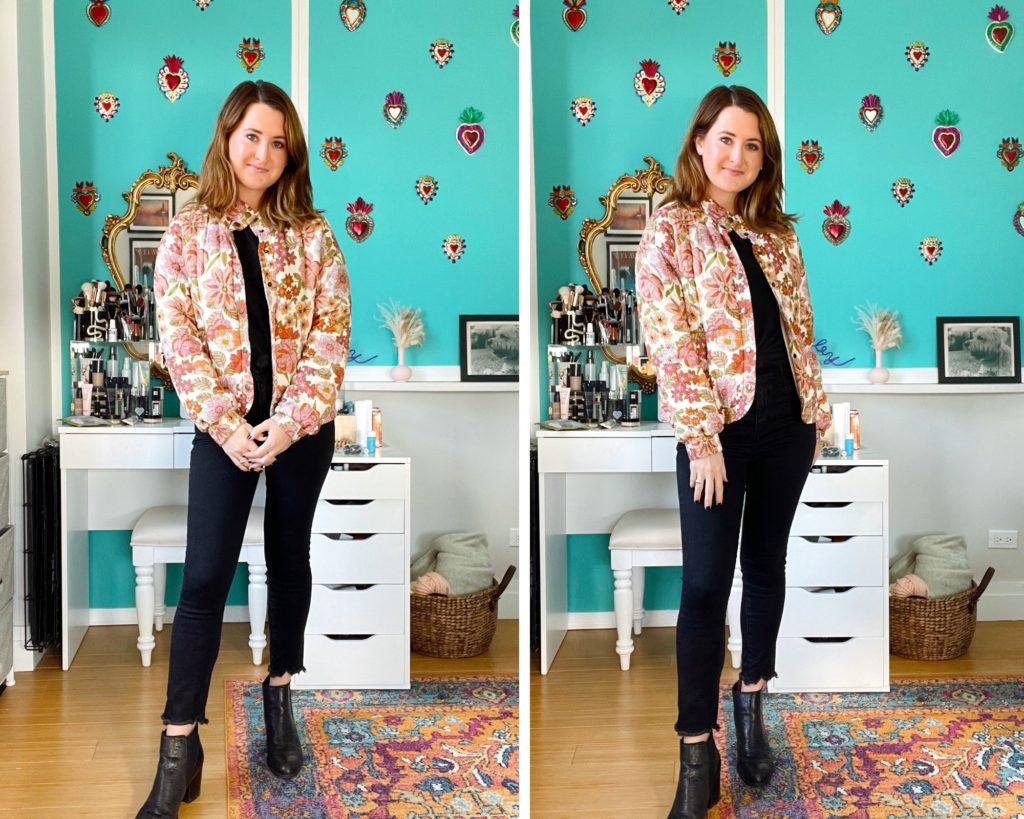 Purchase #2: Saltwater Luxe Floral Printed Jacket
When I die, please bury me in this jacket. My absolute favorite pattern is a great 60s/70s bold floral, and the moment I saw this jacket on the Nuuly clothing subscription website, I knew I needed to add it to my Nuuly box immediately. I love the muted florals (although the jacket would be even more epic if the flowers were in brighter colors) and appreciate that the colors allow me to match this jacket with a lot of options. 
I wore this jacket throughout a writer's retreat in North Carolina (shout out to the Wild Awakenings Retreat with Cheryl Strayed) in early October and received so many compliments. It was the perfect thing to throw on over a t-shirt or sweater, and it's definitely a statement piece that can really liven up most outfits. It's not lightweight, but it also isn't heavy either—basically, it's the perfect fall jacket as the temps start to drop. 
Pricing — Retail: $128 || Reduced rate I paid: $106.24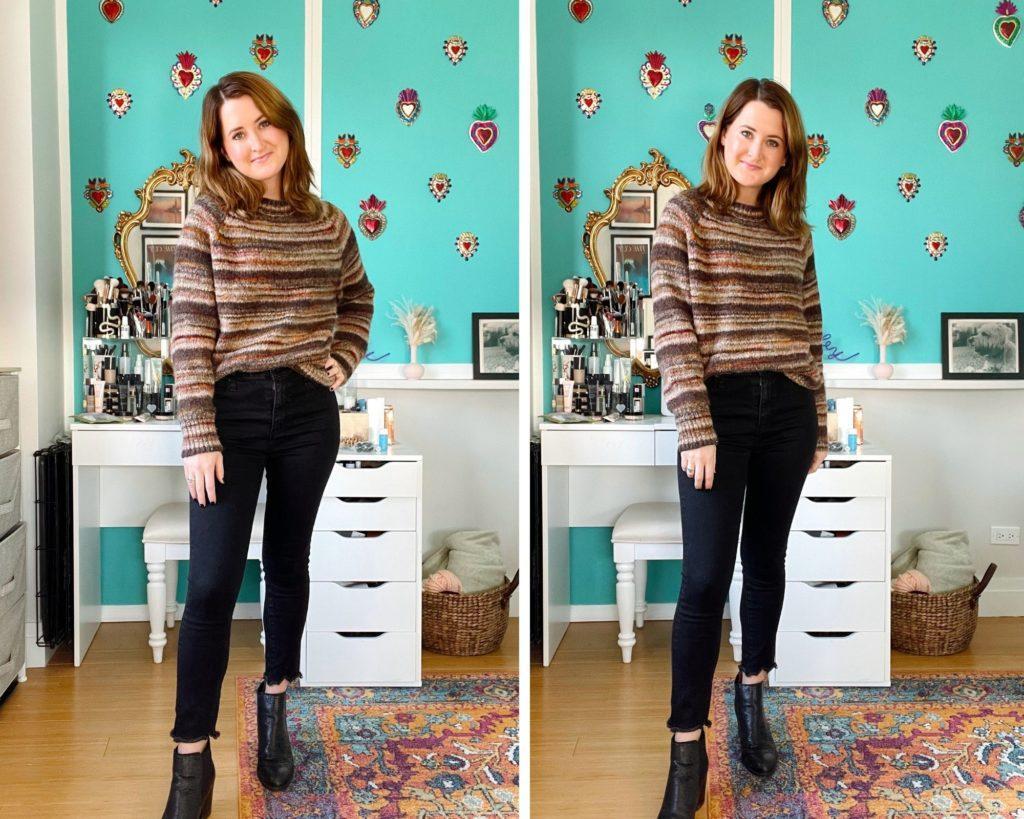 Purchase #3: RD Style Multi Stripe Sweater
Some might find this sweater boring, and it certainly isn't the typical, brightly-colored item of clothing I'd normally pick, but I love how much the colors compliment my hair color. Unfortunately, it is a little bit boxy and baggy, but I still thought it was flattering enough to purchase. I like to tuck this into jeans and wear my maroon, suede combat boots (not pictured) to make the outfit pop a bit more. 
This pick is soft (not itchy) and is ideal for winter or fall. Considering it's brown, it can match just about anything, and I love how versatile it is. I know this sweater will be in my cold-weather-outfits rotation for a long time. 
Pricing — Retail: $88 || Reduced rate I paid: $71.28
Final Thoughts
And there you have it! These are my top three outfits from Nuuly, all of which I have loved and adored. Nuuly ships their items two business days after its billing date and you can expect a return label for every order, whenever you're ready to ship them back! It's that easy and straightforward. In fact, their customer service is also very helpful, should you have any questions.
With styles ranging from party dresses and jackets to sweaters and mini dresses, you'll find loads of options for any occasion, without the stress of spending too much on fashion. Plus, Nuuly lets you pause your account for 1-3 months, which is a great deal if you feel the need to take a break without actually canceling your clothing subscription.