Naturium is absolutely poppin' off over on TikTok! Hence why I'm excited to write this Naturium sunscreen review. Naturium is all about creating skincare products that are high-quality without a super high price tag.
When I was pitched this brand about a year ago for editorial consideration through my job as a beauty journalist, I honestly didn't think much of it. It wasn't until I saw that it was blowing up on TikTok that I decided to test it out. This Naturium sunscreen review will be all about the Dew-Glow Moisturizer SPF 50, but I've also tried the UV Reflect Antioxidant SPF 50, and I have thoughts. 
Naturium Sunscreen Review
One of the brand's most popular products is the Dew-Glow Moisturizer SPF 50—it's a sunscreen and moisturizer in one. It's an organic chemical sunscreen that has an SPF 50 and does a great job of protecting skin from sun damage and burning.
The formula is thick and creamy and feels like a rich sunscreen. Below are my thoughts on the Dew-Glow Moisturizer SPF 50 packaging, application, SPF, and formula.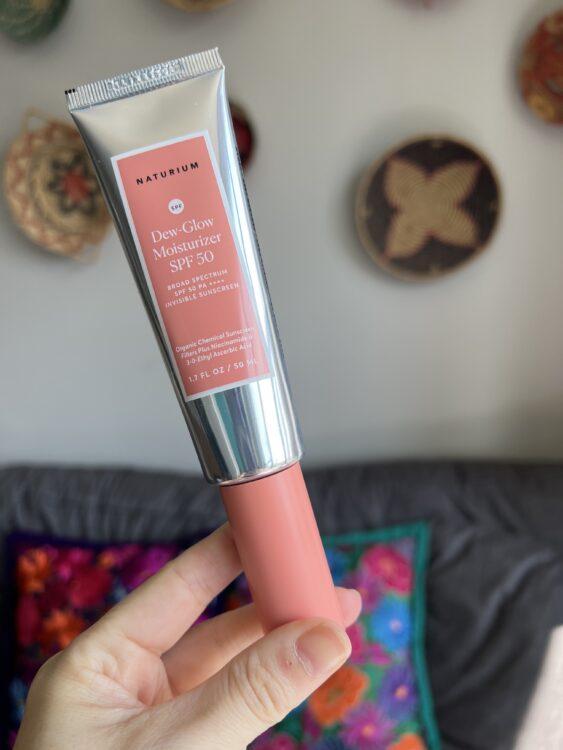 Packaging
All in all, I think the Dew-Glow Moisturizer SPF 50 packaging is super sexy. I'm proud to showcase this on my bathroom vanity—I really love the silver and the coral color combo. I also love that this comes in a pump form.
It comes with an innovative cap that I've never seen on another sunscreen filter before. It's called a "dip cap," and it's basically a guide to show you how much sunscreen you should be applying to your face. You pump the sunscreen into the top of the cap and fill it up to the top. Then apply that amount to your face and neck.
Overall, I really love the packaging of this product and think they did a great job!


Application
This formula is pretty darn thick! It feels like a thick sunscreen and takes a bit of time to rub in. However, it absorbs invisibly on skin and does not leave a white cast. It is not a mineral sunscreen and won't leave a white film on your skin. All skin tones can use this formula. You can use the "dip cap" to figure out how much product you need to apply to your face and neck area. Once you rub it in, it soaks into the skin pretty nicely.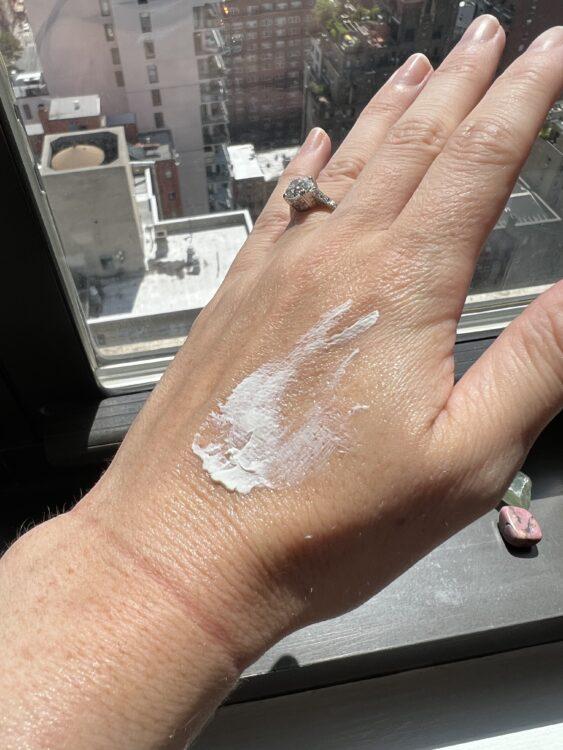 SPF
This formula contains SPF 50 PA++++ , which is pretty great for a moisturizer and sunscreen combo. What is the PA++++, you might be asking? Here is a good blog post that describes PA. Basically, PA stands for Protection Grade of UVA. A PA+ rating measures a formula's ability to block UVA rays.
Because of this, I feel like this sunscreen would do a pretty good job of protecting your skin throughout the day. I know you are supposed to reapply sunscreen every two hours, but truth be told, I never do unless I'm at the beach. If you are not going to be outside all day, I think this pick is a safe choice to keep your skin protected.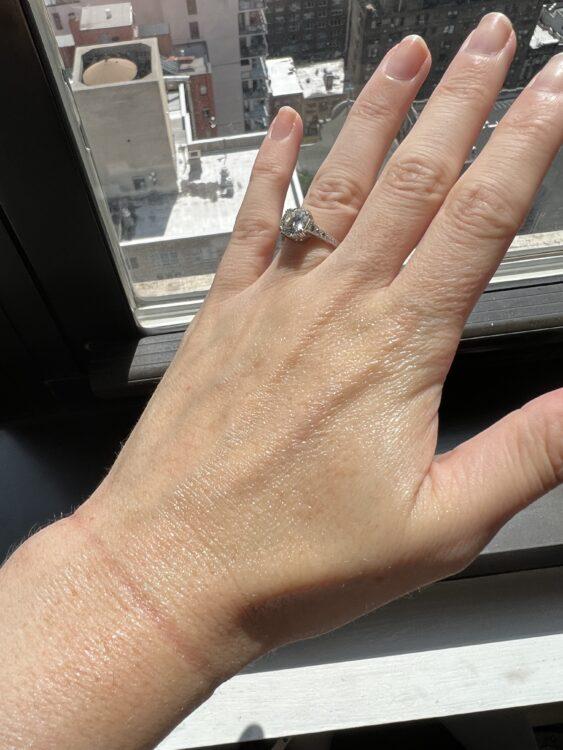 Formula
So, this is the part where I have a big problem with this pick, and my Naturium sunscreen review might be a downer for some. My acne-prone, sensitive skin does not like this formula, unfortunately (however, this Paula's Choice skincare set is a fan favorite for my skin). I tried this sunscreen on my face a few times, and developed a pimple on my chin each time I used it.
Overall, I like to follow Sofie Pavitt's Ingredients Checker religiously these days (I really love her mandelic serum product), and according to the checker, this formula is cloggy for acne-prone skin. For instance, it contains sorbitan oleate, which is known to clog pores.
I have found other reviews online that back up these claims—some folks love this formula, while other folks have found that it clogs their pores, causes them to break out, and irritates their sensitive skin.
If you are acne-prone or have really sensitive skin, I would not recommend this formula.
However, if you don't break out often and don't have sensitive skin, you should be totally fine with this pick. 
This formula feels a lot more like a sunscreen than a moisturizer to me. Although it is fragrance-free, it definitely smells a lot like sunscreen as well. The active ingredients in the cream are homosalate 10.0%, octisalate 5.0%, and avobenzone 3.0%.
I think the reason why folks love it so much is because it does leave a really nice dewy glow to the skin. It visibly improves the look of your skin if you have dry skin. If you have really oily skin, you probably won't like this moisturizer, as it might make your face appear more oily.
Nonetheless, I think it's a great base for makeup, as it provides that dewy finish that many are always after. But, it just isn't a great match for my skin type, sadly.
Naturium Sunscreen Ingredients
Homosalate 10.0%
Octisalate 5.0%
Avobenzone 3.0%
Aqua (Water)
Butyloctyl Salicylate
C12-15 Alkyl Benzoate
Calcium Sodium Borosilicate
Glycerin
Glyceryl Stearate
Ethylhexyl Methoxycrylene
VP/Eicosene Copolymer
Stearyl Dimethicone
Argania Spinosa Kernel Oil
Tocopheryl Acetate
1,2-Hexanediol
Niacinamide
Tocopherol
Cetearyl Olivate
Bisabolol
3-O-Ethyl Ascorbic Acid
Sodium Hyaluronate
Squalane
Ammonium Acryloyldimethyltaurate/VP Copolymer
Hydroxyacetophenone
Silica
Sodium Stearoyl Glutamate
Octadecene
Sorbitan Olivate
Sorbitan Oleate
Caprylyl/Capryl Glucoside
Xanthan Gum
Sodium Acrylate/Sodium Acryloyldimethyl Taurate Copolymer
Trisodium Ethylenediamine Disuccinate
Polyisobutene
Citric Acid
Sodium Hydroxide.
How To Use The Naturium Dew Glow SPF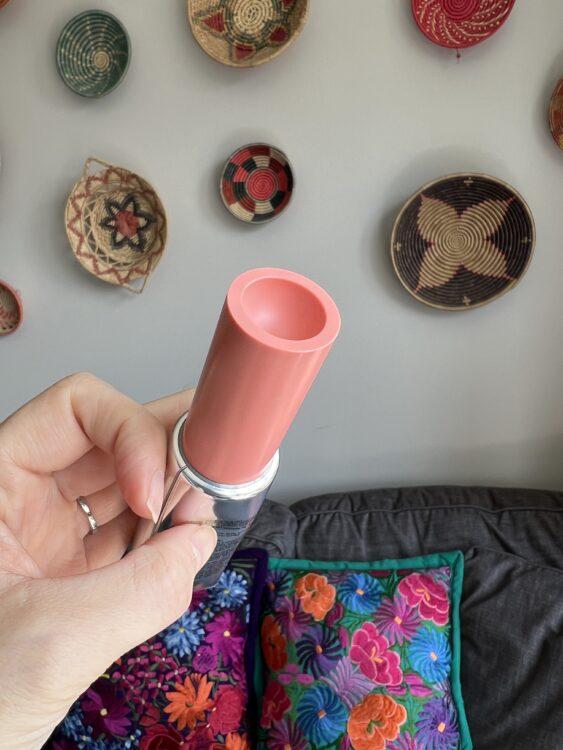 Use the dip cap
Like I mentioned previously, you can use the "dip cap" to figure out how much product you need to apply to your face and neck area. Pump the product into the top of the cap to the top and use it as a guide.


Reapply throughout the day
If you are going to be outside often, I would probably apply this sunscreen every few hours. But if you're going to be inside most of the day, I would apply once in the morning.


Make sure you get your neck
Generally, it's pretty common to forget about the neck! Make sure you apply sunscreen to your neck and decollete to avoid sunburn and premature aging from the sun.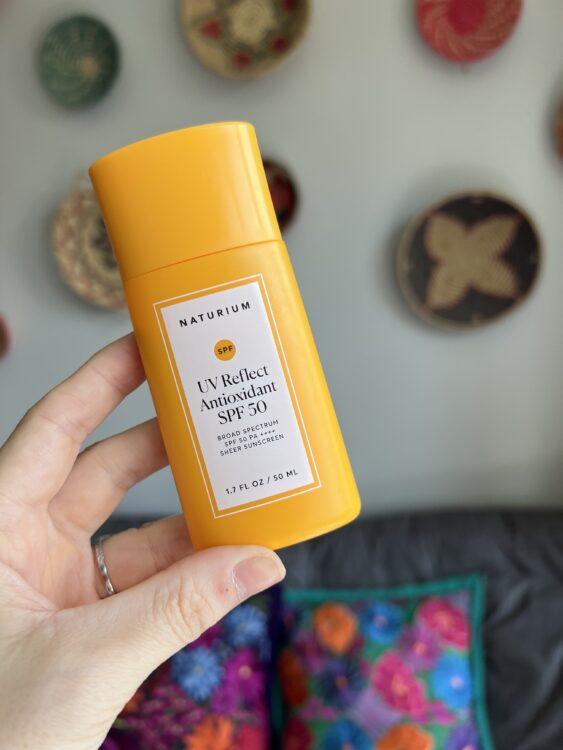 How Does The Dew Glow Moisturizer SPF 50 compare to the UV Reflect Antioxidant SPF 50?
So, I feel like this is an important section to cover, since I have tried both and have opinions on each. Like I mentioned previously, the Dew Glow Moisturizer SPF 50 is very thick and seems to clog pores pretty easily. Naturium's newer sunscreen, the UV Reflect Antioxidant SPF 50, is not cloggy and has a very different consistency.
According to the Sofie Pavitt Ingredient Checker, the Naturium UV Reflect Antioxidant SPF 50 does not have pore-clogging ingredients, and is safe to use on acne-prone skin. I noticed that when I use this sunscreen, it does not clog my pores and doesn't cause breakouts.
It's a pretty thin consistency and feels like a thick serum.
It blends beautifully into skin and also doesn't leave a dewy finish like the Naturium Dew Glow Moisturizer SPF 50. To get dewiness of my skin when using the UV Reflect Antioxidant SPF 50, I like to apply my Ogee makeup sticks to my cheekbones. I like that it also has SPF 50 PA++++, and also contains antioxidants to protect against blue light and free radical damage.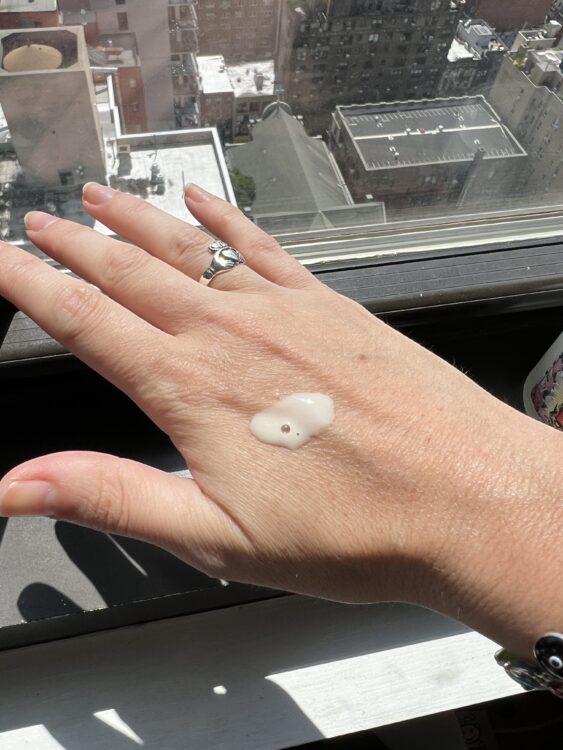 Finally, this formula contains a bio-fermented powder fused with an amino acid derivative.
This works to help diffuse light and provide a soft-focus finish. The finish that it leaves is basically the opposite of the Dew Glow Moisturizer SPF 50. It almost mattifies the skin a bit and would be ideal for folks with oily skin who don't want any more shininess. 
Unlike the Dew Glow Moisturizer SPF 50, the UV Reflect Antioxidant SPF 50 is marketed solely as a sunscreen and not a moisturizer. This can be applied on top of your moisturizer in the morning and should be reapplied throughout the day if you will be outside a lot.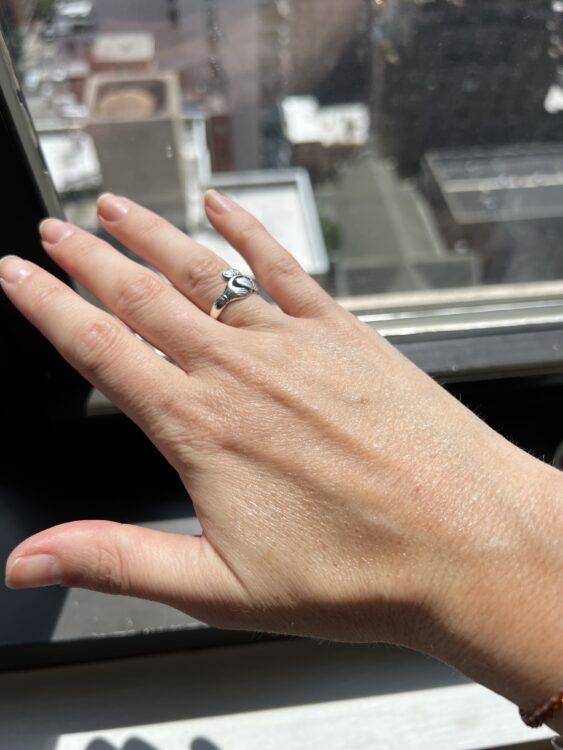 All-in-all, I actually prefer the UV Reflect Antioxidant SPF 50 because it doesn't break me out and doesn't irritate my skin. If you have acne-prone or sensitive skin, I definitely recommend this sunscreen from Naturium.   


Where To Buy Naturium Dew Glow Sunscreen
There are a few places you can nab the Naturium Dew Glow Sunscreen, including:


I hope you enjoyed this Naturium sunscreen review! And maybe it wasn't what you expected, given all the hype around this product. I would love to hear your thoughts on either of these sunscreens in the comments below!


*This post contains affiliate links. I may earn a small commission when you make a purchase through the links on my site at no additional cost to you. Thank you so much for supporting my small business by shopping through my affiliate links. It's what keeps my blog running and I am so appreciative!