I'm super pumped to write this Nudestix review because I love the founder. I met Taylor Frankel, co-founder of Nudestix, around 2016. We were having a deskside meeting at my old job as an Assistant Beauty Editor at Family Circle magazine. She was around 17 or 18 at the time, and I just remember Taylor being so poised, confident, and excited about her makeup brand. I totally fell in love with her, and also fell in love with Nudestix, too. 
Fast forward to 7 years later, and I'm still just as obsessed with this innovative brand. I love how easy all the products are to use, and I love how portable these makeup crayons are, too. Nudestix has so many multi-tasking products, which really works wonders for ladies who are always on the go, or who don't want a ton of products in their makeup bag. Below, I'm sharing my honest Nudestix review. 



My Nudestix Review
There are so many things I love about this brand, which is why I'm really excited to write this Nudestix review. First of all, I love that most of the products come in stick form (similar to my favorite Ogee makeup products). It makes them super easy to travel with. Plus, it makes them easier to work with on your eyes, lips, and cheeks.
Secondly, I love that this brand focuses a lot on enhancing your natural beauty, rather than masking your skin. When the brand first launched, they didn't have any foundations. They only had stick concealers that they encouraged users to use on spots throughout the face. Now, they have foundations in liquid form. Although they have expanded to create products that are a bit more full-coverage, I really love that they encourage barebones coverage.
Finally, I fell in love with this brand because I thought Taylor was so cool and passionate about Nudestix. To be honest, she totally sold me on it. Additionally, the cream formulas are so smooth and blendable, and I thought the stick formulations were super innovative and different when she had pitched them to me years ago. 


What Is Nudestix?
Nudestix is a beauty brand founded by Jenny Frankel and her two daughters, Taylor and Ally Frankel. Jenny is a chemical engineer with over 20 years of experience working in the beauty industry.
Nudestix is all about the natural makeup look, which is a huge reason why I'm always drawn to the brand. This brand was founded in 2014 and is based in Toronto, Canada. Their motto is "go nude but better." 



The Best Nudestix Products


Nudestix Magnetic Eye Color


This is probably my favorite product from the brand and I've been using it for years and years. It comes in about 30 million shades (34, to be exact) and has both matte and luminous finishes. I love that these sticks are so easy to use, and blend seamlessly into my eyelids. I tend to use these more as a thick eyeliner than as an eyeshadow, but they can work well as both. 




That being said, these are chubby little sticks, and obviously won't give you a sharp liner look. If you're in need of a thinner eyeliner, I would look elsewhere. These can always be sharpened (thanks to the sharpener that they come with), but they won't give you a tight liner look. 
Available at Sephora ($27) | Also available at Target






Nudestix Nudies Bloom


This is such a beautiful cream blush that gives the nicest dew to your cheeks. If you prefer a matte makeup look, you should opt for the Nudies Matte Blush Lux instead. The Nudies Bloom collection gives an almost-wet look to the skin and offers a lot of hydration in a makeup product, too. 




This pick comes in 8 shades and flatters all skin tones. You can use it on your cheeks, lips, and eyelids, but I prefer to use it on just my cheeks. I like that it has a makeup brush on the other end, so you don't have to lug around another blending brush in your kit. 
Available at Sephora ($35) | Also available at Target 






Nudestix Nudies Glow Highlighter Stick


These highlighter sticks are sooooo gorgeous. It comes in five shades, and just like the Nudies Bloom sticks, has a dewy, almost-wet finish to it. Each shade flatters most skin tones, and even the pearly-white shades don't leave a weird white cast on darker skin tones. I like to wear this on my cheeks and eyelids. I prefer to wear my highlighter underneath my blush, for a lit-from-within look.
Available at Sephora ($35) | Also available at Target 






Nudestix Gel Color Lip + Cheek Balm


I don't use a ton of the lip products from Nudestix, but I like the finish of this gel color lip + cheek balm. It's extremely creamy and leaves a bit of a wet look on the lips. I will say that this balm can feel kinda sticky—my hair sometimes gets caught on my mouth when I wear this. It comes in nine shades and works as both a lips and cheeks color stick, but I prefer to use it on just my lips.
Available at Sephora ($27) | Also available at Ulta 






Nudestix Cream Concealer


This is a beautiful, dewy concealer that dries down nicely. It comes in 13 shades and can work on both blemishes and under eyes. It's hydrating and won't accentuate any dryness from existing pimples.
Available at Sephora ($28) | Also available at Ulta 



Nudestix Nudescreen Daily Mineral Veil SPF 30


I'm not totally in love with most of the Nudestix Nudeskin skincare products, but I do like this sunscreen. It's a lovely mineral sunscreen that comes in five shades and can act as a tinted moisturizer, too. The shade range is not vast, and I hope they will add more shades in the future. It leaves a nice sheen to the skin without making your face look greasy or too shiny.
Available at Sephora ($36) | Also available at Ulta
Nudestix Swatches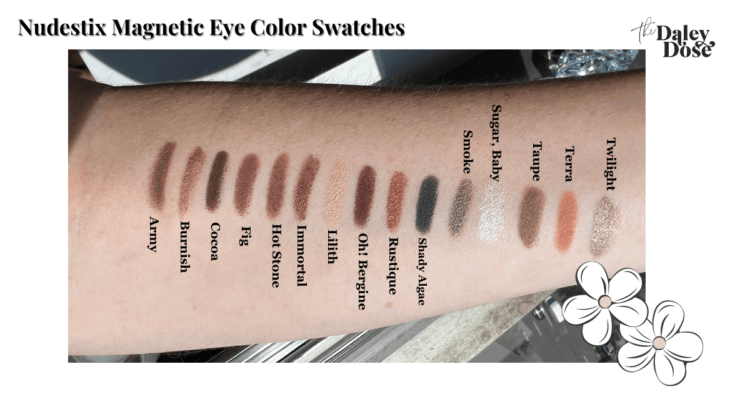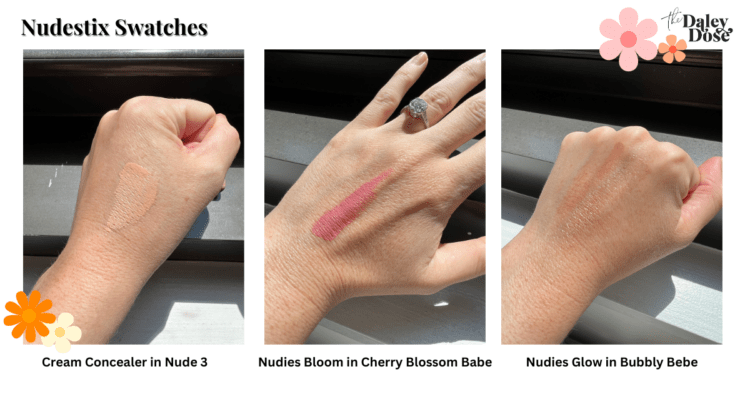 Where To Buy Nudestix
You can find Nudestix products at multiple retailers, including the below:
FAQs About Nudestix
Is Nudestix cruelty-free?
Yes, Nudestix is cruelty-free and does not test on animals. 
Is Nudestix clean?
According to EWG's Skin Deep website, it seems that Nudestix products are pretty clean and safe to use on the skin. 
Is Nudestix vegan?
Yes, Nudestix is vegan and does not use any animal products within their formulas.



I hope you enjoyed this Nudestix review! Please let me know in the comments below if you are debating purchasing any of these and have any questions!



*This post contains affiliate links. I may earn a small commission when you make a purchase through the links on my site at no additional cost to you. Thank you so much for supporting my small business by shopping through my affiliate links—I am so appreciative!